Welcome to our Viavito Setry Review
In this review we're going into some depth on a popular 2-in-one elliptical bike. This is a review of the Viavito Setry, Available on Amazon – a mid-priced machine that offers a step up in quality from the cheaper £100 type cross trainers out there.
We'll cover everything you need to know about this machine in this review – good and bad – and help you decide if it's worthy of a place in your home gym.
What will this machine do for you?
The Viavito Setry is a cross training machine, combined with an exercise bike. This equipment will do the following for your body:
Build

core strength

around your mid-section
Strengthen all leg muscle groups – calf, quad, hamstrings
The Crosstrainer exercise will strengthen upper body
Build up chest and arm muscles
Burn calories and help with weight loss
Build up overall fitness (it's tough!)
What kind of machine is the Viavito?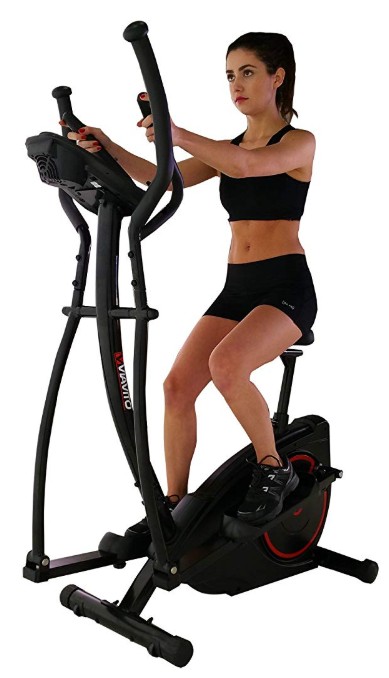 The Setry bike combines two popular gym machines into one: an exercise bike and a standing cross trainer machine.
You can swap freely between the two whenever you want, with the standing position offering arguably a tougher challenge.
You can sit down and pedal, or stand up and use both arms and legs in the cross training position. You move your arms back and forth, although there's also static bars (which also take your pulse).
The machine is suitable for all ages – with enough resistance going up to experienced trainers.
This machine has some superb features, and a couple of things to be aware of. Let's dive in and go through them all in depth.
First up: a quick run down of this 2-in-1's features
Here's a quick at-a-glance for the Viavito Setry:
2-in-1 bike and cross trainer
Stand up or sit and pedal
Static and moving hand bars
Modern black and red design
32 levels of resistance
Resistance can be controlled by the computer
Colour console which can display 7 bits of info at once
Track calories, speed, distance, RPM, watts & time
Max user weight of 120kg
Add 4 users, each with their own stats
20 programs
Large foot pedals
You can learn more about what an Elliptical Machine is in our guide here.
Check Current Amazon UK Price
A bit about the build quality and engineering of this bike
Viavito have some nifty products that we've reviewed in the past so we had high expectations on this machine. It's also not the cheapest 'low price' cross trainer so that also raised expectations.
The frame itself is made from a tubular steel, and has an extremely sturdy feel to it. The quality of all parts and joints is also top notch.
The Viavito is very quiet
Another thing that you'll probably notice is how quiet this machine is. It's especially notifiable  if you've had a cheaper sub-£100 machine in the past.
Longer supports at the front would have helped stability
If you're really going for it, you can feel a slight rocking, likely due to the front support cross bar. As other people have noted, some wood slats placed under these would add to the stability a great deal. Not a huge issue, but worth mentioning and being aware of.
The console display is excellent
Know what sucks? The awful displays you get on some of the cheaper cross trainers and exercise machines out there.
I get a lot of stick for moaning about this but the fact remains: you have to look at this thing a lot and it's an important part of the machine. End rant. 😉
Bright, clear LCD display
Thankfully, this isn't something to worry about with the Setry. I love the display this machine has. It's broken into two sides – a HUGE LCD panel which shows calories, time or whatever you want to focus on. While a smaller section to the right shows up to 6 other stats.
The display is also backlit which really makes the numbers and words pop out, and helps with readability.
Jumping up in price from the machines under £200 to something like this affords a far superior console.
You can quickly see whatever spec you need. (Mainly calories and time for me, with a bit of RPM to see I'm, not slowing down too much).
The console computer itself is also well thought out
Jumping up in price from the machines under £200 to something like this affords a far superior console. The buttons are big, chunky and exactly what you need when you're training and need to drop the intensity in a hurry.
The way you can have multiple users on this machine (up to 4) is ideal if more than one person will be using your new cross trainer. Each user can put in their own weight, gender and other basics so that their program will be customized for them.
It's a cool idea and it works well.
Of course, you don't have to use any of the built in programs, if you don't want to. If you do want to try them out, there's a decent selection here: around 20 of them.
The console did sometimes forget the date when un-plugged
One weird glitch was the on-board computer seeming to forget the date when it was unplugged. This is especially odd because other things, such as the user profiles were saved safely and didn't cause any issues.
Self assembly – yes, you've got to put it together
We know the drill by now. Un-pack, get screws, line everything up. Make coffee. Puzzle over instructions. More coffee. Ah, instructions were upside down./ Ignore instructions. Assemble machine. Swear (a lot).
There's no getting around it. The Setry has to be put together. Build time can range from 2 hours upwards, depending on how good you are at knocking things together. The only plus-side is you only have to do it once.
Check Current Amazon UK Price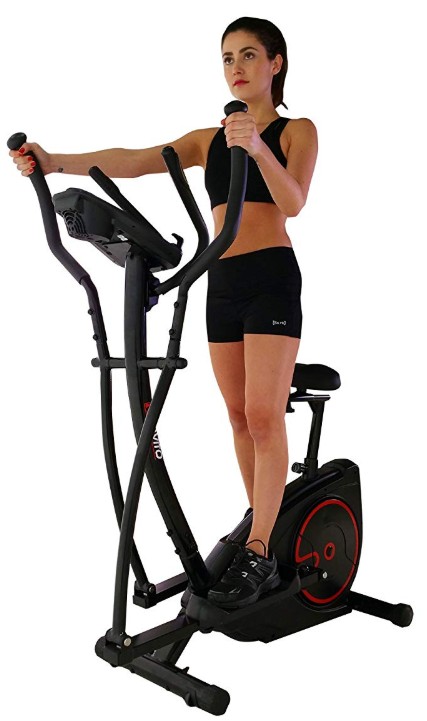 Smooth motion & a tough workout
One of the things that's good about the Viavito Sumi, and any good cross trainer is that they're an ideal machine for users of all levels. the smooth elliptical exercise is super-kind to your knees and other joints.
But don't let that smooth motion fool you. The Viavito Setry will get your heart rate up too. Boy, will it. There's a range of pre-made programs to sink your teeth into, and they're a welcome break from simply going at your own pace.
The Viavito Setry has excellent action on both the seated bike part, or the standing up cross training motion. The better quality parts used in this compared to cheaper machines is definitely evident once you hop on it and give it a go.
The Setry is easy to adjust
There's three main ways you can adjust the Viavito 2-in-1 to suit your body:
Setting the seat height – speaks for itself – lets you set the correct height for pedaling!
Setting the seat's forward position – the seat can be adjusted forwards and backwards to make sure you're not reaching too far for the handle bars, or feeling too cramped.
Foot plate adjustments – You can also adjust the foot plates backwards and forwards.
You will sometimes hit the seat while standing
One problem you might get with the Setry is touching the seat while leaning back in the standing position. Not a massive problem and it can be completely avoided by removing the seat column.
Although some users do this, we wouldn't recommend it. The thought of sitting back and forgetting t was gone – OUCH!
Final verdict: Is the Viavito Setry worth getting?
This is not the cheapest home cross trainer we've seen but the build quality, range of programs and display are well worth investing a bit of extra money. Technically you can get these machines for under £200, but they can't keep up with the Setry in terms of quality.
This is a great machine for anyone looking for a good way to keep fit at home. It's easy to use and the way it allows different users to hop on and have their own profile is also a good feature.
We definitely recommend the Setry machine.
Check Current Amazon UK Price
Viavito Setry info and specs
| | |
| --- | --- |
| Resistance type | Flywheel |
| Flywheel weight | 5kg |
| Resistance levels | 32 |
| Footplates | Oversized plates |
| Console feedback | Time, speed, RPM, distance, calories, pulse, WATT |
| Display type | LCD |
| Viavito Programmes | 19 |
| User profiles | 4 |
| Profile settings | Age, gender, weight, height |
| Warranty | 2 years (requires registration) |
| Handlebars | Fixed and moving |
| Seat adjustments | Vertical & Horizontal |
| Dimensions | Length=126cm (49.6"), Width=62cm (24.4"), Height=150cm (59") |
| Setry Weight | 37kg (81.6lbs) |
| Max user weight | 120kg |
| # specs on screen | 7 |
| Backlit display | yes |
| Pulse sensors | Yes, on static handlebars |
| Suitable for levels | All users can use the Setry |
| Seat column | Removable |
Sources and further reading