Cross trainers offer a superb way to tone just about every major muscle in your body, without putting any impact on your joints.
The smooth elliptical motion means there's no hard end 'bump' to each movement, letting you have all the benefits of the exercise, without stress to joints.
Exercise bikes offer a different kind of training, allowing you to tone your legs and thighs while getting a real sweat on. Combining the two kinds of training in a 2-in-1 Cross Trainer Bike is a great idea, in our books!
With that in mind, this guide will be looking at some of the most popular machines online.
Grab a water-bottle and lets check out the best affordably-priced cross trainer combos!
| Top Choice | Runner Up | | | |
| --- | --- | --- | --- | --- |
| Viavito Setry 2-in-1 Elliptical Trainer | JLL 2-in-1 Elliptical Cross Trainer | XS Sports Pro 2-in1 Elliptical Cross Trainer | Fitnessform® ZGT® Z10 Cross Trainer 2-in-1 | V-Fit MCCT1 Combination 2-in-1 |
| | | | | |
| | | | | |
| | | | | |
| Buy | Buy | Buy | Buy | Buy |

#1 Choice: Viavito Setry 2-in-1 Elliptical Trainer (Amazon UK)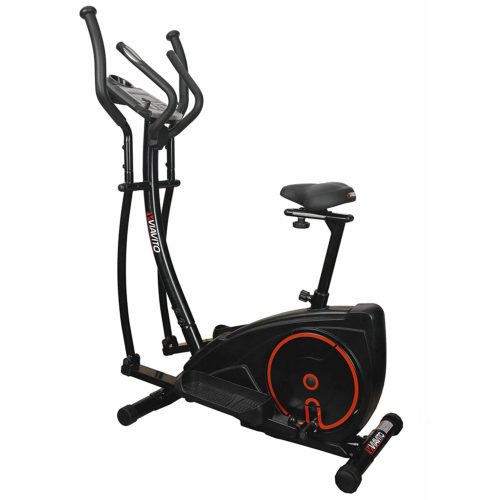 Stepping up in quality, there's the superb 2-in-1 elliptical from Viavito. While not the cheapest cross trainer bike in our guide, the Viavito Setry offers some extras that the other machines here don't. If your budget allows, it's a superb machine.
Let's start with the exercise monitor. The screen is a back-lit display that is much better than the monochrome, cheaper LCD displays that are part and parcel with cheap cross trainers. You can see how you're doing at a glance.
Next thing that's really good about this 2-in-1 is it's computer controlled, magnetic resistance. Rather than setting it yourself, the computer can alter it to give you much more varied and useful workouts.
This combined cross trainer actually comes with 20 programs that will give you a serious challenge. They're optional of course, but a great way to stave off boredom and burn off calories faster.
As you'd expect for the price, it's also very stable and feels solid, whether you're training seated or standing up.
As for extras there's cup holders and some built in speakers so you can enjoy your tunes while getting fit. We're also pleased to report it's simple to assemble.
Verdict: For under £200 the XM-Pro 3 is a definite bargain. It folds away nice and flat while offering a good, sturdy running experience. 
Smooth and quiet
Robust construction
Good value for money
Excellent display
Built in programs keep things fresh
Computer controlled resistance
Not as cheap as some other combo trainers
Check out our Viavito Setry Review here for more info.
---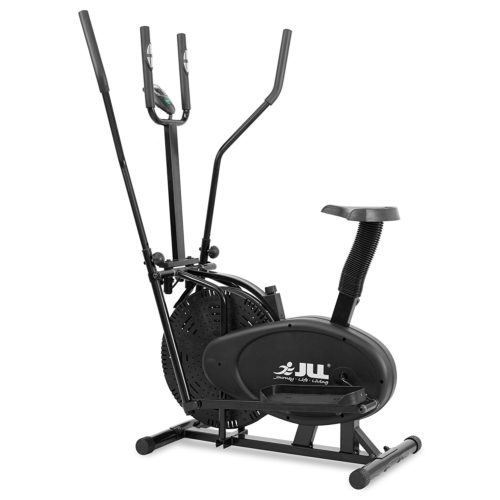 One of the cheaper cross trainer and exercise bike 2-in-1 machines, and one of the most popular ones too. If you're after a cheap elliptical bike that gets the job done, then the JLL CT100 is seriously worth checking out.
Getting a good deal is all well and good but there's no point if you're buying a heap of junk. Thankfully, JLL is a good brand of exercise equipment, if you've not heard of them before, and this seated cross trainer is no exception. It's solid and feels sturdy for the price.
You've got a choice of moving cross trainer handle bars, or some upright fixed ones (that can also take your pulse). There's a very simple display that keeps track of how much work you've done – cycling through stuff like calories and distance.
Design wise, it's certainly not ugly, so long as you don't mine 'Batman' black. Max user weight is lower than some bikes, coming in at 100kg. So be aware of that's an issue for you.
Verdict: There's no frills here but a good, solid cross trainer at a low budget price. Very highly rated on Amazon and it is definitely a good buy at the price.
Low price
Good design
Simple to use
Sturdy for the price
Gets the job done
Lower user weight than some bikes
Lacks features in more expensive models
---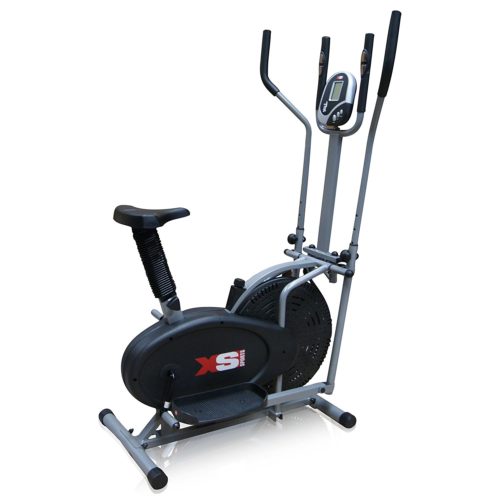 The XS Sports Pro 2 is a combined exercise bike and cross trainer that is perfect for anyone wanting a good cardio workout. If you're looking for a cheap elliptical machine for home use, this is definitely worth a look. And at under £100 it's a really good price.
So what are you getting for your money? Looking more like an exercise bike than some of the other machines, the XS trainer has a front-mounted flywheel that's chain driven. It's position makes for more stability.
You can train standing or sitting, and you can just pedal, use the cross trainer bars, rest on the stationary grips. There's a wide choice of workouts. It also has reverse pedaling, which allows you to hit muscle groups you can't with just forward motion cross trainers.
Our verdict: Don't be scared by the low price of this two-in-one cross trainer. It's got a great solid build, offers bi-directional pedaling, and feels great standing or seated.
Pros
Forward mounted flywheel adds stability
Gives a good cardio workout
Big, comfy seat
Pedal both ways to work more muscles
Quick assembly
Cheap!
Screen has a cheap look to it
Not as quiet as some machines
£189.99 at Amazon
Price last checked: Sunday 20th September 2020 – 19:12 pm
---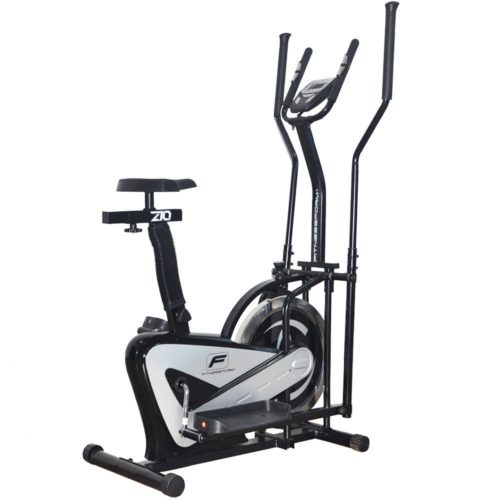 If you're looking to jump into some cross fit and get in shape, the Fitness Form ZGT Z10 might just be your new best friend. It offers a low-impact, easy-to-hard workout for users of all levels (and ages).
Easy and safe to use
Whether you want to use the seated exercise-bike style exercise, or tackle some standing cross training, this 2-in-1 is very simple to use. Resistance is controlled with a dial that you simply turn for – or +.
The pedals are a good size too and have non-slip edges for added safety.
Well designed and solid feel
It's worth mentioning that this cross trainer combo has a modern, clean aesthetic that will compliment any home or gym. It's also undergone rigorous stress-testing from the good folks at FitnessForm for stability. You're getting a seriously tough machine here that's built to last.
Silent running
If you like to pass the time while you're training reading a book, on your phone, or watching TV then you'll be pleased to know that this cross trainer keeps the noise levels low. Nice smooth action here means there's no grinding, whirring or buzzing while you workout.
Good deal for the money
This 2-in-1 Cross Trainer Bike represents good value for money. It's often on sale so keep checking.
Verdict: The SL300 has just about everything you'd need from a fold up running machine. It's strong, sturdy and easy to store. There's a good number of programmes that will keep new or experienced runners happy. It also represents good value for money. Highly recommended.

High quality build
Some genuinely useful programs
Covered with good warranties
Powered speakers connect iPod or other mp3s
Easy folding action
'Sprung' treadmill is smooth
Not much to assemble
Good value for money
Old style 'LCD' screen, not a pixel one
Images on instructions could be bigger
---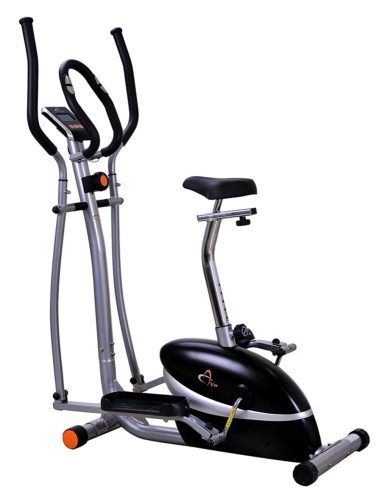 No-one wants a cross-trainer bike combo that's going to grind away like a pile of junk, while you're trying to watch something on TV. Thankfully, V-Fit's MCCT1 machine uses smooth magnetic resistance to keep the noise down.
So what can you do on this machine? You've got a choice of both standing cross training, or seated. Mix it up and take a seat to keep your workout going longer. This machine is great for ten minute bursts, or longer sessions.
There's 8 levels of resistance here that's fine for new users but defintely has enough of a challange for pretty much every level. We've heard some buyers saying they are reasonably fit and find even the lower settings hard enough.
The resistance is adjusted with a dial, and the assembly and use of this 2-in-1 Cross Trainer Bike is very straight forward.
Verdict: V-fit's cross trainer is a great machine that's both sturdy and good value for money.
Runs quietly
Feels nice and smooth
8 function monitor gets job done
Sturdy construction
Display is nothing to write home about
£189.99 at Amazon
Price last checked: Sunday 20th September 2020 – 19:12 pm
---
Thanks for reading and please let us know in the comments if there's a cross trainer bike combo you really like, or if there's anything we've missed here. Happy training and all the best!
Tom, HGE