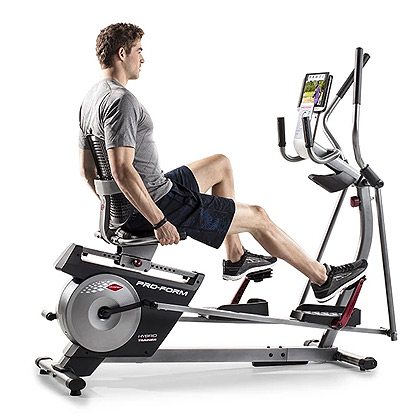 Cross trainers offer a superb way to tone just about every major muscle in your body, without putting any impact on your joints.
The smooth elliptical motion means there's no hard end 'bump' to each movement, letting you have all the benefits of the exercise, without stress to joints.
Exercise bikes offer a different kind of training, allowing you to tone your legs and thighs while getting a real sweat on. Combining the two kinds of training in a 2-in-1 Cross Trainer Bike is a great idea, in our books!
Best Elliptical Bikes of 2023
"This solid elliptical bike definitely won't break the bank and is suprisingly quiet, smooth and sturdy for the price."

"Another very popular machine with buyers. This home-based elliptical bike gives a solid workout and doesn't cost the earth."

"XS Sports machine is a robust bike and elliptical combo. It's easy to use, has plenty of resistance and is comfortable."

We R Sports
Deluxe 2-in-1

"This space-saving elliptical bike beats going to the gym and is a lot of fun to use."

Doesn't take up much space

"This high-quality recumbent gives a great workout and even converts to an elliptical machine. It's comfy, effective and kind to joints."

Dual recumbent / elliptical machine
With that in mind, this guide will be looking at some of the most popular machines online.
Grab a water-bottle and lets check out the best affordably-priced cross trainer combos!

#1 Choice: Dripex Cross Trainer Machine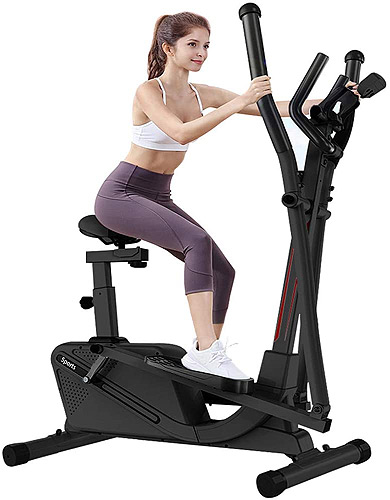 Everyone will likely find what they're looking for in terms of difficulty, be it a brisk stroll or a sweaty mountain climb.
Dripex's 2-in-1 cross trainer is a solid, well-made cross trainer that's actually not the most expensive out there. You can stand up and stride away, or take a seat and use it more like an exercise bike. The chunky steel frame is happy with user weights up to around the 120kg mark.
The bike uses magnetic resistance here and you'll be pleasantly surprised just how quiet this thing actually is. If you're looking to catch up on some Netflix, or have some music playing, you'll appreciate this especially.
There's 16 levels of resistance on offer here, so there's scope for new users and more advanced elliptical fans. And make no mistake; there's a taxing workout here for those why go up the resistance! Everyone will likely find what they're looking for in terms of difficulty, be it a brisk stroll or a sweaty mountain climb.
The all-important striding movement is smooth whether you're standing up or sitting down and it doesn't feel like y0u're fighting the mechanism, as it does with some ellipticals we've seen.
Another thing we like here is the large tablet holder at the front. Thankfully manufacturers are realising people don't want to start at some boring counter going up and instead you can watch netflix, or put a video of some passing scenery to keep motivated.
Speaking of the display, it's the one downside to this machine. It's a plain LCD screen without the bells and whistles. But you can see your calories, distance, time and the info you need easily enough.
Verdict: An elliptical bike that doesn't cost the earth and with a great build quality and a smooth striding action? Yes please. Newcomers Dripex have done a great job here. A fab machine for home gyms.
Good for both beginners & advanced
Robust construction
Good value for money
Smooth action
Comfy padded seat
Missing a cup holder
Bog-standard display
Check Current Amazon UK Price
---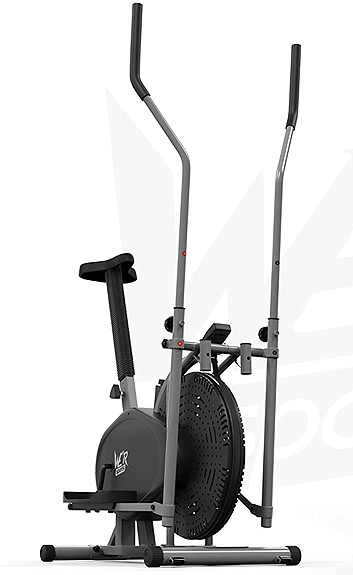 One of the cheaper cross trainer and exercise bike 2-in-1 machines, and one of the most popular ones too. If you're after a cheap elliptical bike that gets the job done, then the We R Sports 2-in-1 is seriously worth checking out.
Getting a good deal is all well and good but there's no point if you're buying a heap of junk. Thankfully, We R Sports is a good brand of exercise equipment, if you've not heard of them before, and this seated cross trainer is no exception. It's solid and feels sturdy for the price.
You've got a choice of moving cross trainer handle bars, or some upright fixed ones (that can also take your pulse). There's a very simple display that keeps track of how much work you've done – cycling through stuff like calories and distance.
Design wise, it's certainly not ugly, so long as you don't mind 'Batman' black. Max user weight is slightly lower than some bikes, at around 110kg . So be aware of that's an issue for you.
Verdict: There's no frills here but a good, solid cross trainer at a low budget price. Very highly rated on Amazon and it is definitely a good buy at the price.
Low price
Good design
Simple to use
Sturdy for the price
Gets the job done
Lower user weight than some bikes
Lacks features in more expensive models
Check Current Amazon UK Price
---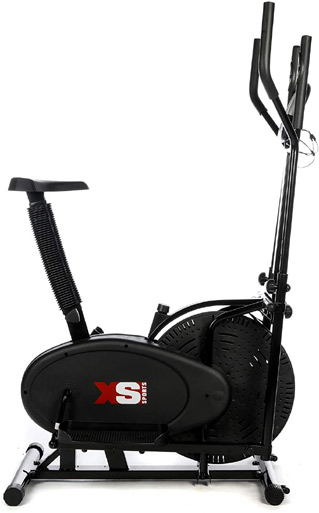 The XS XS Sports CT310 is a combined exercise bike and cross trainer that is perfect for anyone wanting a good cardio workout. If you're looking for a cheap elliptical machine for home use, this is definitely worth a look. And this machine comes in at a really low price too.
So what are you getting for your money? Looking more like an exercise bike than some of the other machines, the XS trainer has a front-mounted flywheel that's chain driven. It's position makes for more stability.
You can train standing or sitting, and you can just pedal, use the cross trainer bars, rest on the stationary grips. There's a wide choice of workouts. It also has reverse pedaling, which allows you to hit muscle groups you can't with just forward motion cross trainers.
Our verdict: Don't be scared by the low price of this two-in-one cross trainer. It's got a great solid build, offers bi-directional pedaling, and feels great standing or seated.
Pros
Forward mounted flywheel adds stability
Gives a good cardio workout
Big, comfy seat
Pedal both ways to work more muscles
Quick assembly
Cheap!
Screen has a cheap look to it
Not as quiet as some machines
Check Current Amazon UK Price
---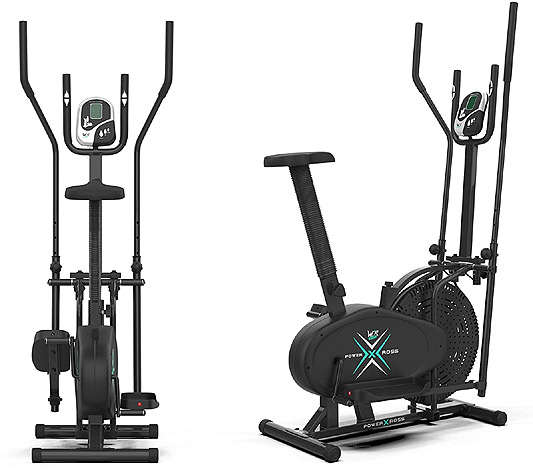 If you're looking to jump into some cross fit and get in shape, the We R Sports Deluxe 2-IN-1 might just be your new best friend. It offers a low-impact, easy-to-hard workout for users of all levels (and ages).
Easy and safe to use
Whether you want to use the seated exercise-bike style exercise, or tackle some standing cross training, this 2-in-1 is very simple to use. Resistance is controlled with a dial that you simply turn for – or +.
The pedals are a good size too and have non-slip edges for added safety.
Well designed and solid feel
It's worth mentioning that this cross trainer combo has a modern, clean aesthetic that will compliment any home or gym. It's also undergone rigorous stress-testing from the good folks at FitnessForm for stability. You're getting a seriously tough machine here that's built to last.
Silent running
If you like to pass the time while you're training reading a book, on your phone, or watching TV then you'll be pleased to know that this cross trainer keeps the noise levels low. Nice smooth action here means there's no grinding, whirring or buzzing while you workout.
Good deal for the money
This 2-in-1 Cross Trainer Bike represents good value for money. It's often on sale so keep checking.
Verdict: This bike has just about everything you'd need from an elliptical cross trainer bike. It's strong, sturdy and easy to store. There's a good number of resistance levels that will keep new or experienced users happy. It also represents good value for money.

High quality build
Easy folding action
Easy assembly
Smooth and comfy
Not much to assemble
Good value for money
Old style 'LCD' screen, not a pixel one
Does wobble a bit
Check Current Amazon UK Price
---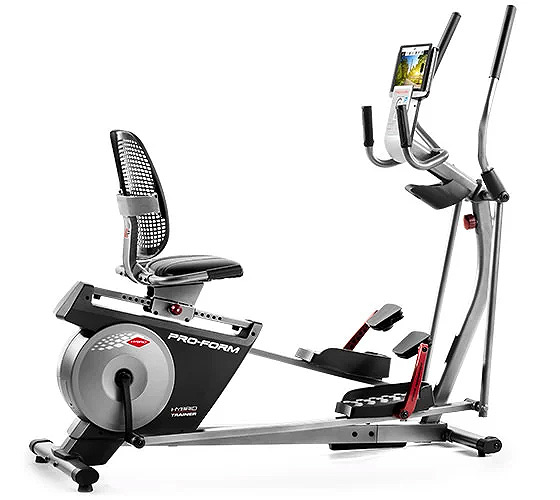 Unique design: recumbent and elliptical in one
Another awesome elliptical cross-trainer bike is this one, from Pro-form. Instead of an upright, you're getting a combined elliptical cross trainer and a proper recumbent bike, rolled into one.
With a 13lb effective flywheel, there's a lot of resistance here, which can be changed through 16 discrete settings. It's comfortable, with oversize pedals, a well-designed seat, and a huge maximum weight limit of 160kg (350lbs.)
Like most of the premium models on this list, the Hybrid XT also comes with iFit functionality built right in.
The sheer flexibility of iFit and the number of benefits it gives you, both to fitness and enthusiasm for working out can't be overstated, and considering you can select low impact workouts right from the home screen, it's the perfect choice if you need something that's easy on the joints.
We've got a full review of the XT trainer here.
Verdict: Pro-Form's XT trainer is ingenious and about the only machine we can think of that combines a recumbent and an elliptical. It doesn't skimp on either station, offering two great ways to get a cardio workout on one. iFit is also ready to go here too.
Brill LCD display that's easy to read
Very comfy
Combined elliptical and recumbent
High quality and really well made
iFit ready to go
Lighter flywheel might not be ideal for very fit users
---
Thanks for reading and please let us know in the comments if there's a cross trainer bike combo you really like, or if there's anything we've missed here. Happy training and all the best!
Tom, HGE