Welcome to our JTX Slimline treadmill review. If you're short on space (like most of us are…) and have been looking for a running machine with a full-sized track that can fold down to a size you can store this machine might be for you. In this deep-dive, I'll cover what this machine is, what it does well, and who will likely get the most out of it.
Grab your water bottle, it's time to get a sweat on.
What is the JTX Slimline Treadmill?
The 'Slimline' is a motorized treadmill from UK-based company JTX Fitness. The quick version is this machine tries to strike a balance between a good-sized treadmill where you won't feel cramped (as you do on many of the 'compact' machines) but one that can also be folded and even moved around easily.
We have reviewed a good number of space-saving treadmills over the years and they don't always do a good job at folding to a compact enough size or, more commonly, having a running track where you can get your full stride – especially for sprints, or just for taller people.
So how does JTX's machine compare?
We'll go into more depth in the rest of this review but if you just want the quick version, the slimline offers a relatively sturdy frame and folds completely flat (instead of just the running track flipping up). One person of any strength should be able to move it around. For a folding machine, there are good features here and the overall quality is good.
The JTX slim-line treadmill is a mid-priced machine (normally priced around £600) and can be ordered direct from the JTX website here.
---
JTX Slimline Treadmill Best price & full guide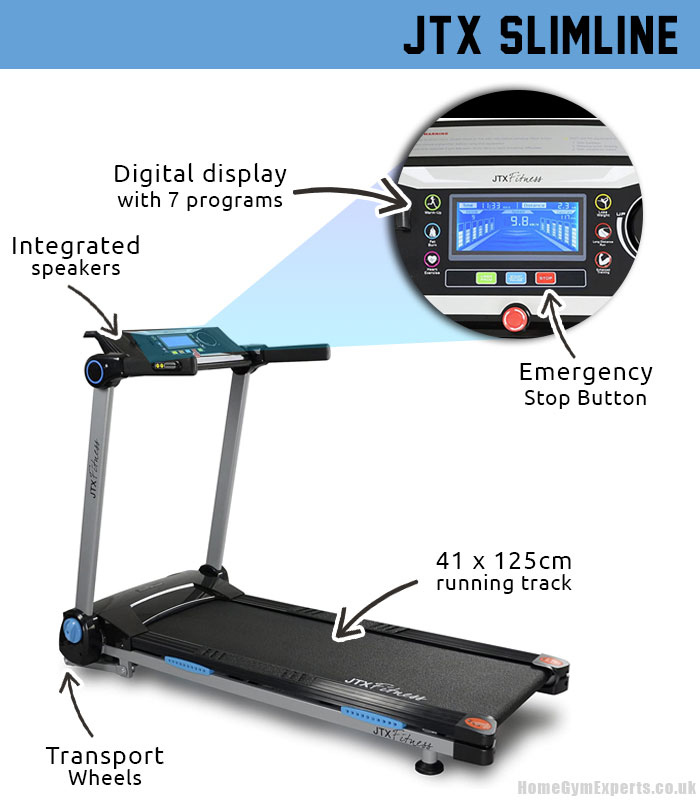 Features at a glance
Fold-flat electric treadmill
41 x 125cm running track
Emergency stop button
15 levels of digital incline
Digital display with 7 programs
Comes assembled
14mph top speed
Wheels for easy storage
1.5hp motor
Free next-day delivery
You're getting a quality running machine without the gimmicks.

Our full 2022 review of this compact runner
Assembly – nothing to do here…
Normally, this is the bit where I like to complain about how long it takes to put a treadmill together. Thankfully, there's not much to complain about here. Indeed, there's nothing to do with the Slimline when you take delivery of it apart from unpacking it and get shot of a pretty impressive cardboard box.
If you hate assembling things, you'll love this.
Build quality and stability
One thing that's impossible to get from looking at pics, but is one of the biggies in getting a good treadmill is the build quality and how stable it feels to run on. Here, JTX has done a good job considering this is a folding, portable style machine.
Heavier than a lot of folding treadmills, the Slimline is definitely a solid machine that's sturdy and offers a lot of stability.
There's a 1.5HP motor that will get you up to 14km/h or 8.6 mph.
Following on from the other machines we've seen from JTX, this one has a well-made frame, good weld quality and you can get some proper running in without it wobbling or creaking.
Max user weight is 110kg – which isn't the highest we've seen but again, this is a folding machine so it's to be expected.
Powered inline is a welcome inclusion few folding treadmills have
Another big tick in the pros for this treadmill is powered inline. Many of the folding machines we've seen don't have an incline function or opt for the primitive manual incline. The JTX Slimline has a built-in powered incline (15 levels, no less) that will really ramp up the difficulty and is ideal for experienced runners looking to get a sweat-on.
The built-in programs here have much greater depth and utility thanks to this feature too, offering varied workout programs that will get you climbing hills, burning calories and taking part in a number of different sessions that will do more than just running at a constant incline and speed.
Folding and storage are generally good
So how compact is the 'Slimline'? It will fold down to just under 30cm in height and can be stored vertically to the side of a room, or under a bed. IF, and it's a big if, it will fit. Not every bed has 29cm to spare underneath it.
At around the  60kg mark, this is also not the lightest compact treadmill machine we've seen either. This can be a good thing as it adds a decent amount of stability too, which make a difference when running.
The folding mechanism is quick to use and although it does involve some lifting, it's not too hard on the back.
It does come with wheels but it could still be a challenge to get it under an area if you're not strong enough. Moving it around is fairly straight forwards though and overall it's simple and easy to store.
Compared to larger, full-size treadmills, where the deck merely flips up a bit, the JTX Slimline really stands its ground in terms of storage. While those machines offer a more sturdy frame, they take up a lot of space. The Slimline doesn't. It frees up that floor space completely.
If you really want to keep the machine out of sight, you could get it into a wardrobe at a push but it is fairly heavy and would take some doing!
The running track
The running area is one of the major things to get right on any new treadmill, regardless of whether it's a folding machine or not. JTX's Slimline has a running surface of 125cm x 41cm.
For a folding machine, that's not bad. Compared to something like NordicTrack's giant 2950 commercial machine, which has a running track of 56 x 152cm, you're losing 15cm on the width and 27cm on the length.
This is definitely a narrow running track, which is on par with what we'd expect. Technically your feet land in the same spots when running anyway but there's less room here than a commercial gym-size machine and it does take some getting used to.
You've also got some shock absorbers here which help make the deck feel a little softer than a lot of the cheaper machines you can get. The deck has a good quality feel throughout. Noise is kept to a minimum and If you've ever had a loud machine, you'll likely be impressed and notice a step up on the audio front here.
Overall, a decent-size running track for a folding machine, with a fairly bouncy, stable feel.
A bit about the console
Here's one area where this machine pulls way ahead of the budget folding machines we've reviewed at Home Gym Experts: the display. As with the other JTX Treadmills, there's much to be said about the built-in display.
For starters, it's really clear and easy to read, opting for a brightly lit 'blue' readout that shows all the important stats such as distance, time current level. There's a good range of programs to try out or you can just play around with the normal 'quick speed' type buttons which will gradually increase to a set speed with one press.
Verdict: Is the JTX Slimline worth a buy?
If you are looking for a good quality machine that you can stash out of the way in between uses, this is an absolutely fantastic machine. It's sturdy, all the parts are top quality and the display is seriously good.
There's a good choice of programs and it's incredibly easy to store.
On the downside, concessions have to be made in terms of running track size and the stability is never going to compete with a commercial full-size machine.
But it's hard to bring to mind a better folding machine and if you're looking for something a setup up from the endless cheaper machines on places like Amazon, this is a great buy for anyone short on space.
Highly Recommended
---
What you'll get from training on the JTX Slimline Machine
You'll improve your cardio and heart health
Everybody probably knows that treadmills are a great way to get in shape but digging a little deeper into the research shows that running can do more than tone you up and keep you looking good.
It can also save your life.
A study from 2014 showed that running has been linked to a 45% drop in the risk of death from cardiovascular disease. Another study showed that running an about two hours every week can lengthen your life by up to three years.
I guess you'd have to work out how much time you spend on the treadmill too, right? But it's clear from the research that running outdoors or on a treadmill has serious benefits to your heart.
It can help with weight loss
While running on a treadmill won't help you lose weight without also working on your calorie intake, it is a valuable tool at burning off calories and helping get to your weight goals. If your aim is to lose some weight (or, better still reduce your body fat percentage) owning a machine like the Slimline treadmill is a good way to do it.
Key benefits
Folds to a reasonably flat size
Easy to store & move around
Sturdy & well built
15 levels of incline are controlled by computer
1 year in-home warranty
28 days no-quibble money-back guarantee
No assembly
14kph speed
Watch the video below for a good overview of the treadmill and it's features!
---
Related guides you might like
---
Slimline FAQs
What's so good about the 15 Levels of Digital Incline?
It's very rare for folding treadmills to have a decent level of incline. In fact, many don't offer any, or have clunky pins that need to be adjusted. Not very practical or much use. The JTX Slimline Treadmill's computer controls the level of incline, allowing more dynamic programmes to increase or decrease the incline as you're training.
The benefit is you can do hill climbing, interval training and work on your cardio and leg muscle groups much more effectively.
Can't you buy cheaper slim line treadmills on Amazon?
Folding treadmills are a tough one to get at a cheaper price. They generally have issues with stability, the motor and belt quality, and feature pretty dire displays. The JTX slimline is excellent quality and features a powerful 1.5HP motor and a good-sized 41cm x 125cm running surface. It's not as large as a non-folding machine, but perfect for getting in shape at home.
Where can you get the best price for the JTX Slimline Treadmill?
This product is available on Amazon, as well as other retailers but you're actually better off buying direct from JTX. They offer free next day delivery on the JTX Slim-line and full warranty and returns.
What kind of warranty do you get when you buy this treadmill?
There's nothing worse than buying a product and having issued returning it. JTX offer a 1 year in-home servicing and repair warranty with the slimline treadmill. They'll actually send out an engineer to fix any problems you have and that includes parts and labor too.
As for returns, there's a 28 day money back guarantee so you can send it back if you find it's not what you need.
Full JTX Slimline Specs
| Running Area | 125cm x 41cm |
| --- | --- |
| Max Top Speed | 14kmph |
| Suspension | 8 point shock system |
| JTX Slimline Treadmill Computer Display | Large, easy to read digital display. |
| Number of programmes | 7 |
| Heart rate sensors | pulse hand sensors |
| Safety Features | Safety key for emergency stop |
| Power | 1.5HP |
| Transport Wheels | Yes |
| Speakers | Yes |
| Max user weight | 110kg |
| Machine weight | 60kg |
| Included | Lubricant |
| Free Accessories | Water bottle |