Knowing which balance board to buy online should be an easy affair, but it's one bit of training equipment that has an unusual number of variations.
In this product round-up, we're looking at the best balance boards you can buy in 2023 in the UK. We'll cover what we found were the top balance trainers and help you make an informed decision about which one is right for you. Unlike other product guides, it's more a question of which wobble board is right for you as they offer something slightly different.

#1 – PowerBalance Roller Board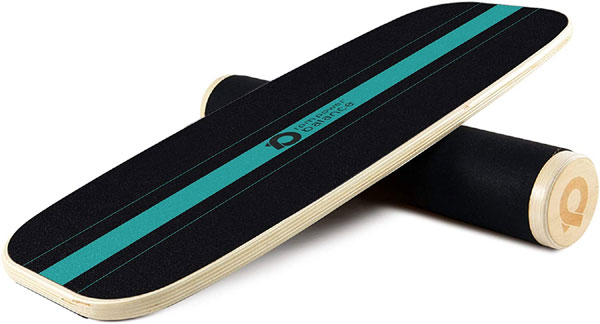 Our top pick, the PowerBalance Roller Board combines everything you could want into a single, compact, well-made piece of gear.
A variable trainer
First off, one of the best things about the PowerBalance board, and something that sets it apart from a lot of the other boards on the market, is that it has multiple scaling difficulty settings.
The way this works is deceptively simple. The bottom of the base has two rubber brakes that act as stops, so the board doesn't just fly off the end of the roller. At maximum distance, these extend almost the full length of the board, but that distance can be shortened, making it much easier to balance.
But the board comes with pre-drilled holes, and adjustment boards that can be screwed directly into the board, shortening this distance in less than a minute, and making it a lot easier to balance.
This lets you work up towards more difficult challenges, and it makes the PowerBalance a great option for almost everyone, as you can adjust the difficulty as you go, and scale upwards as you get stronger and fitter.
Fantastic for specific training
It's no surprise that the PowerBalance Roller Board is a great training tool for specific exercises. After all, this is basically what it was designed for.
If you're currently in the off-season for surfing, snowboarding, skateboarding, wakeboarding, or something else entirely, it's hard to find something that replicates that, as well as the Roller Board, does.
The quality stands out on this board
Finally, the board itself is just great quality. It looks awesome; clean and tidy, with a bright blue accent slash advertising the name. The topside of the board is covered in a non-slip surface (which is reasonably rough, you might need shoes,) and the bottom is treated hardwood.
In terms of weight, it holds a massive 135kg (300lbs,) which is seriously impressive, especially considering the board itself only weighs a couple kilos, and measures in at 73.6 x 28cm.
The included roller is also solid and dependable, as well as being covered in a thick felt fabric that helps to protect your floor.
Final thoughts
As a generalist board that can be turned to anything a balance board can be used for, the PowerBalance Roller Board is hard to beat. Whether you're looking for general training, for working on specific skills in the off season, or you want to build a base of balance, the PowerBalance Roller Board is almost certainly ideal.
Good value for money
Versatile and ideal for just about every kind of balance training
Super-sturdy and well-made
Compact and lightweight
Will leave an imprint on carpet
Check Current Amazon UK Price
---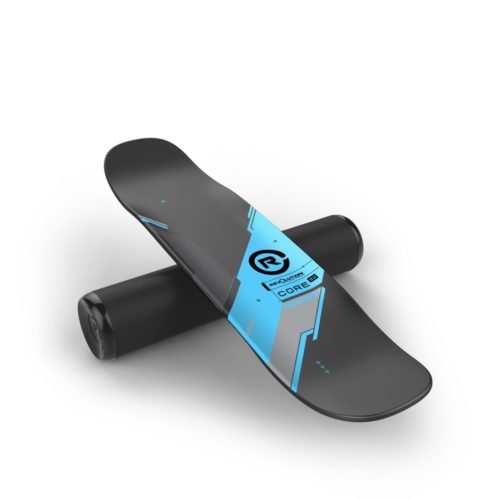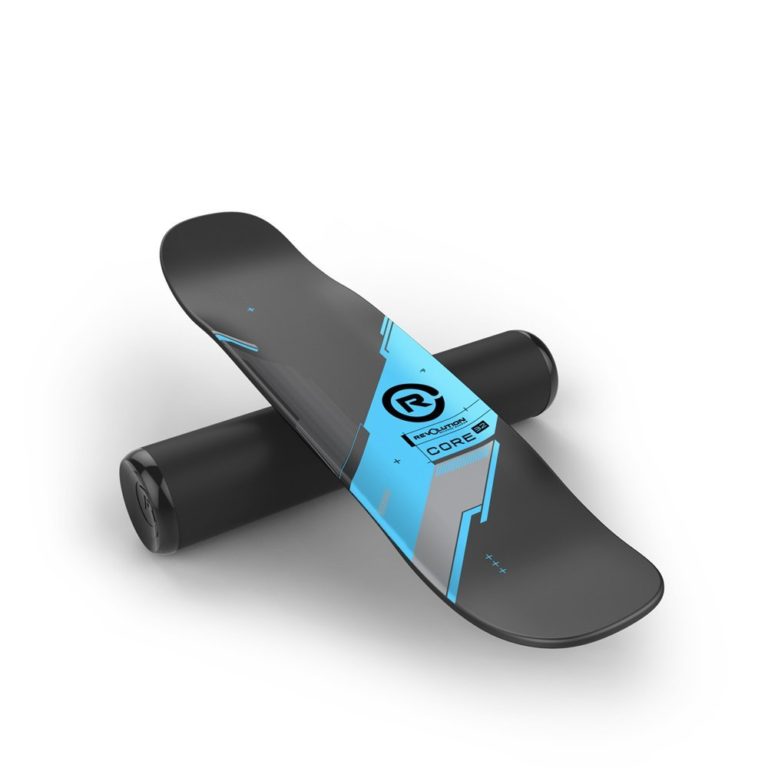 The Revolution Core 32 is a skater board style balance trainer that's great for getting in shape and improving your balance. It comes with a separate roller and offers full freedom of movement.
Build quality
A good showing here on both durability and the quality of the product. There's over 92 positive reviews on Amazon.com for the revolution balance board, many citing the sturdy design. The impact roller is also built to last.
If you're into skate boarding, this will likely be the board you want to get. You can practice your kickflips, 360 flips and more, without ever going outside. The revolution boards beat competing boards for things like for ollies and kick flips.
Who is this the best balance board for?
The Revolution 32 is a serious board for anyone wanting to improve their balance and their tricks. Of course it also works quads and core muscles. It will be of interest to anyone into snowboarding, long boarding, skateboarding or skiing. You should feel the benefit in your improved balance soon after practicing. It's also a good choice for exercise and for a fun balance board. It will take a bit of practice as it's not a noob board. After a day you'll be getting the  hang of it.
Tracks under the board prevent it from flying off when you're doing tricks.
More versatile than the Indo Board
Feels very smooth to use
Sturdy design, suitable for tall or heavy users
Cool design, in one of two colours
Not as easy to use as the Indo board
Check Current Amazon UK Price
---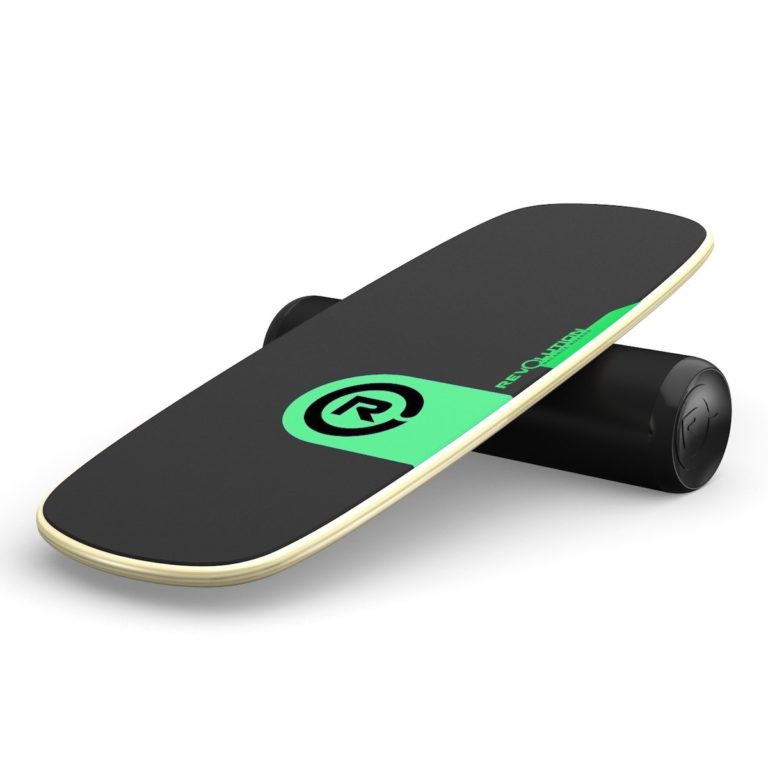 The second of our revolution boards in the top listing.
This is a balance wheel style board that looks a bit like a skateboard, with no wheels. And in fact it has a lot in common with them – it's made from 'bomb proof' tough 11-ply hardwood and it's super-comfortable with orr without shoes.
Freedom of movement
Roller style balance boards allow complete freedom of movement. The 101 will strenghen ankles, legs and feet. It's also used for strengthening core muscles and for rehabilitating back injuries. Often used by PT instructors to strengthen supporting back muscles. However, it does have 'stops' built onto the bottom that will prevent the board from rolling too far and slipping away.
Very high reviews on Amazon US
While there aren't many reviews for this balance board UK wise, say on Amazon UK, it's worth mentioning that it has a 5 star rating on Amazon US, with an impressive 330+ reviews.
" it's worth mentioning that it has a 5 star rating on Amazon US, with an impressive 330+ reviews."
The roller is quiet and lightweight
Your balance board is only half the important part here. The roller part (the black 'tube' bit underneath) is also very well made and it's quiet to use. It's recommended to get used to it holding onto a wall or chair before trying it 'free style'!
Who is this balance equipment suited for?
As well as being a lot of fun to use, the Revolution 101 is ideal for intermediate users. It can be used for fitness and strength training, as well as improving control and the muscles used for snowboarding, wakeboarding and surfing. This balance board will also be worth looking into if you're into skiing.
Very positive user feedback
Complete freedom of movement
High quality product, well put together
Strengthen leg and core muscles
Takes a bit of practice to start balancing
Amount of 'freeness' might not be suitable for everyone
Check Current Amazon UK Price
---
Excellent budget option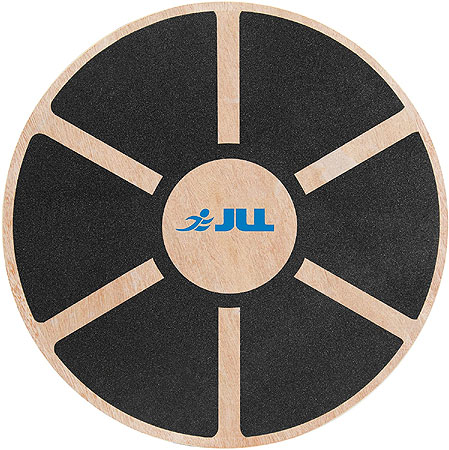 The best budget board on the list, this circular board is by one of our favourite fitness manufacturers; JLL, and focuses entirely on delivering a basic, but well priced and easy to use board.
Dependable design
The circular design of this board is easy to understand, and lets you step onto it from any angle. It also doesn't tie you into a specific training posture, which is a big deal when you're doing bodyweight exercises using a balance board.
The textured topside is 39cms across, which is wide enough to accept most people's standard standing position, non-slip, and not too rough on the feet.
Below that, the board itself is well made and tough, from 18mm, 11 layer ply that can hold up to 120kg (265lbs.) The base is resilient polycarb, deep and round, and very stable.
Low cost and multi-use
The board really stands out in its price. It's crazy cheap, especially compared to some of the other boards on this list, at less than a third of the price of some.
It's also entirely safe to use for all ages. Some more specialist boards might only be suitable for adults, but kids can safely use this. (But please, keep eyes on them if they do.)
Make sure you clean it
The only issue with the JLL balance board is that, when you first take it out of the bag it comes in, you're probably going to need to give it a wipe over to free it from wood chips.
This is apparently a regular issue with these, but it's something that's only gonna have to be done the one time, so it's not a big deal.
But literally apart from this tiny issue, you're getting a reliable and easy to use balance board for almost no outlay, and that speaks for itself. If you're not sure whether you'd use a balance board, or budget is a constraint, this is probably the easiest way in.
Really cheap!
Good anti-slip surface
Easy to use and balance on
Solid build quality
Can come with wood dust that needs a clean
Check Current Amazon UK Price
---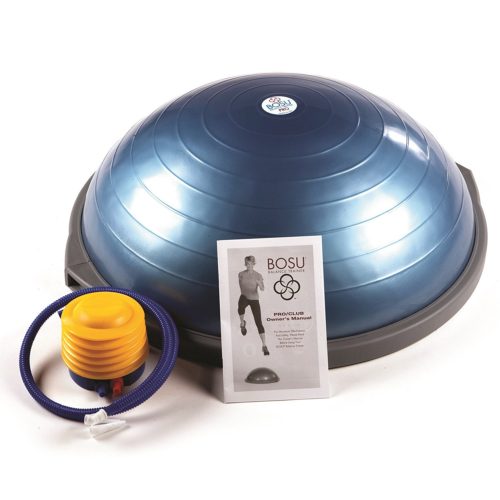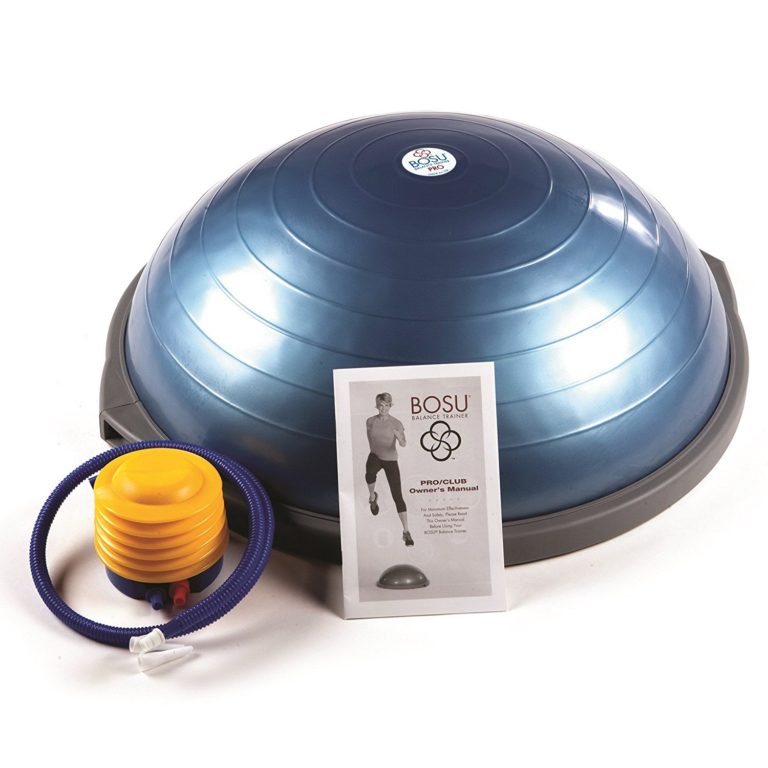 Here's an interesting bit of kit. If you haven't seen a Bosu Balance trainer before, it's a dome-like inflatable trainer that can be used for all sorts of workouts and stretching. It can be combined in your home gym or used on it's own. Bosu is ideal for can be used for core strength training, agility, stability and improving your flexibility.
And balance of course.
This balance equipment is extremely tough and solid-feeling. Despite it's look, it's designed to take the hardest punishment you can dish out. It's the exact same model used in gym classes, as well as being put to work at professional footballer.
Like all balance trainers, the idea here is that your wobbling movement, and the correction of that movement, makes the work harder and strengthens your core. It can be worked into your existing training and used to strengthen joints after an injury.
Some exercises you can do with the Bosu
You don't have to be an expert to use the Bosu Balance Trainer and it's suitable for people young and old. The 'ridges' on the dome, combined with the non-slip base, keep you from slipping off while you're training. However, as with all training equipment, it's worth doing your research and checking out some of the training videos on Youtube.
In case you're wondering what's different about this 'commercial' model, is slightly larger and sturdier than the home use one, with a stronger base.
The Bosu Trainer comes with a pump and full instructions.
Varied range of possible workouts
Sturdy and built to last
Great for new users both young and old
Can be used for recovery
The supplied pump could be better
Check Current Amazon UK Price
---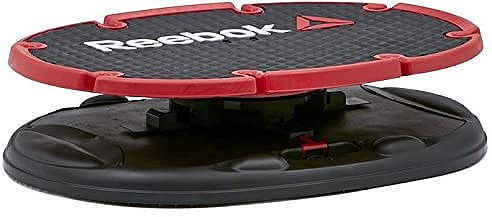 The last UK balance board worth looking at is the Reebok  Professional Core Board. This is a very safe strength training board and you'll find a lot of ways to work into your training. It's perfect for building up your back and core.
Build quality
This balance board is a tough bit of equipment that's designed to take some serious punishment. The build is solid and it feels very sturdy. Because of this, it's a sound choice for users on the heavy side.
It's safe and it's easy to use
This balance fitness equipment is a lot easier to use than some of the other boards I've written about. The board part is attached to the base so you can get the full range of movement without the risk of the board slipping away. Another thing I like about Reebok's board is the chunky, solid-feeling grip.
Your range of movement can be adjusted to one of two positions.  This is useful if you're a new user or are using it for rehabilitation purposes. In case you're wondering, those 8 notches around the outside are positions you can use for resistance bands.
"You can do pretty much any standing exercise on the Reebok Core Professional and get up to 20% more benefit."
Using the core board for recovery
Can be used for rehabilitation, especially for back injuries, and also is currently being used for older users looking to stay in shape.
See the Reebok Core Board in action here
There's actually a lot of videos on youtube for the Core Board and some good ideas for exercises. Here's a quick overview that shows this board in action.
https://www.youtube.com/watch?v=hYmOq0rNLHQ
Any downsides?
There's a couple of issues that may or may not change your mind on whether to buy this balance board. First, a number of people have pointed out that the Reebok board doesn't come with any instructions. This is a strange omission as this could be the first balance equipment someone has bought. Secondly, there's less movement that you would get with other boards. This will either be a good thing or a bad thing, depending on what you're looking for from your balance equipment.
Easy to use
Safe, non-slip surface
Good choice for senior users
Ideal for recovery from injury
Does not come with any instructions on how to use
Not as 'wobbly' as some other boards
Check Current Amazon UK Price
---
How To Choose a Balance Board
You'd think that a balance board would be a simple bit of kit, but a quick search turns up dozens of different variations, and it can be surprisingly hard to know the difference between them.
This guide is designed to make your decision easier, by breaking down the top 5 balance boards on the market right now, explaining what makes each one different, and which one is right for you.
Buying a balance board; what you need to know
A balance board can be an excellent tool for training your balance (no surprise) but it's also very useful for working on conditioning, core strength, recovery from certain types of injuries, and finally also for dedicated training in certain sports, eg, surfing and skateboarding.
Here's what you need to know when buying a balance board:
What are you buying it for?
Different balance boards are designed for different exercises, so the first thing to work out is precisely why you're buying a balance board, and what exercises you plan on training using it.
Balance boards can be used for a huge amount of exercises. Ignoring the fact that any bodyweight exercise can be performed on a balance board, which adds an element of core strength and stability to what might otherwise be a mundane workout, you can also use a balance board for:
General fitness and balance training
Cardio exercises
Boardsports like skateboarding and surfing
Rehabilitation
Yoga
As part of a stand-up desk set up
How often are you going to use it?
There are two reasons to consider how and why you're going to use your balance board. Cost and storage.
A board that is going to be used regularly should be more heavily invested in, and it's worth spending more to buy a quality product.
In the same vein, if you're using a balance board daily, you can safely buy something larger and more involved that doesn't have to be stored as often. Balance boards by their nature are surprisingly big pieces of kit and can be irritating to store after use.
How good is your balance?
Using a balance board is an inherently difficult exercise, and for certain people, especially those who might already struggle with their balance, it's worth weighing up the benefits of a board that might be more difficult, versus a board that's lower and more stable but easier to stand on.
A good rule of thumb when buying exercise gear is to purchase something that's at your level with the capacity to expand upwards. Never buy equipment that's far too hard for you to currently use in the hope that you're going to get better faster. Contrary to common beliefs, jumping in at the deep end is the worst way to train, and might actually slow your progress. ​