Welcome! In this home gym guide we're taking an in-depth review of the best vibration plates you can buy online in the UK in 2023.
A regular feature at most modern gyms and health spas but recently they've been making inroads into home health and fitness too, with smaller, cheaper oscillating plates that are perfectly designed to fit in the corner of your room.
But is the technology actually worth using? What can it do for you, and is a vibrating plate worth investing in for your home gym? And which ones are worth buying?
"Bluefin's 4D plate is one of the best selling plates in the UK. Its extremely sturdy and a good choice for everything from home fitness to helping circulation."

Mirafit Slimline Vibration Plate

"Mirafit's Slimline packs a lot of features into a small frame, for a very reasonable price."

Mimicking walking, jogging and running

"A good vibration plate for targeting your mid-section. Decent level of power and solid design. "

Works with 3rd party apps
What we look for when picking the top vibrating plates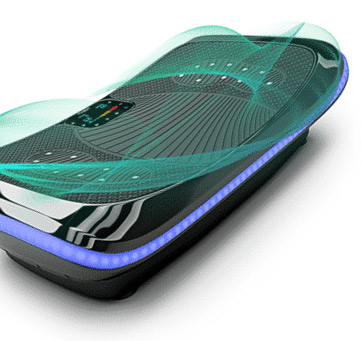 Will it rock my world? At the top of a long list of requirements, you need to look into is the amount of power your new vibration plate can put out, or rather in, to you! We check how powerful each one is, along with a number of vibrating speeds, programs and types of vibration each plate is capable of.
How hefty is this vibration plate? As far as gym gear goes, vibration plates aren't exactly the most space-hogging or cumbersome bits of kit you can buy. That being said, most people will need to move it around between sessions and some of these plates can be on the weighty side.
What extras do I get? Just about every vibration plate we've seen has some extra goodies in the box. While they're not the most important part of the product, they're a handy extra that saves you from going back online to order that thing you need. There should be at least some elasticated armbands in the box, with some products offering a seat, workout videos or some colour leaflets.
Max user weight – The majority of WBV plates offer a decent capacity but some dip down lower than we'd like. We've listed the max user weight with each product below, so you can pick accordingly.
What is that noise? – When you start looking into these vibrating gadgets, you'd think they'd hurt your ears. Actually, just about everyone we've seen is relatively quiet. We'll check the noise levels and let you know if there's anything that sounds like a chainsaw gone wrong.
Is it easy to set up? This one is mainly down to how good the instructions are (some are naff). And it's one of the things we check into.
Is Bluetooth a nightmare? – There's nothing worse than wasting minutes faffing around with Bluetooth. One of the things we always check is for any problems connecting your phone to your vibration plate. Most have some reason to do so – mainly music.
---
UK's best vibration plates for your home gym in 2023
Before the buyer's guide, let's go over the current top vibrating fitness platforms out there in 2023. Here are the ones we found were actually worth the money, starting with the top pick first.
Number of speeds: 299
Weight: 9kg
Max user weight: 9kg
Extras: Set of resistance bands, watch-style remote, armbands and colour exercise guides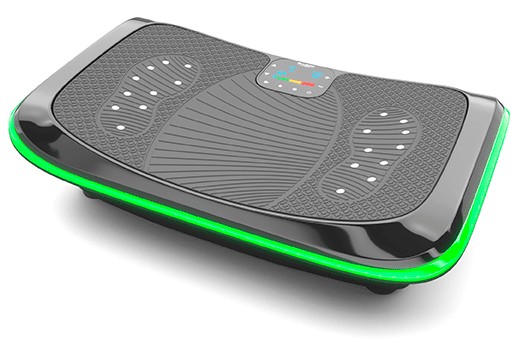 Possibly the single best vibration plate you can get for your money, the Bluefin 4D does everything you need it to do. It also packs in a whole lot of smart tech that makes it better than almost every other option out there.
First off, it has three separate silent drive motors that are responsible for three different types of movement; standard vibration, oscillation, and micro-vibrations. All of these can be used separately or added together for a complete, powerful package.
It's very simple to use, with an LED light intensity option so you can see at a glance how hard you're working, intelligent workout options like 3 built-in programs, and a wearable remote control.
Bluetooth 4.0 speakers are built right into the body, so you can listen to your favourite tunes as you tone, and the kit comes with resistance cords and a workout and nutrition guide, making the whole process that much easier.
While the Bluefin Fitness 4D vibration plate is a little more expensive than the other options on the market, it's more than worth it. The extra features and overall quality are that much better than anything else we've looked at, and it's more than worth the asking price.
3 powerful motors
Some great extras
Superb quality
Bluetooth speakers
Highly visible and easy to understand controls
Verdict: If you're looking for the top-level home vibration plate, and don't mind spending just under £400 on it, you can skip the rest of this guide. Bluefin's plate is powerful, versatile and is easily the best one you can get.
---
Number of speeds: 99
# Programs: 9
Max user weight: 150kg
Extras: Arm bands and remote control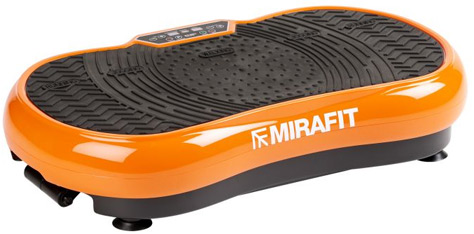 Mirafit's vibrating plate is one of the best ones does to its sturdy design and features
The best generalist choice on our list, the Mirafit Slimline packs a lot of features into a small frame, for a very reasonable price.
Compact and light enough to easily move around, it's all powered by a strong motor that puts out 1000W of rated power, with a 2500W peak capacity. That's far stronger than a lot of other models, and incredibly impressive considering the size.
9 built-in preset programmes and 99-speed levels make working out easy, and three-foot positions can help hit different areas by mimicking walking, jogging and running. The simple display shows your time, speed and any program you're on, with simple controls or a wireless remote to set everything up. Detachable resistance bands, a handle and roller wheels complete the set.
If you're looking for quality, without stretching the budget with our top choice, the Bluefin, there's a lot worse you could do than buy a Mirafit Slimline.
Verdict: Perfect for home gym's Mirafit's WBV plate is powerful, robust and will give you a proper workout. This is easily one of the better home-based plates we've seen.
Powerful motor
Good set of programs
Light and portable
Short power cord can be annoying
---
Related guides
---
Number of speeds: 20
# of programs: 5
Extras: Workout videos, exercise seat, resistance bands, remote control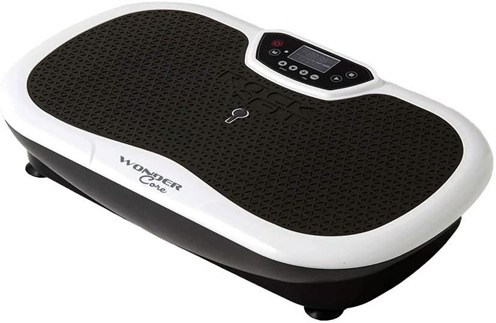 Simply designed, with a couple of nice features that set it apart, the Wonder Core Rock N Fit is a great choice if you're looking to target, you guessed it, your core, and it's a solid option on top of that.
The powerful 1100W motor has 20-speed settings, and 5 pre-set and well-designed calorie-burning programs. 3 levels of intensity let you step this up when you need to, and 4 bonus workout videos make hitting your goals that much easier.
One thing we absolutely love about this plate, though, is the extras. It comes with resistance bands, which is pretty standard, but it also comes with a specially designed, comfortable padded exercise seat that can be mounted on top of the plate.
This puts your midsection directly above the vibration plate and at the perfect height for maximum core targeting, ab shredding power.
Verdict: This vibration plate includes a seat which makes it much more comfortable to do a lot of important core workouts and ab exercises.
Fantastic for core strength
Strong motor
Great extras
Remote control isn't amazing
Check Current Amazon UK Price
---
# Levels of vibration: 99
Weight: 9kg
Max user weight: 120kg
Extras: Arm bands, remote and colour exercise guide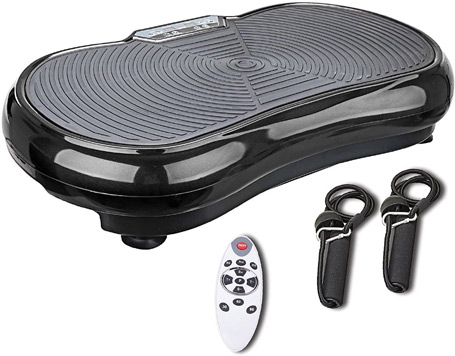 The best budget choice on our list, this option by Pinty is a little cheaper than a lot of other picks, without skimping on features.
The motor is 1.5HP and 200W, which seems slightly weak, but drives the plate up through 99 different speeds, and the 120kg (265lb) maximum weight is excellent. It's also very quiet in operation, which is perfect if you're using this while doing something else.
The body of the plate is made from strong, impact-resistant ABS, and it's very compact, almost as small as the Mira Slimline, which is noted for its tiny size. Non-skid feet keep everything stable when in use, and transport wheels make shifting it once you're done as easy as pushing it along.
Two-colour choices give you options when you're buying, and it's very easy to set up and use, which is good, because the added instructions are pretty bad. But apart from that small issue, these are very impressive, especially for the price you pay.
Verdict: Although the instructions could be better and this isn't the most powerful in our list, don't skip this budget vibration plate. Pinty's plate is great for a whole-body vibration and massage and is also a silly low price.
Great budget pricing
Compact size you can put behind a chair
Very quiet
Included instructions are confusing
Lowest power on the list
Check Current Amazon UK Price
---
# Levels of vibration: 299
Weight: 9kg
Max user weight: 150kg
Extras: Arm bands, remote and colour exercise guide
The final choice on our list has won accolades, including being judged by the Sun newspaper as the best value for money vibration plate in 2020, and it definitely delivers.
Performance is driven by a powerful motor that puts out 500W standard, with 2500W peak power, equal to the best on the list. 299-speed levels and 5 preset programs give you a large amount of options for health and fitness, and it's all very simple to control from the LED touch buttons/
At 9.5kg, with a 150kg (330lb) max user weight, this can take almost any user. Included resistance bands help with exercise, and Bluetooth music speakers can be linked to almost any device.
This plate also has magnetic therapy beads implanted in the footplate, which are supposed to have health benefits, though we wouldn't want to speculate on the efficacy of them. They do add some nice texture though.
There's a lot to love here, with everything the Roneyville does working impressively, to the point that it's almost a match for our top choices. We still recommend looking at those first, but you'll never regret buying one of these.
Verdict: This lightweight WBV plate packs quite a punch for its compact size. There's plenty of power here and it's quiet and easy yo use.
Massive amount of speeds
Light weight
High max user weight
Lots of extra functions
Resistance straps feel flimsy
Check Current Amazon UK Price
---
That's the end of our list. Hopefully, now you're closer to making an informed decision about the scales that you're looking for, and you've found the right tool for the job.
Next up, we've got a buyer's guide packed with handy info for anyone in a wobble over which vibration plate is best for them.
---
Vibration Plate Buyer's Guide

What is a vibration plate?
For a few years, vibration plates were all the rage, with boutique fitness clubs springing up in towns and cities all over the country. Why? Because, like most fitness trends, vibration plates, also commonly called power plates (after the most famous brand) promised an easy, effortless way to lose weight and tone up.
Did they deliver on that promise?
Put simply. No. There is no shortcut to health and fitness.
But just because vibration plates aren't a miracle cure-all doesn't mean that they're not an incredible tool for health and fitness and the fact that they've stuck around, and possibly become more popular, speaks to that.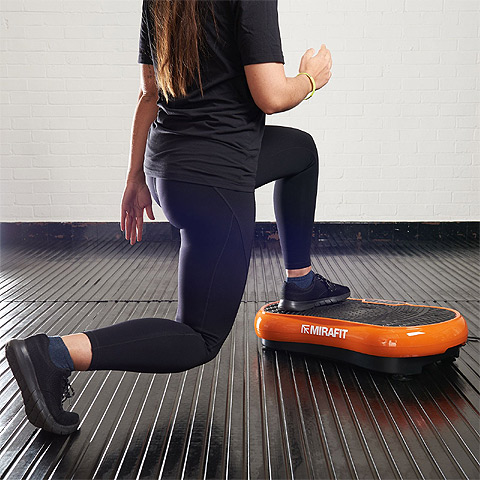 Today, you'll find a lot of higher-end gyms and health clubs having a vibration plate or two tucked away, and the home market is booming. But what does a vibration plate actually do, and why does it work so well?
What are vibration plates designed to do?
It's no surprise to anyone that a vibration plate is a plate that you stand on, which vibrates. When you stand on it, the motor sends high-speed vibrations through your body, which forces your muscles to contract, in the same way, that they would when they're moving.
But these exercise systems force your muscles to flex incredibly rapidly, up to 50 times per second, which can be more than ten times faster than they would ever normally move.
It says a lot that these types of plate were originally designed for use by Russian astronauts, to fight against the muscle degeneration that comes from spending a lot of time in space, with no gravity for your muscles to fight against.
It's also worth pointing out that, by using these plates, the amount of time that astronauts had to spend exercising to keep fit and healthy was cut in half.
For people like you and me, there are a lot of compelling reasons why you might want to invest in one of these little gadgets.
Why you should consider buying a vibration plate?
Easy to use
One of the biggest advantages of power plates is how simple they are to use. You can make it as simple as spending a few minutes standing on it while you watch TV or sort out a few simple chores, or as complicated as running a full bodyweight work out on top of it, adding extra resistance and calorie burning effectiveness.
You can also combine a power plate with almost any other form of exercise, and most models come with resistance bands and workout plans as part of the kit.
Effective
A vibrating plate can give you a surprisingly good workout, especially considering that the vibration can increase the effectiveness of any other conventional workout. Bodyweight exercises become significantly more effective, core stretches and planks hit hard, and even just standing on a power plate can give your muscles a boost, and 10 minutes a day can help with weight loss.
But bear in mind that, like everything else, there are no short cuts. A power plate should be part of a combined regimen of healthy eating and exercise.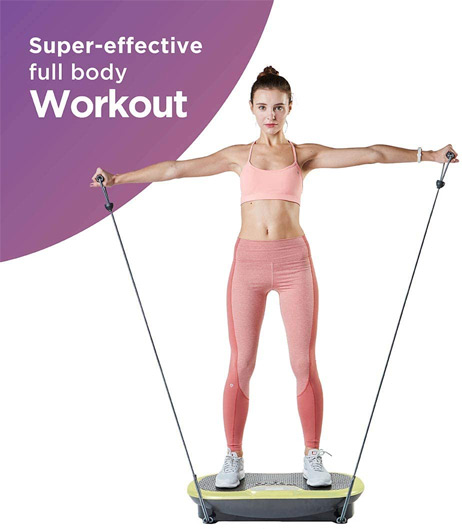 Cheap
Outfitting a home gym can be expensive, and half the time it's difficult to work out the most effective things to buy.
But you can pick up a decent power plate for one to two hundred pounds. For the price to effectiveness ratio, that's a very reasonable purchase.
Safe
One huge advantage of these devices is how safe they are for your body. The vibration is an incredibly low impact form of exercise and puts almost no strain on your body.
Power plates are regularly used by people recovering from injuries, with recurring back or joint issues, and also by the elderly, as an effective way to keep their bodies fit and healthy.
Do vibrating plates really work?
Yes. While studies are still being done on the definitive effects of a vibration plate workout, current research indicates that exercising on a power plate can:
Help with back pain
Improve strength and balance, especially in older people
Fight bone degeneration
On top of this, regular exercise using a vibration plate may also:
Increase strength and flexibility
Aid weight loss and boost calorie burn
Like everything else when it comes to health and fitness, a vibration plate isn't a complete solution. It needs to be paired with a healthy diet and other forms of exercise.
But there's no denying that, use correctly, they can be a powerful addition to your home gym that can quickly help you reach your goals for a healthier life.
What kinds of exercises can I do on a vibration plate?
While there are a huge (infinite?) number of possible variations in exercises you can do with that lovely new vibration machine, there's some major ones you'll want to look at trying out. With a bit of practice you can train just about every muscle in your body. The main exercises are:
Calf raise
Squats & half-squats
Lunges
Push-ups
Ab crunches
Lat Dips
Resistance band work (arm development)
This video shows the main exercises, complete with the proper form to aim for:
---
References & Further Reading