Review Summary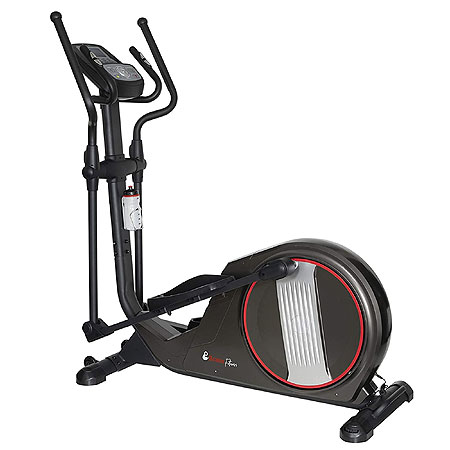 X-Fit Cross Trainer
Solid and well-made
Good value for money
Nice, weighty flywheel
Simple controls and great display panel
No online connectivity
"While there's no online options, there's a really good quality elliptical here. It's well made and has plenty of resistance for users of all levels."
Welcome to our Branx Fitness X-Fit review. If you're thinking about buying this bit of kit for your home gym, this guide will give you all the info on what it does, who it's best suited to, and our opinion on the best and worst things about this elliptical machine.
What is the Branx Fitness X-Fit Cross Trainer?
You're working out upper and lower body. And these workouts can be pretty tough too.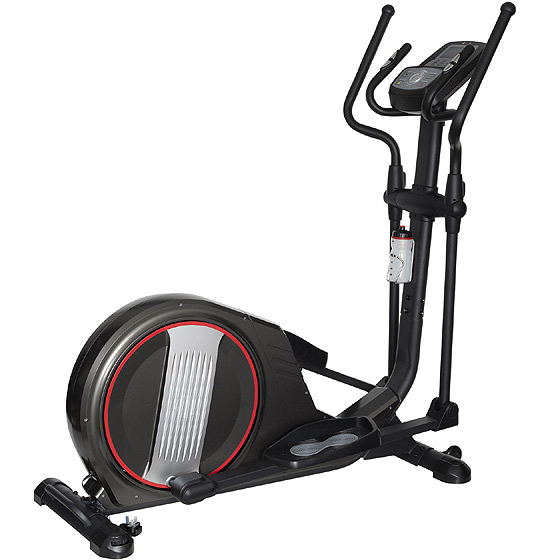 So what's this machine all about? This is a standing elliptical cross trainer. For the uninitiated, you hop onto a couple of oversized pedals, grab either static or moveable handlebars (more on that in a sec…) and 'stride' forwards. Your movement drives a rear-mounted flywheel and creates a smooth elliptical movement.
Like just about all ellipticals these days, this is a cross-trainer. Grabbing the moveable bars mentioned earlier, you can pull 'n' push with your arms, so you're working out your upper and lower body. And these workouts can be pretty tough too.
You've got magnetic resistance here, so it's quieter than flywheel only and the flywheel itself comes in at 14.5kg. Not huge, but above average and more than enough combined with the magnetic resistance.
This machine in particular – the Branx X-Fit is a mid-priced elliptical. (Prices range from a couple of hundred up to a couple of thousand). It's not a budget machine and offers a bump in quality for anyone looking for a machine with a bit of clout.
It has a simple, if not ugly, design that's similar to a lot of other cross-trainers in this market and it's good to see there's more than lip service paid to an app, with iConsole being able to connect this machine to your phone and allow it to control resistance from with the app.
Branx fitness is a homegrown company who pride themselves on their quality of service and the strength of the products they sell. Branx only offer a very limited stock of products, and each one is hand chosen and exceptional at what it does.
The X-Fit cross trainer went through over 500 hours of testing over the course of a year to design the best fitness machine possible, which is good to know!
Check Current Amazon UK Price
---
X-Fit: At-a-glance features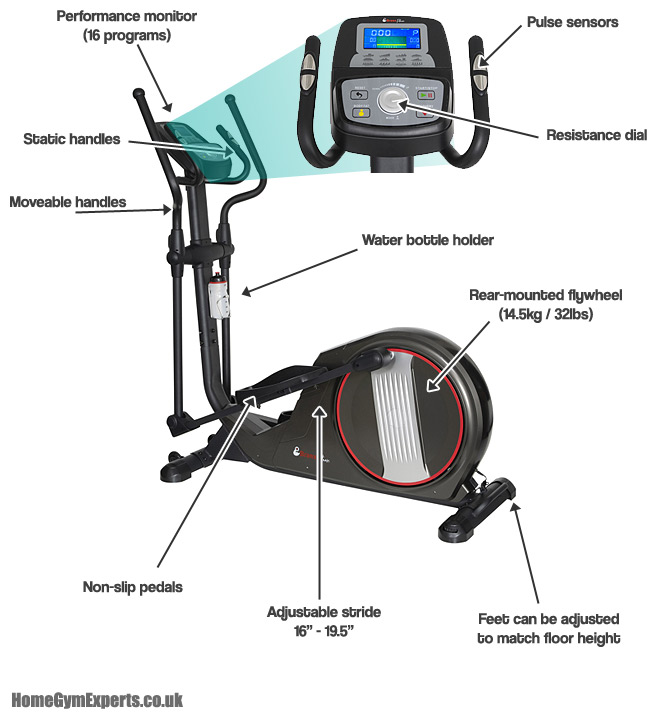 14.5kg magnetic flywheel
Floor space required: 166cm x 66cm
Height: 158cm
16 levels of magnetic resistance
19.5″ stride length (Adjustable)
Transport wheels
Water bottle holder
135kg (300lb) max user weight
USB charging station
Heart rate monitor and chest strap
iConsole lets you control it from your smartphone
5-year frame warranty, 2 years parts and labour
---
5 things you'll get training with the X-fit
We've written a good bit about cross trainers here on Home Gym Experts and it's no secret we love these machines. I can't think of anyone who wouldn't benefit from jumping on one of these machines, from the freshest of gym newbies to the toughest athlete out there.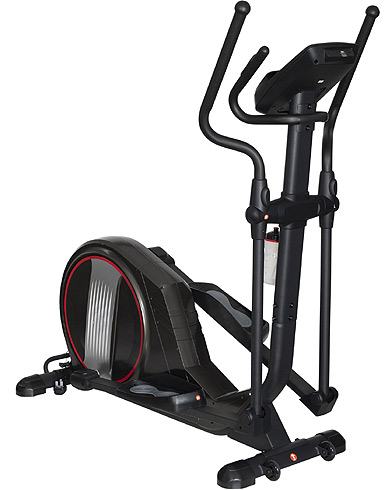 Here's the main five 'plus' points to training with a machine like Branx's X-Fit:
Spend less time working out: Ellipticals will work your entire body, including your arms, using the outside handlebars, your back, your core, and of course your legs. Get a full workout in half the time (or floor space) it would take to do say an exercise bike routine then some upper body work.
Lose weight: I was surprised at how many calories I could burn off when I started using ellipticals in my training. Having written them off as an easy option, I soon ate my words with some sweaty, calorie-torching workouts. Depending on how hard you go at it, of course, you can expect to get through to 500 calories in 30 minutes of exercise.
Keep your joints safe & you're not sitting down:  Because there's almost no impact when working on a cross-trainer, thanks to it's smooth striding movement, your joints don't get the impact they do from running. They're also great if you spend a lot of time during the day at a desk. While some do come with a seat, there's standing room only on the X-Fit!
Work out as hard, or as gently, as you want: I always recommend ellipticals for anyone new to working out as there's not much that can go wrong. If you can step onto the pedals, there'll be a light setting you can start with. On the other side, cranking up the resistance (which is controlled with an unexpected 'dial' on the X-Fit) will give anyone a tough workout.
Give yourself a fantastic cardio workout: I use treadmills a lot and also the rowing machine but I still use a cross trainer for cardio. Why? It's something different and I find it an easier form of exercise than the other two. If I can't be bothered to row or run, I can always get on the cross trainer and get some cardio going. *
* You get a chest strap with this machine, which is brilliant as you're not limited to grabbing the static handlebars with the silver pulse sensors (which are never that accurate anyway).
Check Current Amazon UK Price
---
Who are Branx Fitness and is their gym gear any good?

If you've not heard of Branx before, the quick version is they're a good brand with a good rep for customer service.
They are a UK based company (Royston, in Hertfordshire to be precise) that have actually been running since 2008. They've built up a good base of gym gear, mainly larger machines made for home use like treadmills, rowing machines and ellipticals. Branx pride themselves on the quality of their products and the strength of their service.

The company also currently has a 4.7 rating out of 5 according to customers on Trust Pilot, which is pretty good going. And the X-Fit has received excellent customer reviews on Amazon UK too.
---
Who is the X-fit trainer best suited to?
If you just want one machine to improve your health
Not everyone wants to convert their home into some hybrid gym/living space. This is a good choice if you just want one machine anyone can use that gets you in shape. If you want to tone muscle or just get some cardio on the go, from the comfort of your home (albeit a sweaty, out-of-break sort of comfort) the X-Fit will do that.
If you're looking for something better than a budget machine
The X-Fit will be a good match for anyone looking for a machine that's a good bit above the quality of the cheaper machines in the £200 – £300 range.
It's a well-made machine that's not going to break a month or two down the line. There's a really good included warranty (more on that later in this guide…)
If you want something you can share
This machine has a 135kg upper-weight limit but apart from that, anyone in the household can use it. Multiple users can download their own version of the iConsole app, or just jump on and find a setting to work to. You can adjust the stride length easily between users and the X-Fit is perfect for any height.
If you don't have loads of space or live in an apartment
Although it's quite tall for an elliptical, the floor space is only 166cm x 66cm. On top of that, this is a nice sturdy machine with a low noise output. You won't wake up anyone else in your home using this machine, even in the wee hours.
---
Related guides
---
Review: What we like about the Branx Fitness X-Fit Cross Trainer
So let's get to the nitty-gritty. This is just our opinion on this cross trainer, compared to the daunting number of other machines we've played with and reviewed. Like any of those, it's not perfect so let's cover the good and the bad.
A good-sized flywheel
Compared to equivalent models, the flywheel on the X-Fit is a generous size. It's a heavy 14.5kg (32lbs) which is as much as 50% bigger than the industry average.
This makes a huge difference, as the flywheel is the sole working part of an elliptical, and a bigger flywheel means higher resistance and smoother action. Yes, there's magnetic resistance here which does a lot of the heavy lifting but you can't beat a decent flywheel weight. Not the biggest we've seen, but definitely capable of some tough workouts.
The X-Fit feels like a cross-trainer that you'd use in a health club or smaller gym, which is a good thing, in our books.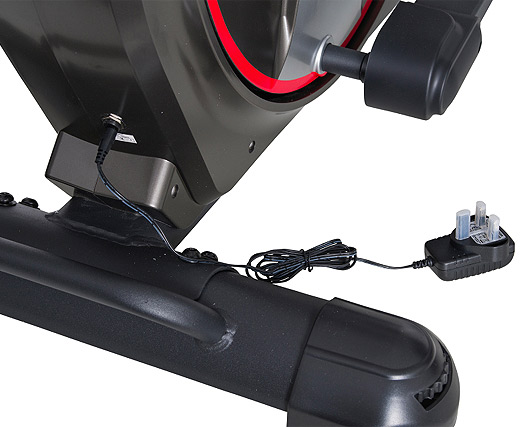 It's a quiet(ish) machine
The X-Fit also uses magnetic resistance in its flywheel, instead of the more conventional, and cheaper, friction-based resistance. All major brands are making the switch to magnetic resistance because it's better in just about every single way.
The action is smoother, quieter, and because there are no touching parts, it doesn't put anywhere near as much wear and tear on your expensive machine. You can also control the resistance the old-fashioned way using the panel at the front, or you can download the iConsole app and do it from your phone.
The X-Fit is well-made
Throughout the entire machine, the X-Fit is fantastically built. Two sets of handlebars, large, comfortable pedals with a long 19.5-inch stride, a huge 135kg weight limit (300lbs, or 21 stone!) and a rock-solid frame all feels fitness club quality.
Simple controls & a good display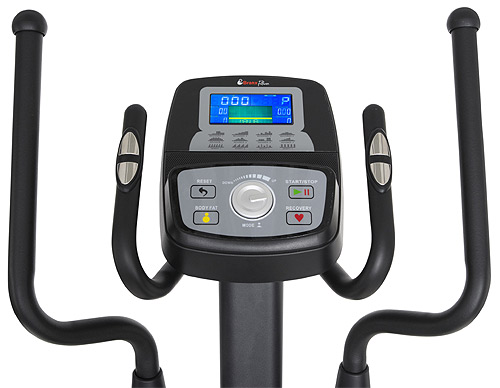 The control panel on the X-Fit is simple and easy to understand. Everything is laid out in a way that makes sense, and it's simple to set up. You can control speed and intensity with 16 different levels of resistance, and monitor all of your important stats, including body far and heart rate with the provided heart rate monitor.
The display itself, although not as large as we'd have liked, is actually easy to read and way better than what you'll find on budget machines. ie, not a god-awful grey LCD. Here, you've got a bright blue-tinted, fully-lit panel that's got all the info on-screen at once. It looks fab and is easy to read. Definitely a plus and something many ellipticals get wrong.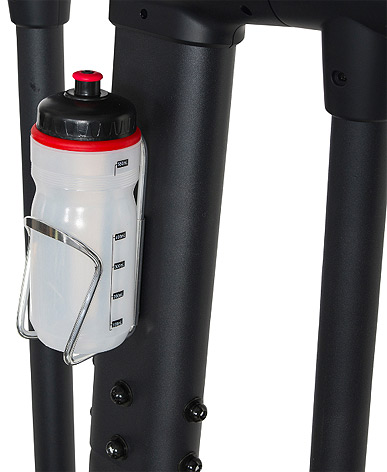 Great customer service
One thing that makes Branx stand out from other companies is how they treat their customers. Buyers consistently rate their service and helpfulness incredibly highly. Customer service reps on the phone, and their delivery and installation personnel are all highly knowledgeable and clearly enjoy what they do.
Aftercare is also exceptional. If you have any issues, Branx will talk you through it on the phone, or send someone out to deal with the issue, which is all covered by the solid warranty.
Excellent warranty
Branx products are covered by a warranty that's far better than average, with two years on parts and labour, and five years on the frame. If anything ever goes wrong with this piece of precision engineered kit, you know it'll be fixed. You've got:
2 Years parts & labour
5 years warranty on frame
---
What we don't like about the Branx Fitness X-Fit Cross Trainer
Water bottle could be higher
Not sure what it is about ellipticals but they all tend to put the drink holder too far down the column. The X-fit comes with a cycle style water bottle holder but it's a bit awkward to reach down and get it. The holder could have been a foot higher and it would have been perfect.
No interactive fitness options
It's no secret that we think that interactive fitness is the future. The ability to bring gym-quality fitness classes straight into your home whenever you need them gives you so much flexibility and really helps when it comes to motivation and fitness.
At this price point, interactive fitness isn't strictly necessary, but it would have been nice to see and would have pushed the X-Fit into competing with the big names on the market. Don't expect to connect to the likes of Kinomap, although you can still use those apps along-side this gym gear.
---
Final Thoughts: Is the Branx X-Fit worth a buy?
The X-Fit really is a fantastic piece of kit, and as a straight cross trainer, it's incredibly impressive. It combines a huge flywheel and smooth action with fantastic build quality and is a good choice for pretty much any home or garage gym.
On top of this, customer service is second to none, and there's a robust warranty in place.
Support for some third-party apps could have been a welcome addition but if you're looking for a proper cross trainer, and you don't care so much about interactive workouts, then this is one of the best on the market, at a fantastic price point.
Recommended
Check Current Amazon UK Price
---
Branx Fitness X-Fit Tech Specs
Brand
Branx Fitness
Model
X-Fit
Resistance
# programs
16
4 x Beginner
4 x Advanced
4 x Sport
3 x Cardio
Flywheel weight
14.5Kg
Console
Bluetooth with (iConsole + Included)
Resistance
Magnetic resistance
App
Yes
Extras
Heart rate strap included
USB charging
Free water bottle
Transport wheels
Yes
Bluetooth
Yes, for speakers
Stride length
16 – 19.5"
Adjustable stride length?
Yes
Monitor
Time
Speed
Distance
Calories
Watts
Pulse
Console size
13cm x H 6cm
Audio
Built-in speakers
Pause feature
Yes
Cross trainer weight
60kg
Max user weight
135kg
Dimensions
166cm x 66cm x 158cm (Height)
Model #
BF-XF-97621-CT
Warranty
2 Years Parts & Labour
5 Years Frame Warranty
Heart rate training?
Yes: pulse sensors or via heart rate strap
References & Further Reading