Review Summary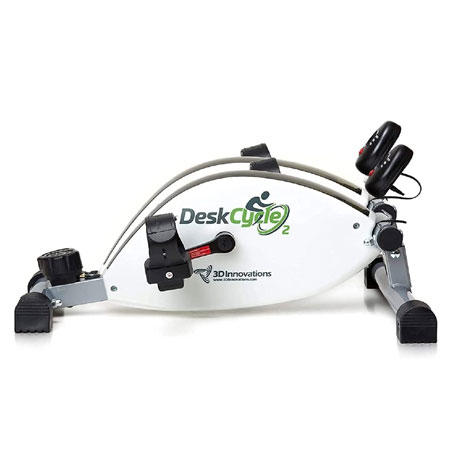 DeskCycle2
Light weight and portable
Quiet
Surprising amount of resistance
Adjustable for different users
Takes some practice!
"There are numerous under-desk machines out there but the DeskCycle 2 is still arguably the best in terms of quality, stability and the level of exercise you'll get. It takes some getting used to but is worth the effort."

Welcome to our DeskCycle 2 review. This guide will cover everything there is to know about this under-desk bike including what we like and don't like about it. And most importantly – does it do what it's meant to, or is this just another waste of time?
The DeskCycle 2: What is it and what does it do?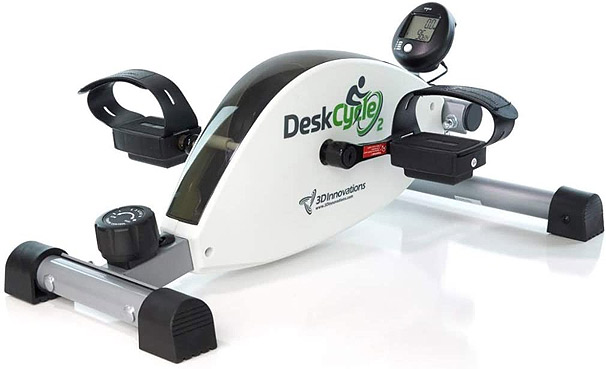 The DeskCycle is a mini exercise bike made by Colorado-based company, 3DInnovations.
As the name hints, it's a bike you can use while seated at your desk (or sitting anywhere, for that matter). Unlike the Yo-Yo Desk bike we've written about previously, here you're getting just the 'bike' bit. You'll stick it under your desk and be seated on your regular office chair.
Thankfully, the pedals themselves aren't 'mini' and you'll be working against an inertia-enhanced flywheel combined with 8 levels of magnetic resistance. The pedals will fit any shoe, boot or foot size as they've got a simple Velcro strap to keep your feet in place.
The Deskcycle offers adjustable pedal height from 25.5cms to 23cm to give users enough clearance according to their desk height and leg length. The DeskCycle is highly adjustable with a Velcro strap that suits most foot sizes.
You can pedal both backwards and forwards, working slightly different muscle groups.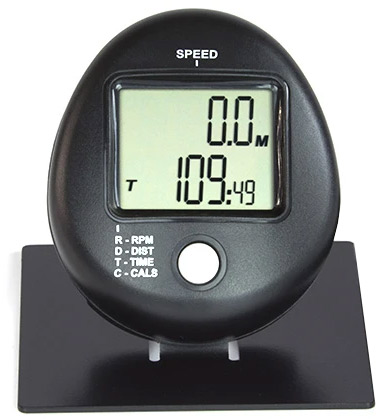 The Deskcycle has a portable LCD display to track your stats and is FitBit compatible so that you can log your activity online.
The large comfortable pedals are double weighted so that you don't have to struggle to slide in your feet, and the quiet technology won't annoy the others in your workspace. The 62 x 51 x 31cm size and 10-kg weight make the DeskCycle portable and space-saving, while still delivering a good resistance.
---
DeskCycle2: Facts & Features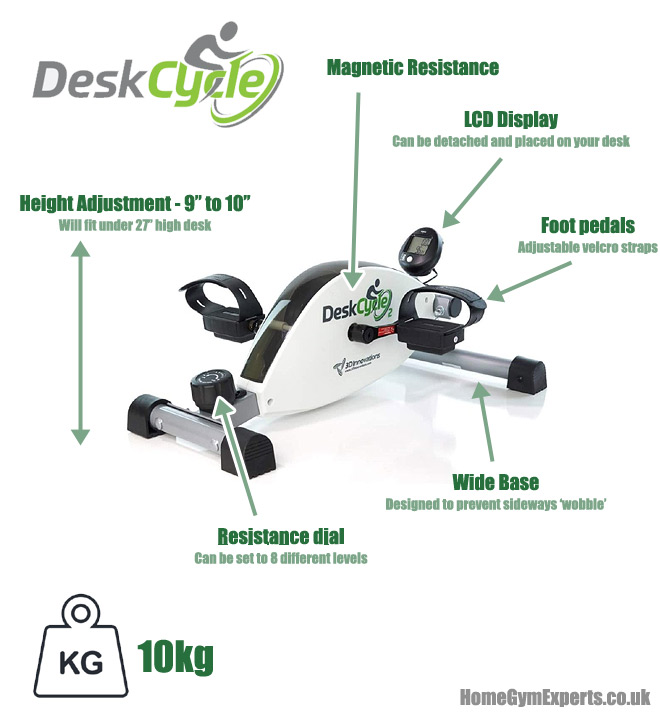 Large pedals with adjustable Velcro straps
Double weights always up pedals for easy use
8 levels of magnetic resistance
High inertia flywheel spins 14 times your pedal speed
Quiet resistance and operation
Precision sealed bearing for quiet pedalling
5-function LCD display
Moveable display stand
Low centre of gravity for wobble-free exercise
19″ maximum pedal height
Online activity logging with FitBit
See the full list of specs on their Amazon page.
---
What's the difference between this version and the OG DeskCycle?
If you're wondering what the differences between the first version and the V2 of the DeskCycle, there's not a great deal of difference between them. The DS2 has an improved LCD screen that makes it easier to read, over the DS1's more cramped view. There are some cosmetic differences but the frame and casing are the same between versions.

Price-wise, there's usually a tenner between them so not a vast difference there. They weigh about the same too. The main difference is that the DeskCycle 2 has an adjustable height so it's a bit easier to get it set just right for you. Really though, not much to note between the versions.
---
Related guides
---
Benefits to training with a Desk cycle 2
Increase Your Productivity and Exercise
It seems our modern lifestyles are out to destroy our health. Especially desk work wreaks havoc on the body and increases chances of heart disease and obesity.
The DeskCycle2 allows you a portable high resistance trainer that you can easily store underneath your desk and improve your health while achieving your work deadlines.
Burn Calories While Sitting Down
Research has shown that average desk workers in studies may achieve thirteen miles on an average workday and burn more than 500 calories. According to Harvard Health, stationary bike exercises have always demonstrated an above-average calorie burn and can consume up to 900 calories an hour at high resistance.
Increase your Health and Fitness
A study published in the American Journal of Preventive Medicine, under desk cycling office workers in their survey showed:
Weight loss and total fat mass
Reduced waist circumference
Improved resting heart rate
Better concentration
Less sick days over 16 weeks.
This study shows there are substantial benefits to the DeskCycle2 office training alternative.
---
Who is this mini-cycle aimed at?
#1 – Using at work
The DeskCycle2 suits people who spend long hours at their desks and don't have the time and energy to exercise after work. The lightweight and highly portable nature of the DeskCycle 2 means that it can easily be stored and used under a work desk without taking up valuable space.
The silent technology of the magnetic resistance levels also ensures that workers may use the machine without disturbing their fellow office workers. The variety of resistance levels make the DeskCycle 2 suitable for all fitness levels and can be used by those just starting and those with a good fitness level.
The Deskcycle2 has one of the best desk clearance heights in its class, with a maximum pedal height of 9 inches, making it suited to most desk spaces and user dimensions. The Deskcycle 2 website's specification advises that users over 5'8 on a 27inch desk would have to move their position back from the desk for knee clearance. Taller people would need a higher desk or a lower seating position.
#2 – Using at home – watching TV or reading
While it might sound a bit geeky at first, if you can get into the habit of doing an hour or so on this bike while reading or watching TV, the calories can build up over a long period of time. You don't need to worry about breaking out in a sweat any time soon, but you'll likely get a quiet smug sense of pride that you torched some calories sitting on the sofa.
As long as it doesn't bother whoever you're with (and the noise isn't a factor – it's quiet!) you'll have a good way to get in better shape while sitting anywhere.
#3 – If you need a gentle way to stay in shape
If you set the resistance to zero, pretty much anyone should be able to sit and use this machine.
Check Current Amazon UK Price
---
Review: What we liked about the DeskCycle 2
Lightweight and Portable
At 10kg and a fairly small footprint, it's not hard to move this around your home or even take it to work in the car. While this weight might make it sound like it's going to constantly slip away from you or wobble all over the place, it's not. It gets around this with the wider base and the big, chunky rubber feet.
Impressive Resistance for its Size
We were impressed by the resistance on such a small piece of equipment. You can feel a burn at the higher levels, although precise desk work suffers at the highest levels. At level three, we found the DeskCycle 2 worked best for precision typing and exercise combined. The higher resistance is more suited for reading activities that are great for catching up on emails.
Adjusts Well to Different Users
The Deskcycle 2 should be fine for sharing between users as there isn't really anything to actually adjust here. You'll likely need to muck around with the Velcro straps to get them right for your feet but apart from that, it's good to share.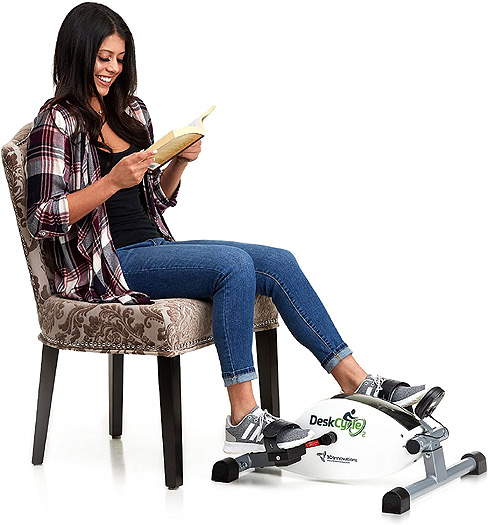 Quiet and Effective
We were sceptical at first that the under-desk cycle was merely a clever gimmick. However, the DeskCycle2 impressed us with its magnetic resistance. I found that I could work well and concentrate at the lower levels but managed to burn off consistent calories over my hour trial run.
Great Concept and Design
Many of us work from home and in offices for a large percentage of our life. It makes so much sense to have the means to involve your body in the working-life equation.
Often, the biggest issue for people such as myself who juggle family and work-life continually—the DeskCycle2 works. Even at a lower resistance, the calories add up, and it's nice to know that after a hard day's work, you have burned off your lunch at least.
---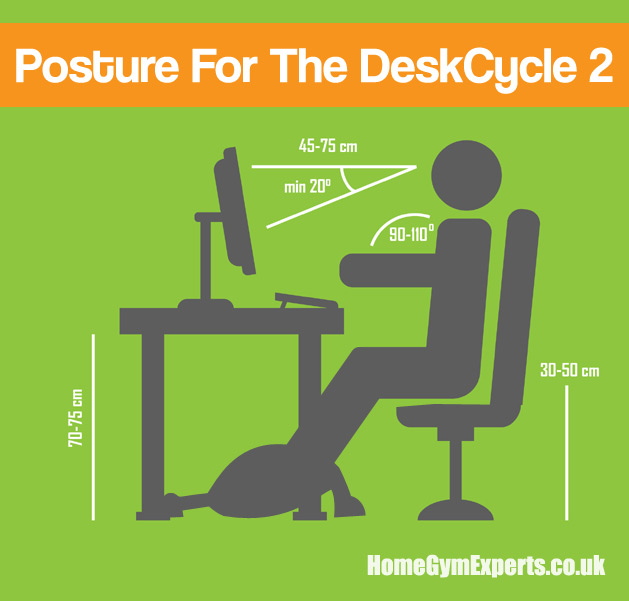 Check Current Amazon UK Price
---
What Could Have Been Better
The DeskCycle Tends to Shift
Although the DeskCycle2 comes with a Velcro strap for stability, the bike still shifts over time with pedalling. If I were to use the DeskCycle2 every day, I would invest in a more secure means to attach the kit to my desk. This shifting is more noticeable on higher levels of resistance, and the DeskCycle2 is more secure on levels below 3. If you want a more stable experience, pick up a rubber mat to go under it.
No Support For Your Back
Although the novel design gets five stars for work/exercise options, its posture is not kind to your back. One has to make a conscious decision to hold a more rigid posture than usual to ensure that you don't suffer from a sore back. In the long run, this is possibly a good point, but it does take some adjustment.
Challenging to Focus on Work
It takes some getting used to operating the cycle while in deep concentration. The more one focuses on one's work, the slower the feet seem to move, so keeping a continuous and sustained intensity may be challenging at first. It takes some practice but you can get better at it. The idea is for it to become second nature.
---
Conclusion: Is the DeskCycle 2 worth it?
The DeskCycle2 took up the brilliant concept of office exercise and created a well-designed and practical trainer. The DeskCycle2 is hardly marathon training, but it offers a sustained calorie burn in relative comfort and quiet and is perfect for our sedentary modern lives.
I won't be surprised if corporations start supplying this bike to their workers to increase productivity and employee health.
If you're looking for a way to be more healthy at work, or shed some calories at times you're normally sitting reading or watching TV, then this is a great little product that doesn't cost a lot.
Check Current Amazon UK Price
---
Desk Cycle 2 – Full specs
Product
DeskCycle 2
Type
Mini / under-desk exercise bike
Resistance type
Magnetic
# Resistance levels
8
Effective flywheel weight
18kg
Adjustable height
Yes
Min desk height
27"
(Anyone over 5'10" will need a higher desk)
Pedal height
9" - 10" (Adjustable)
Pedals
Flat pedals with Velcro straps
Display
5 function LCD display
Stats displayed
Speed
Time
Distance
Calories
Extras
Display stand to place on desk
Age range
5 upwards
Warranty
30-day money-back guarantee
1-year warranty
Cycle weight
10kg
---
References & Further Reading