Thanks for checking out our Yo-Yo Desk Bike review. Today we're grabbing our laptop and leaving the regular old desk behind with the promise of losing calories while catching up on some overdue work.
Is this madness? Is this a gimmick? This guide will cover everything you need to know about the Yo-Yo; why it rocks, where it falls on its face, and hopefully, whether or not it's for you.
Let's fire up Office and get pedalling!
What is the Yo-Yo Desk Bike?
So what is this mythical hybrid between an exercise bike and a desk?
Yo-Yo's machine is a simple upright exercise bike, that uses magnetic resistance, with a desk where the handlers and other bits and bobs should be. While likely not as big as your regular work desk, you get a workspace that's 58cm wide, by 51 cm deep.
The idea is you can take your laptop, tablet, notes or a book onto the desk and, with a bit of practice, do some light cycling while you're working (or reading).
The Yo-Yo bike adjusts easily from a hand lever so that you can transition from seated pedalling to standing position smoothly from your desk. While it's not silent, anyone on a call to you likely won't distinguish it from background noise. That's largely due to the use of magnets, which take care of the resistance (how hard you'll have to pedal). They're much quieter than friction-based brakes.
You've got eight levels of said resistance here with the highest one being definitely a struggle to do – at least while working. There's more than enough here for even the toughest of legs. And remember this is designed to be used for a good length of time so the calories do mount up. You can get around 100 per hour depending on how good you get at pedalling while working!
There are four caster wheels (which we've never seen on an exercise bike before!) These are used to move the bike from room to room or scoot around your office. It's also worth noting that this isn't the biggest space-hogger we've seen either. It's less than a metre long, which is pretty compact for a desk and a bike.
Check Current Amazon UK Price
Yo-Yo Desk Bike Features at a Glance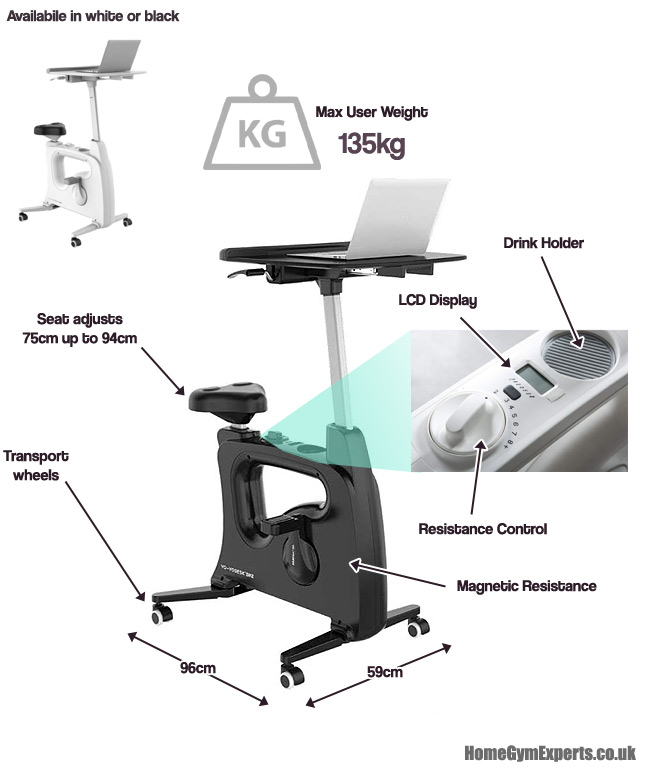 Desk dimensions 51cm (D) x 58cm (W)
Bike Dimensions 96cm (L) x 58 (W) x 108 – 123 (H)
Adjustable seat height 75-95cm
Suitable for users 5'1" to 6′ 2″
8 levels of magnetic resistance
Use weight up to 132kgs
Weight: 40.4 kgs
Quiet action with silent motion technology
Adjustable between sitting, pedalling, and standing
360° swivel castor wheels
Lever for set adjustment while on the bike
Quick assembly
2-year warranty.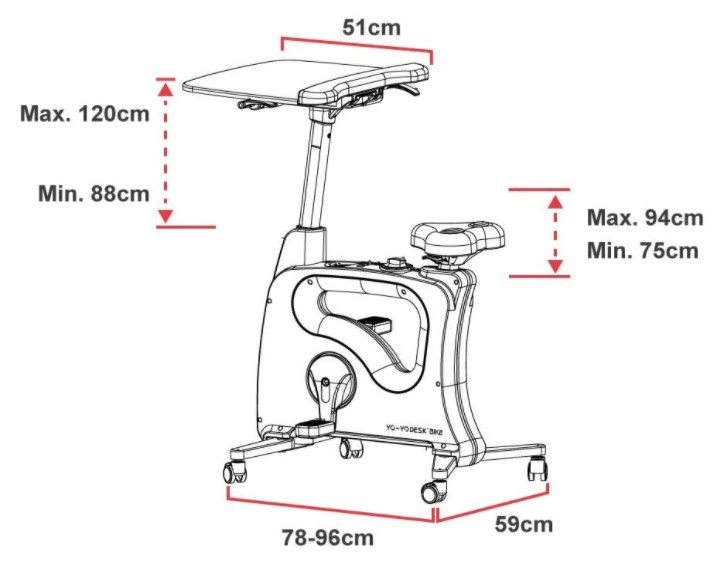 Check Current Amazon UK Price
---
Related guides
---
Seeing double? What's the difference between this and the Flexispot?
If you've seen any videos of something similar called a Flexispot, or seen it on places like Amazon, it's basically the same product, with different branding. These machines are all manufactured in China and can sometimes be distributed with a different name. The Flexispot bike is more common in the USA.
---
5 main ways people use the Yo-Yo
You'll likely already have some ideas for what you could use this bike for. Here are some of the main things we've seen people use it for.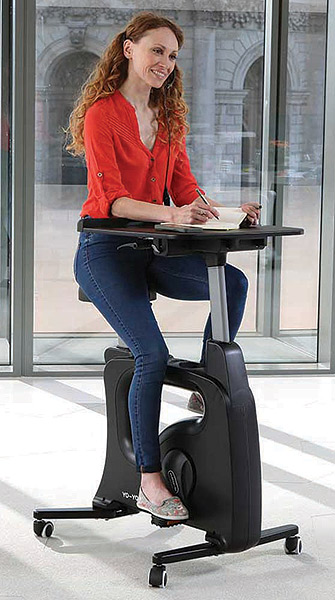 Laptop work – Once you get used to cycling and working at the same time (it takes practice) your legs will do their own thing and you can get on with some work. The surface is ideal for using a laptop and there's a bit of room left for notepads, a calculator etc.
As a standing desk – With or without taking the seat off which is quick and easy to do, you can simply stand up and use the desk to break up your seated time. It's not quite as good as you have the frame between your knees, but it's definitely doable and good for you.
Reading – Whether you're a Kindle-fan or an old-school dog-eared paperback lover, one often overlooked aspect of this desk is simply doing your reading while burning off calories. Once you get used to the idea of cycling instead of the comfy couch, the minutes roll by and the calories tick away.
Watching TV / Netflix – For the hardcore calorie slayers out there, who don't mind trading that comfy sofa for the Yo-Yo bike, you can work on your body while watching TV. And they say it's bad for you. 
Work calls or talking to friends – Not everyone spends a lot of time on calls or meetings. Some people spend most of their time on them. Wherever you fall, why not sneak in some extra exercise. Unless it's a zoom call, they'll never know your working out while listening to a sales briefing. Even if they do, who cares. You can easily communicate while doing some light pedalling.
---
Is this a thing? What are the benefits of training on the Yo-Yo Desk Bike?
Burn Calories While You Work
Stationary bikes provide a great cardio workout, and the Yo-Yo allows you to lose weight while achieving your work goals at the same time. Harvard Health rates stationary biking high on the calorie burn list of exercise, with a calorie burn of up to 932 calories per hour (185lbs user.)
The Yo-Yo allows people with heavy workloads to multi-task and use their work time to work out and lose weight.
Increase Your Heart Health
The Yo-Yo bike has eight levels of magnetic resistance that you may use to increase your physical health. Cardiovascular exercise improves circulation, lowers bad cholesterol, and improves heart and lung function. Improved health boosts your body's immunity and protects you from heart disease, a common condition of modern, sedentary lifestyles.
Burn Calories While You Work
The Yo-Yo is designed for people who spent most of their life stuck seated behind their desks. The Yo-Yo provides ample desk space to place your laptop or paperwork so that you can exercise and make work deadlines at the same time. Combining work tasks and fitness tasks means that you have ample time to relax in your time off.
There's an absolutely brilliant video here showing the Desk bike in action used, in this case, in combination with a standing desk.
Who is the Yo-Yo Bike Aimed at?
This bike will suit anyone aware of how bad for your body sitting too much can be. Or if you've got a little extra weight (or a lot) that you just can't seem to shift. A few extra calories, over a decent time span and you might be surprised at the changes you can make.
The Yo-Yo bike is the best option for workaholics who can't find the time to leave their desks and get proper exercise. The compact and portable Yo-Yo fits well into your home or office space and allows you to lose weight and increase fitness while still getting your work done.
 The Yo-yo suits those users who often don't have enough time for a time-consuming gym commute and need an exercise alternative that people may use while doing their office work.
Often desk workers suffer from ill health because the human body is not designed to spend long stationary hours at a desk.
Obesity and heart disease are the curses of modern life, and the Yo-yo is an excellent way to get your body working while you are working. The Yo-Yo suits those seeking a moderate-intensity home or office exercise option that is compact and portable.
The silent technology means that users won't disturb their housemates or their colleagues in an office setting.
---
User weight limits and who might not like this bike
 The Yo-yo won't suit users over 135kgs (297.6lbs) or users over 6'2″ due to the bike's compact nature. One interesting point is that while the user weight limit is set in stone, we've had reports of users up to 6′ 8″ using the bike and finding it a perfect fit. If this bike won't fit you, be sure to check out some of our other ideas for staying in shape at work.
Check Current Amazon UK Price
---
Review Time: What We Like About the Yo-Yo Desk Bike
Overall, this is a good product. The other reviews we've read seem to back that up. There are a few things that aren't great, but let's start with what's awesome about the Yo-Yo.
There's hardly anything to put together
Do you know how often I get to write that? In the work of gym gear, almost never. This thing comes in a big, chunky box and when you open it, instead of the normal bits spilling out everywhere, there are a few parts you have to slot together. They say it takes 1 minute. Realistically it's more than that but, as far as self-assembly goes, the Yo-Yo is our new best friend.
You merely need to slide the wheeled feet out, flip down the pedals, and attach the desk with a screw ( Allen key provided.) You can have the Yo-Yo up and running in minutes, which gives it a top score for assembly in its class. 
Smooth and Quiet Pedaling
So let's ignore the desk for now.
How good is the Yo-Yo as a bike? Well, for starters, it's comfy. And that's a biggie. Whereas comfort might be further down the list on some exercise bikes, where you're doing shorter blasts of exercise, the idea here is to be able to use it for longer periods of time.
The seat is big, it's padded and whatever size your bum comes in, you shouldn't have any problems or discomfort. It's not one of those racing bike style saddles, thankfully.
There's also plenty of ways to adjust the bike. The desk height and seat height are easy to slide up and down until you find the right height for you. It will likely peeve you if anyone messes with your settings (or is that just me?) Once you have it set to how you like it, the bike feels good.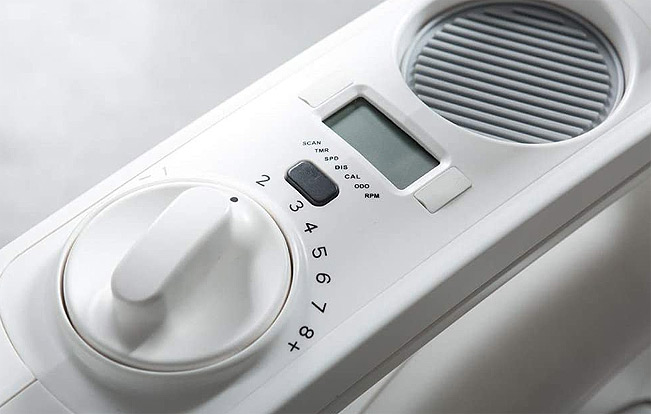 Noise wise, the magnetic resistance keeps the decibels down. There is a gentle clicking as the Yo-Yo operates, along with a few of the rattles and noises that all stationary bikes have. There is a tiny clicking at higher resistance but quiet enough not to disturb others in your vicinity.
The desk itself is sturdy and good to work on
The desk provides enough space so that you can manage your work affairs while burning off your lockdown love handles. The desk can move easily backwards and forward or up and down to suit your height, making it nifty for different-sized users.
Precise laptop operation might take some getting used to as the Yo-Yo does move somewhat on higher tensions. Writing is also awkward, although it might get better with practice. For us, the desk could have been longer, or just larger overall. There's no reason not to extend it out a few inches around the edges. But overall, the workspace you get is a good, if compact, area to do your tasks.
Easy to Move and Compact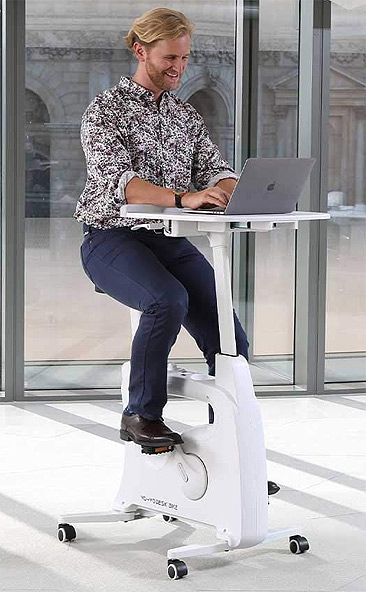 The Yo-yo rolls smoothly on its four, quality wheels and the height adjustment lever are easy to reach and operate. Changeover between my colleague and eye was easy to accommodate the differences in our height. The Yo-yo fits neatly in a room when not in use without taking up too much space.
Feels like a good quality bit of gear
So, how stable is the Yo-Yo desk bike? The short answer is, it's pretty good.
You'd think with that extended column that the desk sits on, it wouldn't give you a very stable place to work, once you start giving it some on the pedals. However, despite an unavoidable swaying motion, the desk stays largely rigidly in place. Using a phone, book or laptop is a doddle. Writing, less so, and there's definitely some lateral movement but overall, it's sturdy and you're not compromising on a proper workstation.
It's an award-winning Bike
The Yo-yo won the Channel 4 calorie burn TV experiment, and for a good reason. Anyone should be able to hunker down and get caught up on their emails while burning off a decent amount of calories. The Desk bike does not have a typical LCD but does have a small display window showing distance RPM and calories.
Check Current Amazon UK Price
---
What Could Have Been Better
There are a few things we need to talk about the 'cons' column when it comes to the Yo-Yo bike.
The design won't be to everyone's taste
I just can't decide if the Yo-Yo desk bike has a cool kind of retro look to it, or if it's just a bit clunky and dated. You definitely couldn't say it's a modern design, and it's easily more function over form. It's stable and practical but a bit of an ugly duckling to boot.
The LCD Is Pretty Bad
We need to have words about the Yo-Yo's LCD display panel.
It's tiny and situated under the desk, way down between your knees. This seems counter-intuitive to me. They could have provided a flip-up side panel or attachment to the desk surface unless they think that users have their own instruments or x-ray vision. It was a clear addition for the specs, not for user ease of functionality.
If this was on a regular exercise bike, this would be one of the worst we'd seen. Having said that, you're not sitting looking at it I guess. But really, it could have been implemented higher up, bigger and brighter.
No toe-clips
While they're not strictly necessary on this bike, where you'll rarely be going full-pelt, going back to standard old-school pedals is a bit weird after having tested umpteen uprights over the years. They're OK, and there's nothing wrong with the pedals themselves. They're sturdy and chunky like the rest of the bike. But toe straps would have been a good addition.
Final notes: Is the Yo-Yo Worth a Buy?
The Yo-Yo bike is a strange one. As either a desk or a bike, it doesn't compete with what's out there. The work surface isn't exactly huge and the LCD screen on the bike is not up to scratch. But put them together and you get something that's ... just brilliant. And, oddly, has little-to-no competition.
The Yo-Yo Bike is a competitively priced and solidly constructed bit of kit that's designed to merge your work and exercise. (Or your TV/reading and exercise!) It's adjustable and comfortable with low noise and is a breeze to move from place to place.
For anyone new to working from home or those suffering from poor health associated with long desk work hours, this will likely be one of the best purchases they've made in a while. The Yo-Yo is well suited for its purpose and is a well-designed tool for desk-workers needing to shed some extra pounds.
A great product that's definitely worth your time.
Check Current Amazon UK Price
---
Yo-Yo Bike Tech Specs
Brand name
Yo-Yo Desk
Display
LCD
Stats tracked
Time
Speed
Distance
Calories
Odometer
RPM
Scan between all above
Resistance levels
8
Resistance type
Dial
Transport wheels
360-degree swivel
Modes
Sitting
Pedaling
Standing desk
Assembly time
A few minutes
Desk size
58cm x 50cm
Desk removeable?
Yes
Desk type
Flat
Seat
Comfortable padded seat
Calories per hour
around 100
Warranty
2-year warranty
Power source
Battery
Batteries
2 x AA batteries
Dimensions
96cm x 59cm
---
References & Further Reading