Review Summary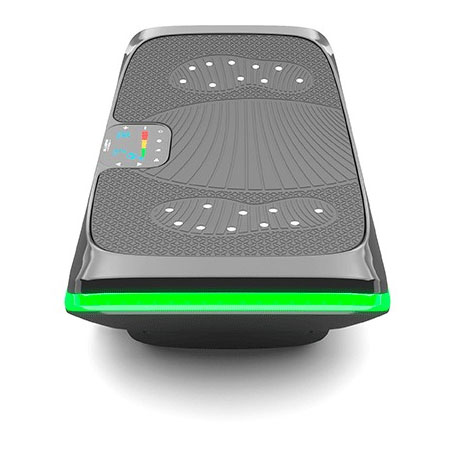 Bluefin 4D
Solid and well-made
Wide variety of programs
Handy watch-style remote
Comes with resistance bands
On the bulky side
"Bluefin's plate does everything you'd want from a vibration plate. It's extremely powerful, packed with features and is easy to use, if a little on the large side."
Welcome to our Bluefin 4D Vibration Plate Review. As with all our guides, this one will cover everything this wonderfully-wobbly home fitness gadget can do, along with our opinion on what it does well, where it could be improved, and whether or not it's worth your cash.
What is the Bluefin 4D Vibration Plate?
If you're new to the world of vibration plates, they're basically a gadget you step onto and the top part shakes and wobbles at high speed. They're a popular, if under-used, fixture in most modern gyms but the home-based versions are a lot more compact and normally don't have any handlebars like the commercial ones.
The idea is simple: the vibration makes your muscles work harder during your exercise sets, giving you more muscle development for the same amount of time and effort.
The Bluefin 4D plate is a home-based vibration gizmo that is driven by three motors and is capable of vibrating up, down and sideways (or a combination of all three).
Bluefin are a UK based company (yey!) and they've got a collection of fitness gear, although they're probably best known for making vibration plates.They've got a good range of plates, with the 4D being at the 'top' of that range.
There's a few things that this plate does arguably better than competing ones, although that comes at a cost. It's also one of the more expensive products in this market.
You've got a curved base to stand on, which stops your feet slipping off the side with the natural vibration, something other machines do struggle with in varying degrees, and there's a nice bright display console at the front. This machine is also fairly quiet (not quite silent, but not far off).
You get some resistance bands in the box, along with a wrist band that acts as a control so you don't have to crouch down to fiddle with the controls. You can, of course, always hold it. There's some good instructions and a basic set of elastic cables for arm work.
There's a really handy 3D view of the plate on BluefinFitness here.
---
What you'll get from training with this Vibration Plate
More workout for the same time? We're in.
Vibration plates work by sending an ultra-high-speed vibration through your body as you stand on them, which makes your muscles contract dozens of times a second. It takes a bit of getting used to, but it's not an unpleasant sensation and you'll definitely feel something happening in your muscles.
This rapid contraction, which can generally be set to various speeds depending on the machine, can force your muscles to contract up to 20 times faster than they would in normal circumstances or up to 50 times per second!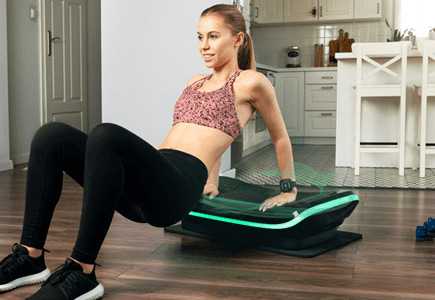 Recovery, warm-ups and circulation
Flexible and easy to use, vibration plates like the Bluefin 4D, sometimes also called a power plate, can be used for lots of different things, too.
A lot of people buy a vibration plate to help with circulation. You can see in this study that researchers found that WBV (that's whole-body vibration) resulted in significant increases in skin blood flow.
Warm-ups, recovery, making standard exercises more effective, and much more.
On top of this, a vibration plate workout is fast. You can feel the effects in just 5 to 10 minutes, so it can be fitted into almost anyone's schedule. Finally, this type of exercise is incredibly low impact.
This last point is especially important, as it means that a power plate can be used by people who might otherwise struggle to exercise in other ways.
---
Who will get the most from a Bluefin 4D Plate?
Because vibration plates are so easy to use, they're suitable for almost anyone to use, but they're particularly suitable for a few key demographics.
If you're short on time…
One, this type of equipment is perfect for people who are looking for a simple way to exercise that doesn't take any time. Most people can find 10 minutes during the day, and you can even potentially use a power plate when you're doing other things like watching TV or taking a break when working from home.
Seniors or anyone recovering from injury
The low impact nature of a vibration plate makes them absolutely fantastic for people who are struggling to exercise because of age, injury, or any other reason. Another study showed how vibration can reduce pain caused by injury too.
They can be used for recovery and rehabilitation, for people who might otherwise have difficulties with other forms of exercise, and people who are incredibly busy and struggle to fit a workout into their day.
---
Bluefin's 4D Plate: Key features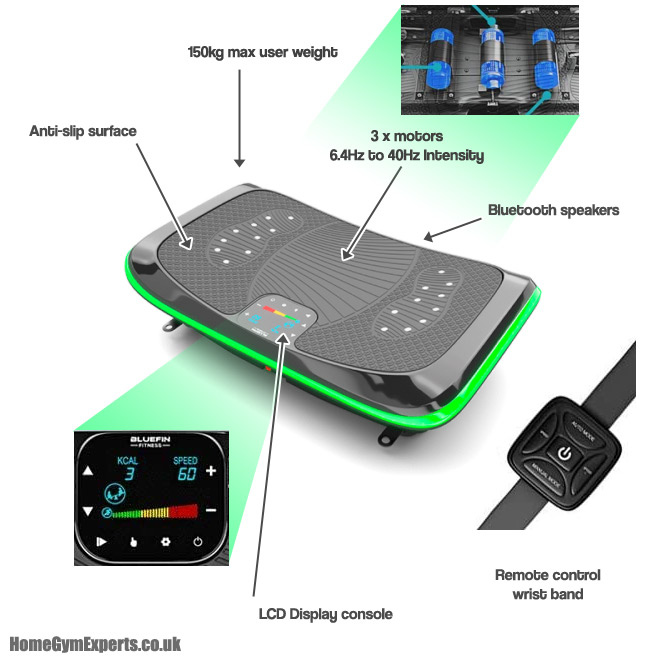 3 powerful motors
Triple forces, vibration, oscillation and micro-vibration
LED setting lights
Wireless remote control
3 workout programs
Bluetooth 4.0 speakers
Included resistance cords
Workout and nutrition guide
---
Related guides
---
Review: What we like about the Bluefin 4D Vibration Plate
The three motors pump out a lot of vibration
One of the defining things about the Bluefin 4D is its 3 motors. A lot of vibration plates have a single large motor that powers the action, which can work well, but the Bluefin uses 3 separate motors to drive the vibrations.
And you can definitely feel the difference.
Each motor is strong, capable of a level of intensity of between 6.4 to 40Hz (meaning up to 40 vibrations per second). On top of this, each motor is designed to provide a different type of vibration, with one motor driving the main vibrations, one oscillating from side to side, and the last providing micro-vibrations that add an extra edge.
Despite their meaty output, the motors are also surprisingly quiet, even at maximum capacity. It's obviously audible, especially in a quiet room, but never loud enough to become an annoyance or drive out normal sounds.
It's stable and doesn't feel flimsy
Bluefin products are always well built, and the 4D is no exception. Unlike cheaper models that are built around plastic, the main structure here is an aluminium frame that allows it to hold up to 150kg (330lbs.)
At 19kg, it's one of the more weighty plates we've seen, and quite a cumbersome piece of kit. This does make it feel very solid and steady, especially when you're on top of it, which is very much appreciated when you're halfway through a workout.
Personally, I like my gym gear to have a bit of heft, but you'll have to weigh that up against its effect on portability.
A decent variety of programs
There's no point in investing money in workout gear if it can't do the job you're paying for. The 4D has 60 levels of vibration, from a very minor tremor that's barely felt, but can help with flexibility and tone, to a strong vibration that you'll feel for hours after.
On top of this, there are 3 built-in weight loss and conditioning programs, making the whole process of working out much simpler. Just set it up and off you go.
In the box: Some decent accessories and the
watch controller is awesome
As you'll have seen from the pics, you get more than the 4D in the box. There's a set of resistance bands, which aren't exactly expensive to buy – but are still a nice addition.
And a set of rubbery cables you can use for arm curls and lifting your arms out to the side. These are really good but if you're used to chucking weights about, you'll likely want to hop on with your dumbbells. But they're worth playing with.
You also get some simple booklets and a small poster showing what you can get up to. They're OK but you're better off checking out some videos on youtube as you'll get a better idea of form. But there is something really good that you'll want to use.

Included in the package is a really smart wireless watch controller that lets you control everything without having to bend or stoop down during exercise. It's got nice big buttons on to increase power and the way it's made should fit even the most delicate wrist. This kind of innovation is cool because most others are using remotes.
And we've got enough remotes, thank you.
Solid tech design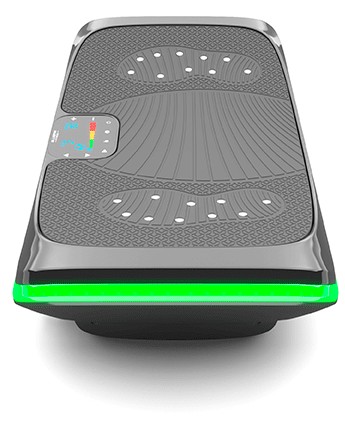 Rounding out the gear are some really smart technology choices. First off, the surround of the plate has an LED light strip built-in. This serves two purposes. One, it looks really nice, adding a gorgeous modern touch to the design that will fit into most houses décor.
Two, the lights change colour with the intensity of your workout, from green, through yellow, to red. This lets you check at a glance how hard you're working before you even step on the plate, which is a great touch.
Also built into the frame is a pair of Bluetooth 4.0 speakers that can be linked to any of your devices, so you can stream music while you exercise.
---
What we don't like about the Bluefin 4D Vibration Plate
It's a lot bigger than you might think
The Bluefin 4D is not the most compact of plates. As mentioned above, it's a big boy alright, with a footprint of 46cm x 79cm. Compared to other bits of gym gear, however, it's not exactly a lot of space.
It's not going to dominate a room or require you to remortgage the house and build an extension, but at 19kg it's not light, and it's big enough that you will have to find a definite space for it.
You can't jump to a certain level using the wrist control
Even though we love the little controller watch you get with this, it does have a downside.
If you're scaling through the 60 levels you have to press the up button repeatedly to scale through the power, so if you're going from low to high intensity, or vice versa, you're going to be pressing a lot of buttons, which can be annoying.
---
Bluefin 4D Final thoughts: Good vibrations?
It's easy to see why this product has a lot of reviews pushing into the full stars on places like Amazon. Although it's not exactly a compact size, it's very sturdy and you won't be wishing you'd got a more powerful one; the three motors are capable of some serious wobble.
The Bluefin 4D is a fantastic tool that can really accelerate your health and help you with strength, flexibility, injuries, and far more.
It's by far the best vibration plate we've reviewed, and we'd even go so far as to say it might be the best home power plate on the market right now.
Highly Recommended
---
Anything you want to know about this product?
Give us a shout and we'll do our best to answer your question. Failing that, feel free to email Bluefin (links below). They're a friendly bunch, based on our interactions with them.
---
4D Plate Tech Specs
Brand
Bluefin Fitness
Model
4D Vibration plate
# Motors
3
Motor range
6.4 - 40Hz
Workout time
10 mins
# workout programs
10 (3 programmable, 7 pre-set)
Bluetooth?
Yes
Remote control?
Includes wearable remote
Display
Digital LCD display
Vibration
Linear Vibration
Micro Oscillation
Horizontal Oscillation
Combinations of the above
Audio
Integrated bluetooth speaker
Extras & Accessories
Resistance bands
Exercise Poster
Workout + Nutrition Guide
Multi-language Instruction Manual
Remote Control
Stats tracked
Time, speed, calories, intensity, current program
Power
AC 100-240v / 50-60Hz
Vibration levels
30 levels
Max user weight
Maximum: 150kg
Unit weight
17kg
Warranty
Lifetime motor warranty
---
References & Further Reading