Review Summary
Kick 2 Treadmill
Solid and well-made
Good value for money
Nothing to assemble
Relatively quiet
Not suited to tall runners
"If you're looking for a treadmill that's easy to store but doesn't suffer from 'the wobble factor', this is a decent, affordable machine."
It's literally mind-boggling how many treadmills have flooded the market in the last few years, with places like Amazon being crammed with known brand and unheard-of-brand machines. In this guide, we're taking a look at a British folding running machine. Welcome to this review of the Bluefin Fitness Kick 2.0 treadmill.
What is this machine? Does it do anything to set itself aside from the endless lists of similar machines? And, most importantly, and is it worth the money?
Let's find out.
What is The Kick 2.0 Foldable Treadmill?
The Kick 2 is a low-mid price home running machine from UK based Bluefin Fitness. It sits at the opposite end to treadmills you can't see over the top of, offering a compact, light-weight running machine. It's aimed at anyone who doesn't have space for a whopping great running machine or doesn't want to devote a lot of space to one.
It's a reasonably powerful treadmill, with a 1100W DC motor that's going to get you up to 12km/h, which is above what we've seen on comparable machines.  Because it has less work to do, the motor is fairly quiet, not interfering with your music, or watching Netflix.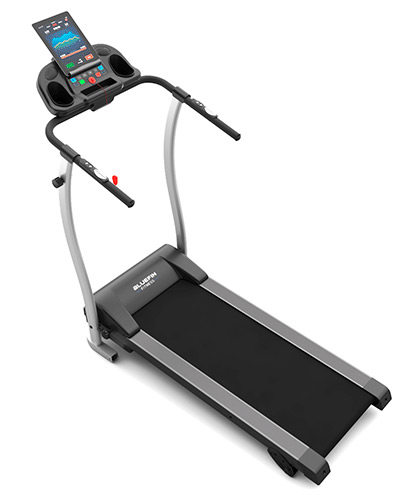 The Bluefin Fitness Kick has a five-layer anti-static running track with damping shock absorption and moisture resistance while providing proper traction for running actions.
Obviously, one of the trade-offs with this machine (or, to be fair, any lighter runner) is that there's way less shock absorption on the deck than a full-fat treadmill, although the track does a decent enough job at absorbing some of the impacts when you're running your socks off.
It's not the lightest machine in this category, but at 35kg, it's a baby compared to your NordicTrack's and the heavyweights in this division.
The Kick 2.0 offers automatic drive recalibration, which adjusts at each stride for a responsive and steady pace while running.
The backlit LCD tracks stats such as speed, calories, time, and distance and comes with a free heart rate chest band. And Bluefin's machine has Bluetooth ready to go which means you can play your tunes via the built-in speakers (does anyone do this anymore?) And, juicier by far – you can connect to Kinomap and take part in online courses and get stuck into the content they have up for grabs.
Check Current Amazon UK Price
Get some more help on picking your dream treadmill in this guide.
---
Bluefin Fitness Kick 2.0 Features at a Glance
Let's cover some basics next, on what you can expect with this machine.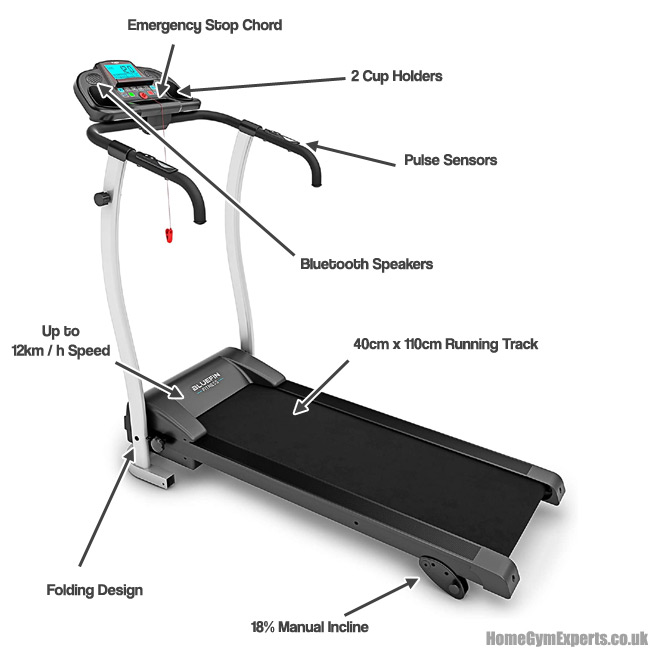 Silent-drive 1100W DC Motor
Speed Range: 0 – 12km/h
18% Gradient Incline Range
Self-Lubricating Oil System
Dimensions:130cm by 136cm by 66cm
Compact and foldable for upright storage
Smartphone & Tablet Stand / Shelf]
Dimensions: 130cm x 136cm x 66cm
5 layer anti-static running track
LCD display with Bluetooth speakers
Integrated with Kinomap for virtual training
Integrated Hand Sensors for Accurate Heart Rate
The console displays speed, calorie gauge, run time & distance
Heart-Rate Monitor Chest Band.
---
What are the benefits of training with the Bluefin Fitness Kick 2.0?
Torching some calories
Unless you're some self-disciplined monk badass, the battle with calories will be one of the things you're getting this machine to help with. The 12km/hr running capacity of the Bluefin 2.0 is good for this category and makes it a good choice for walking or some pretty sweaty running workouts too.
It's no slouch on the power front, with a motor that's around the 2HP mark delivering a good, punchy output.
How many calories can you burn on the Kick 2?
Obviously, it depends on how much you're 'going for it' but, according to Harvard Health, running even 10km/hr burns up to 1466 calories for a 185lbs / 84kg runner. Or an equally impressive 800 calories at only 5km/hr. This calorie burn makes treadmills such as the Bluefin one of the best ways to burn calories without ever stepping foot outside.
Lose Weight and Improve Heart health
The high-calorie burn action of running on treadmills is an effective way to improve your circulation and heart health. Regular running improves your circulation and strengthens your heart, decreasing blood pressure and bad cholesterol. The Bluefin comes with an included chest strap to monitor your heart rate and isolate peak performance BPMs.
Lower Impact than Outdoor Running
The Bluefin 2.0 offers all the physical benefits of outdoor running while protecting your ankles, knees, and tendons from potential injury. The five layers of anti-static track cushion your body from the high impact of running on hard ground and provides an even track to prevent ankle twists or other injuries.
Check Current Amazon UK Price
---
Who is the Bluefin Fitness Kick 2.0 Treadmill Aimed At?
If you're training for a marathon, into interval sprinting, or need something that can do intense ultra-incline training, you're probably not still reading this. For the rest of is, regular home users, this machine is probably of interest.
Anyone short on space
Unlike a lot of treadmills that 'fold', this one really does. The running deck flips up completely vertically, compared to the 70% of the way there we see on a lot of bigger machines and, while the handles still stick out, it's a greatly reduced footprint. Couple that with its lightweight and there's a machine anyone should be able to scoot out of the way after the hard work's done.
Walking, running and jogging
Around this point in our product guides, it's normally time to have that awkward chat about how this compact treadmill won't suit anyone who wants to actually, you know… run. The Kick 2's upper speed however means no such conversation needs to happen. The 12 km/h will likely be more than enough for most users.
The Bluefin 2.0 is that it can accommodate all fitness levels, from those who prefer a brisk walk to those who seek interval training and moderate-high training speeds. This range makes the Bluefin for multiple users in the same household.
The super quiet motor and sound dampening track make it ideal for those sharing living spaces. And it's also a good choice for flats or using upstairs.
The Bluefin is perfect for those seeking to build their fitness, from beginners to the more advanced. The 12km/hr limit gives users plenty of range to develop their fitness over time and work their way steadily to their fitness goals.
Don't get it if you're over 120kg / 18 stone
Although the treadmill only weighs 32kgs(70.5lbs), it can support users up to 120kgs (264,5lbs) in weight. Due to the treadmill's compact nature, users over 120kg are not recommended due to the manufacturer's specifications. The 12km/hr limit is not ideal for professional athletes seeking maximum intensity training for full sprints.
---
What we liked About The Bluefin Fitness Kick 2.0 Treadmill
…if you're in the market for a compact runner you can easily store, you'll likely love the Kick 2.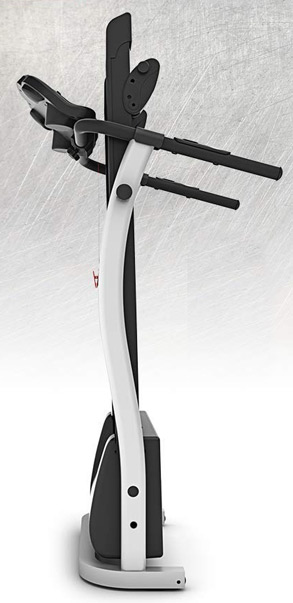 Hardly anything to put together
Although you get the tools with the Kick 2, there's not much to do with them once you do. We loved that the Bluefin comes 90% pre-assembled. You'll still need to do some basic assembly, and it takes under half an hour to get up and running (Pun intended).
The instruction manual is straightforward and easy to understand. Expect to have your Kick 2 up in under half an hour, a record for treadmills in our books.
Great For Sharing
The sound dampening track and low motor noise make the Bluefin for those sharing smaller spaces with others. On the high-speed setting, we could only slightly hear the sound of footfalls from the next room but not enough to disturb. The treadmill's compact and quiet nature would also make it ideal for renting or dorm rooms.
Excellent Shock Absorption
The five layers running surface makes a comfortable run, with noticeably less impact than other treadmills in its price range. Working out for over 20 minutes, we could feel that the track reduced impact stress (and it is quiet too.)
Don't fear the wobble
One of the things you always doubt with these lighter weight machines is the stability. Slipping belts, creaking frames, to name a few. Especially considering this is one of the more budget-friendly models, there's a good level of stability here. As long as you're under that 120kg range, you'll likely be really pleased with how sturdy this machine feels
The high-quality steel frame makes the Compact Bluefin surprisingly stable even at higher speeds. The machine operates at low decibels while delivering quite a powerful speed for its size. The Bluefin feels like it is built to last and stands firmly during running. It also has a handy safety key for added security.
Let's talk extras…
Having reviewed a good few treadmills, you start to notice the little things and get a bit 'picky' about them. One pet hate I have with modern machines, and something these lighter-weight runners are often guilty of is a) a lack of tablet holder, and b) nowhere to put your bottle.
The Kick 2 has two drink holders and a proper tablet shelf that holds either a table or phone securely in place. You'll need that too – either to alleviate those long hours needed to get in shape, or to use with Kinomap – which is definitely best experienced on a decent screen like an iPad.
Another little surprise was that the machine is compatible with wireless heart rate sensors, something we've seen lacking in a number of machines lately.
Proper Kinomap integration
We liked the Kinomap integration and all the little additions that make the user experience so much more enjoyable. The Bluetooth speakers, heart rate chest strap, iPad holder make the Bluefin stand out in its price class.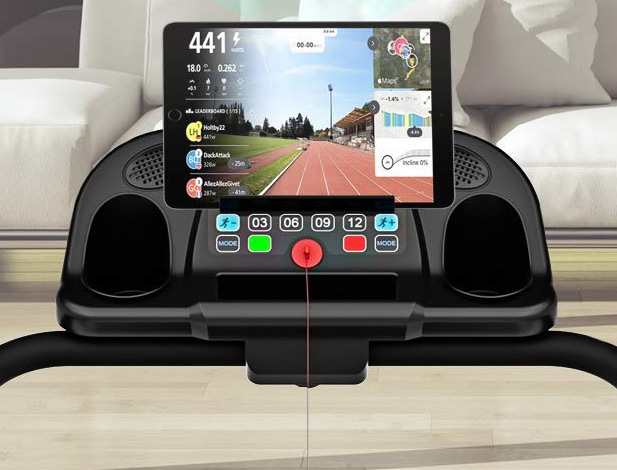 The treadmill integrates easily with the Kinomap app offering virtual trails and on-demand coaching to sustain user motivation and provide interest. The manual gradient is also a nice touch to add to your endurance.
Check Current Amazon UK Price
---
What Could Have Been Better
Not Ideal for Tall users
The Bluefin track is 40 x 130 cm, which may be a bit cramped for users with larger strides over 1.85m (6ft0). Sadly, a problem with portable runners but if you're poking over the 6'1″ line then you might find the track cramping your style more than you'd like. This is, of course, dependent on your stride length.
It would seem taller users may need to research their stride dimensions before burying this running machine if they want to get a decent step each time.
Bluetooth Speaker Could Be Better
Sorry to bring this up in pretty much every review and, as noted earlier, most people won't care about this anyway. I'd rather use my Bluetooth headphones to be honest. But in case you're hoping for
The Bluetooth speakers don't deliver much volume, and their sound is not of excellent quality. Although for the price range, speakers are a luxury, they weren't very effective at all. If speakers are a factor in your treadmill choice, then this isn't the model for you.
---
Conclusion: Is the Kick 2 worth a buy?
The Bluefin Fitness Kick 2.0 is a solid piece of machinery and delivers power for its highly portable weight and dimensions.
It is not ideal for taller users, or professional athletes, as it does have size and speed limitations.
That being said, this is easily one of the best foldable options for its price range for average-sized users and offers a host of features to make your home exercise fun.
Kinomap integration is great and it feels solid and sturdy, with a beefy upper running speed. Folding is a doddle and, if you're in the market for a compact runner you can easily store, you'll likely love the Kick 2.
The Kick 2.0 is a great compact treadmill and well worth your time.
Check Current Amazon UK Price
---
Kick 2.0 Full Specs
| Brand | Bluefin Fitness |
| --- | --- |
| Model | Kick 2.0 |
| App integration | Kinomap |
| Incline | Up to 18% |
| Transport wheels | |
| Max Top Speed | 12 Km/h |
| Material | Plastic and steel |
| Incline type | Manual |
| Suspension | Aero-damping system |
| Display | 5" Digital Fitness Console |
| Safety Features | Emergency stop plug |
| # programs | 16 |
| Track | 5-layer anti-static track |
| Speakers | Integrated Bluetooth Speakers |
| Pulse sensors | Yes |
| Heart rate | Wireless heart rate compatible |
| Dimensions | 130 x 66 x 136 cm |
| Lubrication | Automatic Lubrication System |
| Self assembly? | 90% already assembled |
| Live Video Streaming | Yes |
| Tablet shelf | Yes |
| Folding design | Yes |
| Max user weight | 120kg |
| Motor | 1100W DC Motor |
| Horsepower | 2HP |
| Running surface width | 110cm x 40cm |
---
References & Further Reading