With an ever-growing army of entry-level spin bikes flooding online retailers, anyone looking to find a reliable one might feel a tad overwhelmed. In this JLL IC350 review, we're going deep on one of the best selling of these cheaper indoor cycles.
As always, you'll get a straight answer here including the good, bad and ugly.
What's the JLL IC350 Pro?
The JLL IC350 Pro is a compact and durable stationary bike designed by UK-based JLL Fitness. It can be used as a regular indoor cycle and is similar to the spin bikes you'll find in health clubs and gyms.
The bike is a few centimetres over one metre and has a width of 54cm, giving it a compact frame that won't demand too much home or gym floor space.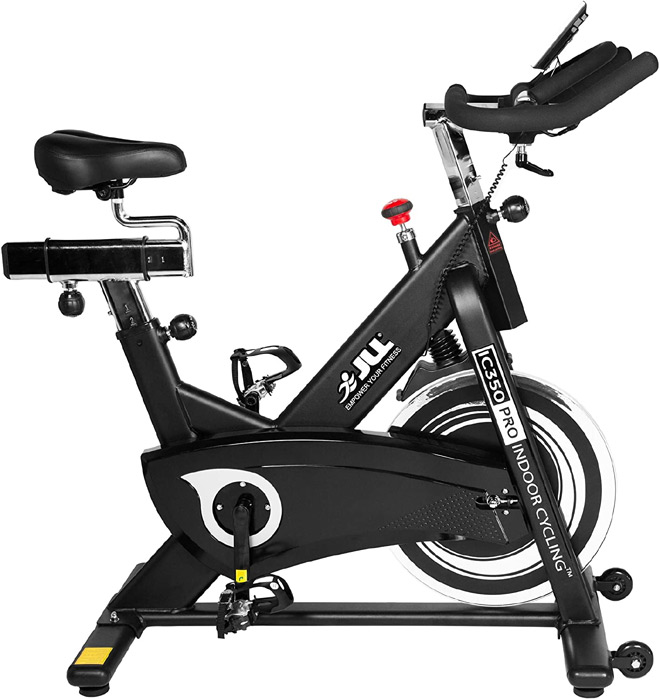 The JLL IC350 runs on a direct, belt-driven system making the operation quiet and light on maintenance.
It's got the standard adjustments you'll find on pretty much any spin bike: with 16 setting options between the seat and handlebars. If you're getting this to share with other household members, it's not too hard to set the positions as each has a simple large handle you grab and set.
This bike comes with a monitor to track your statuses such as Time, Speed, Distance, Calories, and Pulse and offers easy-to-reach heart rate sensors. The 350 Pro has a Q factor of 180MM (the distance between each crank's pedal attachment points).
This measurement allows for greater speed when cycling and influences the pedalling action. 180MM is the perfect balance between the average Q factor of a road bike and the power of a mountain bike.
You can also change the pedals that come with the IC350 for ones that work with cycle shoes etc.
Check Current Amazon UK Price
---
How's it compare to the other JLL IC family?
The 350 isn't JLL's only stake in the home cycling ground. It's a group of bikes that currently comprises of the following models:
| | | | | | | |
| --- | --- | --- | --- | --- | --- | --- |
| | | | | | | |
| | Magnetic: Fully Manual Dial | | | Magnetic: Fully Manual Dial | | Magnetic: Fully Manual Dial |
| | | | | | | |
| | | | | | | |
| | | | | | | |
| | | | | | | |
| | | | | | | |
It's more chunky than IC 100, 200, 300 and 400 models
We have a very technical term here when we're reviewing upright bikes, or any gym gear for that matter: the chunkiness factor. Generally speaking, the thicker the frame, the more robust a bit of gear is. With the IC350, it's definitely got the chunkiness factor.
The steel tubing on the main frame, forks and stand on this bike are wide and extremely strong. Way more so than say the IC400. So if you're planning on doing some spin classes in your home, or if your body type needs a stronger bike, the IC350 might be a good bike to opt for.
---
The JLL  IC350: at a Glance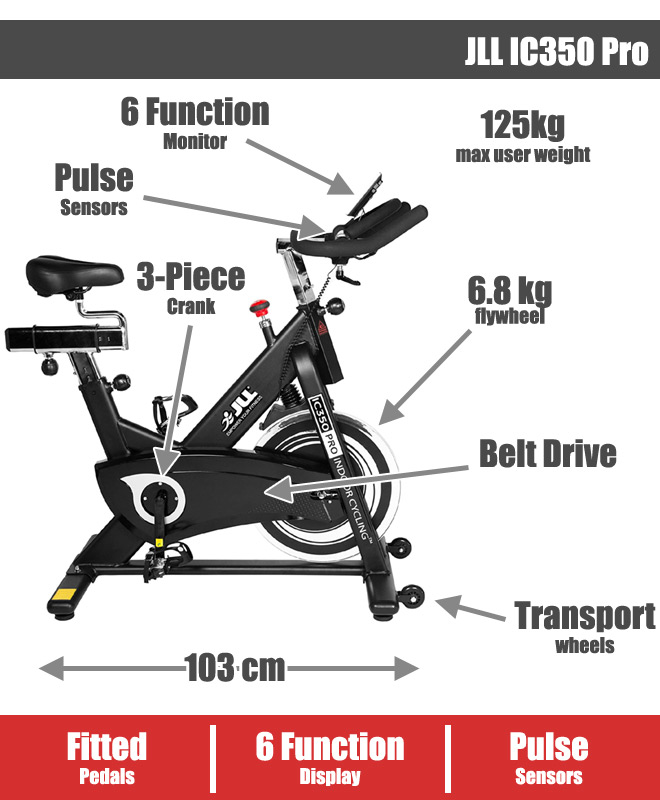 High-quality monitor tracking: Time, Speed, Distance, Calories, Pulse and RPM
15lbs (7kg) two-way flywheel
Direct belt drive
3 piece crank
10 level seat adjustment and 6 horizontal seat options
Secure toe cage on pedals
Transport wheels
Max user weight 125kgs (258lbs)
Dimensions: 103cm x 54cm x 122cm
Weight: 37kgs (92lbs)
High-density foam seat
Bottle holder
Q factor of 180mm
12-month warranty (domestic use.)
---
Who are JLL Fitness?

This bike is made by JLL Fitness, a well-know fitness brand who make mid-level fitness gear. We've reviewed a number of their products one Home Gym Experts and been impressed with the overall build quality and value for money they offer.
This means you're getting
UK based company
Shipped from a UK warehouse
UK customer support
They've currently got an 'Excellent' rating on Trust Pilot, the independent user reviews website.

How do they fair on our customer support tests?
JLL's support has proved both fast and friendly on our covert tests, with replies always within one hour during weekday working hours. A lot of people buy more than one machine from this company as they're reliable and the products are good quality.
We've had them sort issues for us in super-quick time over the years with the gear we've bought from them. In one case, bringing a replacement to the door and collecting the defective item. No complaints there whatsoever.
---
What's it like to setup?
Difficulty rating: Easy(ish)
One of the great things about the JLL IC series is that they come mostly assembled. For shipping, they've taken the base off and you'll need to attach some basics like the stand, handlebars, bottle holder and monitor. But the main 'bit' of the bike comes pre-assembled.
The instructions are OK… kinda.
There are 4 steps to go through but we're not talking lego toy easy here. You can see what goes where and it's not that hard to put together. However, it would be better if there'd been a few more steps and it had been dumbed down more. You know, for us folks who hate putting stuff together.
Bank on 40 minutes to an hour, depending on how good you are at this kind of thing. 
---
5 Fitness goals The IC350 will help you crush in 2023
#1 – Burning Calories and Lose Weight
Harvard Health estimates that stationary bike exercise may burn up to 754 calories an hour for users of 185lbs (83.9kgs). This capacity makes stationary bike exercise an effective way to lose excess weight from home. The portable JLL IC350 is portable and fits neatly into one's home for a convenient exercise option at any time of the day.
#2 – Boosting your overall health
Stationary cycling offers excellent cardiovascular exercise and has a variety of health benefits. Aerobic exercise improves circulation and heart function, lowering blood pressure and decreasing bad cholesterol in the blood. Having a home exercise alternative such as the JLLIC350 can effectively improve your overall health, including vital body functions such as:
Heart
Brain
Muscular
Circulatory system
Lungs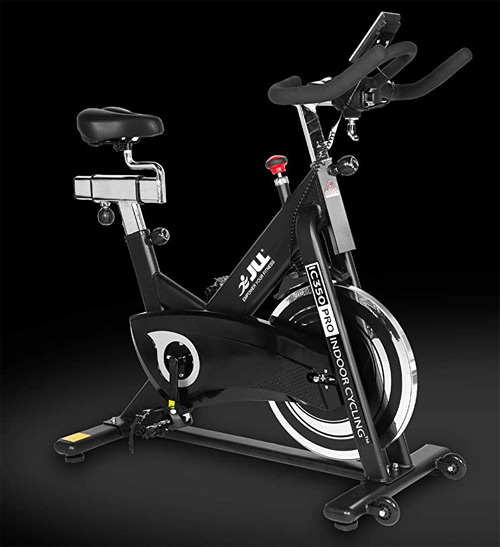 #3 – Increasing your strength and stamina
The JLLIC350 boosts the user's body strength and endurance by exercises such as interval training. High-intensity interval training (HIT) combines intense activity and active recovery on a 1:1 ratio. HIT has advantages over consistent speeds by boosting strength and stamina as well as endurance. HIT is an excellent means to improve your fitness.
#4 – Protecting your joints
Home exercise alternatives such as treadmills and outdoor running can put unnecessary strain on one's joints and knees. Stationary bikes such as the JLLIC350 provide an effective calorie burn while still being kind to your body. Users may expect similar benefits to running in terms of calorie burn without the possible injuries of repetitive foot strikes.
#5 – Getting into some online spin classes!
If you've never tried a spin class, they're as fun as they are challenging. Sweating along with a load of randoms makes the workout seem somehow easier and there's more motivation to keep going.
You don't need any fancy online apps to take part; Youtube is packed with free spin classes – which are normally just recorded spin class sessions. Although you can find some LIVE ones. Meetup often has free spin classes too. Either way, try one out – they're a lot of fun and the calories will fly off.
Check Current Amazon UK Price
---
Who Is the JLL® IC350 Pro Aimed At?
Anyone looking for a low to medium intensity workout
The JLLIC350 has an average weight flywheel of just under 7kgs. Not huge – later models in the series such as the IC400 Elite, for example, have a whopping 22kg fly. The 350 will suit anyone looking for a moderate-intensity workout, however. It's also worth noting that the JLL uses a spin-class style knob that you can increase + or decrease – manually to help make your legs ache the next day.
If you need a bike to share
The JLL is also highly adjustable and quick to swap to different sizes too. There are ten seating heights and six horizontal handlebar options. Therefore, the JLL is perfect for multiple user homes with different fitness requirements.
If you're short on space
One of the things the JLL series have done a good job of is keeping the overall foot print relatively low. It needs less space than a lot of the bikes we've seen and it's also easy to tilt up and move around between uses.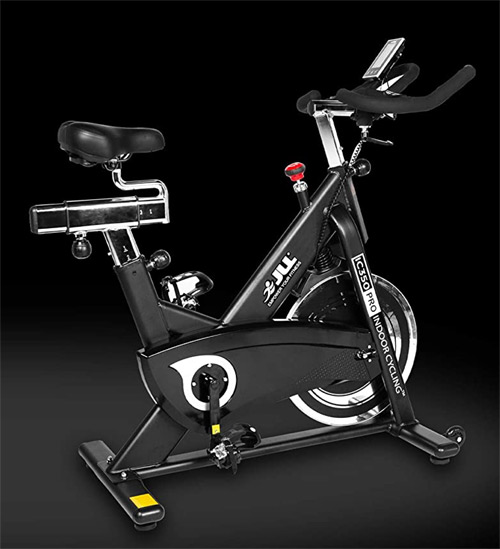 If you need a good spin bike for home use
The JLL is perfect for people who seek to improve their fitness, build muscles and lose weight from the comfort of their homes. Gym memberships are costly, and the commute can be frustrating and time-consuming. The JLLIC350 is convenient, and users can exercise at any hour they choose.
There's a decent upper weight limit on the IC350 but it won't suit users over 125kgs (258lbs) due to the manufacturer's specifications. However, the high adjustability makes the JLL adaptable to a wide variety of heights and body shapes.
---
Review Time: What We Liked About the JLL IC350
It's a step up from the many sub £300 spin bikes we've seen and everything about it has that nice big 'chunky' feel to it.
It's got a good bit of weight about it
You'll either love or curse the weight of the IC350. At 37kg it's not some lightweight bit of fitness gear you'll be carrying between floors any time soon. On the flip side, it's got that nice sturdy feel that a lot of spin bikes don't have.
As long as you're careful, it's not too hard to flip on its wheels and move out onto the patio, weather permitting, or into another room. But it's definitely a hefty bit of kit – and that's fine by us.
It's stable and doesn't make a lot of noise
One of the most important things with any bit of gym gear is whether or not it's going to creak, wobble and fall apart like a cheap suit – especially in the long term. The IC350 is not the most expensive bike, but it costs more than the budget spin bikes out there (the ones under £300).
And the build quality here is way better than those cheaper models. Nice thick tubing gives this bike a solid feel, akin to the crazy-expensive ones you'll often find in the gym.
A plus with the belt drive is that they're generally quieter than chain. Baring a few expected noises when cycling, this is a quiet bike. Although there are a few rattles and shakes you sometimes find with bikes in this competitive price range.
It will fit pretty much anyone over 5 feet
The JLL offers more extensive options to fit a user's frame and easily find your best seating preference.
The seat to floor distance can be adjusted from 94cm to 114cm giving leeway for leg lengths of different user heights. The handlebar to seat distance can also be adjusted from 54 to 40cms to provide you with the right riding position.
Easy to Assemble
The assembly kit comes neatly packed with a decent manual that's in proper English. Worst case, it will take around 40 minutes to assemble. Relatively good for bikes in this class. Although there are reports of people doing it in under 15 minutes. If you've got a friend to help, it makes things a lot easier too.
The resistance is good and will give you a challenge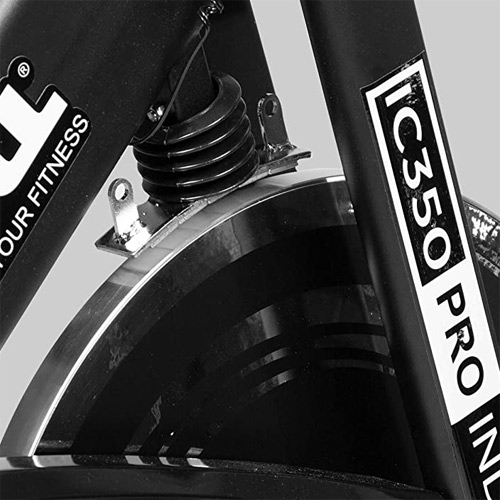 For its size, the JLL would not be perfect for professional cyclists seeking full intensity sprints, but it delivers powerful moderate-intensity resistance for those with less intense exercise needs.
Ergonomic and Compact
We liked the shape and lines of the JLL, and the Q factor is nicely aligned to deliver an effective burn. The bike fitted in well in our smaller studio space, and we liked the elegant classic black with red and yellow detail.
Everything is within reach, and the pulse monitor is easily accessible through the handlebar based sensors. The emergency stop is also visible and in logical reach, and the foot cages are neat and secure.
Check Current Amazon UK Price
---
Related Spin Bike Guides
---
What Could Have Been Better
The LCD Display is Small
A common complaint about bikes in the JLL class is true for this bike. The stats are clear and visible, but the display is somewhat on the small side. However, we used the iFit tablet app that users can enjoy on non-compatible bikes by using manual gear ups during training classes or virtual rides, so the small display wasn't a deal-breaker.
The seat Could Be Better
We found the seat a bit uncomfortable, and that lacked the profile to suit heavier workouts. The padding and shape were a bit bulky for my taste, and a bit more thought could have gone into its design. However, the larger, more padded seat might suit those who prefer a more leisurely low impact ride.
Not the bike for you if you're under 5 feet
While the upper limit on this bike should suit any height, the same can't be said if you're of short stature. The seat will only go so far down, for example, and you might find the bike actually feels too large for you.
It doesn't display watts
While not something I use, I know a lot of home cyclists do look for a bike that has Watts. The IC350 does not have this stat on it's monitor.
---
IC350 Conclusion: Buy it or skip it?
The JLL® IC350 is a good quality, stationary bike for a competitive price. It's a step up from the many sub £300 spin bikes we've seen and everything about it has that nice big 'chunky' feel to it.
Despite its portability, the JLL stands loudly while in use, even with larger users at higher intensity resistance. The JLL looks good and is well designed to suit different user shapes, and has an intuitive layout.
I would recommend the JLL® IC350 as an affordable stationary bike option for those seeking a no-frills, reliable, and low maintenance home exercise machine.
Check Current Amazon UK Price
---
What other bikes can you get in this price range?
There's a lot of different bikes in this sort of price range up for grabs in 2023! Check out our list of suggestions below.
The Nero Sports Bluetooth bike is a good choice if you want to connect your phone or tablet to the bike and get into some online racing and streaming.
There's also JTX Fitness's brilliant Cyclo series, with the Cylco 6 in almost the same price bracket as the IC350.
Check out Dripex's indoor bike too – it's been getting a lot of good reviews on Amazon and the company has brought out some great home gym gear recently.
Prices Last Updated Thursday 9th November 2023 - 20:11:33 pm
---
JLL IC350 Full Specs
Resistance
Flywheel and magnetic resistance system
Flywheel
22kg 2-way flywheel
Drive
Belt drive system
Data tracked
Time
Distance
Speed
Calories
RPM
Watt and Scan
Heart Rate Training
Yes. Via bluetooth band
Bluetooth
Yes
Seat Adjustment
Vertically and horizontally
Online capabilities
Works with 3rd party app iConnect+
Handlebar adjustments
Vertically
Handlebar grips
Multi-position handle bars, sit up right or lean forwards
Crank
3-Piece crank
Transport Wheels
Yes
Dimensions
125.5cm (Length) x 54cm (Width) x 141.5cm (Height)
Pedals
SPD Compatible Pedals
Maximum User Weight
150kg
Machine Weight
53kg
Colour
Black and Red
---
Resources and further reading