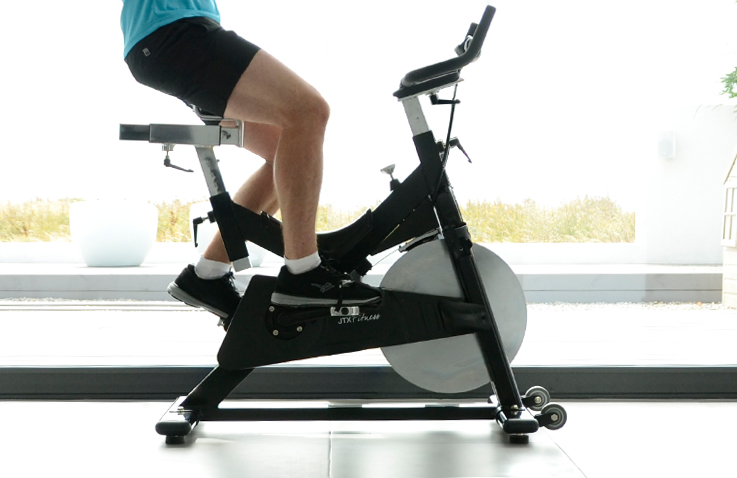 JTX Cyclo 6 Best price & full guide
The JTX Cyclo at a glance
Studio training bike
Simulates road riding
For intensive workouts
Suitable for all ages / experience
22kg fly wheel for smooth workout
Can adjust levels of resistance quickly
Built with heavy gauge steel
Handlebars and seat adjust horizontally & vertically
Toe clip pedals to prevent slipping
Can be moved around using wheels on frame
What is the JTX Cyclo 6?
This is a high quality home exercise bike, similar to what you'd find in Pure Gym or other modern gyms. It's the kind of bike you'd find being used in spinning classes. It's not the cheapest bike for sale on the market (although this guide will show you where to get it for the best price) but the build quality, and robust features like it's 22kg flywheel, make it worth considering if you're serious about cycling from home.
The Cyclo is good for you if you need to do high intensity training, and is very close to what you'd experience on a road bike.
Benefits to training with an indoor bike like the Cyclo
Improves your cardio vascular strength
Suitable for new or experienced cyclists
Currently on sale (see best price section)
Sturdy & well built
Belt drive means it's quiet
2 year warranty
Easy to assemble
Spinning at home without going to gym
Watch the video below for a good overview of the bike and all the features, including how to adjust the seat, bars and resistance.
 What are the reviews like for this exercise bike?
It's quite hard finding impartial reviews of the JTX Cyclo 6 but there's a good selection of confirmed buyer reviews on the product page at JTX. Users there rate the bike at 4.7 stars. While at Amazon UK there are a higher number of reviews but the score is still 4.5 stars.

Why is this bike more a higher price than say a budget bike on Amazon?
One thing you might be wondering is what's the difference between this and a cheaper training bike on stores like Amazon. While it's important to get your exercise bike for the best price, it's worth noting the Cyclo is a much better quality and a different style of bike.
If you're interested in the Cyclo 6, you probably know that it's not at the budget end of the spectrum, sitting around the £500 mark, depending on sales / offers. While there's always cheaper products around, the JTX Cyclo is a very high quality product, more akin to a gym style machine that's designed to last a long time and built to a much higher specification than a cheap exercise bike.
Where can you get the best price for the JTX Cyclo 6?
This product is available on Amazon, as well as other retailers but you're actually better off buying direct from JTX. They offer free next day delivery on the Cyclo 6 and full warranty and returns. They frequently have deals on this model and there's in fact an offer today (see below).
What kind of warranty do you get when you buy the JTX Cyclo 6?
There's nothing worse than buying a product and having issued returning it. JTX offer a 2 year in-home servicing and repair warranty with the Cyclo 6. They'll actually send out an engineer to fix any problems you have and that includes parts and labor too.
As for returns, there's a 28 day money back guarantee so you can send it back if you find it's not what you need.
Full JTX Cyclo 6 Specs
| Resistance | Infinity resistance |
| --- | --- |
| Computer Console | Track your workout length, speed, distance, calories and pulse |
| Heart Rate Training | Yes. Via hand sensors |
| Pedal Options | Toe clips as standard. Compatible with JTX Dual Pedal System: Studio Edition |
| Seat Adjustment | Quadri-Set™ adjustment system: both handlebars and seat adjust vertically and horizontally for the perfect set up |
| Flywheel | 22kg belt-driven flywheel |
| Safety Features | Simple activation emergency stop button |
| Crank | 3 Piece crank |
| Transport Wheels | Yes |
| Dimensions | 131cm(l) x 65cm(w) x 126cm(h) |
| Boxed Dimensions | 108.5cm(l) x 25.5cm(w) x 90.5cm(h) |
| Maximum User Weight | 160kg |
| Machine Weight | 64kg |
| Free Accessories | Water bottle |
What are some negatives with this bike?
Reviews for the Cyclo 6 from JTX are fairly conclusive, with users rating the bike overall very favorably. The only slight issues users had were the symbols being too small to read on the LCD display. Another user found the seat was hard to get to his liking. Apart from that I couldn't find anything bad being said about this bike.