Welcome to our JTX Cyclo 6 review, where we'll give you our opinion on one of the more popular home spin bikes up for sale in December 2023. We'll cover all the info on this exercise bike and show how it compares to others in the same price bracket. As well as our review on what we think of it.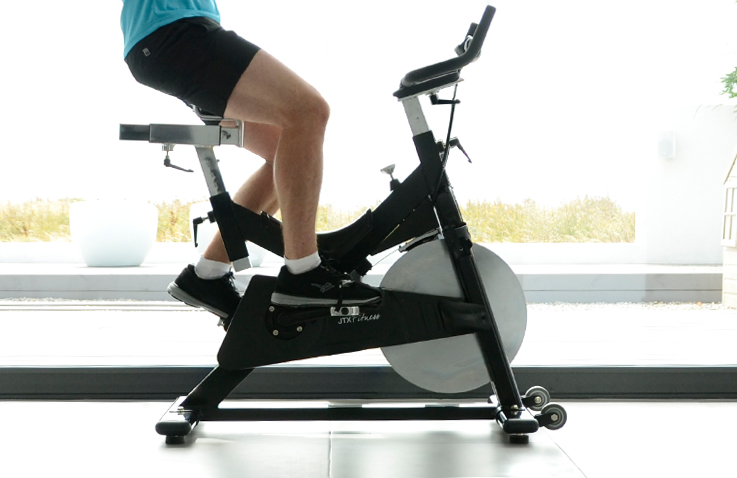 JTX Cyclo 6 Best price & full guide
The JTX Cyclo at a glance
Studio training bike
Simulates road riding
For intensive workouts
Suitable for all ages/experience
22kg flywheel for smooth workout
Can adjust levels of resistance quickly
Built with heavy gauge steel
Handlebars and seat adjust horizontally & vertically
Toe clip pedals to prevent slipping
Can be moved around using wheels on frame
What is the JTX Cyclo 6?
This is a high-quality home exercise bike, similar to what you'd find in Pure Gym or other modern gyms. It's the kind of bike you'd find being used in spinning classes. It's not the cheapest bike for sale on the market (although this guide will show you where to get it for the best price) but the build quality, and robust features like it's 22kg flywheel, make it worth considering if you're serious about cycling from home.
The Cyclo is good for you if you need to do high intensity training, and is very close to what you'd experience on a road bike.
Benefits to training with an indoor bike like the Cyclo
---
8 Things we love about the Cyclo 6
1) It will improve cardiovascular strength
Studies have proven a link between hopping on a bike and improved cardiovascular health. If you're looking to work on your cardio at home, a decent indoor bike like the Cyclo 6 is one of the best ways to go.
2) It's ideal for new riders or gym monsters
Not every bike is suitable for all levels. Some lightweight machines won't put up enough of a fight if you're serious about your cycling. The Cyclo 6, on the other hand, is a good starter spin bike that will also be punishing for anyone who thinks they're a bit of a pro. Seriously, this thing will get you out of puff in no time.
3) It's sturdy and smooth
One of the biggest problems with a lot of cheaper spin bikes is that they're just not strong enough. If you're a lighter human being, you're spoiled for choice. Anyone else might want to tread carefully. The good thing with the JTX Cyclo 6 is you're getting a super-solid beast of a machine. The downside is it's heavy. But, we're happy with that.
4) It's lovely and quiet
Not everyone is as sensitive to the noise their gym gear makes and some are happy to blast their tunes to drown it out. But let's take a second and appreciate how quiet JTX's upright bike is. The belt drive keeps noise to an absolute minimum and you can enjoy more quiet audio, podcasts or Netflix without some grinding noise in the background.
5) There's a good warranty
JTX offer a 2-year warranty with this machine and a 30-day money-back style guarantee too. Hopefully, your Cyclo 6 will behave itself and you'll get on like a house on fire. If not, there's plan B. And a solid way to get help, or get a refund if you need it.
6) The Cyclo 6 is easy to assemble (no… really)
Love crawling around on the floor, looking for that nut that rolled away and struggling to read dodgy instructions? No, neither do we. Part of life as a gym gear reviewer. Thankfully, for you at least, there's not much assembly to do with the Cyclo 6, leaving you to save your energy for the next ride.
7) It's great for online spin classes
As we're sure you know, Youtube is packed with online spin classes that are just like the real thing. Minus all the other sweaty bodies and the pressure to perform. If you're new to spinning at home, the Cyclo 6 is a great bike to start with.
You'll need a tablet, preferably, although your phone can work at a push, and plenty of water (it's really thirsty work). Oh, best of all it's free.
Watch the video below for a good overview of the bike and all the features, including how to adjust the seat, bars and resistance.
Our Review: What we like about the JTX Cyclo 6
That hefty beast up front makes for a serious challenge and the weights feel makes for a much better experience than a lot of the (usually cheaper) bikes we've seen.
The flywheel: not just a pretty face
It has to be said, the Cyclo 6 has one of the better-looking flywheels we've seen. Admittedly, not the most important factor when picking your new indoor bike but the stripped-back silver design is worth mentioning as it's unique and has a really modern look to it.
But what's it actually like?
It gets the weight right. You're getting a fully-fledged 22kg flywheel here which does make a difference. Whether you get a bike with a felt brake or one with resistance, the weight of the flywheel makes a big difference to how the bike feels.
That hefty beast up front makes for a serious challenge and the weights feel makes for a much better experience than a lot of the (usually cheaper) bikes we've seen.
This bike can take a beating
While the pics always make products look better than they are, it's hard to pick fault with the build quality on the Cyclo. If you've read any of our other reviews, there's often a bit where we have to concede there's a bit of a wobble on the frame, especially when standing up or leaning forwards.
The Cyclo 6 isn't like that. Indeed, most of the JTX machines follow suit; tough, heavy frames that are designed for people who want to push themselves. Regardless of what you're getting this bike for, the frame and stabilisers are rock solid.
Other reviews of the JTX Cyclo 6
It's quite hard finding impartial reviews of the JTX Cyclo 6 but there's a good selection of confirmed buyer reviews on the product page at JTX. Users there rate the bike at 4.7 stars. While at Amazon UK there are a higher number of reviews but the score is still 4.5 stars.

Why is this bike more a higher price than say a budget bike on Amazon?
One thing you might be wondering is what's the difference between this and a cheaper training bike on stores like Amazon. While it's important to get your exercise bike for the best price, it's worth noting the Cyclo is much better quality and a different style of bike.
If you're interested in the Cyclo 6, you probably know that it's not at the budget end of the spectrum, sitting around the £500 mark, depending on sales/offers. While there are always cheaper products around, the JTX Cyclo is a very high-quality product, more akin to a gym-style machine that's designed to last a long time and built to a much higher specification than a cheap exercise bike.
Where can you get the best price for the JTX Cyclo 6?
This product is available on Amazon, as well as other retailers but you're actually better off buying directly from JTX. They offer free next day delivery on the Cyclo 6 and full warranty and returns. They frequently have deals on this model and there's in fact an offer today (see below).
What kind of warranty do you get when you buy the Cyclo 6?
There's nothing worse than buying a product and having issued returning it. JTX offer a 2-year in-home servicing and repair warranty with the Cyclo 6. They'll actually send out an engineer to fix any problems you have and that includes parts and labour too.
As for returns, there's a 28-day money-back guarantee so you can send it back if you find it's not what you need.
Full Cyclo 6 Specs
| Resistance | Infinity resistance |
| --- | --- |
| Computer Console | Track your workout length, speed, distance, calories and pulse |
| Heart Rate Training | Yes. Via hand sensors |
| Pedal Options | Toe clips as standard. Compatible with JTX Dual Pedal System: Studio Edition |
| Seat Adjustment | Quadri-Set™ adjustment system: both handlebars and seat adjust vertically and horizontally for the perfect set up |
| Flywheel | 22kg belt-driven flywheel |
| Safety Features | Simple activation emergency stop button |
| Crank | 3 Piece crank |
| Transport Wheels | Yes |
| Dimensions | 131cm(l) x 65cm(w) x 126cm(h) |
| Boxed Dimensions | 108.5cm(l) x 25.5cm(w) x 90.5cm(h) |
| Maximum User Weight | 160kg |
| Machine Weight | 64kg |
| Free Accessories | Water bottle |
What are some negatives with this bike?
Reviews for the Cyclo 6 from JTX are fairly conclusive, with users rating the bike overall very favourably. The only slight issues users had were the symbols being too small to read on the LCD display. Another user found the seat was hard to get to his liking. Apart from that, I couldn't find anything bad being said about this bike.
---
JTX Cylco 6 FAQs
Does this bike have heart rate sensors?
Yes, the Cyclo 6 has pulse sensors on the handlebars. They give a rough idea of your heart rate. Like most built-in HRM bars, they're OK. If you're looking for a better way to track your heart rate, you'll need to stump up for a heart rate strap.
How comfortable is the Cyclo 6's saddle?
It's a tough one to answer as we've all got a different idea about what comfort means to us. We've read a lot of people who think the seat is too tough, while others say it's the most comfy seat ever. The saddle is like a racing-style seat, and as such is definitely 'firm'. It's not like the big squishy affairs you get on some home bikes.
Is it safe to stand up on the pedals?
Yes. The Cyclo 6 is definitely designed for standing up on the pedals, leaning on the handlebars and moving between positions in a spin class. The toe straps also keep your feet in place and make moving around easier. The frame is sturdy enough to move around without wobbling or feeling like you're going to tip over.
How do you move the bike around?
The 6 model is heavy… very heavy! Which is a good thing. But what's it like to move around? Standing in front of the bike, you can rock it forwards and pull it onto the 2 transport wheels. As long as you're careful, you can then move it between rooms. One person can do this and it doesn't require a lot of physical strength.
---
References and sources
The official JTX Youtube channel is packed with high quality videos of their products, if you'd like to check out other rowing and fitness machines.
Find out more about what you can do with KinoMap here
If this is your first exercise bike, take a look at the NHS's cycling guidelines before you get started
Contact JTX on their website, or using the email info@jtxfitness.com
You can also contact them for help or any other queries on the JTX Cyclo 5 on 01273 453855
How good is JTX's customer service? Check out their Trust Pilot company reviews here. Spoiler alert: 4.5 / 5 stars.
Are you up to it? Check out the Live well website on NHS before you dive into your new exercise bike.