A luxury rowing machine
If you've watched House of Cards on Netflix, you might have already seen one of these rowing machines. While you're not likely to find them in most commercial gyms, the wooden water rowing machine (Amazon) is found in high-end health clubs and spas.
It's an incredible piece of kit that offers something different to the other kinds of machines on the market. Let's dive in and see if it's worth the £1000 or so it will set you back. It's also our #1 pick in our Best Budget Water Rowing Machines guide.

Stunning design
Who'd have thought a rowing machine could look this sexy? It's not often that I get to describe a bit of gym equipment as a work of art, but you could certainly make the case here.
These machines are simply beautiful!
Lets forget for a moment the sweat and agony this natural wooden machine will cause you, and marvel at its natural beautiful ash wood construction and pleasing aesthetic.
Water Resistance Rowing Machines offer the feel of rowing a real boat while looking awesome in any home gym. They're available in a number of natural organic finishes to suit any colour scheme in your home.
More reviews and pricing on Amazon
Natural look – natural rowing!
It's not often that I get to describe a bit of gym equipment as a work of art, but you could certainly make the case here.
So lets look at the resistance on this wood water rowing machine. This is just as interesting as its unusual construction.
The water tank, or 'water fly wheel', at the front offers self-regulating resistance and a completely different feel to fan, hydraulic and other forms of resistance. The overall feel is much more organic and this model is often used in recovery from injury.
But don't let it fool you. This rowing machine offers a serious challenge. Depending on how much you go for it, this wooden rower will burn 1000 or more calories per hour.
No jerking around
One of the advantages to one of the wooden water rowing machines is that the movement is super-smooth. A problem with some mechanical machines is they're
And it sounds incredible too…
Sick of that whirrr of the albeit fantastic Concept rower? Can't say it bothers me as I've usually got the headphones on. But you might want to switch off your tunes for at least a while and enjoy the gorgeous sounds of your new water-based rower!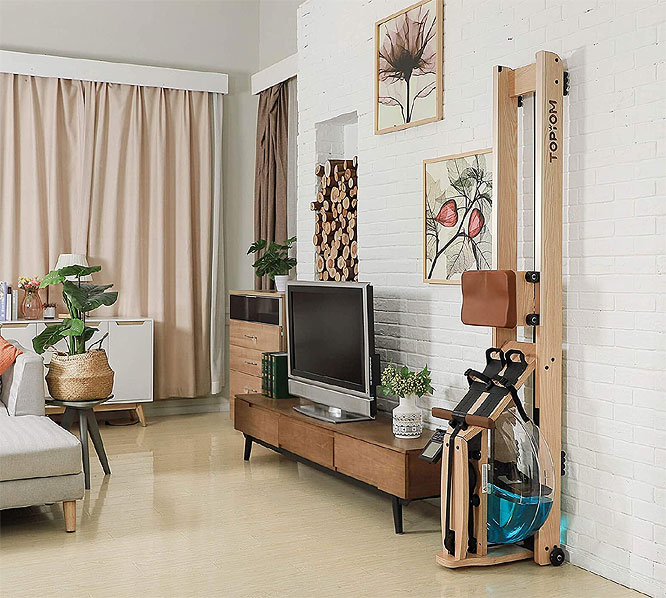 Water machines have a different sound altogether to their clunky metal siblings.
The moving parts in the wooden rowers are the highest quality and are designed in such a way that the only sound you'll hear when rowing is the soothing sound of the water.
Who makes water-based rowers?
The company behind the natural-looking rowing machine is WaterRower.co.uk, however, there are many other brands in 2023 offering competitive machines made from wood.
Although I'd not heard of them until quite recently, I was surprised to learn they've been making rowing machines for around three decades and have a lot of rowing experts and ex-rowers working on their passion projects.
The wooden water rowing machine range have won numerous awards.
While they're not exactly the cheapest rowing machine on the market, they'll last a lifetime and are as solid and weighty as they appear. If you like the look of it, and have a budget of around a grand, check out this stylish beast of a machine.
Check Current Amazon UK Price
How can wooden this kind of rowing machine help your fitness?
Great way to train for all ages
Rowing, in general, is a fantastic, zero-impact way of training. The beauty is it's something you can do no matter what your fitness level is. It's also suitable for all ages due to its joint and back-friendly movement.
Your water machine questions answered
Is assembly difficult?
Short answer… No! And it's actually not often I get to say that with a home fitness product. Forget awkward three-hour soul-destroying builds. Putting the wooden rower together is really quick and easy. Don't believe me? Check out the official 3D assembly video.
Can you store them vertically?
You can indeed. They're designed to be flipped up and stored with an incredibly small foot print.
Are they good for losing weight?
You can burn a whopping 1000 calories per hour (or thereabout!) using your new rower so they're ideal for anyone looking to get in shape. Of course, you'll probably not want to do that from the outset – the workout is definitely going to take it out of you.
But yes, this is a machine that will do the job of burning fat!
Got any more? Let me know your water-based training questions in the comments and I'll do my best to answer them for you.
What do you think?
Is the wooden water rowing machine your rower of choice? Let me know in the comments what you think of these machines.