Power cages are a great addition to your home gym (as long as you've got the space). They allow you to lift as much weight as you want in safety, without the need for a spotting partner. Saving space is a normally big factor for most home gyms so combining a squat cage with a pull up bar makes sense. After all, chin ups are still one of the best exercises you can do.
Today we're taking a look at the very best cages on the market and helping you find the one that's perfect for you. There's actually some fantastic products and they don't need to cost the earth. Lets get started!

#1 Choice: Fitness Reality 810XLT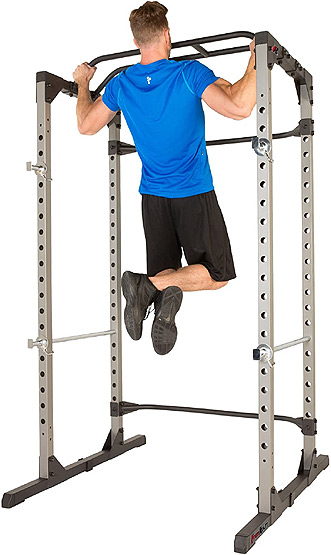 Kicking off with the best rack and pull up bar we've found, is a cage from Fitness Reality. We were eager to see what it was like as it's got some great reviews and is a popular choice for home gyms. And it comes with a pull-up bar with a choice of hand-grips.
You're getting a full size power cage with both spot bars that run the width of the cage and barbell rests too. There's a multi-grip pull-up bar at the top of the cage and you get the dip bars included with this package.
There's a good 19 levels of adjustment and it's available in a choice of black or silver.
Stable, even if not bolted down
The rack has bolts for securing it to the ground if you need to. However, not everyone wants to go this extra step. Thankfully, the rack is both wide and very stable, even when crashing some serious weight down onto it's bars. Unlike some cages we've seen, this one won't wobbly or move around.
High weight capacity
As power cages are a purchase you want to last a good while, you'll want to make sure there's plenty of room to grow. This product can take a whopping 363kg of weights on the spot bars and barbel supports, so there's lots of room to grow with them. It's designed to take a lot of  punishment as any good power cage should be.
Easy to assemble
This is good news if you're like me and don't have much patience putting stuff together. The 810XLT cage and pull-up bar combo is very easy to put together, even on your own. More time lifting and less time setting up is always a plus.
Verdict: Fitness Reality's cage offers one of the more sturdy frames we've seen. There's no wobbling and you've got everything you need here for years of training. The higher weight capacity means you won't have to upgrade it in a few years. And the price point is pretty good too. Highly recommended!

High quality build
Decent budget price
Easy to assemble
Huge 363kg weight capacity
Sturdy and wobble free
Multi-grip pull up bar
No grip on the pull-up bar
---
If you're looking for a good way to do dips and pullups without having a full-size squat cage, check out our guide to the best pull up and dip stations in the UK too.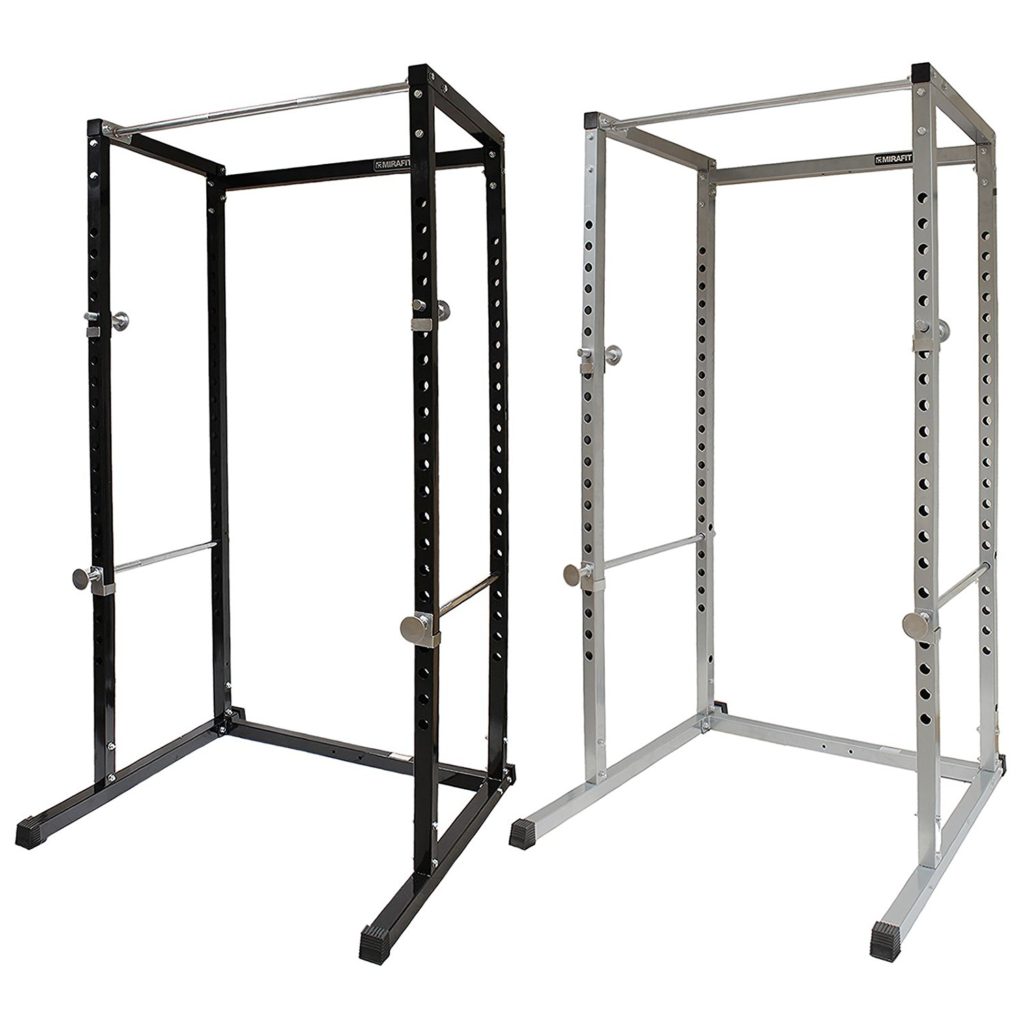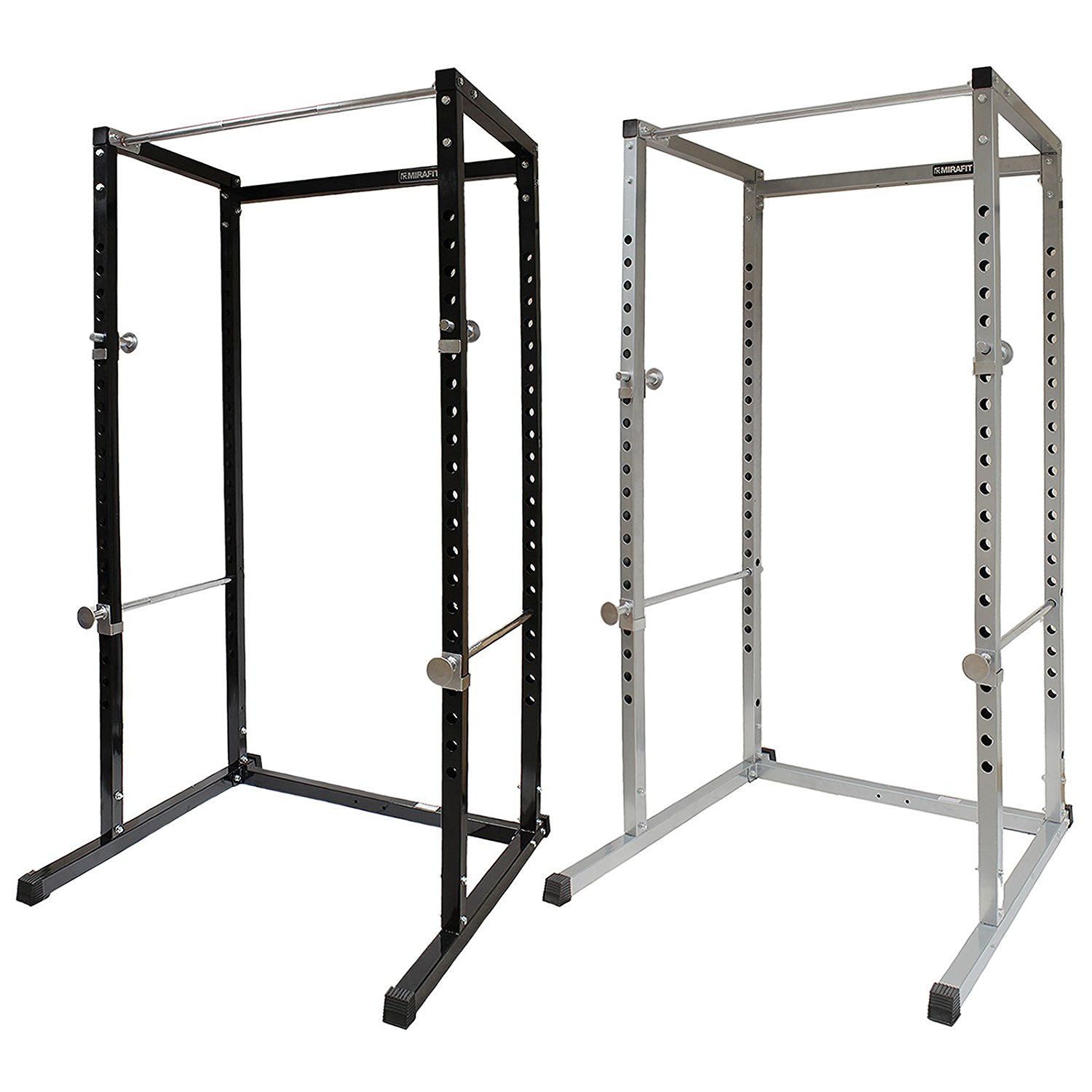 Another cage from Mirafit's in our review here, and a nice bit of kit that doesn't cost the earth. It's currently sitting with a good rating on Amazon, so lets take a look why it's so popular. You might be thinking for the price point that corners have been cut somewhere. But we're pleased to say this isn't the case. This is a great cage with a pull up bar for all levels.
This is also one of the quickest products to put together, although you'll need your own spanner or socket set, as it doesn't come with any tools. Once assembled it has the kind of robust, strong feel that you want and offers up to 250kg support for weights.
You get 2 x full length safety bars along with 2 x barbell stops. These can be set to any one of  that have 21 levels of adjustment. There's a nice, chunky pullup / chinup bar that runs along the top of the cage. There's no storage on the side for your plates and no easy way to bolt the cage to the ground. Having said that, it doesn't wobble and feels solid in use.
A nifty dip bar upgrade is available cheaply from Amazon too. Oh, and it's available in black or silver, nice!
Verdict: Mirafit know how to make cages and this one is perfect for new users or anyone looking to lift serious weight on their own. It's solid and comes in at a reasonable price.
At home with heavy weight
Solid and wobble-free
Excellent value for money
Quick & easy assembly
Comes with catch bars and barbell supports
Doesn't come with any assembly tools
No plate storage
Check Current Amazon UK Price
---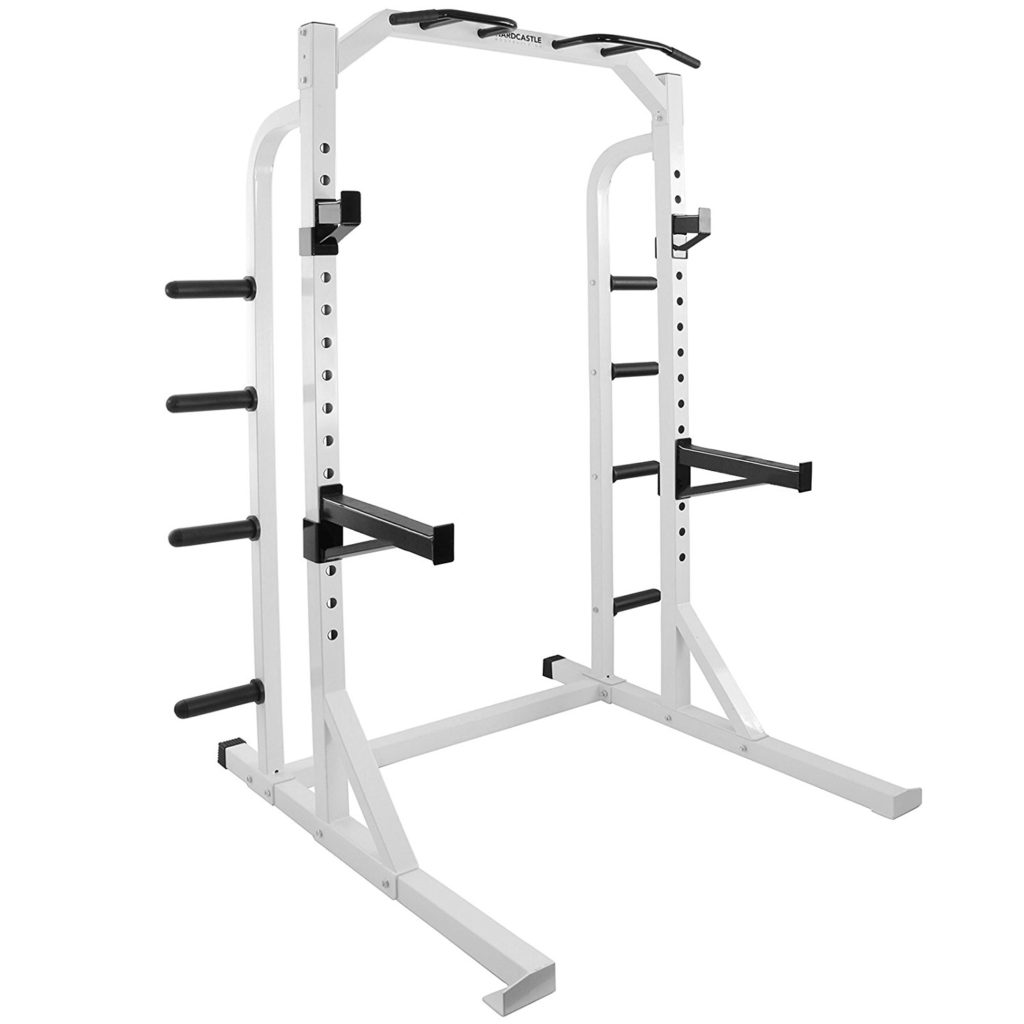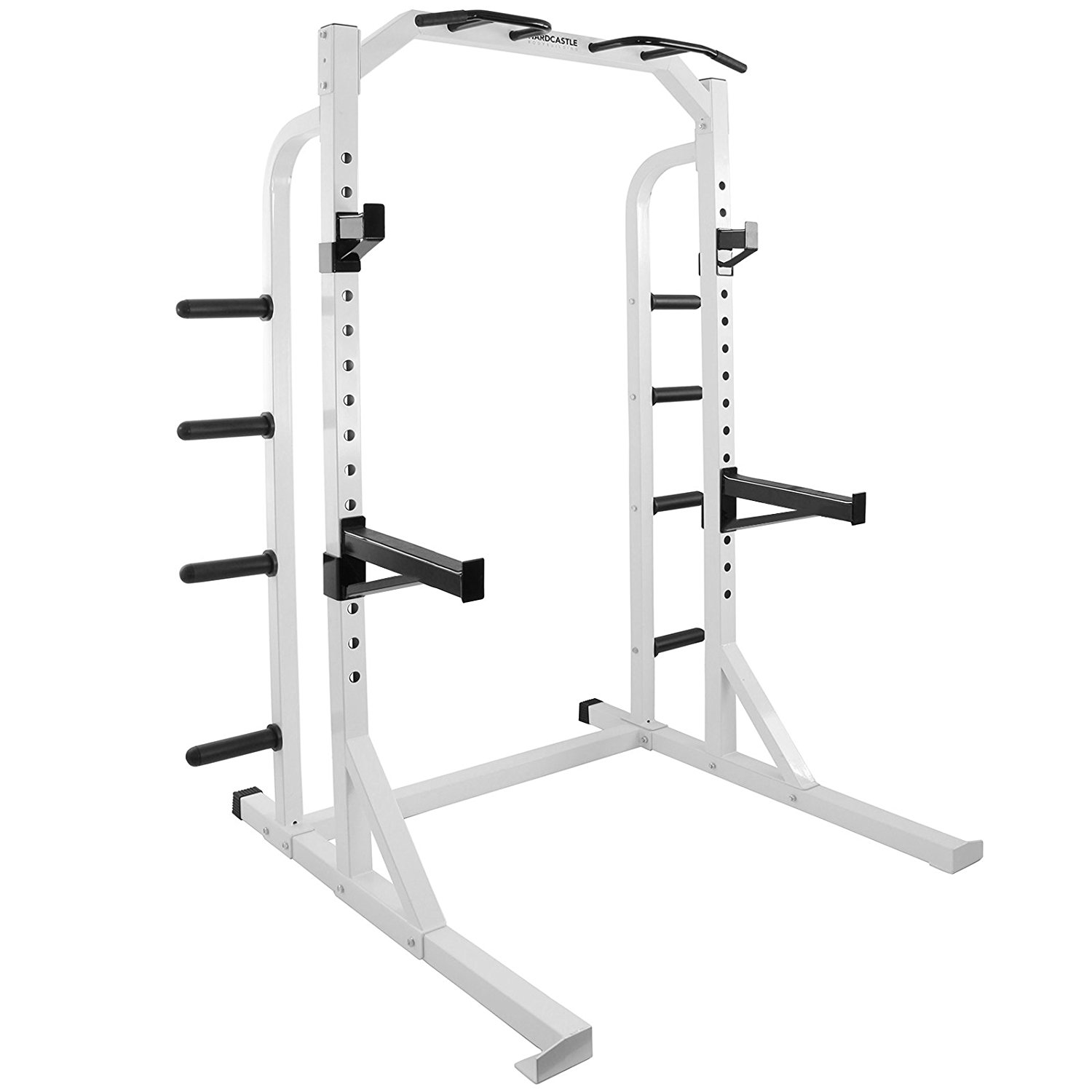 This is probably one of the cooler-looking squat cages, if you're discerning about how your home gym looks! But onto more practical matters – it's also one of the strongest cages available, with a whopping max weight of 360kg.
This rack is ideal for anyone looking to get some serious squats or bench presses done. there's 2 solid steel spotter bars, and 2 barbell rests. They can be set to 16 adjustable heights.
And as for the pull-up bar, you're getting a multi-grip bar that lets you perform pretty much any style chin up. Assembly isn't too horrific and can be completed in 1-2 hours by one person. Another welcome feature is the 4 x Olympic plate storage on either side to help keep your gym free from clutter (and add some stability).
Verdict: A serious bit of kit for anyone looking to squat and bench some hefty weight in safety. It looks good and does exactly what it says on the tin. A really good rack.
Solid rack with high weight capacity
Plenty of storage
Nice multi-grip pull-up bar
Nifty modern design
Easy to put together
No dip attachment available for this rack
Check Current Amazon UK Price
---
Related Guides
---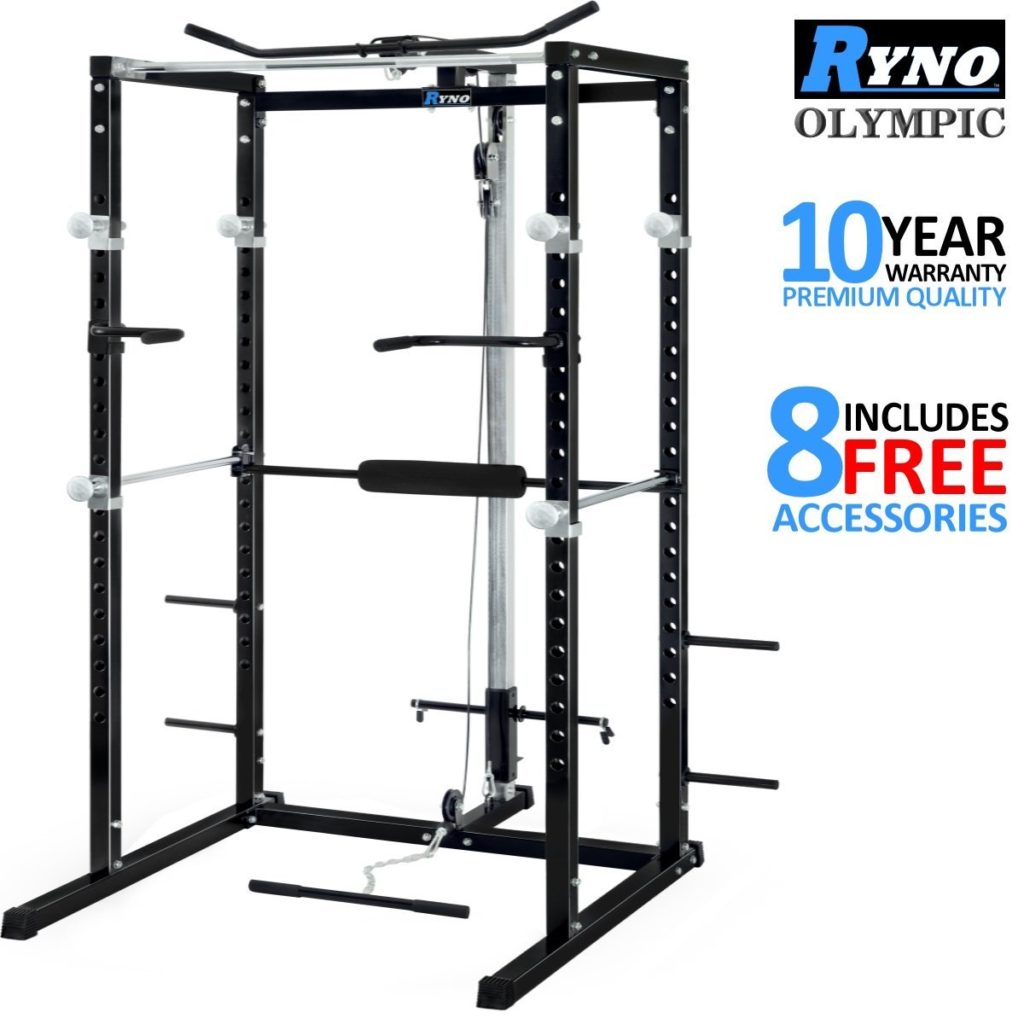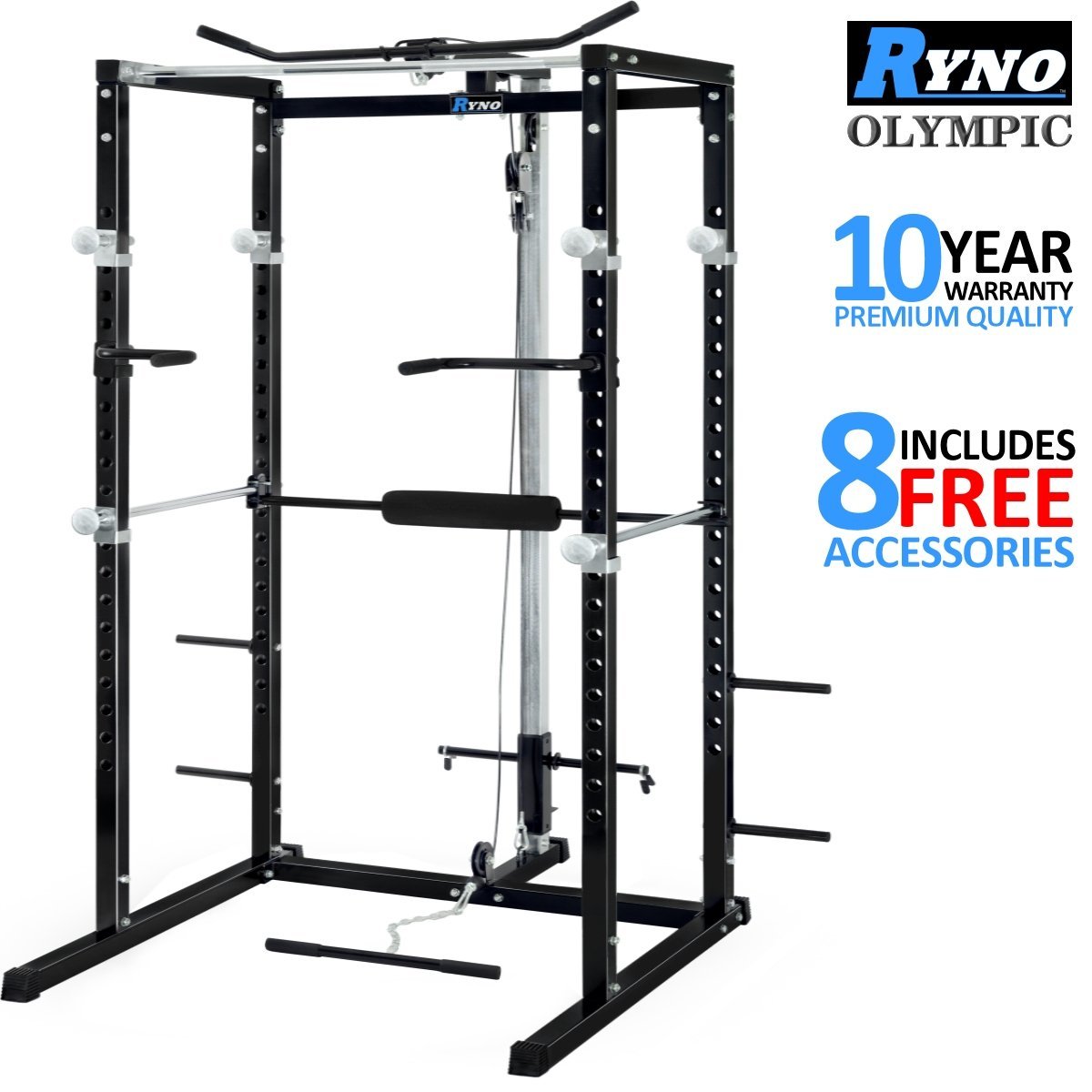 Here's something well worth a look if you're after a new rack that has a pull-up bar. If you're looking to get the most out of your available space, this cage from Ryno might be your new best friend. What sets this one aside is the amount of different things it does.
At it's core, you're getting a really solid squat cage, along with a straight chin up bar. There's also dip handles so you can work your upper body and triceps.
But the really neat thing about this cage is that there's also a built in pulley system that you caxn add your own plates on to. This lets you do things like curls, triceps and a lot more. So this product is somewhere between a cage and a multigym.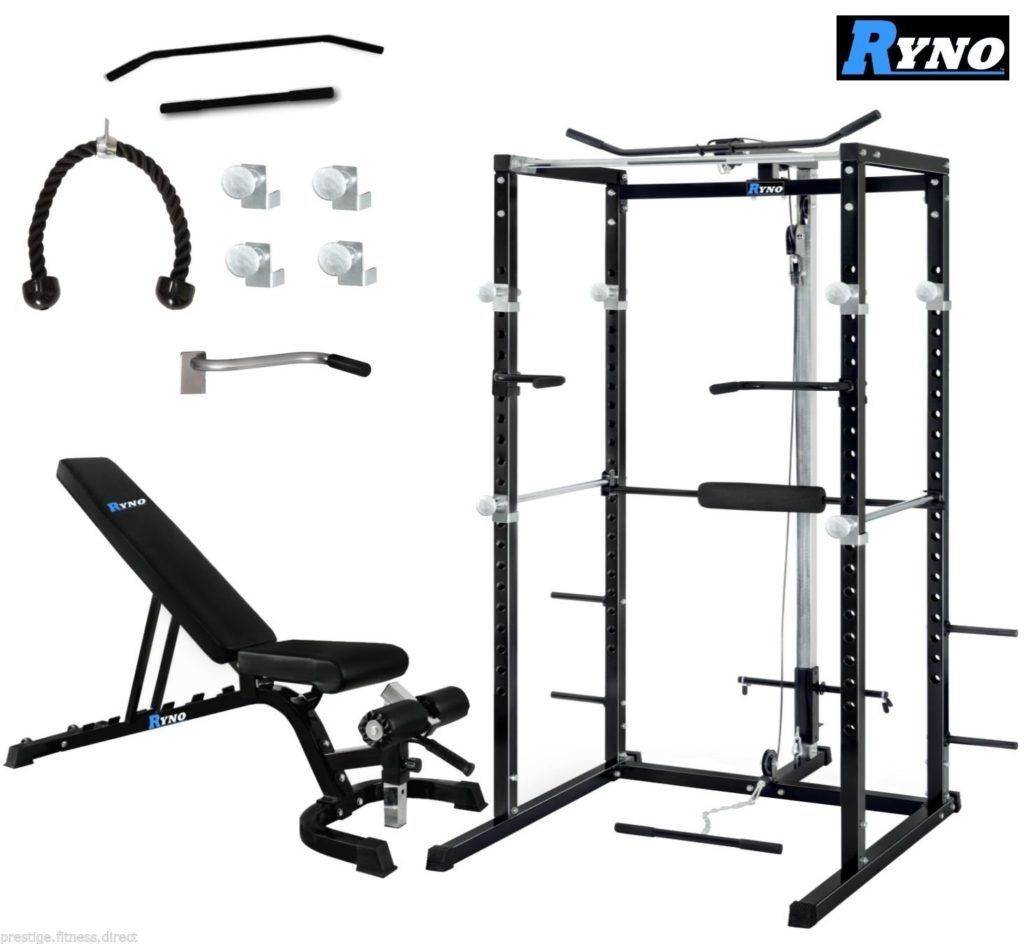 In fact, if you want to go the whole hog, it's also available with a really good bench for a few pounds more on Amazon.
Whichever model you go for, there's a good quality triceps rope included (one of those hard-wearing ones you get at commercial gyms). The max load is an impressive 225 kg, which will be great for most home gym'ers.
Our verdict: A solid, high quality home gym rack with lots of useful training tools. Check out the model with the bench, if you don't already have one as it's a really good one.
Solid cage with plenty of adjustments
Pulley system is actually very useful
Dip handles
Good quality bench with second version
10 year warranty
Paint can scratch off too easily
Check Current Amazon UK Price
---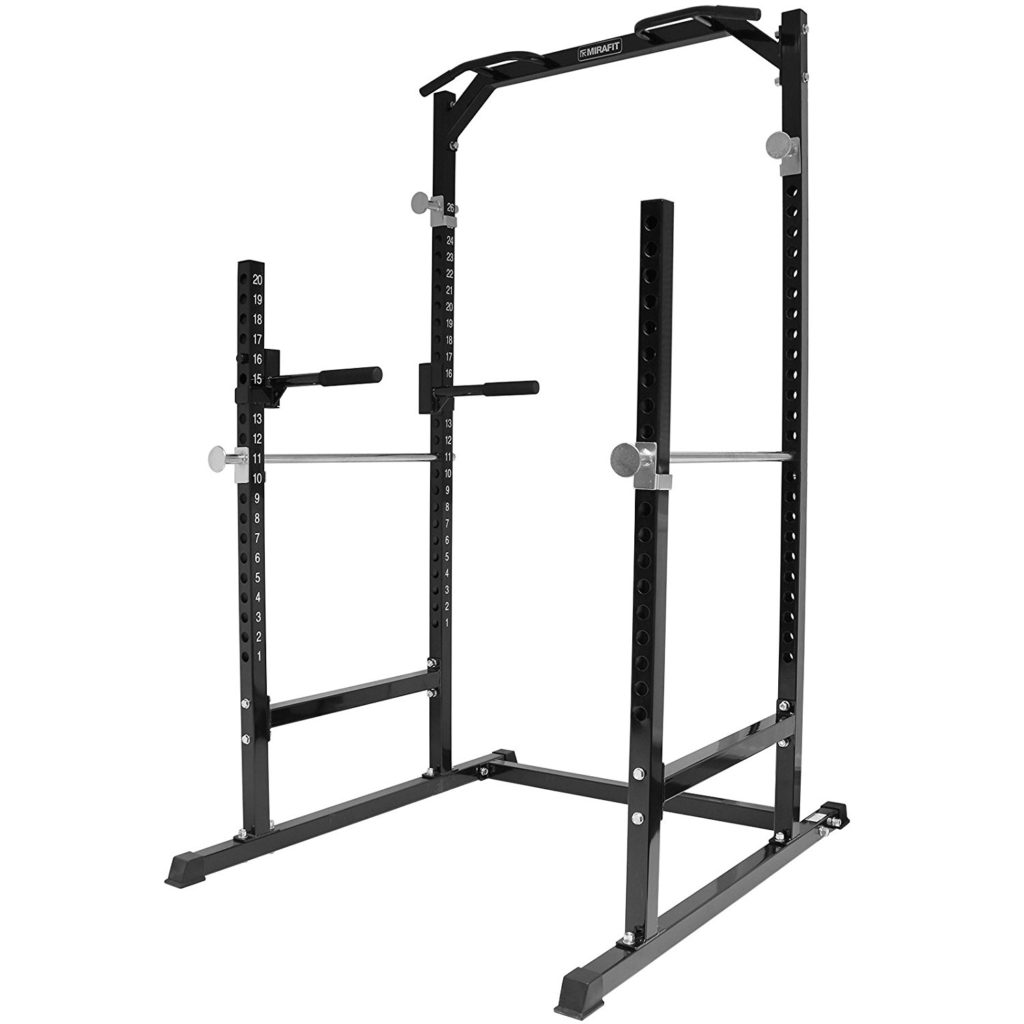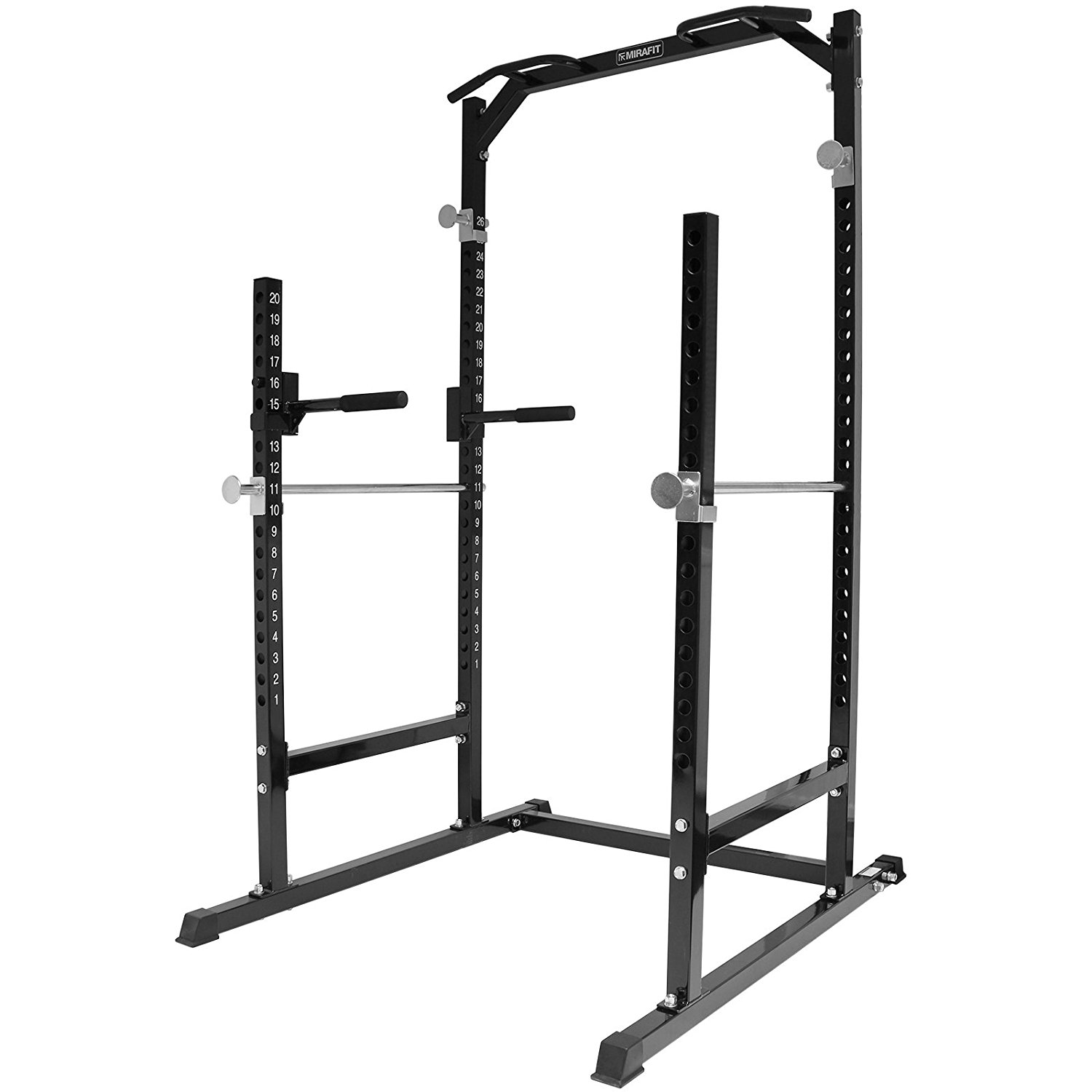 Mirafit's budget entry into the squat cage and pull-up bar market is perfect for anyone with a home gym, looking to maximize space. There's a lot of possible movements here including squats, pull-ups, bench press (if you've got a bench handy) and even a built in dip station.
It has a generous max weight of 200kg (that's the weight of barbells) and it's all made from 2mm chunky squatr steel frames. You're getting 20 front and 26 rear positions for your bars and it comes with both steel bars for safety. As well as the adjustable rear supports which got much higher.
The pull-up bar offers a comfy curved design and there's plenty of different grips you can use here. The only slight downside being a mild wobble on the dip station (if your form is less than perfect that is!)
Verdict: Mirafit's half cage is a beast for the price, offering a wide range of movements in a limited space. It offers excellent value for money.
Chunky, sturdy frame
Has bars as well as higher barbell rests.
Curved chin-up bar
Good value for money
Can move slightly when doing dips
Check Current Amazon UK Price
---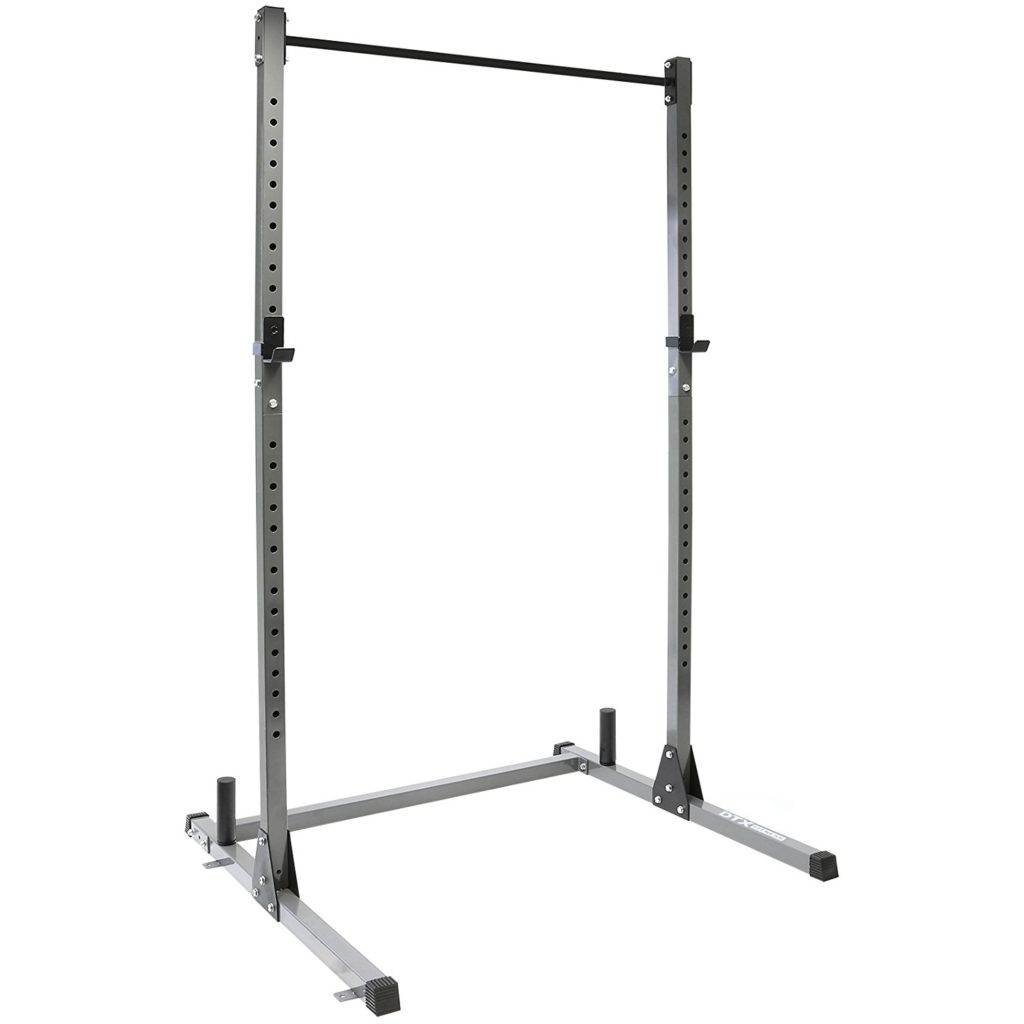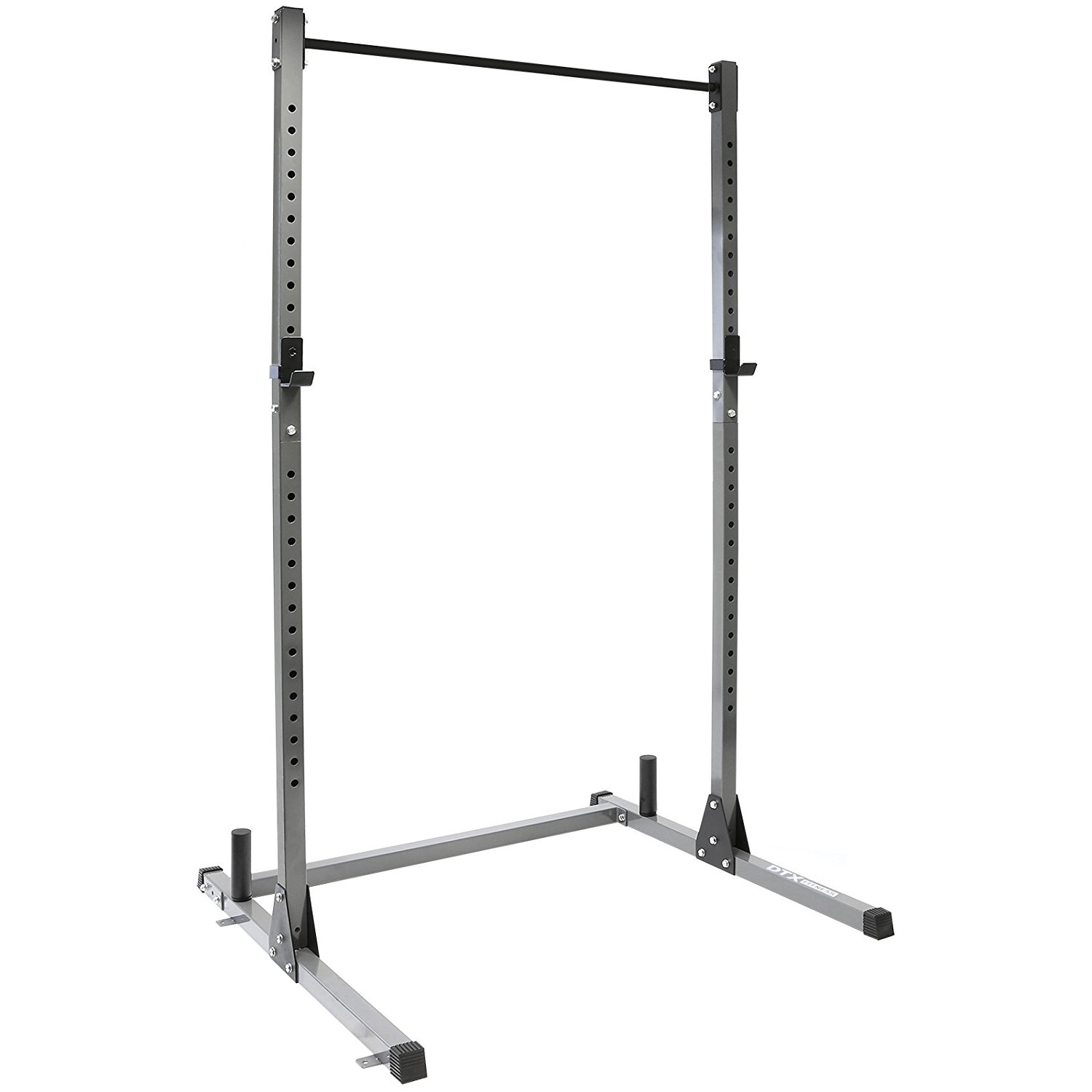 Love a bargain? So do we. And this chin-up / squat station from DTX Fitness is about the cheapest (decent) one we could find. So what are you getting for your money?
You're buying a sturdy squat cage with pull up bar. The construction is a really meaty, heavy design that feels robust and keeps wobbling to a minimum. (Add sand bags to the base, or bold it down for the most stability.
The pull-up bar is a solid steel one, adding to the nice stable feel.
As for your squats and bench press, there's a decent 28 possible positions and it will take both standard and olympic barbells.
We've heard good feedback from taller users too. And this thing is tough. Some people are keeping it outside, yes with the British weather and all.
Verdict: Proving that you don't always have to spend a fortune to get a solid bit of kit for your home gym, this cage with pull-up bar is very impressive for the price.
Wallet-friendly price
28 handy barbell positions
Nice heavy, sturdy feel
Easy assembly
Feels like it will last a long time
Slight wobble, so weight it down for max stability
Check Current Amazon UK Price
---
Found a pull-up station you'd like to let everyone know about? Please let us know in the comments. Thanks for reading and happy training!
Tom, HGE