In this guide we're taking an in-depth look at how to fit different kinds of pull-up bars at home. We'll cover each kind of bar, and all the inside info you need to install it first time, without the hassle.
Pull-ups are one of the staple bodyweight exercises for a reason. They're a fantastic way of working out every upper body muscle, and being able to pull off multiple reps is a sure sign of fitness.
Chin-up bars are also a great choice because they don't require specialised equipment. Pull up bars are relatively cheap and cheerful, and anyone with a bar can easily slot a couple of sets of pull-ups into a workout, or scatter in a few sets throughout the day.
Before you start: types of home pull up bar
Installing a pull-up bar at home isn't as simple as you might think. Mostly because there are multiple different types of pull up bar, and each one uses a completely different installation method.
You'll generally find 1 of 4 main types of pull up bar being used at home. Here's what you need to know, and how they're generally installed.
Door mounted pull up bars – interior mounted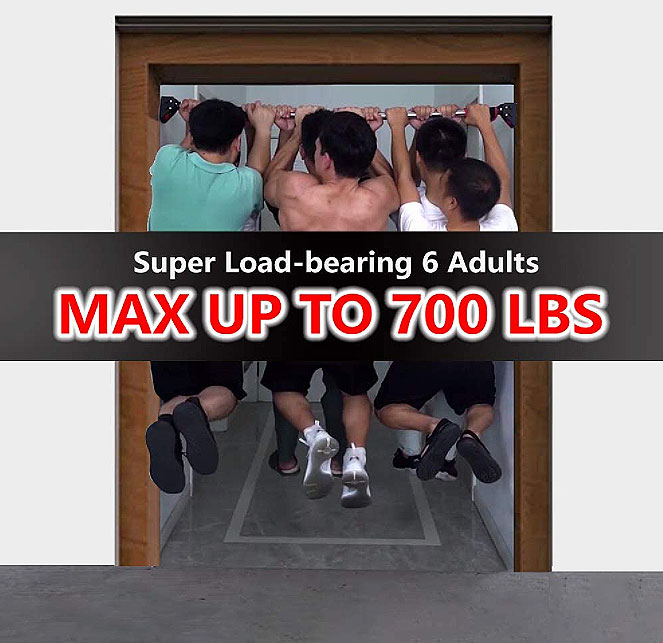 What is it?
The simplest type of pull up bar, these bars fit into the interior frame of a door and use one of two methods to stay in place.
Fixed mounting point bars – Some bars use a fixed set of mounting points that are screwed directly into the frame, with the bar locking onto them for stability. The advantage is they you're using them. The downside is the long term damage to the frame. They aren't any more stable than other options.
Physical force door bars – This type of bar doesn't require anything to be screwed into the doorframe and instead uses physical force to hold the bar in place. The bar expands outwards and uses friction to lock it in position. These are super-easy to install.
How do you install a doorway pull-up bar?
This type of pull up bar is generally very simple to install. Generally, this type of bar has a self-adjustment mechanism.
Un-pack your door pull-up bar and complete any assembly mentioned in the instructions. There's usually not much to do with these kinds of bars, so move to the next step.
Place the bar inside the door frame, at the correct height. If your bar comes with pads then attach those to each side of the door. Getting the right height might take a bit of trial and error. For adults, on an average door, leave 6 inches at the top.
Follow the instructions to tighten the bar. It should sit securely, as close to the top of the frame as you can comfortably get it.
Always test the bar for slippage by hanging from it for a few seconds before performing any exercises.
Our recommendation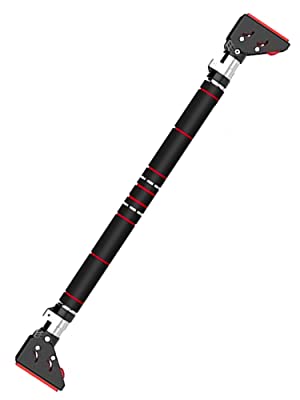 Simple and easy to install, this bar by Hakeno doesn't need anything except a door frame to install.
No screws, no drilling, no hanging over a frame that might not be big enough.
You just place it inside the frame, twist outwards until the twin high-friction locking pads find purchase, then lock it in place with the stainless steel locking points.
The main bar is an ALC alloy steel pipe that's rated for 600lbs of weight, so this is suitable for almost anyone, and the more downward force is applied, the harder it grips to the door frame.
Light and easy to store, it comes with a lifetime warranty.
Check Current Amazon UK Price
---
Door mounted – exterior frame-mounted bars
By far the most common type of pull up bar, frame-mounted bars are simple to set up and takedown, because they literally use the structure of an existing door frame to lock in place.
How do you install it?
Decide which way you want your pull up bar to hang. Whichever way you're facing as you install it in the direction you should face in use.
Your pull up bar should have a large, flat piece at the top, which hooks through the door and rests flat on top of the door frame.
Keeping the flat anchor piece in place, lower the bar so the largest horizontal support bar is against the vertical columns of your door frame. Most pull up bars will have padding here to prevent damage to your door frame, so make sure this is also correctly positioned.
Test the bar before using it. Pull down on it first to make sure it doesn't slip, then test hang from it for a few seconds before exercising
Our recommendation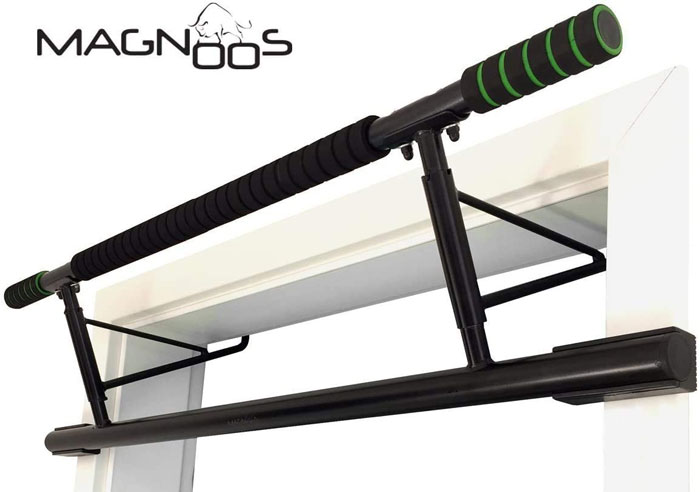 Out of every over-frame pull-up bar we've seen, this one stands out. The unique design puts the bar 20cm higher than a traditional bar, which really helps when it comes to getting the height you need for full reps.
It sets up in seconds, with no screws or drilling, and you can have it assembled in less than 5 minutes when it comes out of the box. Even better, unlike a lot of bars, this can fold down near flat when it's not in use, so it's much simpler to store.
The heavy-duty frame can hold a maximum weight of 130kg (285lbs,) and fits doors with a depth of 21cm and a maximum width of 92cm. Finally, there's a 60-day refund, just in case you decide this isn't for you.
Check Current Amazon UK Price
---
Related Guides
---

The most secure and stable option on the list, but also the most permanent. Pull up bars like these are mounted directly to the structural supports of your house, generally through a set of large anchor bolts drilled into a load-bearing wall.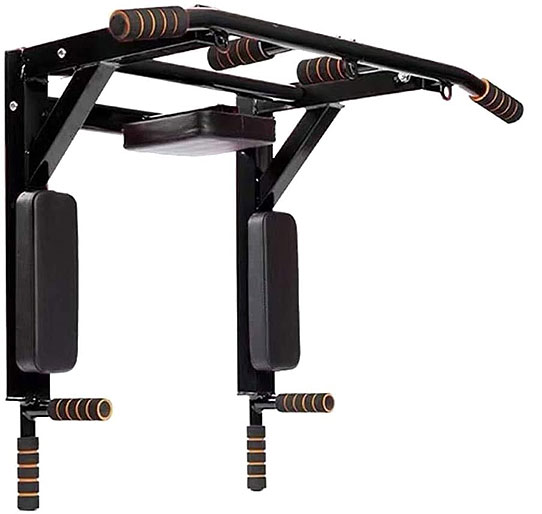 Because of this, bars of this type can take a lot of weight, and they're great for other exercises, but they can take a bit of work to set up, and they're obviously very permanent once installed.
How do you install it?
You're going to need power tools.
If you're installing your bar outside or on a load-bearing wall, then move on to the next step. Otherwise, you'll need to identify where the studs in the wall are, so you can safely anchor the bar.
Decide how high you want the bar. It should be high enough that the bar itself sits at around the height of your outstretched fingertips, if not a few inches high. Mark the wall at your preferred height.
Mark out the points where your brackets will hang, then mark where each hole has to be drilled for the mounting screws or bolts. Once everything has been marked accurately, pre-drill the holes with a drill bit sized for the screws that come with your bar.
If your bar also comes with mounting plugs, these will need to be tapped into the holes before you mount the bar with a mallet or hammer.
Attach your bar to the wall with the included screws. It helps to have a second person with you for this step, to hold the bar in place and make sure everything is level. Don't fully tighten the bolts until you have every screw in place.
Test your pull up bar by pulling down on it, then hanging from it for several seconds, before performing any exercises.
Our recommendation
This external pull up bar isn't just for pull-ups. Made from heavy-duty steel with high-density foam grips, it can hold a solid user weight of 125kg (275lbs,) which is more than enough for most users.
But on top of having holds for every type of pull up, this bar has some significant extras; exercise hooks that let you hang power ropes, punch bags, and more from the same frame. This gives the bar a huge amount of versatility, which you're not going to get from other bars like this.
If you are buying this, we'd recommend picking up some better anchor bolts, a reasonably easy fix, because the expansion screws that come with this are adequate, but not fantastic.
Finally, it comes with a great set of instructions, which helps if you've never done something like this before, and a decent 2-year warranty.
Check Current Amazon UK Price
---
Freestanding pull-up stations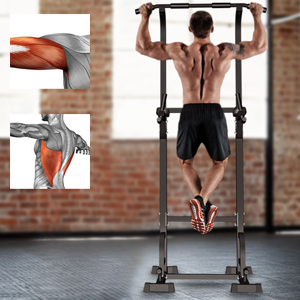 The name free standing here is a bit of a misnomer because no one buys a frame just so they have a pull-up bar.
Instead, you're more likely to find a pull-up bar as part of another piece of kit, most commonly on power towers, dip racks and squat racks.
How do you install it?
Freestanding towers are easy to 'install.' They just stand there. But they can take a little more set-up than other pull up options, and definitely take a lot more space. See our guide to the best pull up and dip stations you can buy today.
The main consideration when buying a power tower or squat rack is room. Where are you going to site it, because once it's been placed, moving it will be a chore, (or next to impossible, in the case of a squat cage.)
Generally, you're not going to need any space at the rear, and you can probably get away with boxing it in at the sides, though be careful if you're lifting a barbell close to interior walls. When you're hashing out space, a safe bet is to give yourself 50% more square footage than you think you need, and at least 6 feet of clearance in front of the rack.
Our recommendation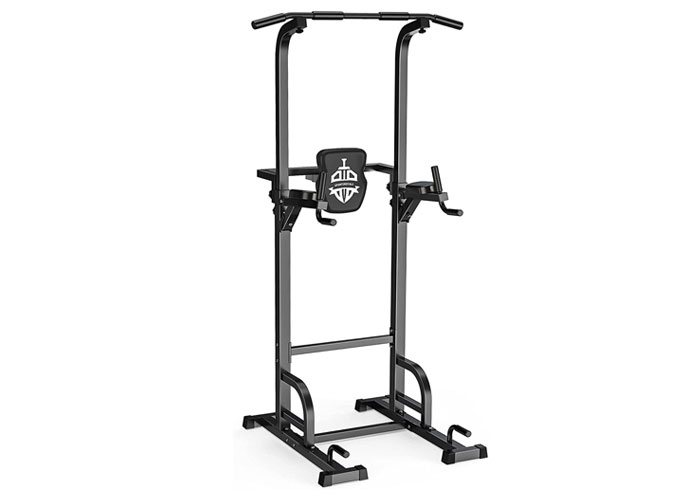 A power tower like this isn't just for pull-ups. It can be used as a dip station, for knee raises, push-ups, pull-ups, and more, so you can hit your whole body from one station.
Well priced, it's made from 14 gauge heavy-duty square steel, which gives it a massive 200kg (440lb) user weight. The extra-long base is stable and solid, and it's incredibly comfortable, with a lot of mobility options.
4 levels of height and a 7 level backrest means that you can set this for anyone, no matter how tall, and the arm supports tilt inwards 10 degrees, which can help stop slipping from sweat or pressure and lends to a more natural exercise position.
SportsRoyals are a solid company, with a 20-year heritage, so they're someone you can trust. Just in case something does go wrong, there's a 3-year warranty to keep you covered.
Check Current Amazon UK Price
---
---
Pull-up Bar Installation FAQs
What is the disadvantage of a door-fitted pull-up bar?
Fitting a simple pull-up bar in a doorway is an excellent way to save space, but there are a couple of problems you'll come up against.
Lack of the extra stations – Freestanding dip stations and, sometimes, the wall-mounted varieties often have a dip station built-in. Far from a pointless add-on; dips are one of the best ways to build your upper body and core strength.
Limited range of movement – Despite what it looks like in some of the product photos you might see with this bit of gym gear, doorway bars are fairly restrictive when it comes to the kinds of training you can do. Wide-grip pull ups are out as you've got a narrow frame to work inside.
How high does a pull-up bar need to be?
There are no hard and fast rules for how tall a pull-up bar should be, but when you're measuring, remember to measure below and above the bar.
In general, you're going to need enough room below the bar to hang with arms at full extension, and your knees bent and not touching the floor. If you're using a bar that mounts over a door frame, this should be simple, unless you're Andre the Giant's, long lost cousin.
But if possible, it's much better to have a bar that's higher, so you can hang freely.
You should also consider how much space there is above the bar. Pull-ups need vertical room above the bar if you're performing them correctly. Look for at least 12 inches, (30cms,) more if possible.
Can pull up bars damage doors?
Short answer; yes. Real answer; probably not.
Cheap, shoddy products and bad installation can cause chipped paint, scuffing, pressure marks, and in the case of old and worn door frames, structural issues.
But as long as you're buying a quality product and installing it correctly, you should really never face any issues with damage from a pull-up bar. These self-install door bars have come a long way since the dodgy versions that were around in the 80s and 90s.
What else can you do with a pull-up bar?
If you're getting a pull-up bar fitted at home, one of the best things you can do is combine it with a set of resistance bands. These rubber bands aren't just a gimmick. You can perform all kinds of exercises you can't with gym gear such as dumbbells.
While you can use resistance bands as a stand-along bit of training gear, they excel when you can wrap or tie them around something solid, such as that new pull up bar you just installed. You'll be able to do more complex exercises such as lat pull-downs, front pec press and a lot more.
---
References & Further Reading