Welcome to our review of the Fitness Reality 810XLT Power Rack (Available on Amazon UK). In this full review, we'll cover everything you need to know about this popular budget-friendly squat cage.
In the review, we'll also dive into what we think this cage gets right, and where it could be improved.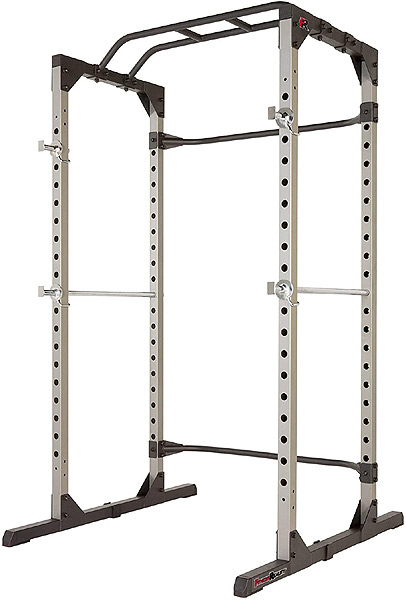 What is the Fitness Reality 810XLT Power Rack?
The 810XLT is a full sized power rack. It's the full four columns which is the most stable setup. If you're not familiar with racks, they're a safe way to do all kinds of heavy exercises, such as bench press and squats, safely on your own.
And if you're lifting heavy, you definitely need a power rack.
Power racks and cages make lifting heavy much safer, allowing you to push harder and lift heavier without risk, which is why any serious gym or home setup has a rack or cage.
Power racks can be expensive, especially if you're looking for something quality that has a high weight capacity. The Fitness Reality 810XLT is the best of both worlds. It's a good budget option, but has surprisingly strong construction and a decent weight capacity that's going to be more than enough for the vast majority of home workouts.
---
Who are Fitness Reality, and are their power racks any good?

This is a US-based company that have been around from 2007. They've got a substantial line of fitness products including rowing machines, power cages, inversion tables and treadmills. They sell online through places like Amazon in the UK.
They're a reputable company and can be contacted in a number of ways (see end of this guide) and have a good reputation with customers.
---
What do you get from training with the Fitness Reality 810XLT Power Rack
The advantages of a power cage are absolutely massive, because a cage is one hundred percent the safest method to lift weights from home.
If you've never used a rack before, they can be used with any exercise that uses a bar. Racks like these are generally designed around the big powerlifting exercises, like the squat, bench press and deadlift.
Solo lifting made safe
The main reason to use a cage is safety. When you're lifting a heavy bar without a spotter, if something goes wrong, you could quite easily collapse and get hurt or trapped under the bar. That goes double if you live alone, and there's literally no one who could help you.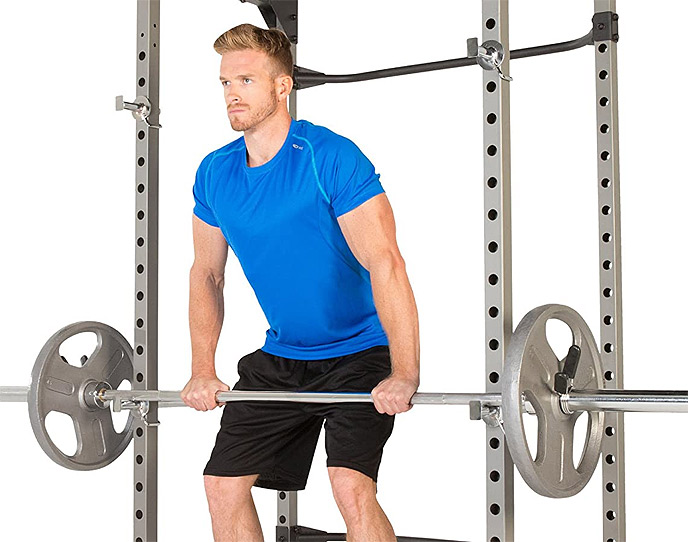 Cages and racks have setting hooks that hold the bar at the right height between sets, and safety bars designed to catch the bar if something goes wrong or you slip or drop it, preventing the bar from forcing you into the ground or pinning you to the floor.
Put simply, if you're lifting weights at home, the safest and easiest way of doing so is in a rack. It's almost a necessity if you're serious about your fitness.
---
Who is this best suited for?
The Fitness Reality is the perfect entry-level option that's suitable for most people.
As we just discussed, power racks like this are the single best option for home weightlifting. The Fitness Reality is the perfect entry-level option that's suitable for most people. Priced low, with a high weight capacity and really solid construction, this is one of our favourite cages for a reason.
If you're a beginner at weightlifting, or you're looking for a solid rack that's not going to break the bank, this is the perfect starter option.
One thing to mention. Even though this has a maximum weight rating of 800lbs, we wouldn't want to repeatedly push it to the limit. A good rule of thumb is that two-thirds of that number is safe for general use, and this holds whether you're buying a budget cage or something that costs upwards of a thousand.
With this cage, that means you can comfortably lift around 550 to 600lbs.
Power Rack Key features
• 800lb maximum weight capacity
• 19 levels of adjustment
• 50.5"L x 46.5"W x 83.5"H
• Solid steel construction
• Safety bars and pins included
• Option for bench
• 133.5lb cage weight
• 1 year warranty
---
What are user reviews and reception like for this cage?
We'd heard some good things about this rack and if you look on places like Amazon, the Reality 810XLT has a crazy-high rating, from over 2400 buyers. The main reason people seem to like this cage is it's budget friendly price, how easy it is to put together, and the overall level of quality.

What we like about the Fitness Reality 810XLT Power Rack
Big weight capacity and solid construction
For the relatively budget price, it really doesn't feel like the 810XLT is a budget piece of gear.
The main structure is built from 2×2 inch steel, which is rock solid. The welds are good quality, which is nice to see as a lot of cheaper brands skimp on the welds. The whole thing holds a maximum of 800lbs weight safely, which for the price is incredible, and more than enough weight for the vast majority of users.
19 different adjustment holes
The 810XLT comes with 19 pre-drilled holes for adjustment levels, giving you plenty of room to pick just the right height to put your pin in, whether you're doing squats or bench press.  Another thing that was good with this rack was that all the holes have good alignment, something that's often overlooked and a problem with some squat cages we've seen. In fact, everything on the Reality 810XLT is stable and has a robust feel about it.
The cage comes with two strong catch bars that feed through the structure, and two bar holders, which is everything you need to get started. The main struts, safety bars and hooks are also chromed, for extra protection and ease of use.
Built-in and extra options
As we've already mentioned, the rack comes with catch bars and a pair of Olympic bar holders, as well as a top mounted pull-up bar set built in at the top.
The rack is regularly sold with the accompanying bench from Fitness Reality, the Unisex 1000 Super Max Bench, but it's also compatible with any other standard bench.
You also have an option to buy a lat pull down system which locks into the back of the frame, giving you more exercise options. Like the rest of the cage, it's a simple design that's well made and delivers consistent performance for a good price.
The multi-purpose pull up bars are fantastic
As anyone who has used squat racks to do pull ups (or chin ups) will tell you, these frames are just so much better than the chin up stations you can buy. For one, you're getting a much wider base and you've also normally got more height to play with.
The 810XLT has some rock-solid pull up bars, with bars for wide and narrow grip. They're not some add-on extra either. They're an integrated part of the frame and you'll definitely want to use them.
Easy assembly
Power cages like this can have a reputation for being a pain to assemble. But despite coming with no instructions, the 810XLT is surprisingly simple to put together.
The only tools necessary are a wrench and socket set. If you're making it by yourself, expect it to take around an hour. One tip if you've never assembled a cage like this is to tighten every bolt as you assemble it, then loosen each one by a full turn once the entire structure is put together.
Then re-tighten every bolt, starting at the highest point. This ensures that everything is going to be in correct alignment, seats it properly, and stops it from rocking when in use.
Affordability
No one has an infinite budget, and getting your money's worth is always something to consider.
For the price, it's hard to fault the Fitness Reality 810XLT. It's one of the best value racks on the market right now, and you're going to struggle to find another cage that offers the same value that this does at a comparable price or quality.
Check Current Amazon UK Price
---
What we don't like about the Fitness Reality 810XLT Power Rack
So we've covered the benefits to this squat rack, and the stuff the 810XLT does well. Now let's get our critical hat on and do some nit-picking. Here's some of the 'cons' to Fitness Reality's cage:
It's large
A problem faced by all power cages; finding the space. Cages are tall, and though the 810XLT only has an average footprint, it still won't fit in smaller rooms or shorter garages.
Plate storage is rear mounted
This is more of a convenience issue, but we'd have liked the plate storage to be somewhere different.
Plate storage is at the back of the cage, which one, means you need more space for it, and two, accessing and switching plates on the bar can be a chore. It's not a major deal, as you can just get the plates you need and store them beside the cage as it's being used, but the issue is still there.
No Westside Spacing
First created in Westside Barbell, a gym famous for it's powerlifting heritage, Westside spacing can be useful for certain exercises.
Put simply, it's 25mm hold spacing on the bottom third of the safety holes, and gives you a lot more control when it comes to bench presses. The Fitness Reality 810XLT
For most users, it's not something that's necessary, but if you're looking to squeeze everything you can out of every single rep, you might want to look for it.
No floor mounting holes
One curious omission with the Reality 810XLT is that there's no way to mount it onto the floor. (Although, in all honesty, this rack is so sturdy, it's unlikely you'd need to). I know a lot of people don't want this from a power rack, but in case you're wondering, it's not possible with Fitness Reality's cage.
The paint can scratch off with use
As you're moving the pins around, it doesn't take much to make a mark on that lovely shiny powder coating. While this is true of pretty much any gym gear where metal clangs against metal, you'll likely see some marks over time, unless you're super careful putting the pins in.
---
Final thoughts: Is this power rack for you?
…there's basically no better cage in this price range right now.
The Fitness Reality 810XLT Power Rack is easily one of the better power cages we've seen for home users in recent years.
For the price, you'd be hard pressed to find anything even approaching what this cage has to offer. Minor niggles aside, you're getting an incredibly solid bit of kit here that's perfect for new home gym owners up to those looking to throw some serious weight around.
If you're looking for a strong, stable, and easy to assemble power cage for your home gym and need something you can rely on there's basically no better cage in this price range right now.
Highly Recommended
Check Current Amazon UK Price
---
Full 810XLT Power Rack Specs
| Brand | Fitness Reality |
| --- | --- |
| Model | 810XLT |
| Max weight capacity | 800 lbs/363 kg |
| Mainframe style | 4 column steel frame |
| Type | Full rack |
| Frame | 2" x 2" steel frame |
| # Height adjustment holes | 19 |
| Safety bars | 2 x 23" bars (chrome) |
| Pull up bars? | Twin, multi-position bars |
| Dimensions | Set up Dimension: 50.5" L x 46.5" W x 83.5" H |
| Assembled weight | 61kg |
| Assembly | Some self assembly |
| Assembly time | Around 1 - 2 hours |
References & Further Reading