It makes a lot of sense to combine a pull up and dip station in your home gym. Unless you've got room to spare, a power tower dip station can take up the same foot print in less floor space. In this guide we're digging into some of the best pull up stations in the UK for home use in 2023.
What we look for when we write pull up station reviews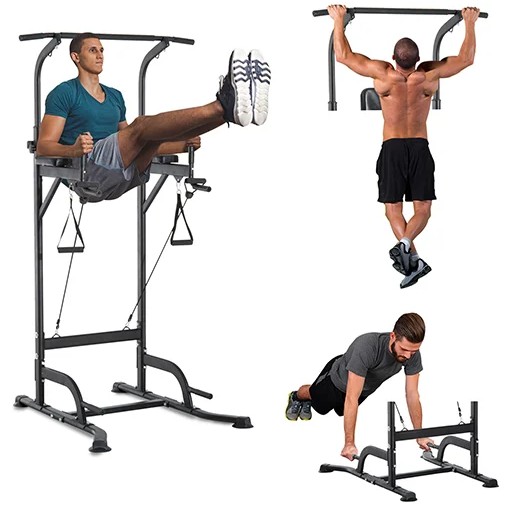 What separates a 'good' and 'bad' multi-function station?
How strong is it? Stability is always the main thing we check for when comparing any gym gear. And with combined dip and chin-up bars we've seen some wobbly offerings. It's not always the cheap ones that are not well built either. The main issues come from thin gauge steel, or just not enough of a base to give the tower that robust feel.
Stability, especially on pull-ups – If you're under 75kg, most dip and chin stations will be fine for you! However, anyone over that will notice that performing pull-ups can generate some unnerving rocking forwards and backwards. Sideways instability is less of an issue but we check the overall stability of each station. The better stations have either outward-curving base, or nice thick feet – or both!
Is it comfy? OK, exercise isn't exactly 'comfy' but things like the padding and coating of any handles should be comfortable and supportive. A lot of machines look good in the pics but the grips will hurt any mortal's hands.
Max user weight – It's all well and good having those big chunky model guys on the product pics, but what's the real upper weight for a user for this station? It gets more complex with things like weighted dips. So one thing we look into is how much weight each station can take.
Can tall people use it? Another thing to look out for, that's not always obvious from the pics, is whether the station is any good for taller users. There's some dip and chin up equipment where you'd be standing on the ground practically when doing dips.
How much can you do on it? Some of the better dip and chin up stations have a number of other exercises you can do on them. Common additional exercises are things like leg raises, bars for push-ups or some that even flip around to turn into a weights bench (more on those later in this guide).
Getting geeky with grips – We love chin ups at Home Gym Experts. Any good chin-up station worth it's salt should let you do both narrow grip and wide grip chin-ups. Most do but we always check there's enough room to move, as well as how the bar is shaped.
Assembly – This ones tricky as the same gym gear can take one person half an hour, while it will cause others nightmares. One thing's for sure: we're on the look out and calling out poorly-written instructions, missing bolts and holes that don't line up on our gym gear.
---
What best pull up dip station in the UK today?
This part of the guide will jump into the top home pull up dip stations we've reviewed so far that is good for doing chin-ups and dips.
We'll cover what each machine does, any obvious drawbacks and who each machine is for. The gym gear here will be suitable for home use and we'll avoid expensive commercial gym stations.

#1 – Homcom Multi-Function Power Tower (Aosom.co.uk)
Max user weight: 120kg
Exercises: Pull up / Dip / Knee raise / Rows
Upper bar height: 224cm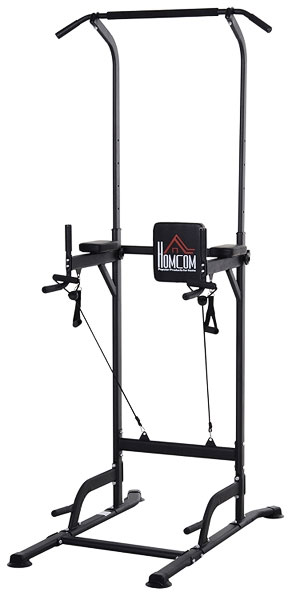 A good quality, sturdy frame
HomCom's dip and pull up station offers a surprising amount of stability and quality for a budget station. The outwardly curved base gives that extra sideways stability some equipment sorely needs and the large stumpy feet add to the good solid base.
Of course, it comes in black (why are all these frames usually black?!) But the tubular steel has an oval design that actually looks good and the paint is thick and durable from what we've seen.
Comfortable grips and pads
While none of the machines we reviewed in this guide could be accused of being comfortable, the HomCom equipment has decent padding on all of the places you'll be gripping. From the chin-up to the dips to the push-up bars. It's definitely comfier than plain old metal and helps keep a good grip.
The back-rest and arm pads (for knee and leg raises) are also good quality and give a nice cushioned feel. The simple flat padding on the arms rests is better than L shaped version we've seen too. Overall, everything on this dip power tower is comfortable and supportive.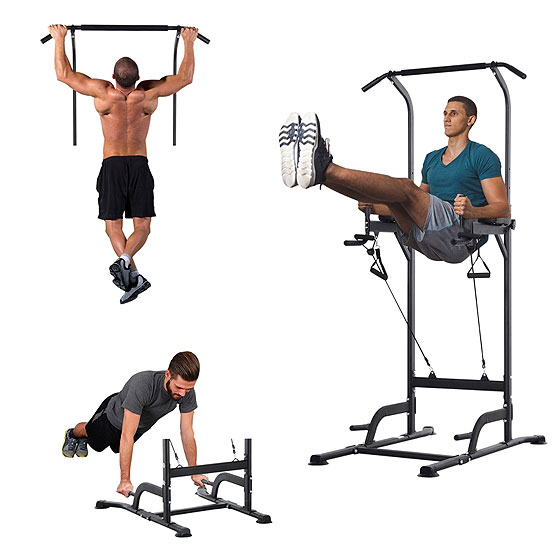 Covers all the main exercises… and more
Another surprise at this price point is that this pull up and dip combo has a good range of exercises, with none of the ones you want from a power tower missing.
Knee / leg raises
Narrow and wide grip pull-ups
Push up bars
Pull up handles
Oddly this station also comes with some additional exercise attachments some of the more expensive ones don't. The best one being the straps with handles under the dip bars. You can like back and do rows underneath the bars. It takes some getting used to, but this is a fantastic exercise for chest and back. And it's way easier to do with straps like these.
Good tower height that's also adjustable
The upper height on this station is a respectable 224cm, which makes it a good choice for anyone up to and over 6 feet tall. This is one huge problem with a lot of dip stations but it's definitely not an issue here. You won't feel cramped on this tower.
The pull-up bar can also be lowered to fit several different heights so even if you're not a giant, you'll have no problem hopping up into the ideal chin-up position.
So what's not so great with this tower?
The only downside to this bit of kit really is the upper weight limit. At 120kg, it sits below what a lot of other frames in this market generally offer. Having said that, if you weigh less than 120kg, and aren't planning any weighted dips or chin-ups, this isn't going to be an issue. As we mentioned earlier, the tower has a reliable sturdy frame.
Verdict: It's always a nice surprise when we can recommend a cheaper product that can hold it's own against some of the more expensive ones. HomCom's dip and pull up equipment is sturdy, good quality and has plenty of exercises to keep you busy and build your upper body.
Solid frame
Excellent range of exercises
Additional row straps are awesome
Good height for taller people
Adjustable to suit everyone
Comfy pads and grips
120kg weight limit less than other frames
---
Good alternative budget-priced chin and pull up station
A compact, stable and well-made station
Max user weight: 150kg
Exercises: Pull-up / Dip / Push-ups
Upper bar height: 213cm
Relife's power tower is one of the cheapest pull-up stations and, while it's not ideal for taller people, it's got a lot to offer. From the ground up, the curving bottom frame, combined with the fat padded feet make sure there's no awkward lateral wobbling when you're working out.
The feet have a nice thick rubber pad under them. And the upper weight limit here is a decent 150kg.
Never short of something to do…
While there's no backrest for knee raises, there's plenty to work your upper body here. You're getting a full-size chin-up bar, with a wide grip on the bar for a narrow grip, and rubber grip down handles on the wide-grip position. You can also set the height easily on the chin up.
The dip frame is excellent
For dips, there's got a plain pair of parallel bars that are extremely stable thanks to the upward angled support. There's nothing fancy here but the grips are padded and you've got plenty of room to do proper dips here. The generous length grips are longer than other similar stations and you can easily jump up and grab them.
Comfy foam grips
Another surprise with this machine was that the grips don't feel like you're on some ancient torture device. Thick foam takes at least some of the strain off your hands on both the dip and the push-up bars on the bottom of the machine.
Six levels of adjustment
This tower has a number of different height settings so you can get the ideal height for your body size. It's not exactly quick to swap between heights – there's a bolt with a thick grip bolt you have to unscrew. So if different users are using this machine, there'll be a bit of added setup time before you can use it.
While most people will be setting and forgetting, it's good to be able to pick your ideal height. The holes are 10cm apart so you've got a range of around 60cm to play with here.
To finish it off, you've got push-up bars on the base of the frame too.
What's not great with this station?
One issue you might have with this equipment is that it's not ideal for taller users. If you're 5.8″ or taller, your feet will likely touch the ground when on the machine. You can bend your knees of course, but there's also the crossbar that can catch your knees. Realistically, this is not a good choice for anyone over 5.8″ (or thereabouts!)
Verdict: For a budget-priced chin and dip station, Relife's entry on the market is really solid. The frame's construction is top-notch and both the dip and pull up parts are well implemented. There's no knee raises on offer here, but the rest is a good standard.
Budget price
Solid and well made
Comfortable dips and push-ups
Good parallel dip bars
Rubber padded feet and sturdy base
There's no backrest so no knee raises with this machine
Check Current Amazon UK Price
---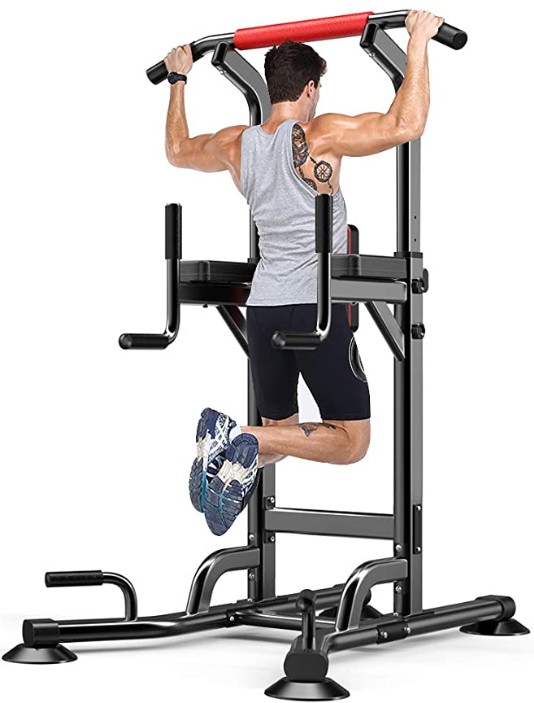 Max user weight: 100kg
Exercises: Pull up / Dip / Knee raise / Push-up bars
Upper bar height: 230cm
Do dips, pull-ups and other exercises in a compact space
One of the best things about this combined dip and pull up bar is that it does a lot more than those two exercises. You get a good sized chin up bar, with tapered handles and a solid dip station. There's also extra bars at the base for push ups and a full-blown knee raise station too. This gym station makes the most of it's footprint.
The wide base makes it stable
A lot of the newer dip stations have this design – where the bottom part of the frame curves outwards rather than the classic 2 parallel bars. There's extra stability here too, thanks to the large circular feet on this equipment. Yep, this thing isn't going to shift around.
You can adjust it to any size
Another thing that stands out with this machine is that you can set the height of the chin-up bar. It slides up and down and can be set to several fixed positions. If you struggle with full regular chin-up bars before, this means you can find your ideal height without straining.
On the downside
The grips are a bit unusual on this pull-up station. The chin-up bar's got a good, foam coating but the push-up bars and the dip bars are not as comfy as you'd expect. They're coated in a hard sort of plastic, rather than a textured rubber, or foam-like you'd think.
Another problem is definitely on the material on the armrests, for the leg raises. This seems very thin and could be prone to splitting or coming away.
Verdict: Yoleo's chin up station offers plenty to do in a compact size. The base is well-designed, offering a decent, sturdy workout on this machine. The adjustable height will also be handy for a lot of users. A few niggles on the grips and padding quality hold it back, however.
Decent build quality for the price
Good price
Wide, sturdy base
A number of exercises in one spot
Adjustable height
Big, chunky sized pull-up bar
Dip bars and push-up bars aren't comfortable as they could be
Padding on the armrests needs to be thicker
100kg max user weight
Check Current Amazon UK Price
---
Max user weight: 200kg
Exercises: Pull up / Dip / Knee Raise / Push up bars
Upper bar height: 225cm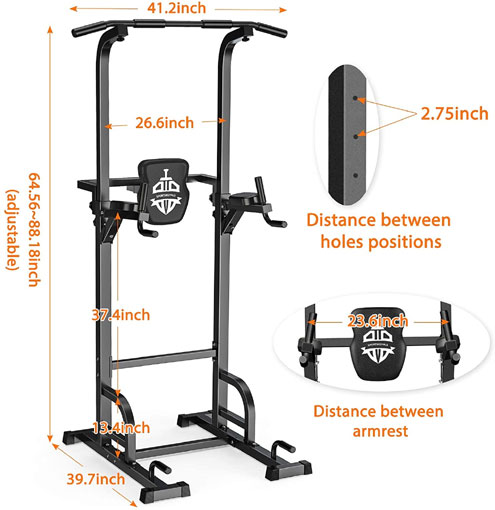 Good range of exercises
This station has the big three – dips, chin-ups and a back and arm cushion for knee raises for your abs. The stability and build quality of this station is also impressive and can take a higher-than-average 200 kg weight limit.
You can work just about every upper-body group here:
Shoulders
Chest
Biceps and Triceps
Back muscles
Adjustable height
The chin-up bar slides up and down and can be set to any position with a simple pull out dial on the sides. This makes it a good choice if you've ever struggled with chin-up stations with struggling to get to the bar.
You've got a choice of heights from 165cm up to 225cm so this is suited to ladies as well as taller gents.
A wider base would have helped
Unlike some other machines, this dip and pull up machine doesn't have any wide so you can get some lateral movement on the dips, or when climbing up to the chin up bar.
Another good thing with this machine is they've thankfully got the lower cross bar in a good position.
Verdict: While it's not a good choice for heavier users, this dip station and chin up bar is easy to adjust and has a good quality padded back rest for knee raises. It could use a more sturdy base, however.
Easy to put together
Choice of several exercises
All tools included
Low crossbar is kind to legs!
A wider base would help with stability
Check Current Amazon UK Price
---
#5 – Tunturi PT60 Power Tower
Best quality chin up and dip station
Max user weight: 120kg
Exercises: Pull up / Dip / Knee raise / Bench Press
Upper bar height: 220cm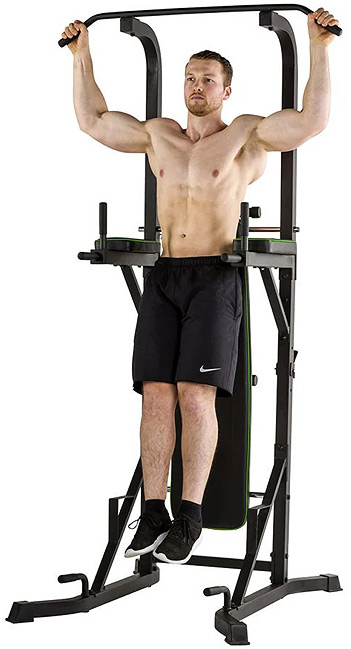 James Bond would be proud of this dip and chin up station
Something that's really good with this station is you get a full-on bench press that folds down. The back rest doubles as a sturdy utility bench and there are even simple hooks to hold your barbell. It's sturdy and can support XXX weight.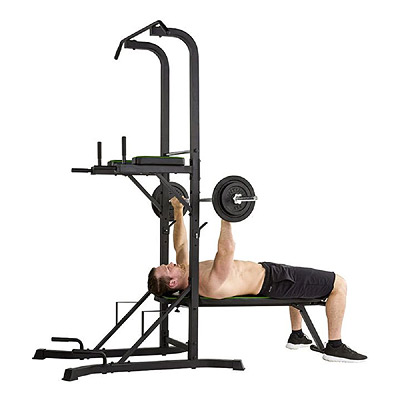 A step-up in quality
If you're not bothered about getting a budget priced tower and want something that's going to last a long time, then Tunturi have a fab dip and pull up station. The PT60 comprises of a chin up and dip tower that also has a flip down weight bench. It has back pads for knee raises and lower bars for push-ups.
Great bench – if you don't have one
If you're happy with your weight bench, then this machine is probably overkill. But, if you haven't got one, or are planning to replace an old tattered one, this tower might be a good buy.
There's a proper, solid fold-down flat bench here, complete with small but effective barbell support. You will need extra room for the bench, but it folds down quickly and opens up a lot of possible exercises.
Good quality frame and padding
One thing you definitely notice with the PT60 is the robust build quality of the frame and the little things like the quality of the pads and stitching. This gym gear looks like it can take a beating. It's heavy, tough and a real serious bit of gym gear.
All this comes at a price though, with the PT60 tower costing as much as 3x what some of the cheaper towers  in this section do.
The only down side to this dip and chin-up station
If you're going to use the bench part, you'll not be able to move it against a wall, as you can with other chin up and dip machines. The bench folds out forwards so needs a good bit of room. However, if you're getting this to replace an existing bench, it's not much of an issue.
Verdict: Offering a bump up in quality from a lot of the chin up and dip stations in this category, Tunturi's tower offers a really solid station with a wide range of exercises. The chin up and dip parts are perfect and there's also a sturdy fold-down bench here too.
Tunturi's trademark quality
Solid and sturdy
Great fold-down bench
Barbell support is a great idea
Pads and frame excellent quality
Can't put against wall if using bench press
Height is not adjustable
More expensive than some other tower
---
A quick assembly tip
We interrupt this guide to bring you a quick assembly tip!
Putting your dip and chin up gear together shouldn't cause you any problems. Of the equipment we've looked at, they're one of the more simple apparatus to assemble. Having said that, you might want to use the old classic that saves us a lot of headaches at Home Gym Experts.
Take the pieces out of the packaging and lay them out side by side, with similar pieces next to each other. Honestly, this can save so much time when you're putting gym gear together. That's it. Lecture over!
---
Buyer's Guide – Some things to look out for
This will be a bit different to our normal buyer's guide. In this section, we'll cover some of the things we've seen with dip stations that was frustrating.
Horizontal support bars that catch your knees, or shins
Because of the way dip stations are put together, there's often a horizontal joining bar around knee height. On some machines, this cross piece is way too high and you can often whack your legs off it on the down move. You can get around this by either tucking your feet up behind you, or keeping your legs pointing down to the ground during chin ups.
---
Quick guide to picking the correct height for your chin up bar
One thing to look out for when you're shopping for your new chin up tower is to get the height right. It's super-difficult to gauge from the pics whether or not these things are tall enough and they're definitely not all created equally! If you're around 5.8 feet tall or above – beware! There's some short towers out there that might not be tall enough for you.
What height tower should you get?
This is entirely subjective as some people will be happy with a bar that's not all that high off the ground. Technically you can tuck your knees up and do your chin ups. If you want our advice – go for a tower where you've got to reach up to touch the bar and you're at least on tip-toes to get to it.
How do you pick the right height?
The easiest way to do this is to measure up. It takes a few seconds to do but you will need to dig out a tape measure to do the job properly. It's quick and you can do it on your own.
Stand against a wall and grab your tape measure.
Stretch your arms up and start dropping the measure down.
Take the distance roughly from the tip of your fingers to the floor.
You'll now have the approximate height where you can grab the bar and still be on the floor. Every power tower will list their height, normally in cm, and knowing what height you can reach up to is a good guide. I'm just over 6 feet tall so a good dip station for me is around the 220 cm bar height.
Make sure your pull up dip tower will actually fit height-wise!
One downside with your average dip tower is that they take up a heck of a lot of space in your gym. If you're going to invest in one of these, check your garage or spare room's height to make sure it will fit.
The gotcha here is that you'll not only need the dimensions listed on the site, you'll need some height above that for your head to go when you're doing chin-ups.
Allow a foot minimum on top of the height of the power tower to allow for some clearance on the pull-up part of the exercise. More if possible.
---
Dip / Chin up FAQs
How do I protect my floors?
Because of the nature of the exercise, weight will shift around the machine, transferring into the base and the feet. Although most have rubber or plastic feet, unless you've got a solid covering to your home gym floor, it might be worth investing in a proper gym mat, or some of the gym tiles to put under your station. This will also help with stability.
Can you use these stations outdoors?
No. None of the chin up and dip exercise gear we've seen or reviewed would stand up to the British weather. You could possibly try to get a waterproof cover for your station but realistically these are designed to be used in your home or garage gyms.
Short on space, you might prefer a wall-mounted bar
A really good alternative to a free-standing pull-up and dip station is one that you fix to a wall. You can either use separate pull-up and dip bars or go for a multifunction bar you affix to your walls. See our best wall-mounted pull up bar guide.
They're even more sturdy than a tower station but do away with the rest of the support frame. The downside is you'll have to pull out your drill and do a bit of DIY. You'll also need a wall you can use – one with either bricks or breeze blocks is essential.
---
References and further reading