One of the casualties of moving house and setting up my new home gym was that my much loved (or should that be loathed) ab-wheel was lost along the way. The evil wheel has proved one of the best purchases I've made for my gym and I've been missing it in my training.
Hunting around Amazon I stumbled on the ASM Fitness Box on Amazon – a cool looking kit that contains a wheel, skipping rope and some other gear for a decent price. It has a lot of 5* reviews, so I ordered it and a few days later it arrived.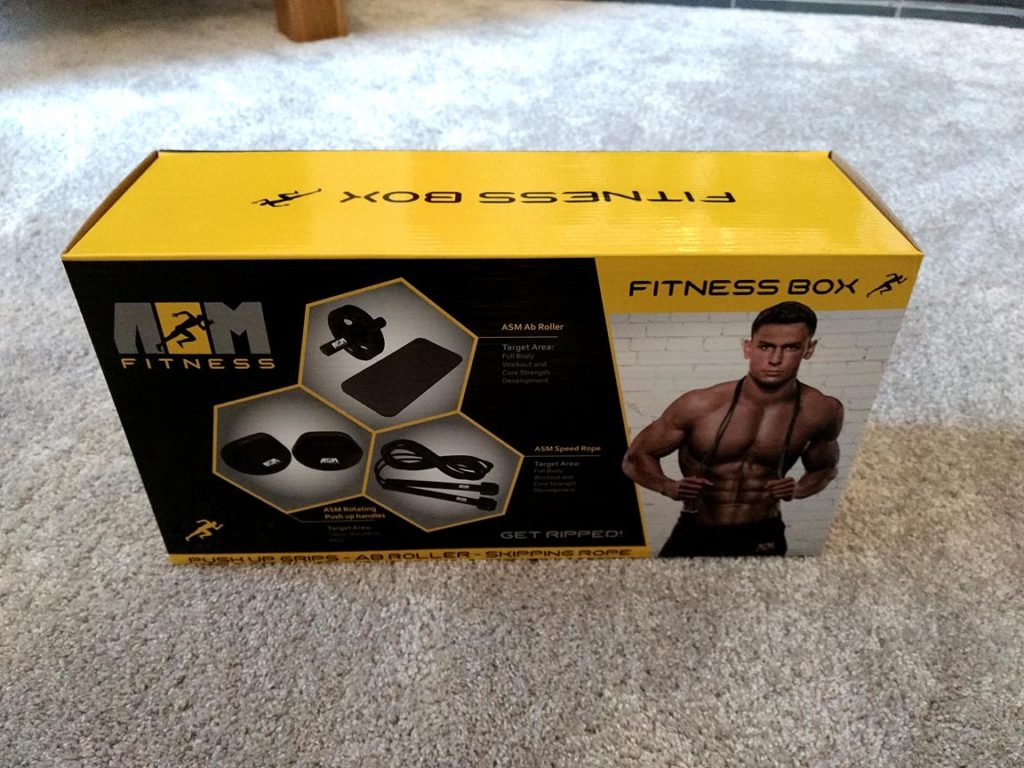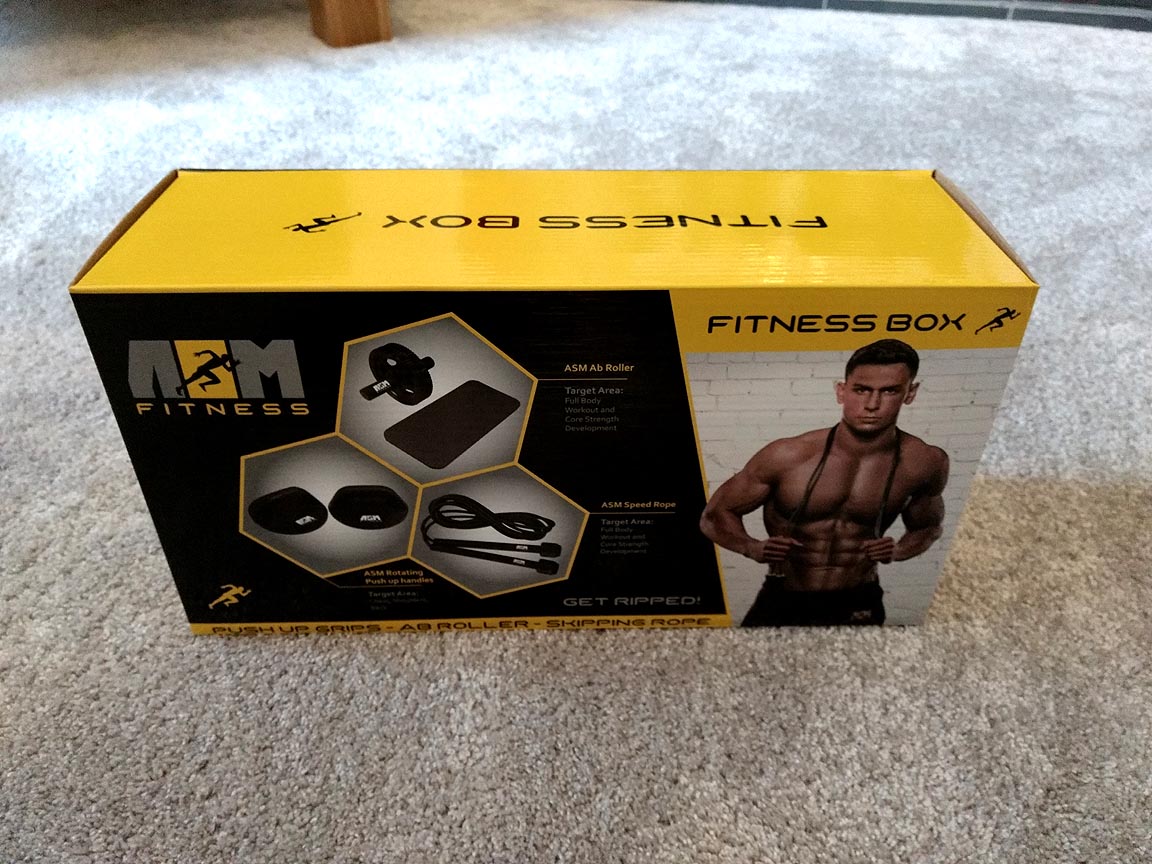 What's in the box?
Unpacking the box reveals a really impressive looking set of gear, in Batman Black.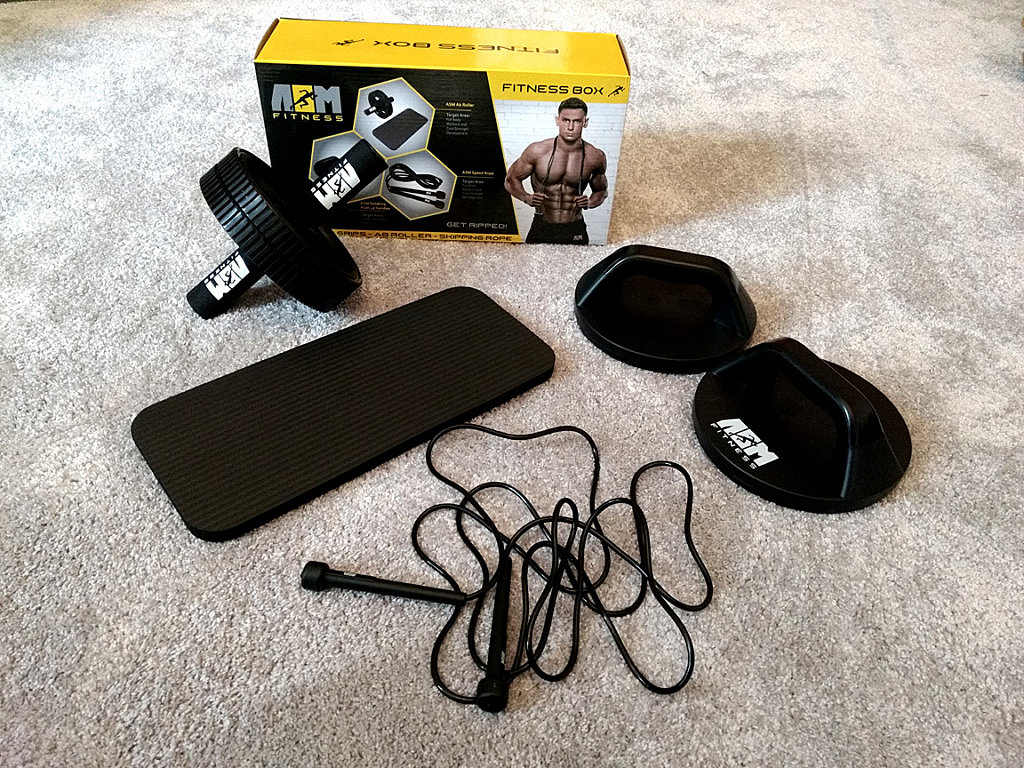 You get:
An Ab wheel
Foam mat to protect knees while rolling
Twist grips for push-ups
Speed skipping rope
There's not a great deal of assembly here. I didn't need to look at the instructions once. You just put the two 'wheels' together, thread the bar through and push the other foam grip on. The twistr grips are already assembled.
About the evil wheel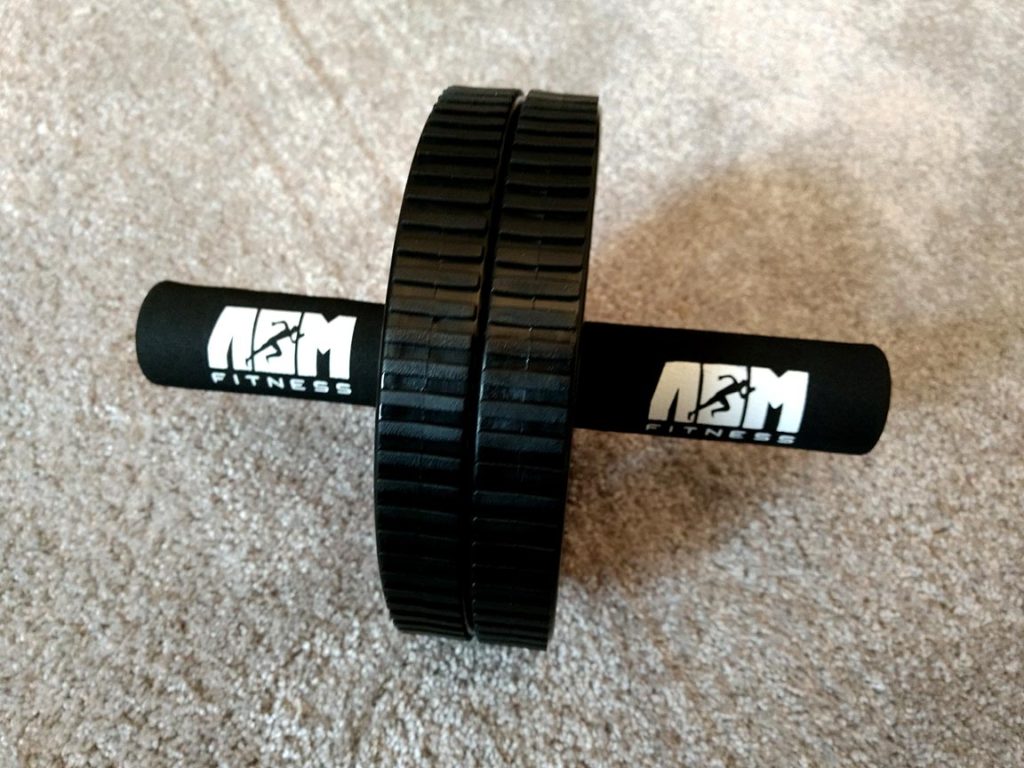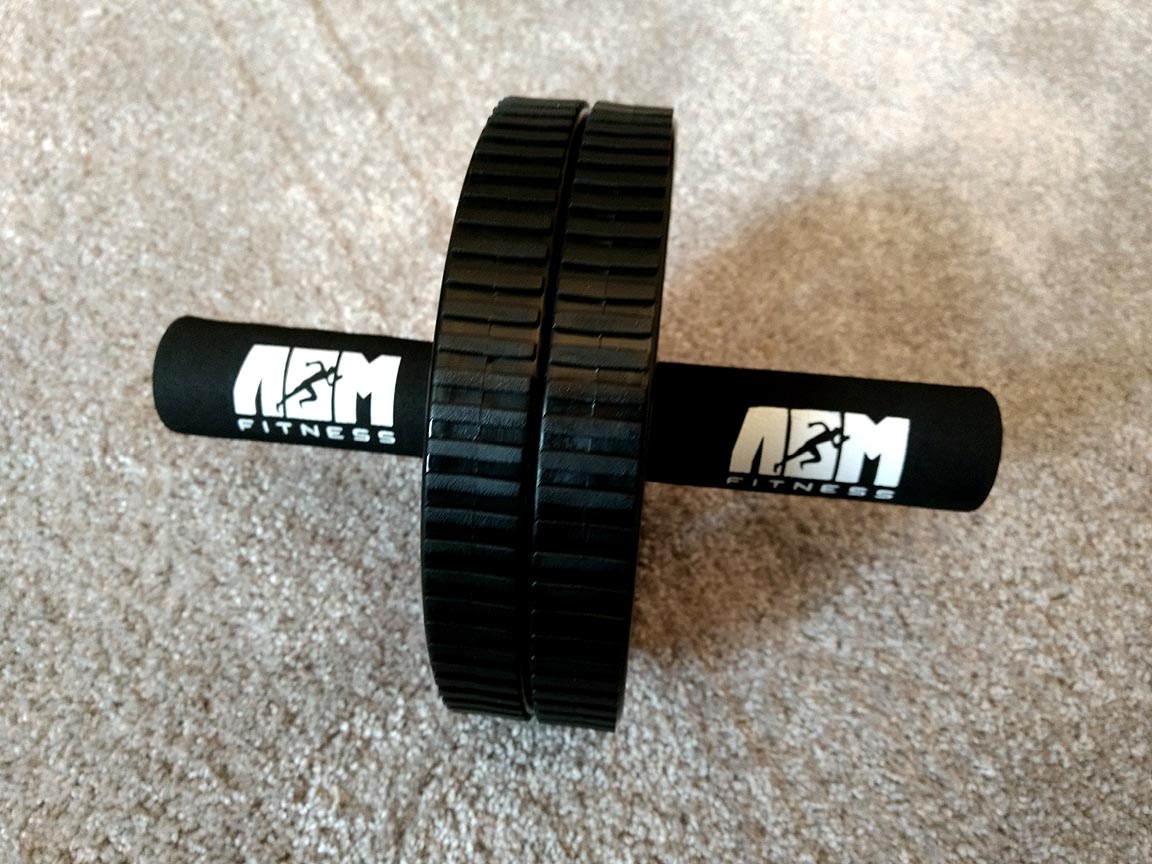 So lets get to the most important part of the package, and the one most people will be using most: the ab roller. The foam pads on the handles are different to my last wheel, where they were a toughened plastic. I'm not sure which I prefer. I guess it will take time to know if they'll last and whether they'll be comfortable long term. For now they feel comfortable and the wheel feels very stable.
Once it was together, it has a chunky, solid feel to it and it felt like it could take some punishment. I'm around the 94kg mark and the solid metal tubing feels thick enough to take my weight and then some. Rolling the ab wheel out feels as comfortable as it can on the hands and I'm pleased with the build quality.
One thing I didn't like was the logos on the handles. I'm not a huge fan  of logos plastered all over my gym equipment at the best of times. The problem here is that they're already peeling off. Not a huge problem as it's just a small surface decal that doesn't affect how the wheel performs. But they do look a bit tacky.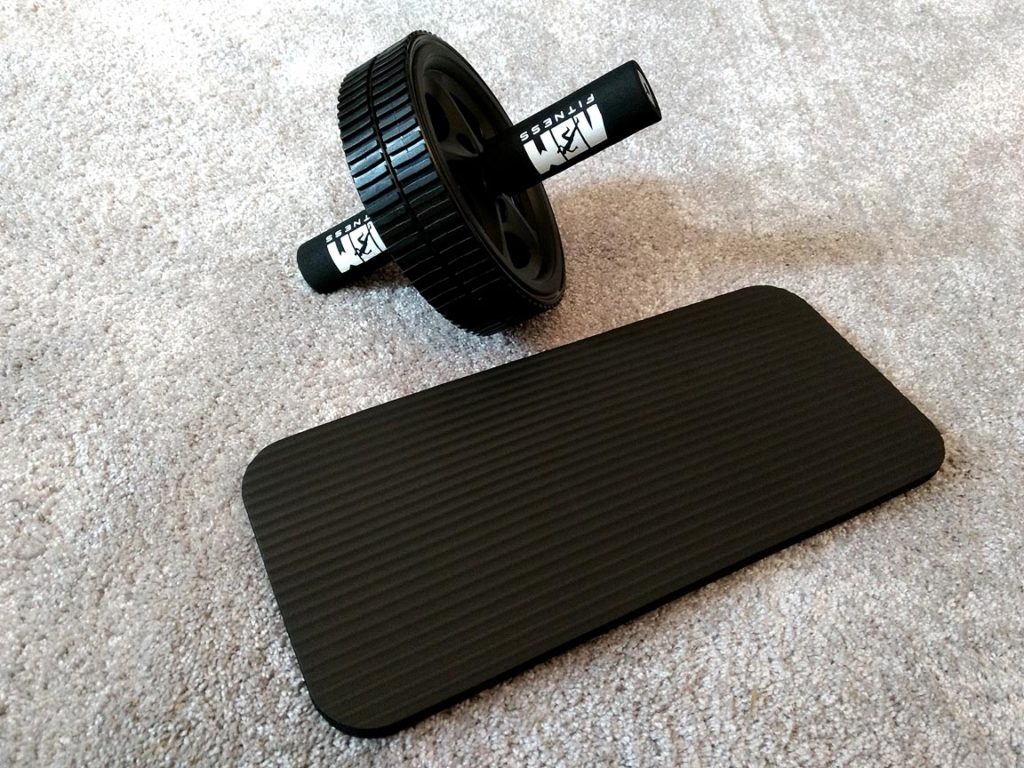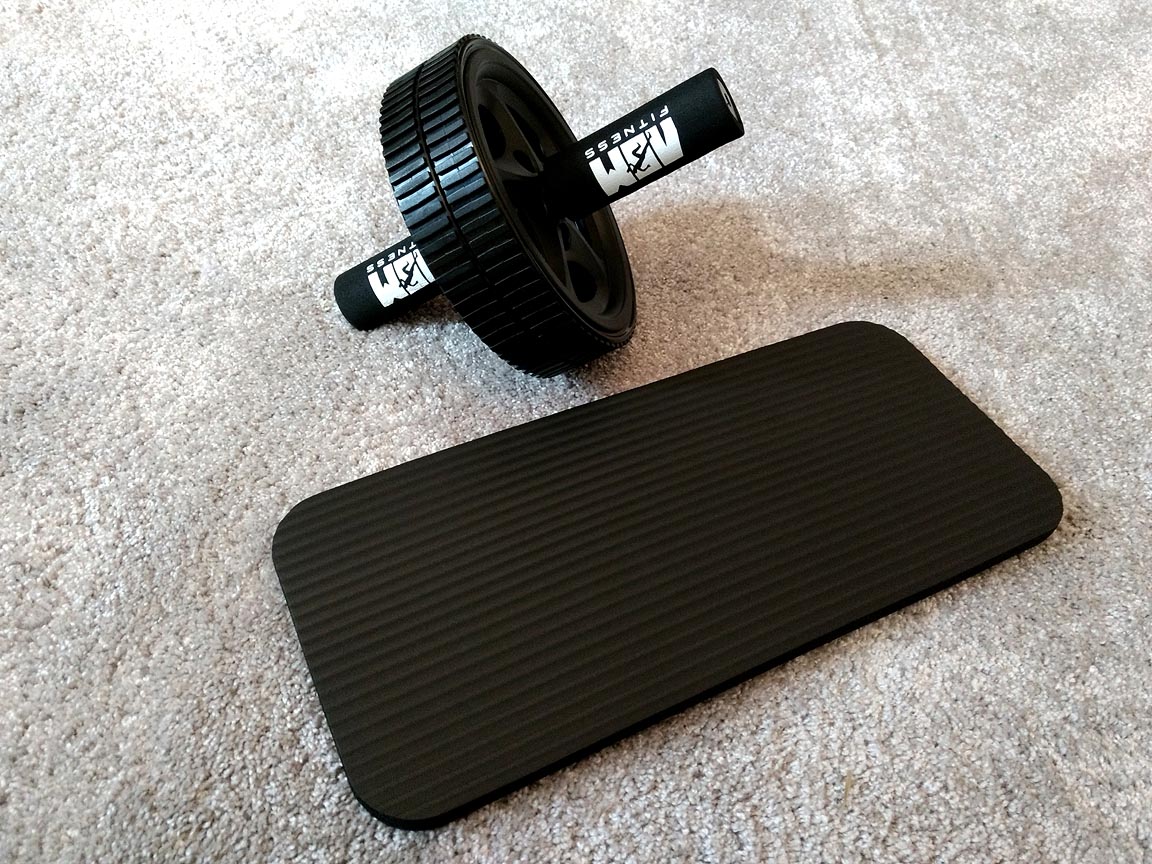 The Ab roller also comes with a foam knee pad. When you do the ab exercise, there's a lot of weight on your the bony knee bits. This would be painfully uncomfortable on say a poured concrete gym floor. It's not so bad on even a thin carpet. To help with this, you get a nice thick 15mm foam pad to use.
I'm not sure how long it will last but it does provide some cushioning that's much needed. Having said that, it was overkill on the carpet I was testing the wheel out on. But, a nice extra that will be great for anyone with a garage gym with a hard floor.
For the love of god, take it easy if this is your first ab wheel. You'll really feel it next day, and it doesn't take much to get a serious ab workout.
The push-up grips are AWESOME!
It's nice when you get something you didn't know you needed until after you got it. The kit comes with something I'd not tried before, and a gadget I wouldn't have bought myself. There's two hand-grips on a rotating base.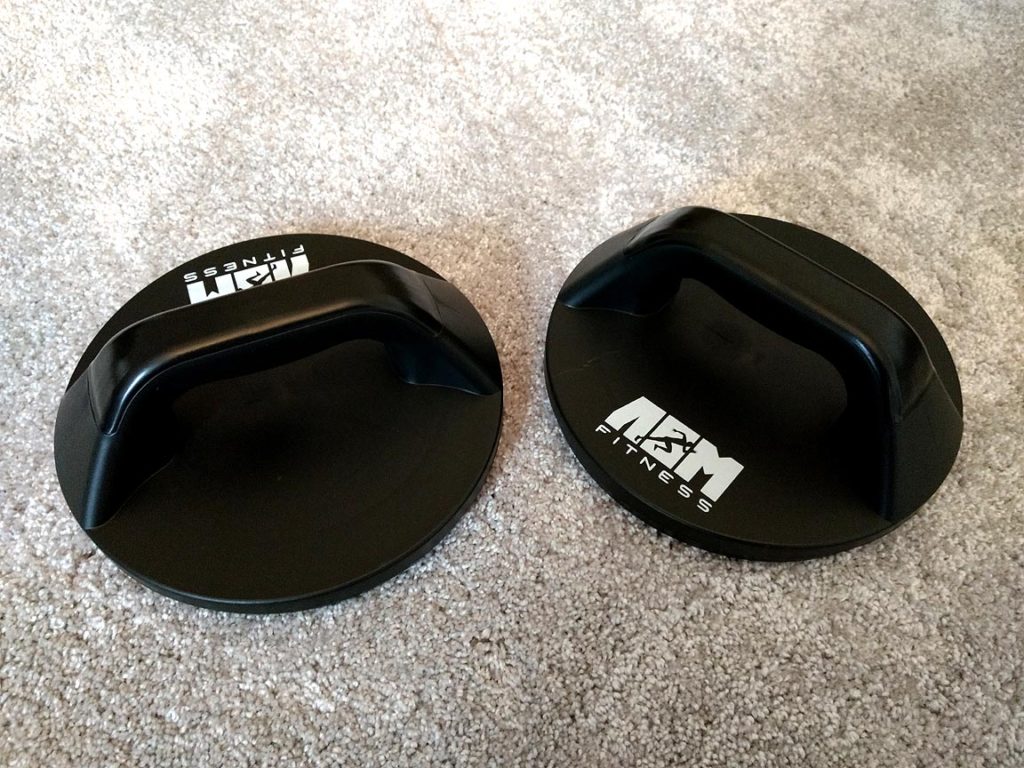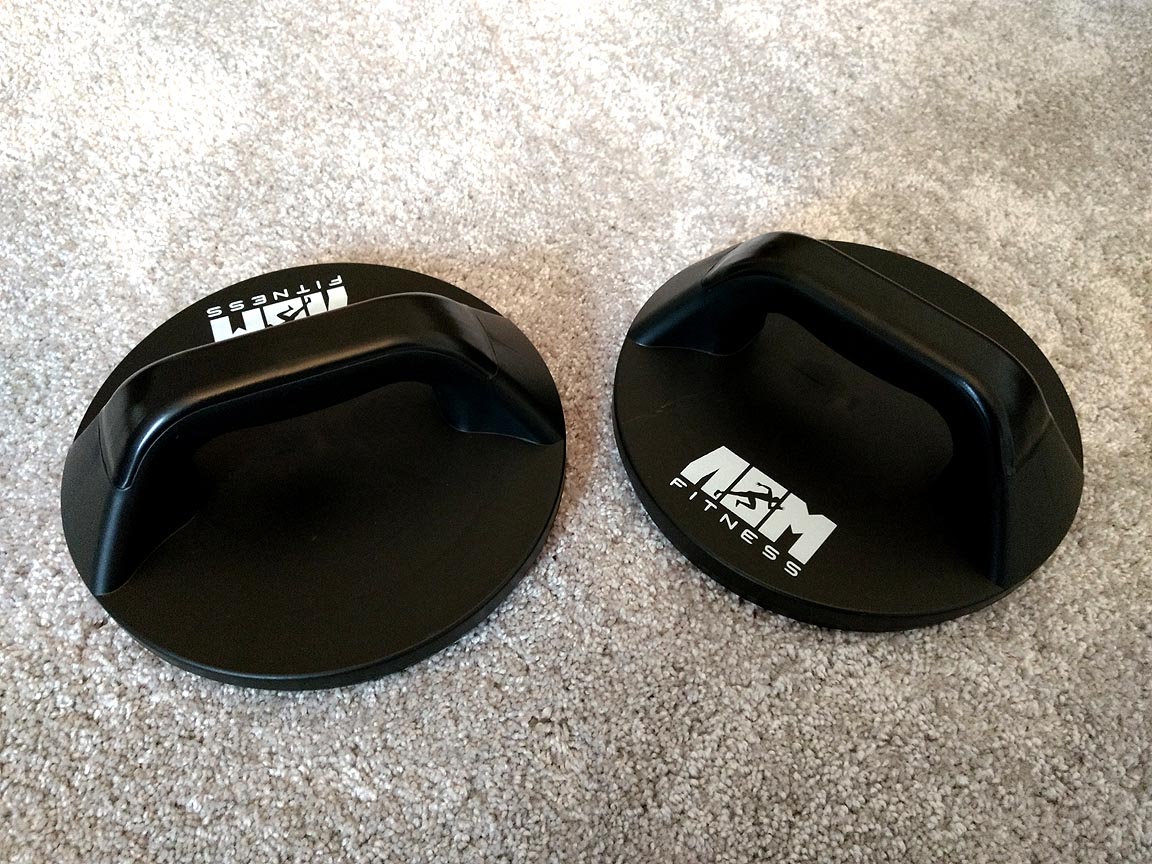 You get down into the push up position and rest your hands on them instead of palms flat on the floor. The effect is interesting, and has a different feel to the regular old push-up. The pads also twist so you can rotate your arms while pushing up.
It feels more like doing a bench press at the gym, and is a really good variation you can do in your workouts at home. I really like these and they are comfortable and strong too.
The speed skipping ropes

The last part of the kit is a set of 'speed ropes' for skipping. They're a simple design which are light weight and have a tough plastic cable running through them. They're pretty easy to adjust but just snipping away cord to make them the length you need. BUT be careful, it would be easy to over-shorten them.
So what are they like? I hadn't expected to get much use out of these as I've already got a good skipping rope. Skipping is a really good way to lose weight and get in shape. It's a bit tricky to get used to (well it was for me) but I have always enjoyed it as a way to stay in shape.
These skips are another great surprise. They don't look like much but they have a really good feel to them. There's something about the weight of the rope and the smooth handling. I don't have any problems with this skipping rope I have with my older set. So they're a welcome addition.
The Verdict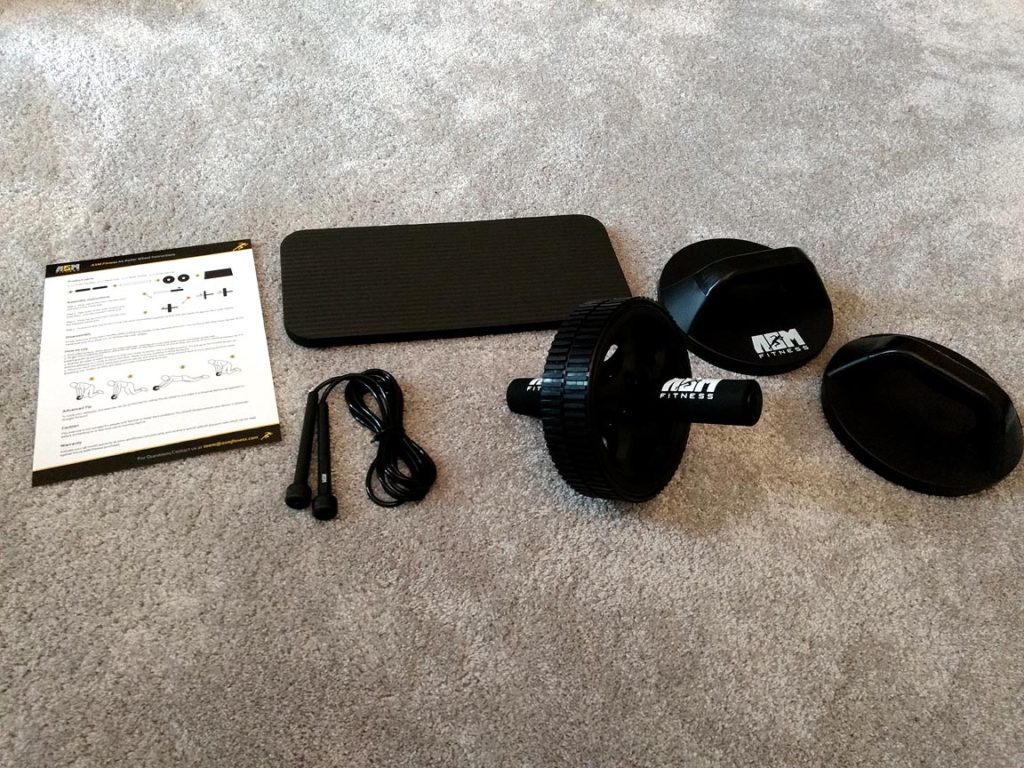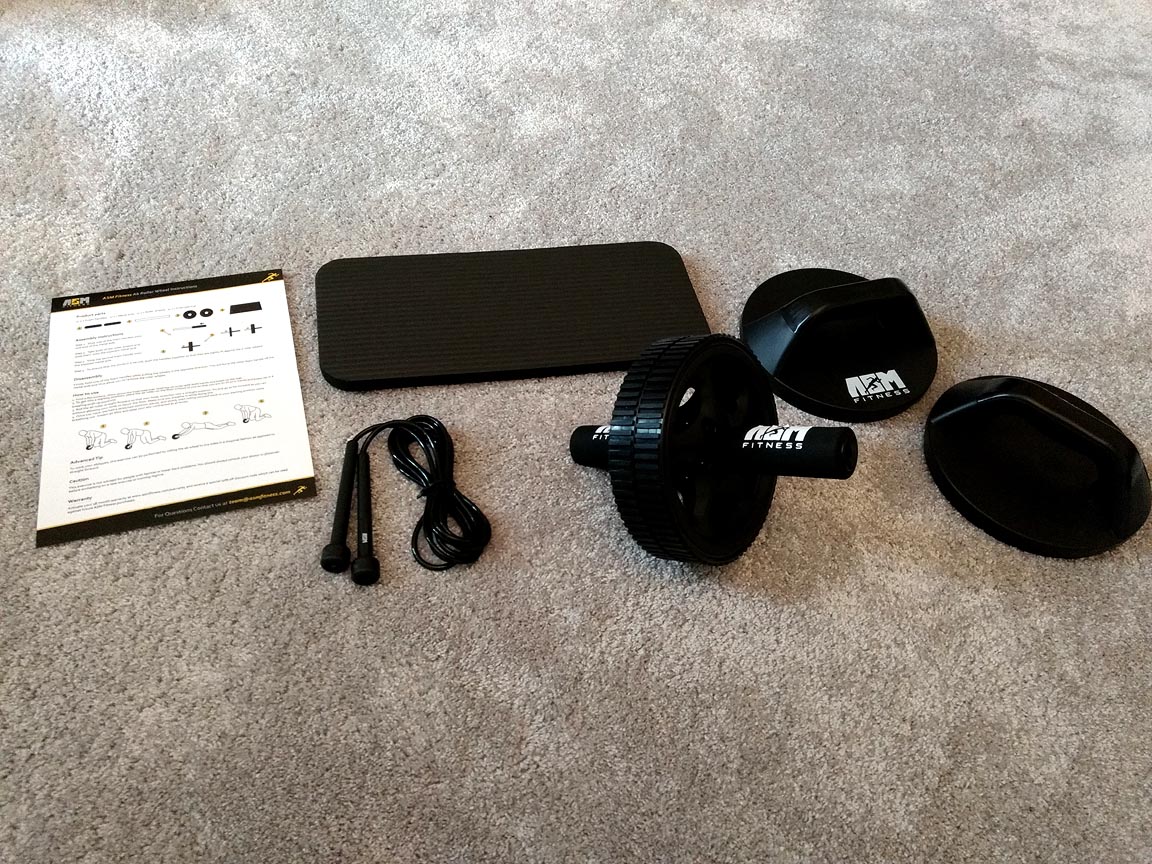 The ASM Fitness Box is a really good buy. And it's not often you get something for around £20 that you'll be using for years to come. Originally bought for the wheel, I've been pleasantly surprised at the quality and the usefulness of the other bits included. The Push-up plates make push-ups more effective and the skipping rope feels heavy and is great to use.
If you're looking to tone your abs, general fitness and upper body then this is a great buy.
Check Current Amazon UK Price
Verdict for the AB Roller
Strength -

90%

Quality -

90%

Usability -

86%

Ease of use -

90%

Value for money -

95%
Summary
The ASM Fitness Box is an all-to-rare find these days – something that doesn't cost the earth but that is also actually a sturdy, useful product. I can't think of many bits of gym kit in this price range that you'd actually use for years to come. The wheel is great and the other items in the box will add variety to your workouts at home.