One of the most tried and tested methods for effectively reducing your body fat and improving your fitness is the good old exercise bike. A staple of any good gym, this workhorse has been around for a long time and for good reason. With a limited amount of time, you can get a really good workout, and burn serious calories.
Today we're looking at some of the best upright exercise bikes for your home that don't cost the earth. As always we'll be looking for UK products that are built to last and we're not standing for any flimsy, shoddy indoor cycles.
So let's get started!
Super speedy buyer's guide… Look out for these when shopping for a decent upright bike online
Here are the main things we look at with indoor bikes and some of the problems we've found when reviewing them over the years.
Flywheel weight – This is an obvious thing to look at but an important one. The flywheel (the large weighted wheel at the front of the bike) controls at least some of the resistance and
Frame and build quality – This is hard to get from the images as some bikes look 'chunky' but aren't that stable to ride. If you're planning on riding standing on the pedals in a spin session, this is even more important.
Online connectivity – With an incredible choice of apps out there at the moment, such as Zwift, many people are looking for an upright bike that can connect to third-party apps. This isn't guaranteed on every exercise bike, and even if some do have Bluetooth connections, they're sometimes tied to very basic apps and not the big ones you might expect.
Display quality – Most upright indoor bikes don't have especially fancy screens, opting instead for simple LCD screens.
Nitty-gritty – While the product photos always look amazing, some little issues can creep in and spoil your enjoyment of your new upright bike. Common problems we've seen are dodgy welding (either ugly or cracked).
Comfort – Unless you're an experienced cyclist, things like how comfortable the saddle is and whether or not the bike can be adjusted to your body size will also be important. We always look for any 'wooden' seats or other pain points on the uprights we get to look at.

#1 Choice: JLL IC300 Pro
Let's jump to the top-rated best upright bike for the money today. Meet the JLL IC300 – a budget-priced indoor bike that's ideal for beginners or more advanced cyclists alike. One of the first things you'll notice about the IC300 is just how quiet it is. Perfect for watching TV while you grind calories and build up your fitness.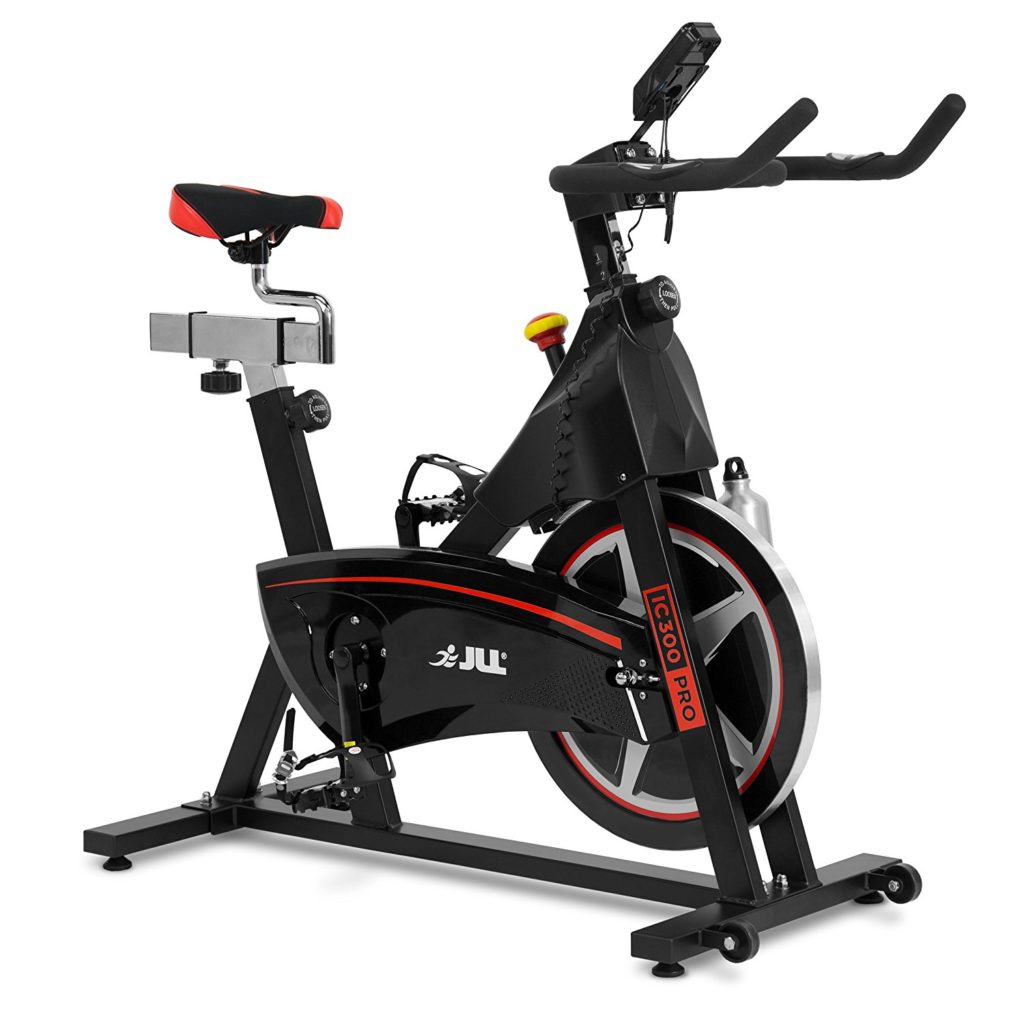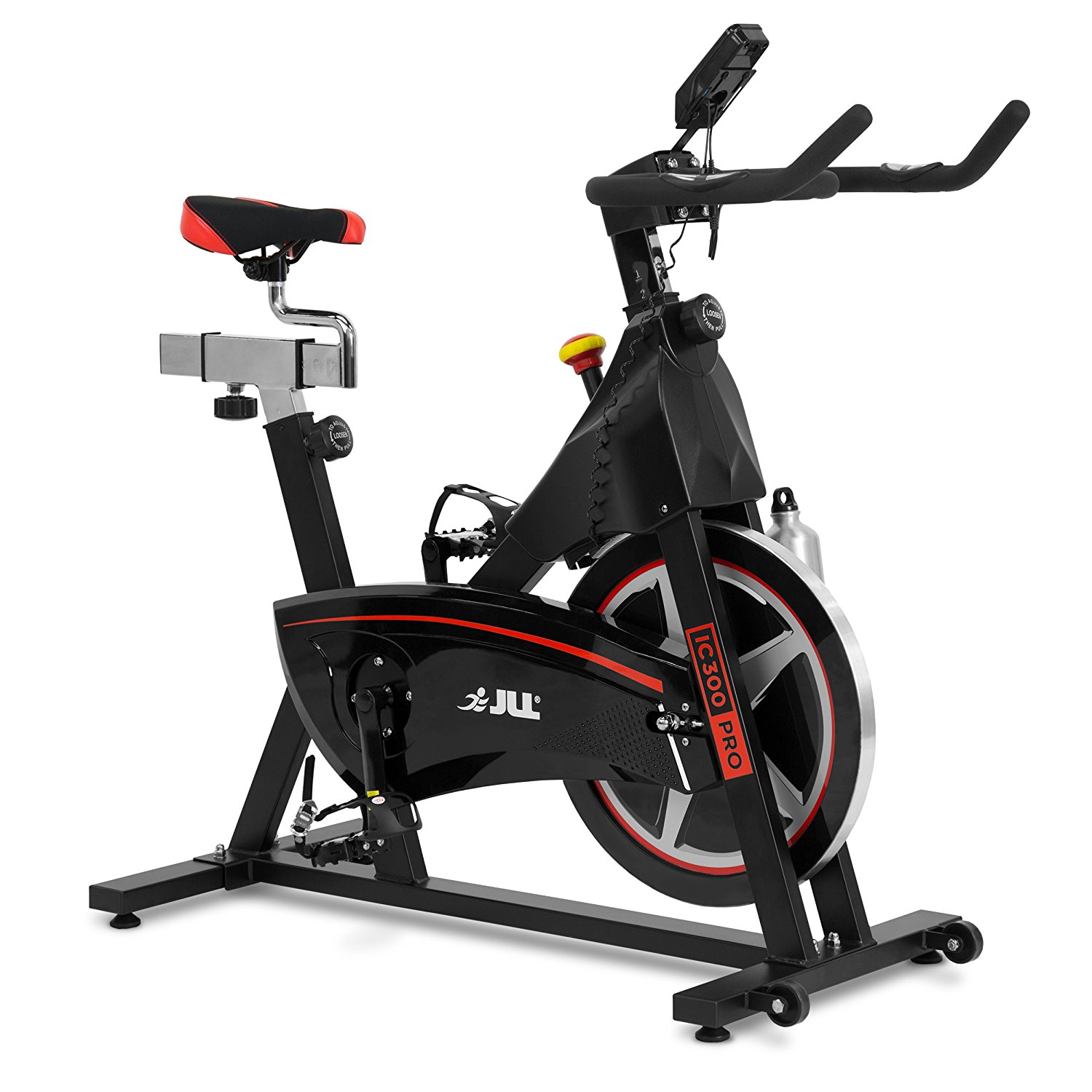 Construction is extremely solid here, with the bike weighing in at around the 50kg mark. That weight does translate into a robust quality build that's made to last. The flywheel itself is a hefty 20kg and gives a serious level of resistance for those looking to get stuck into some real exercise.
The onboard display here is also a cut above other models in this price range, and stores your previous exercise data, rather than simply just showing current stats. It's easy to use although can be a tad hard to make out in certain lighting.
A three-piece crank is used here, along with a direct belt drive to offer a ride that's smooth and feels like a less 'grindy' version of an outdoor cycle. This upright has a really good feel to it.
Verdict: Tough and sturdy, while managing to keep the noise to a minimum. The JLL IC300 is a superb bit of kit for anyone looking to consistently lose weight and get in shape. Great monitor and loads of adjustments. A great buy.
Heavy and solid construction
Feels like a good outdoor bike
Heart rate sensors
chunky 20kg flywheel provides plenty of resistance
Useful onboard display
Screen hard to read in some light conditions
Check Current Amazon UK Price
---
If you're looking for an inexpensive way to get into shape then definitely check out this upright bike for home. From one of our favourite brands, York Fitness, comes the Active 110 – a simple, comfortable bike that's perfect for losing weight and building your fitness up.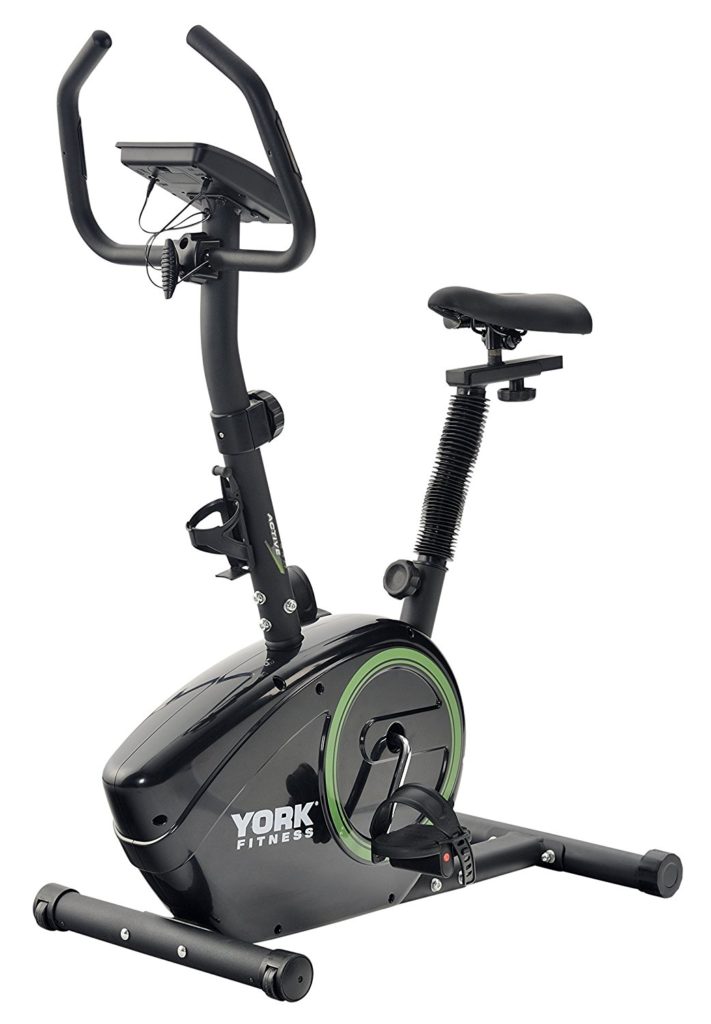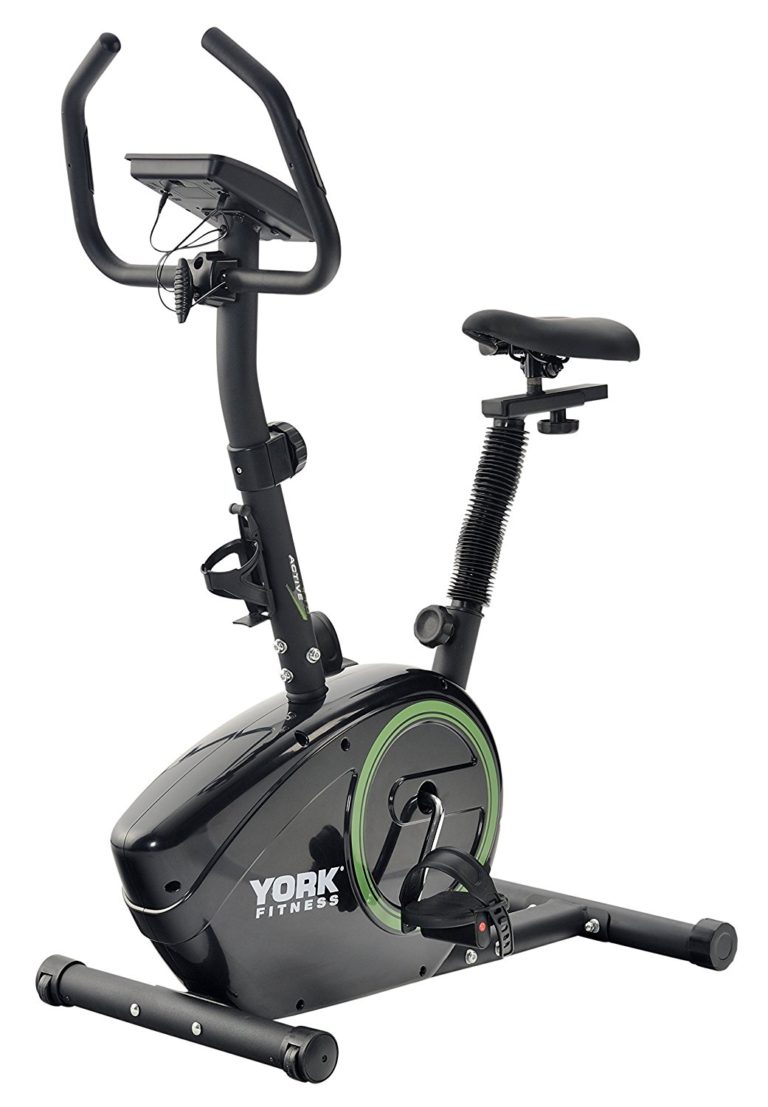 The seat is packed with padding and wide enough that it's comfortable to ride for long periods. While the pedals are wide and supportive, with handy toe-straps to keep you in place when pedalling.
You've got a choice of 8 levels of resistance here and one of the best features is that there are heart rate monitors built in. This is something we've come to expect only from more expensive bikes and not from a budget upright.
Construction wise, it's a decent build and feels sturdy enough when you're riding. The operation is quiet and has a nice smooth feel to it. We are a little disappointed that there's nowhere to put a tablet or phone, but that won't be a problem for everyone.
What you do get is a simple but easy-to-use LCD display that shows all the important info, like the calories you've burned off. It's also a nice large size, unlike the tiny, cramped ones you often see on cheap exercise bikes in this price range.
Verdict: If you're a beginner looking to get into some cycling at home, and don't want to splash out a fortune on a bike, then this is a great choice. It's likely got everything you'll need and the price is great too.
Budget price
Heart rate sensors
Clear display
Easy to use
Comfortable to use
Check Current Amazon UK Price
---
We've looked at a lot of Marcy fitness gear on this website and it's one of those brands that makes good quality equipment for reasonable prices. The BK1016 is no exception – it's a budget priced upright bike that's perfect for home use.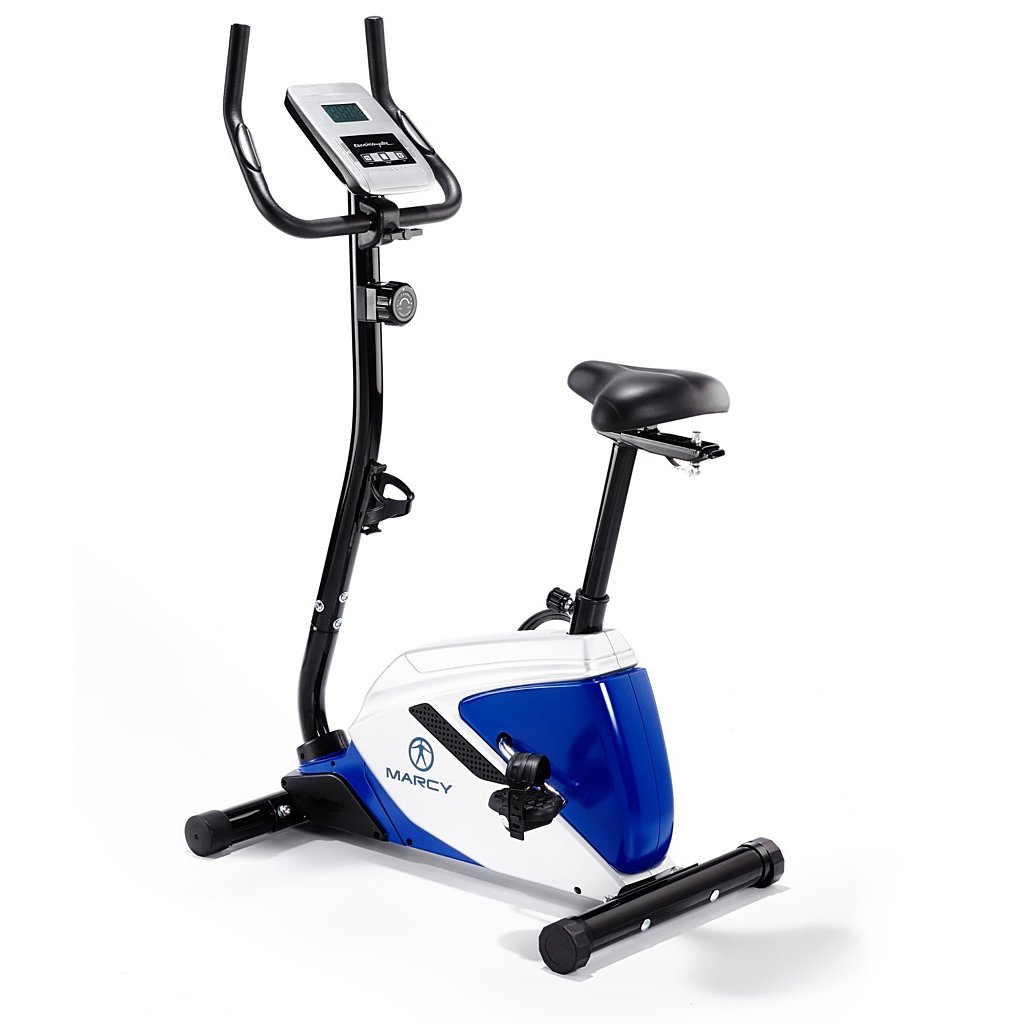 This upright has a clean, fresh look to it, with an attractive step-through frame and some nice blue trim. More importantly, it's comfy to sit on thanks to a thick-padded seat and a plethora of possible adjustments. You can easily alter the handlebars and seat to fit your size perfectly.
Unlike a lot of exercise equipment we see, the Marcy upright bike is suitable for taller cyclists, with a recommended upper limit of around 6 foot 3 inches.
The LCD screen does the job perfectly well, with nice chunky letters you don't have to lean forwards to see. And it's positioned so that if you put your phone or tablet on the built in holder, you can see both.
Operation is smooth, thanks to its belt drive system although resistance is not going to be enough if you're looking for a challenge.
Verdict: This is a top-notch upright exercise bike that anyone in the market for a simple way to get in shape should check out. It looks good, is quiet and has loads of user-friendly functions and welcome little extras.
Solid construction
Suitable for all heights up to 6′ 3″
Easy to move around
Tablet / phone holder
Decent size LCD screen
4kg flywheel might be too little for some users
Check Current Amazon UK Price
---
If you're looking for something that you can really get a serious workout on then the JLL IC260 might be the best upright bike for you. It's got a low price tag and offers a lot of bike for the money.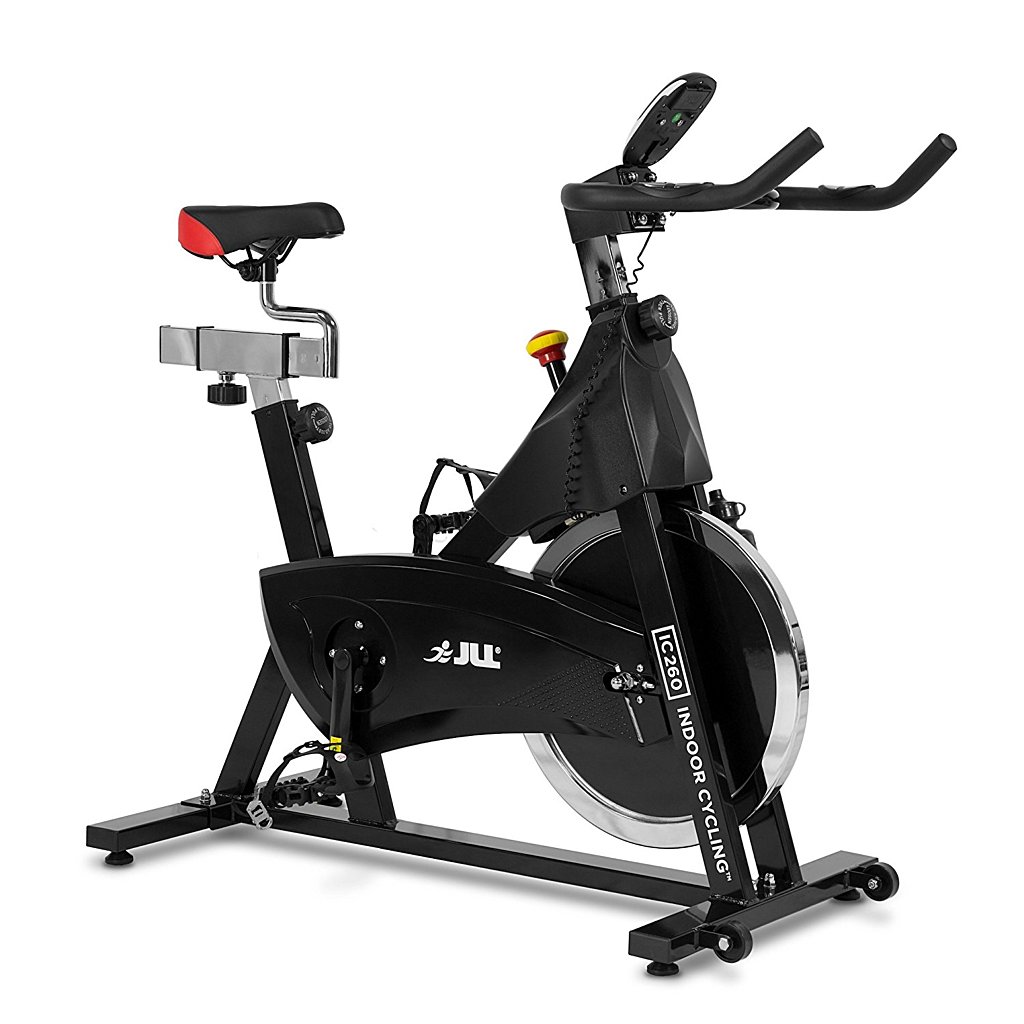 The IC260 is as sturdy as it looks and has a 15kg flywheel that provides a good level of smooth resistance. It's driven with a chain like you'd find on a normal cycle and has an authentic cycling feel, as close to riding outside as possible.
Resistance can be further increased for experienced users by adjusting the dial. You can ajust everything to get the biuke perfect for your body, including the seat and handlebars. The ergo bars mean you can put your weight on them and lean forwards for some serious work.
While it doesn't fold, there's transport wheels that make moving it to another room pretty easy work. The 6 function LCD display isn't anything fancy but you'll be able to easily see important things like distance and calories.
Verdict: The IC260 has a budget price tag but offers a great bike for the money. It's smooth, solid and perfect for those seeking more of a challenge. An excellent home upright.
Superb build quality
Smooth motion with 15kg fly
Enough resistance for more experienced cyclists
Budget price tag
Easy to move around
LCD display lets it down slightly
Check Current Amazon UK Price
---
#5 Feierdun Adjustable Folding Upright
While the looks of an exercise bike aren't the most important thing – the upright adjustable from Feierdun makes a good first impression, with clean smooth lines and modern-looking curved tubing. With some very impressive reviews at Amazon and a wallet-friendly price tag, this upright bike for home use should definitely be on your shortlist.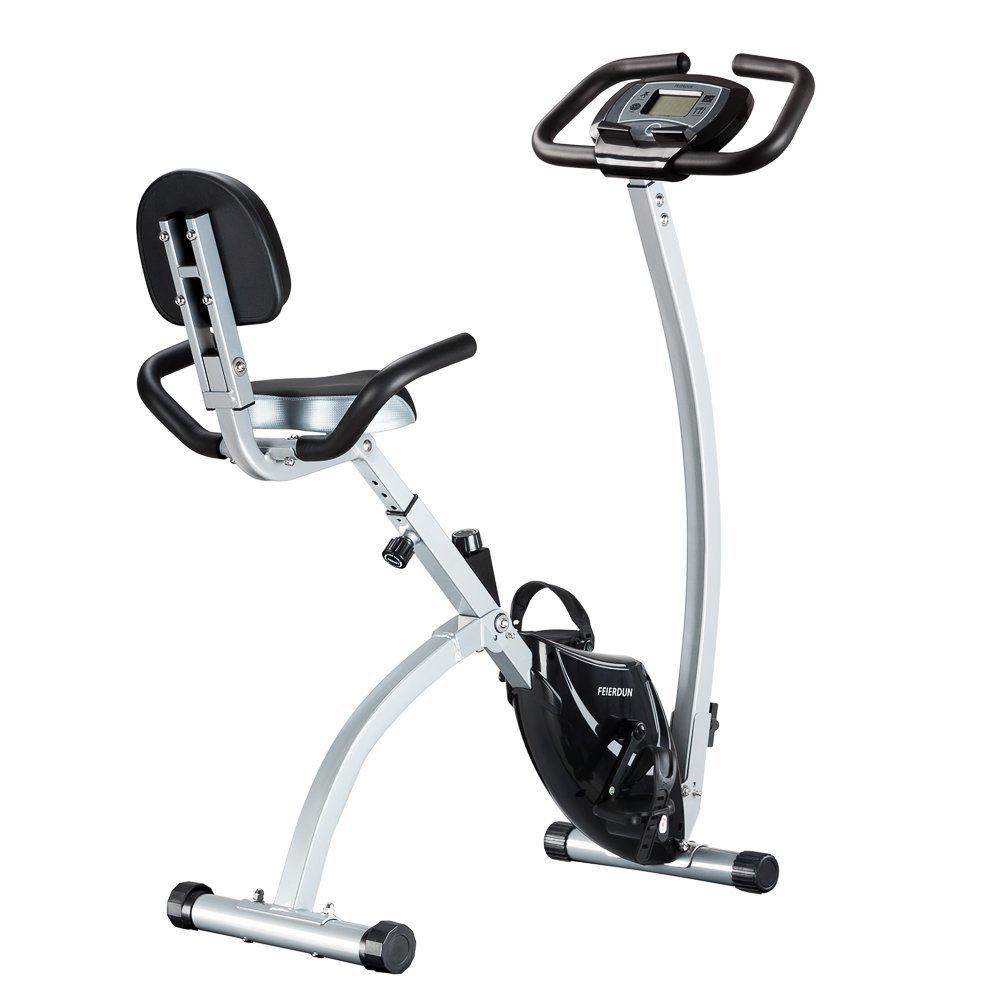 The seat is pleasantly comfortable and has much-appreciated lower back support. If you're looking for something with plenty of support, perhaps for injury recovery, then this is ideal. There's also handles you can lean back and use instead of having to lean forward on the bars.
There's a simple digital monitor that tracks important progress. However, there's a better use for this area – entertainment! Thanks to some thoughtful design this area also doubles as a secure stand for any laptop, phone or tablet. Enjoy your fav show while losing calories. Nice.
Other nice details are the small rollers that make the bike quick and easy to move around. There are also some excellent straps on the pedals to keep your feet from slipping when you're working out.
Verdict: Quiet, inexpensive and easy to fold up and move. If you're looking for a cheap portable upright bike, this one will likely put a smile on your face.
Space saving upright bike
Looks great
Smooth and quiet
Nice built in stand
Very stable
Digital display eats through batteries pretty fast
Max resistance is a little on the weak side
---
Here's a nice surprise: tucked away at the budget end of the upright bikes for home range is this really great little find from Skandika. It's a foldaway upright exercise bike with silly-good reviews on Amazon. A cheeky price tag is all well and good but that's not all it's got going for it.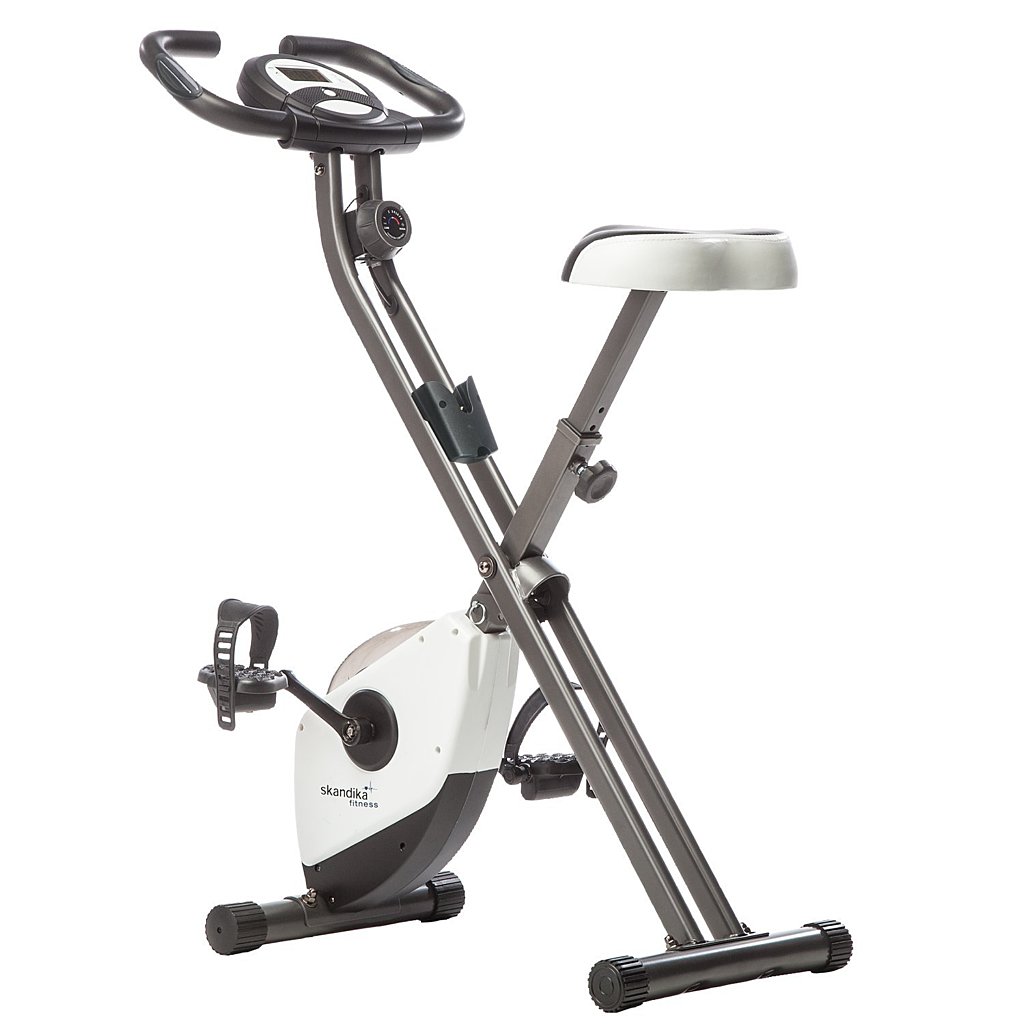 You'd be forgiven for thinking you can't get a decent exercise bike for under £150, or at least something sturdy. But the Skandika 1000 proves there are bargains out there. After a quick assembly you're all set. There are 8 levels of magnetic resistance to choose from.
Obviously, for a foldaway, the resistance isn't going to be enough for extra-fit cyclists but this upright is more than enough for home users and gives a very good 'sweaty' workout. It's got a very sturdy feel too – whether pedalling or getting on or off. It feels robust and safe.
One of the best things about magnetic resistance, apart from the fact it has a smooth feel, is that it's also blessedly quiet. And this Skandika upright is pleasantly easy on the eardrums. It's also fairly comfy, with it's thick, padded seat providing ample support for bum and lower back.
Verdict: It's hard to find fault with this budget fold-away upright. If you're looking for something cheap, that can be easily stored, then this might be perfect for you.
Surprisingly sturdy
Folds away quickly
Comfy seat that's adjustable
Basic LCD display
Budget price point
Resistance could be too easy for some users
Check Current Amazon UK Price
---
What do you think is the best upright bike for home exercise? Got some gear you'd like to shout about? Let us know in the comments!