Welcome!
In this product guide, we'll be looking at one of the most popular home rowing machines – the JLL 200 Luxury Home Rower (Available on Amazon UK). Sitting happily at the budget end of the scale, this rower has a lot to offer but how does it compare to it's more expensive rivals like the Concept 2 rower? Lets dive in.
Check Current Amazon UK Price
What's the JLL 200 and what's it do?
One of the things I like best about rowing is that you get out what you put in. You can basically take it easy and build up, or go all out and have a proper workout.
This machine also folds up to a much smaller size if you don't have the room to leave it set out. Folding is quick 'n' easy to do and you don't have to put your back out as it's quick to fold.
The mechanism is a combination of belt-driven wheels and the actual resistance is magnetic. This means it's quieter than both water or air resistance. If you're looking for a machine that doesn't sound like a a jet taking off the JLL 200 might be a good pick.
What kind of workout will you get from the JL200?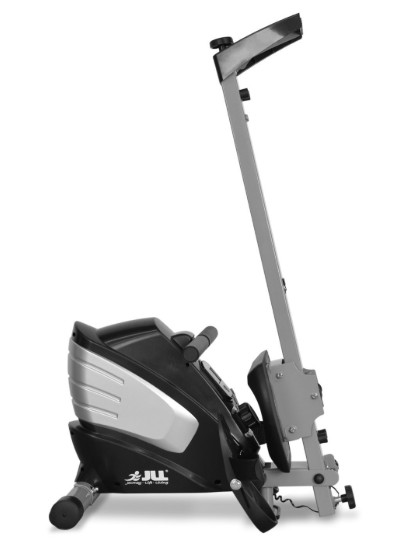 Rowing has to be one of the best ways to burn calories and get in shape. As well as working on cardio, you're also strengthening core muscles, leg and pretty much every other muscle group. You'll use every muscle group during a row motion, arms, back, shoulders the works.
The JLL 200 rower is a folding home rowing machine that has 10 varying levels of resistance. While resistance levels are always subjective, there's plenty here for both experienced people and new rowers. Resistance is altered with a dial and the first setting is very easy to pull.
Because of the gentle nature of rowing, it can be an ideal way to recover from an injury too.
The display is simple but really nice and clear…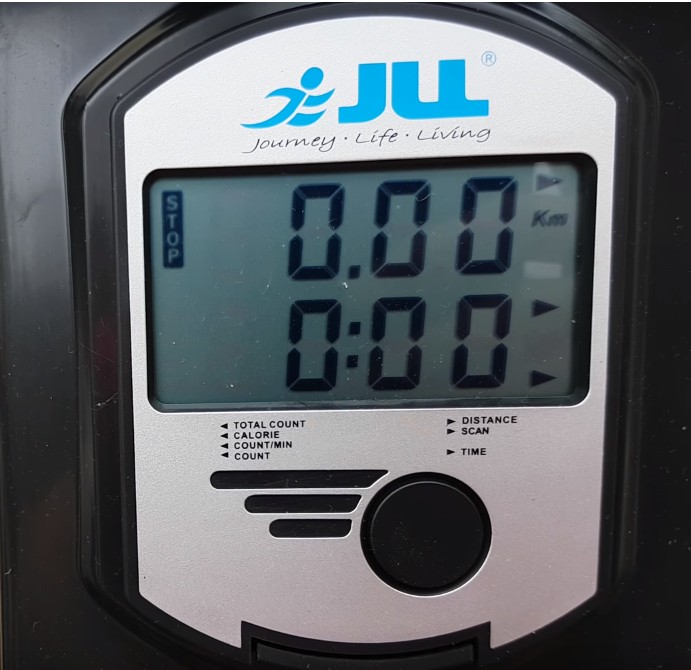 Compared to the Concept 2 rowing machine, you could say the JLL 200's display is pretty basic. But I'm actually surprised how big and easy to read it is. As a glasses wearer, it's nice to not have to squint. Personally I don't use the rowing games. Give me my calorie and time display.
The JLL 200 display actually shows a lot more than that basic info though – including distance and count per minute. It's a nice meary display that gets the job done.
Some things I like about the JLL 200
Here's the key benefits to the JLL Rowing Machine
Nice, chunky foot rests – give a feeling of solidity
Smooth rowing motion feels good
A lot more quiet than other budget machines
Has a good quality, sturdy feel throughout
Toe straps keep your feet from slipping about
Good range of resistance should keep everyone happy
Nice big LCD screen
Nice and easy to fold up
Also has little wheels to make it easy to move
Current Best Price on the JLL R200 Rowing Machine?
Here's the best price I can find on the JLL R200. I'll keep this part updated with any new offers.
Check Current Amazon UK Price
JLL 200 Assembly Guide
The JLL R200 isn't the beast you might expect to assemble. If you're a bit nervous about that side of things, check out this video with some handy tips and help on putting your new rower together.
JLL 200 more info and specs
| Max Weight | 100kg |
| --- | --- |
| Levels of Resistance | 10 |
| Resistance type | Magnetic |
| Folding | Yes |
| Display Type | LCD |
| Display features | Time,Distance,Calories,Stroke Count |
| Drive System | Direct Belt Drive |
| Safety | ROHS CE compliance |
| Transport Wheels | Yes |
| Foot Straps | Yes |
| Assembly Time | About 45 mins |