In this guide, we're comparing two of NordicTrack's monster home exercise bikes – the NordicTrack S15i vs S22i. In this comparison, we'll look at everything these machines are capable of and try to nit-pick the main differences. If you're stuck choosing between the two, this will hopefully help!
What are the NordicTrack S15i and S22i?
The flagship models in NordicTrack's bike range, the S15i and S22i are both incredibly impressive, commercial grade pieces of exercise equipment.
Both bikes are built to the highest standard and packed with top of the range technology, making them the equal to anything else on the market, including top of the range competitors like Peloton.

As we're examining the S15i and S22i, it's worth pointing out that the base bikes are very similar in terms of features and performance. The main differences are upgrades to the multimedia systems and a few quality of life changes. But realistically, both bikes are absolute animals.
Check the NordicTrack S15i price
Check the NordicTrack S22i price
S22i & S15i Visual Guide
---
NordicTrack S15i vs S22i Studio Cycles Comparison
What's this live resistance about?
This is one of the more advanced features you get with Nordictrack bikes, that aren't possible on budget machines. With live resistance, the bike's console can control the resistance you get. Nothing most bikes can't do, right? The cool thing here is that once it's combined with iFit, a lot of possibilities open up.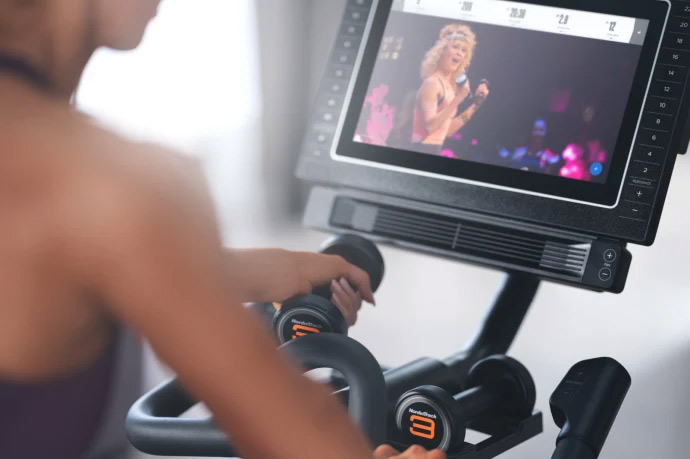 For one, your instructor can control the level of resistance you're getting during a class. Or, even better, when you're following along a cycling route, the bike will adjust the resistance real-time so that you feel each hill climb or descent as if you were there.
---
What makes these bikes so good?
NordicTrack know what they're doing when it comes to exercise equipment. Literally, everything in their range is world-class, including their bikes. As the top models in their commercial series, the S15i and S22i have literally everything that you'd expect a top-level bike at a fitness club or gym built-in, plus a few things that make them perfectly suited for home use.
Key features of the S15i and S22i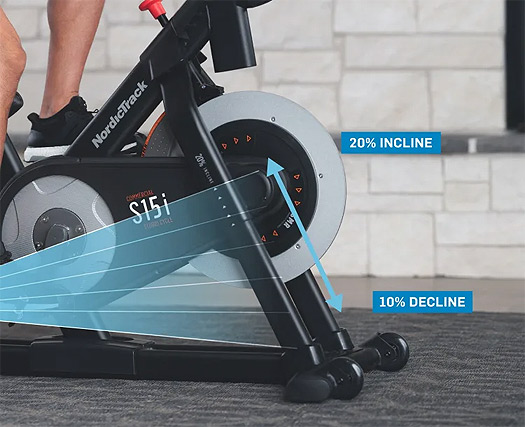 Inertia enhanced 15kg flywheel
Silent Magnetic Resistance
OneTouch Controls
20% incline and 10% decline
150kg max user weight
Autobreeze workout fans
2 bottle holders
1 month of iFit membership
Aux port and twin 2-inch speakers
2-year parts warranty, 5-year frame
---
Why choose a NordicTrack bike?
The Build Quality
Every NordicTrack system, but especially the machines in their commercial series range, are designed and built to a ridiculously stringent standard. The base frame is heavy-duty steel which should last forever if looked after correctly. The user weight limit is a hefty 150kg (330lb,) which is equal to anything else we've seen and makes it suitable for almost any user.
NordicTrack is also basically best in class for warranty. Both bikes are fully covered by a comprehensive warranty that offers 2 years on parts and labour, and a full 5 years on the frame.
On top of this, everything that's built onto the frame is equally high standard.
---
The Features and Fittings
NordicTrack literally haven't skimped on anything when it comes to how they built these bikes. Everything has been designed around making your experience as effortless as possible.
First off, there are a pair of comfortable multi-position racing style handlebars, paired with a seat that's adjustable both horizontally and vertically, so you're going to be able to find a comfortable riding position.
The seat and pedals are also replaceable, with the mounts compatible with standard road bike fixings, great if you ride regularly for sport or pleasure.
A pair of water bottle holders let you keep your hydration in check, and the Autobreeze fan will kick in automatically whenever you ramp up the resistance, although you can activate it yourself if needed.
You can link your tunes with the Aux port, or use Bluetooth, and sounds are provided by a pair of high-quality 2-inch digital speakers.
---
Exceptional Usability
But the bikes don't just feel good to use. They're also a joy to use.
Resistance is provided by a big, heavy, inertia enhanced flywheel that uses magnetic resistance for smooth and quiet operation. One of the few differences is resistance levels, 22 for the S15i, and 24 for the S22i.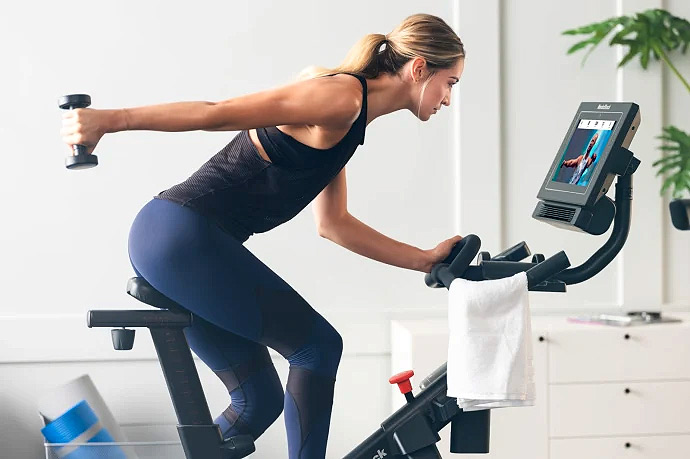 The bike also has powered, automatic incline and decline, with a 20% incline feature, and up to 10% decline. Until you've used it, it's hard to appreciate just how much a 20% incline can make a difference to your workouts, and the option here is massive.
All of these features are incredibly easy to use because it's all instantly on hand with NordicTrack's OneTouch control system. Instead of having to scroll through resistances or inclines, each side of the console has a complete list of buttons.
The touchscreens themselves are also fantastic. Fully HD, with crystal clarity and great picture quality, everything is easy to see, and with touchscreen controls, easy to use.
The screens also rotate, which is essential if you're planning on using them for iFit workouts that take you off the bike.
---
iFit Training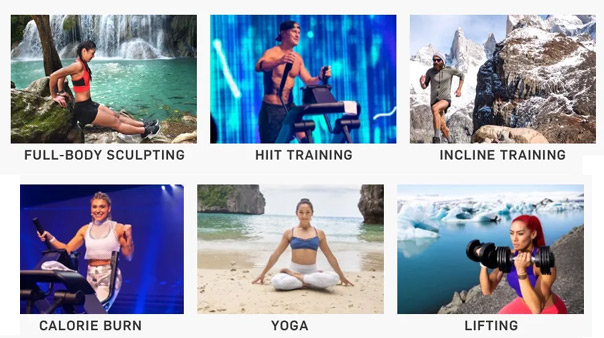 Each bike comes with a free 1-month membership to NordicTrack's interactive, multimedia workout app, iFit.
This adds another dimension to the bikes and puts an enormous library of workouts at your fingertips. Every iFit workout is delivered by a world-class trainer, whether you're choosing from the dozens of live training sessions each day or the extensive library of thousands of previous workouts.
Each workout integrates with the bike's systems, letting the trainer adjust speed, resistance and incline as you go, and there are hundreds of plans and programs to help you hit your goals.
iFit is such a game-changer, we've written an entire guide on it, which you can find here.
---
Related guides
---
Comparing the price of the NordicTrack S15i vs S22i Studio Cycles
While the NordicTrack S15i and S22i are impressive pieces of kit, the price tag isn't anywhere near what could be called low-budget.
But what you've actually got to balance the price of what you're getting against what you're saving. If you regularly use a commercial gym, or you sign up for weekly spin classes, the monthly price is probably already more than this would cost you.
And if you're training to a high level, for road races, triathlons, or anything else, then the benefits of the best tools can't be overstated.
Check the NordicTrack S15i price
Check the NordicTrack S22i price
---
Which one should you buy?
Considering both bikes are so similar, there are only a few things that could change your opinion and sway your mind over which one you inevitably purchase.
First off is the price. Affordability is something that anyone outfitting a home gym has to think about. Both models are relatively pricey, but more than worth the asking cost.
However, if you're on a stricter budget or the differences on offer with the S22i don't appeal, then the S15i is slightly cheaper.
The second is screen size. The S22i mounts the largest console on any NordicTrack system, with a large and easy to use 22-inch touchscreen. There's absolutely nothing wrong with the 14-inch screen on the S15i, and the performance is going to be similar, but it can definitely be easier to see the larger screen, especially if you plan on staying off the bike a lot for the iFit workouts.
Lastly, the S22i has a slight difference in resistance levels, with 2 more total resistance levels. If you're at a high level of fitness, this might be the deciding factor.
---
Where to buy the S15i vs S22i Studio Bikes
You can buy your S15i and S22i bikes direct from NordicTrack. They are sometimes available on places like Amazon but the stock can be spotty. NordicTrack normally have these bikes available to buy, or for a pre-order within a month or so.
---
Final thoughts: Both the S15i vs S22i are great machines
Whichever bike you go for, you're not going to be disappointed. NordicTrack is known for its quality, and their exercise equipment is across the board fantastic.
One last thing, before you buy. Both bikes are highly sought after. As soon as they come into stock, they inevitably sell out again incredibly fast. If you're seriously interested in owning one of these, you need to get your hands on them while you can.
---
References and further reading