About the 900XL – A heavy duty recumbent exercise bike
The Exerpeutic 900XL is a robust and competitively priced folding, semi-recumbent bike with low to moderate resistance suited to larger users, for sale in the UK.
The recumbent design offers an intense calorie burn without the stresses and strain associated with other exercises such as treadmills or jogging. The 900XL can accommodate a wide range of users up to 300lbs (136kg / 21 stone), making it very versatile for multiple occupant homes.
The 900XL is exceptionally stable, with extended leg stabilizers to reduce noise and annoying vibration when cycling. The oversized seat and backrest allow the user to sit back in comfort, protect their spines, and add security to the seating. The three-crank, high torque pedals are adjustable and offer a smooth and natural pedalling action. Users may track their stats on a large print LCD screen.
The 900XL suits those who have smaller living areas folds up neatly when not in use, and is lightweight and highly portable. The 900XL doubles as a desk bike for height-adjustable desks and provides easy entry and exit to the padded seating area.
Exerpeutic 900XL Features at a Glance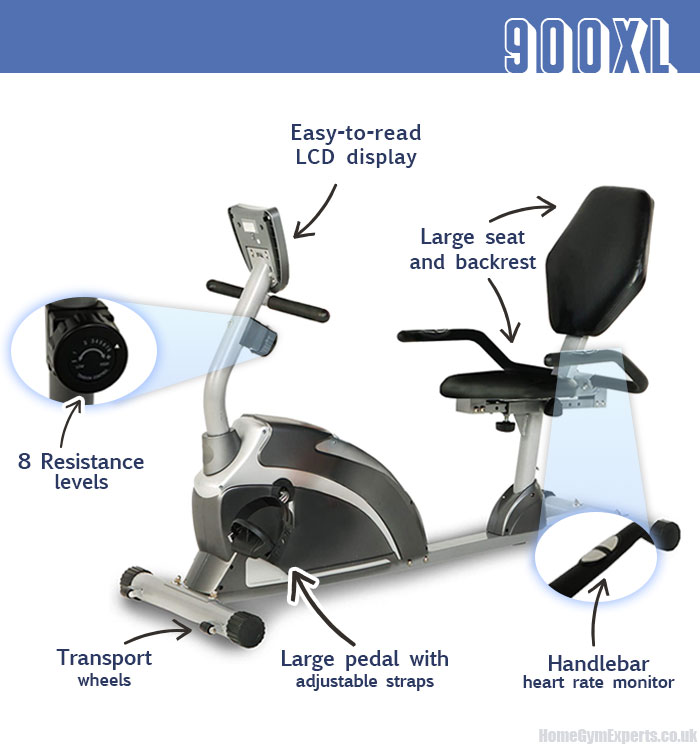 Dimensions 54" L x 22" W x 34"
Weight 63lbs
User height: 5'3-6'6
User weight capacity 300lbs (136kg)
Large oversized seat cushion and backrest
8 Resistance levels to choose from
Recumbent design for less stress on joints and knees
Easy-read LCD tracks distance, calories burned, time, speed, and heart rate information
Extended leg stabilizers for shake and vibration-free training
Large pedal with adjustable straps
Handlebar heart rate monitor
V-belt drive and a smooth cranking system for quiet operation
Extended leg stabilizers to prevent movement
Large pedal design with straps for security
Three-year frame warranty, six months parts.
---
Related Elliptical Guides & Reviews
---
Benefits of the Exerpeutic 900XL
Good Calorie Burn for Weight Loss
The Exerpeutic 900XL offers a great way to rid yourself of excess weight while still being kind to your joints. The recumbent seating offers enhanced stability when exercising, allowing those with injuries to safely work out while losing excess weight at home. In fact, a 180lbs user may lose up to 882 calories per hour, according to Harvard Health.
Gentle on the Joints
Unlike upright bikes, the semi-recumbent bike is kind on the joints while providing more upper body engagement than the fully recumbent exercise bike. The padded seat and backrests offer more secure seating, and the cycling angle is softer on the knees and joints than other forms of cardio exercise like running and upright stationary cycling.
Great for Fitness and Rehabilitation
The Exerpeutic 900XL is not only great for fitness but the partially reclined position can also be used for rehabilitation after injury. The semi-recumbent position avoids the chance of back strain protects the hips. This feature makes the 900XL a suitable exercise option for those suffering from inflammation of the joints or back injury.
---
Who is the Exerpeutic 900XL Aimed at?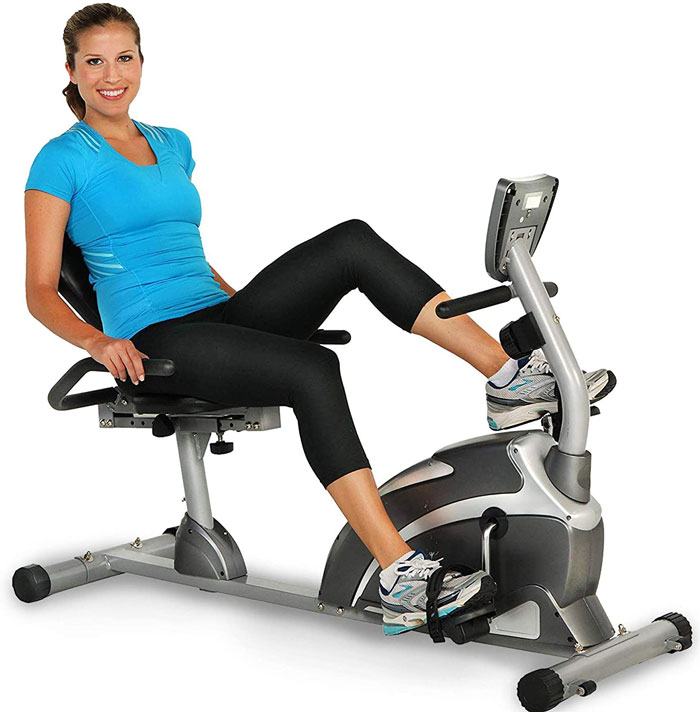 The competitively priced 900XL accommodates those seeking low to moderate intensity training from home. The eight resistance levels allow users to build up their endurance and shape and define their lower bodies while engaging their arms and core to a lesser extent. The 900XL also suits those with injuries or older persons who wish to maintain their fitness safely and effectively.
A good recumbent bike for limited space
The foldable, light, and portable nature of the 900XL makes it perfect for those who have less space in their home, and the 900XL can accommodate a variety of user shapes and heights. This versatility makes the 900XL great for persons who intend to share the equipment between users in a living space.
The 900XL would not suit those seeking high-intensity training due to its restricted size flywheel and limited resistance levels. The compact nature of the 900XL makes it a great entry-level bike for those starting on their fitness journey or those who are injured and seek a more secure means to achieve their workouts.
---
What We Liked About The Exerpeutic 900XL
Comfortable Position and Design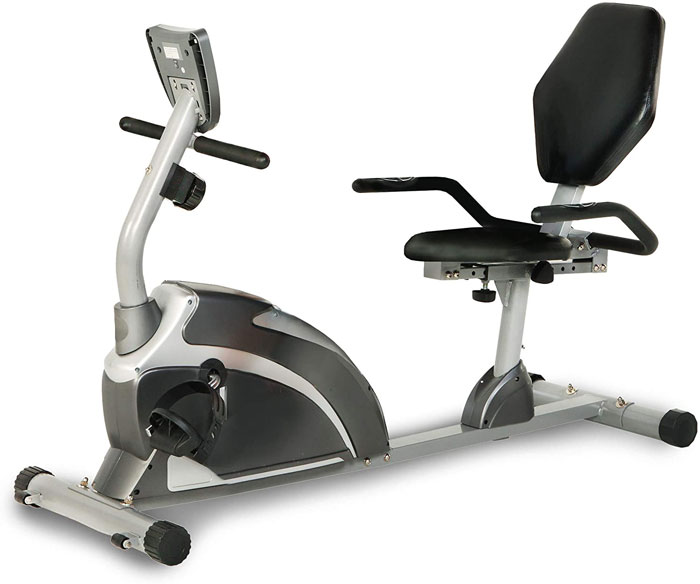 A good recumbent bike for taller riders
The recumbent design allows a more relaxed workout position without losing out on the burn you expect from a workout. We liked the 'best of both worlds' feel of the 900XL, which engages more of your abdomens' core engagement than the fully recumbent models. It also provides less joint stress and the sometimes uncomfortable saddle soreness associated with stationary bikes, which can be savage on the 'sit bones.'
Smooth and Secure Cycling Motion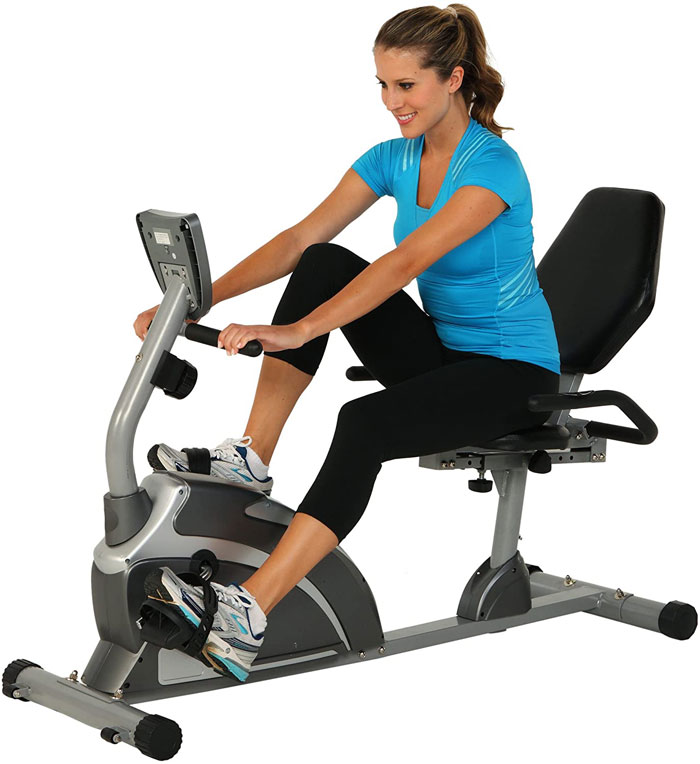 We found the cycling action relatively smooth and surprisingly stable considering the compact dimensions and light 63lbs weight of the kit. The extended leg stabilizers minimize the rattle and vibration during a workout, although one needs to provide an anti-slip mat for use. It is not the quietest in operation, but that is a given considering its lower comparative price in the recumbent range.
Easily Folds and Transports Well
The 900-XL folds up quickly and neatly and can be moved easily from place to place on its inbuilt cater wheels. Not many exercise bikes fold, so we liked the space-saving aspect of the design. The seat and backrest fold up neatly, and the flywheel tucks into the body for a slim profile.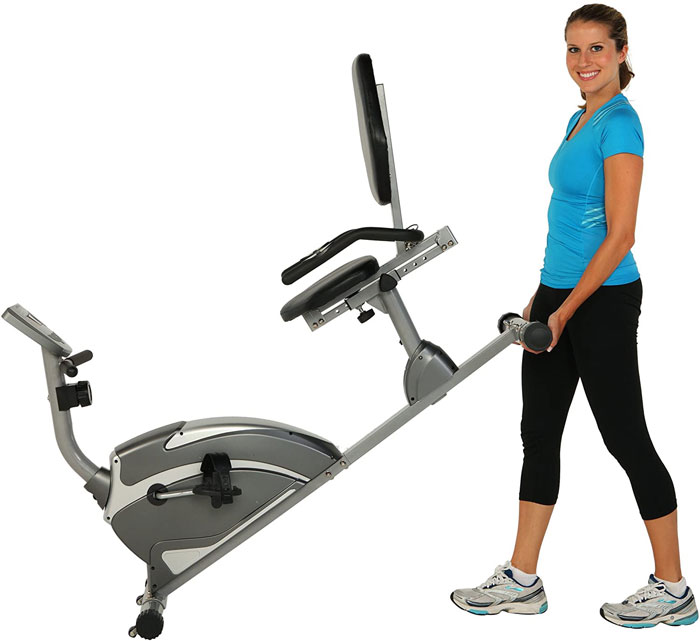 Straightforward Assembly
We enjoyed the easy assembly and the fact that the kit includes an Allen wrench /Phillips head screwdriver for assembly. The 900XS comes partially assembled, and although the instructions seem complicated at first sight, they are easy to follow. We had the kit up and running in under half an hour which is a plus.
Dual Function
We liked the dual functionality of the 900XL and tried it out at our adjustable work desk at 44″. The secure seating and arrangement of the pedals at a 45-degree decline make it easier to slot into a work desk (although the desk will have to be reasonably deep to accomplish this.)
We could still type at resistance levels one to three easily, which means you could have a steady calorie burn while busy at your desk.
---
What Could Have Been Better
No Pre Set Programs
There are no pre-set programs, so one has to create one's programs with manual resistance. One may expect this lack with the low price tag, but it would have been a nice touch to include just essential pre-sets. There is also no app compatibility on this entry-level offering.
Low to Moderate Resistance
What the 900XL gains in its compact size, it loses in resistance capacity. Ideally, this product would suit those who are injury sufferers of individuals who are are new to the world of home exercise.
---
Conclusion
This entry-level offering from Exerpeutic is a robust and well-designed piece of home exercise equipment with few bells and whistles. Still, it gets the job done smoothly and with surprising stability.
I would highly recommend the 900XL for older users, or users who suffer from joint or back pain, as well as users who need to start their training from the ground up. For moderately fit users, there is sufficient burn to ensure that sustained intensity training will shed extra weight and shape their bodies.
---
900XL FAQs
Where can I download a manual for the 900XL?
You can get a copy of this manual from ManualsLib by following this link.
Exerpeutic 900XL Specs
Brand
Exerpeutic
Model
900XL
Color
Grey
Display Type
LCD
Drive system
Belt
Magnetic Tension Levels
8
Height
10 inches
Item display length
42 inches
Weight
31.75 kilograms
Material type
Metal
Meter
‎Heart Rate, Speed,
Calories Burned, Time, Distance
Power source
‎Corded Electric
Features
‎Leg stabilizers, Heart rate sensors,
Larger pedals with safety straps,
Transportation wheels, Adjustable seat
Batteries included?
Yes
Maximum weight capacity
300 pounds
Product Dimensions
‎137.16 x 55.88 x 86.36 cm; 28.58 Kilograms
Foldable?
No
---