Treadmills are, and always will be, a staple form of cardio in most people's health and fitness plans.
We are literally designed to run. Almost anyone can use a treadmill, whether that's just to get in some extra daily steps, or cranking up the pressure with an interval and incline workout that leaves your legs burning.
A huge running deck, powerful motor and iFit combine to make this brilliant treadmill for anyone serious about running.

Display: 10" HD Touchscreen

Display: 10" HD Touchscreen

Works with phone or tablet
In 2023, ProForm is entering the market hard by updating their Pro range of treadmills, which are designed to compete with the best out there.
But are they as good as promised, and which treadmills is correct for you?
Our guide explains everything you need to know.
Who are ProForm, and what's in their treadmill range?
ProForm is currently one of the most popular fitness brands in the UK and US. They're owned by Icon Health & Fitness, which also own other major fitness properties like Gold's Gym and NordicTrack.
ProForm sits at the higher end of the market, competing with market leaders like Peloton for market share and customer base. Their treadmills run in the mid to high price range, and even the budget-friendly models have a features list that would be the equal of a lot of commercial treadmills.
Their range right now runs from smaller, easy to store models like the City L6, which is ideal for smaller homes or people who are looking for a running deck that can just be slipped away at the end of every workout, up to the Pro Series, which are aimed at the highest end of the market and are true competitors for the best brands, like Peloton and NordicTrack.
Why choose ProForm
Decent Pricing
Across the board, ProForm fitness equipment is very reasonably priced for what you're getting in the box. Their treadmills are no exception. There are no purely budget options among ProForm treadmills, with even the worst of their offerings being mid-range, but this is a very good thing, as it means you can be confident that whatever you're buying is very good, and capable of doing what you need it to do.
Great Motors
A good motor is basically the deciding factor for whether a treadmill is good or not, as it drives the running deck and all of the other working parts, for example, incline and decline.
Every single ProForm treadmill has a powerful motor inside it, including the cheaper, relatively low power ones like the City L6.
ProForm are also confident enough in their designs to advertise their motor strength in continuous horsepower (CHP) which tells you exactly how powerful the motor is under normal circumstances. A lot of cheaper brands instead use maximum horsepower, which is generally not a good metric when it comes to judging how powerful and effective a motor can be.
The Benefits of iFit
In our estimation, every piece of fitness equipment released in the next few years is going to have some sort of linked subscription service attached, because the benefits of services like this are just so large.
Streaming fitness services deliver commercial quality workouts directly into your home, and it's hard to understate just how big this is as an advantage.
It gives you the option to choose from dozens of real-time streamed workouts and literally thousands more from a library back catalogue, whenever you want them, without having to spend time sitting in traffic, getting changed, or showering at the gym. This doesn't sound like much, but it can save you hours of time per month. What could you do with another ten or twenty hours a month? Spend it with your family? Start a side hustle?
Better still, every single ProForm treadmill comes with a 1-month subscription to iFit, so you can try the service before having to pay a penny.
---
Are proform treadmills good quality?
One of the best things about this brand (and the sister company, NordicTrack for that matter) is that the machines are all top-quality treadmills. It's OK us saying that, but what does 'top quality' mean. Let's forget the Proform brand name for a minute and compare them to a lot of the other (often cheaper) machines we've seen and reviewed over the years.
Proper running tracks
the Proform machines have what we'd call 'proper' running tracks; the smallest we could find in their range was 140 x 46 cm, with many pushing over the 150cm x 50cm track size. This trumps a lot of the cheaper machines up for grabs at other online retailers in the UK. Basically, you won't be cramped and the experience is more like what you'd get in a commercial gym.
Large, tough frames
Even the cheaper models in Proform's range weigh over 85kg. While weight isn't an indicator of an awesome treadmill, it's a clue that it's not going to wobble all over the shop once you hit your stride. This is also reflected in the max user weight limits which again exceed what's generally available online.
Solid Warranties
There's nothing worse than spending a big chunk of change on a high-tech piece of exercise equipment that looks set to change your life, only for it to break down within months of purchase.
That's why ProForm treadmills all come with market-leading warranties, including lifetime warranties on frames and decade long warranties on parts and labour on some of the bigger, higher-end models.
---
Breaking down the ProForm Treadmill Range
So let's get down to some specifics here and check out the Proform range in detail so you don't end up with the wrong machine. There's a good choice too, with a machine for each budget and user. Let's dive in.
The ProForm Pro Series
ProForm's elite level fitness solution, the Pro series is aimed at top-level trainers and each one of the three models comes with a monstrous feature list, big, powerful motors, automatic inclines and large, clear touchscreen displays.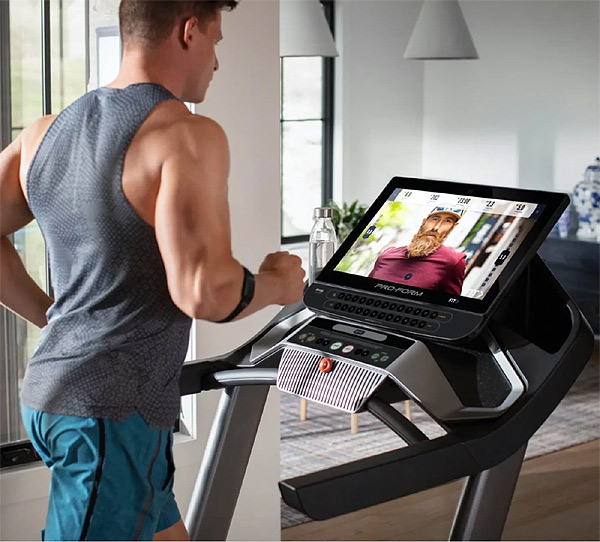 This means that the Pro series is also equipped to take advantage of the full benefits of iFit, including comprehensive workouts both on and off of the system. Each ProForm treadmill comes with one month's iFit membership as part of the price, giving you access to gym quality workouts from the comfort of your own home.
But put simply, the Pro 9000 is a serious new competitor in the high-end treadmill game. It's an absolute animal, built around a rock-solid core of invincible frame, powerful motor, and excellent running deck, with solid top speeds and powered incline suitable for basically every training type.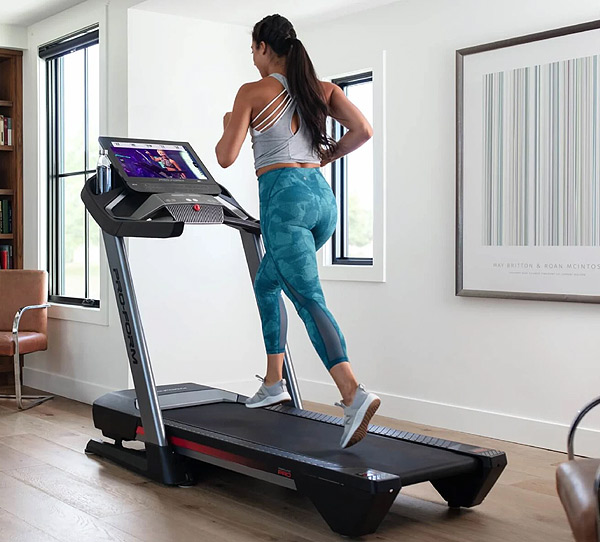 Building on top of that is the massive 22-inch touchscreen that's fully iFit ready and equipped to deal with whatever the future of fitness is, whether that's entirely interactive home workouts, or just watching Netflix as you go for a jog.
The Pro Series is also priced incredibly aggressively, offering a features list that's on par with the best treadmills on the market, for several hundred pounds less, and a huge warranty that covers the working parts for nearly a decade.
We've already written a full review on the ProForm Pro 9000, which can be found here.
---
The previous king of the ProForm range, the Pro 5000 is a seriously impressive piece of kit that still performs incredibly well, with better performance in some areas than its bigger brother, despite the slightly lower price tag.
First off, it has the largest motor out of any ProForm treadmill, with a 3.75 CHP power block. The overall top speed is the same as the rest of the Pro series, but the 5000 does have the largest incline, from a -3% decline up to a 15% incline, 25% higher.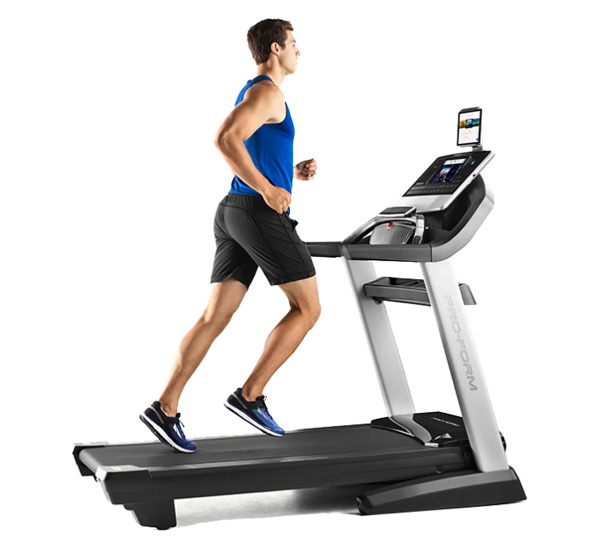 Unfortunately, the Pro 5000 lags a little behind on the extras, with some of the bells and whistles lacking. Given the choice, we'd recommend looking at the Pro 9000, or even the Pro 2000.
---
Despite being the baby in the Proform Pro range, the 2000 doesn't lack in features at all. It runs off a seriously impressive 3.25 CHP motor block that offers near-equivalent performance to the top of the range models, with the same speeds, and -3 to 12 degree inclines.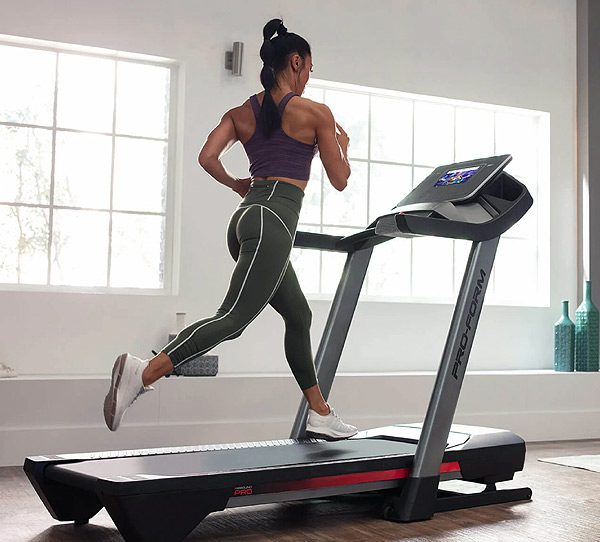 It comes with 1 month of iFit subscription, the same as the rest of the range, and features the same cushioned running deck, with the same 300lb maximum weight limit.
So what's different? The screen, which is much smaller, at just 10 inches high. It's still a fully high definition touchscreen, and more than good enough to serve its purpose. But you might struggle to see it if you're off the treadmill itself, so iFit workouts can be an issue,
But for the price, this is an impressive piece of kit and more than competitive with basically anything else at equivalent cost.
---
Related guides you might like
---
The ProForm Power Series
Designed primarily as a runner's treadmill, the Power 995i is built around features that ensure it has as much "power" as possible, so you can get the most effective workout for the price you pay.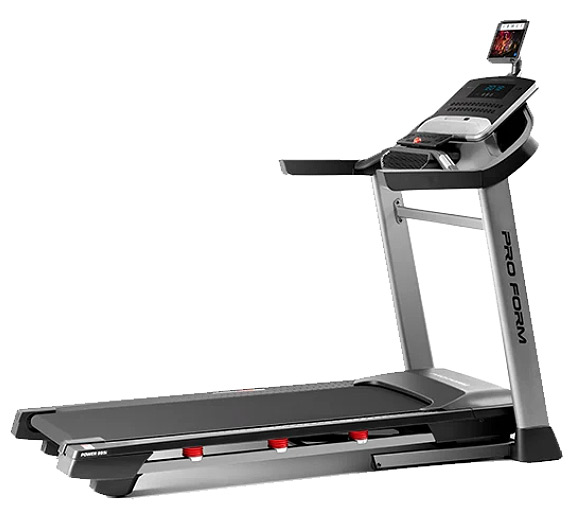 With that in mind, the Power 995i has a big, chunky 3.0 CHP motor that pushes this up to speeds of 12mph, even when it's running under the maximum user weight of 300lbs, and the 12% maximum powered incline. Those are figures that are good enough for serious training, and are equal of almost any other treadmill on the market, despite coming in at around half the cost.
So why is it comparatively so cheap? Two simple reasons.
The first is that it doesn't have a key feature that a lot of bigger, more expensive treadmills have. Decline. But honestly, decline, while it's nice, isn't anywhere near as essential as an incline feature for any sort of training, and it's hardly something most people are going to miss.
 The second reason is bigger. No touchscreen, only a basic LCD display. It's common to see large, high-clarity flat panels on treadmills now, and the ProForm Pro series, reviewed above, are a prime example of that.
But cutting that away saves a lot of the total cost, at the price of having to use one of your own devices. But if that doesn't matter to you, and you've got a tablet or other device ready to link, then the ProForm Power 995i is a big, powerful running deck at a very impressive price point.
---
The ProForm Performance Series
First introduced in 2018, the ProForm Performance 800i was a seriously impressive piece of kit when it came out, but as one of ProForm's older models, it's slowly starting to show its age. Don't get us wrong, it's still an impressive piece of kit, but the newer models in the range are just that much better.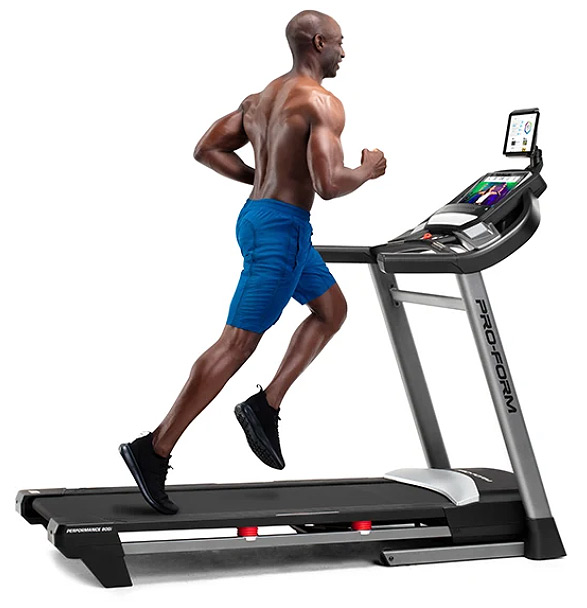 Built around a 2.75 CHP  motor block, the Performance 800i has decent performance across the board. Speeds run up to 12.5mph, with a powered incline and decline feature that can go as high as 10% and low as -2%. This is a pretty impressive performance, and almost as good as the Pro 2000.
The touchscreen is a 14-inch panel that's clear and easy to use, and there's the option for a BLE chest heart monitor. Maximum user weight is also high, at 300lbs, and despite being a big chunk of the running deck, at 18 inches by 60 inches, it folds up to save almost half of the total floor space when not in use.
Realistically, for the price of the performance 800i, you should always spend the extra couple hundred pounds on the Pro 2000 or 5000. They're newer, updated models, with much bigger motors, better screens, and more built-in tech, for basically the same price.
---
The City L6 is a smart, thin running deck that's been, as the name suggests, specifically designed for city life and the needs of the modern worker and modern home.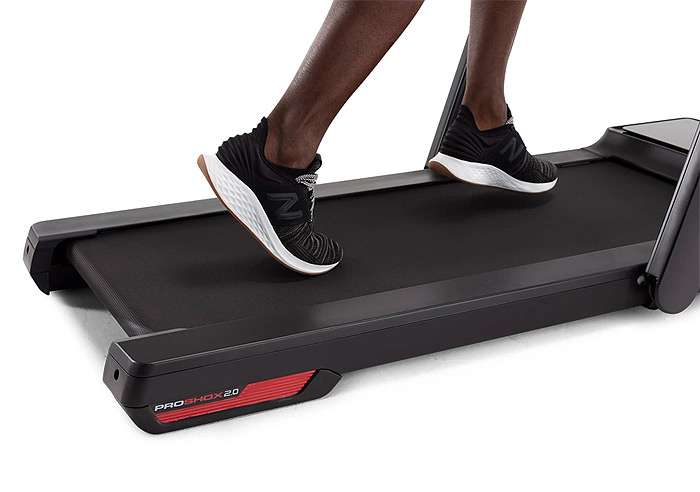 With that in mind, when it's not in use, the L6 folds away near completely flat at the touch of a button, letting you stow it under a bed, a sofa, or vertically in a cupboard using its storage wheels.
The motor is a lighter 2.0CHP, which is impressive on a deck this size, which can push it up to just under 9mph, with a maximum user weight of 250lbs. These are solid numbers. Not exceptional, but enough to get the blood pumping and a decent cardio workout in.
Further reinforcing the fact that the City L6 is a lighter system that's built around general fitness rather than hardcore training is the fact that there's no touchscreen, only a basic LCD display. But, oddly, even as the most budget-priced treadmill in ProForm's range, this still comes with a month's free iFit subscription, which is worth more than half the actual treadmill's value alone.
Put simply, the City L6 is a solid treadmill that offers surprisingly good performance at its price range. It's not going to compete with the bigger systems, but it was never designed to. If space is at a premium, and you're looking for a solid workout option, on and off the treadmill, the City L6 is a great choice.
---
Proform Treadmill FAQs
Are NordicTrack and Proform the same company?
You might have noticed some similarities between NordicTrack and Proform (such as most machines come bundled with iFit), even though their treadmills and other products aren't the same.  The two aren't technically the same company but they are both brands belonging to a Utah based company called iFIT Health & Fitness, Inc. (formerly ICON Health & Fitness).
Where are Proform treadmills made?
Although Proform is based in Utah, its treadmills are manufactured in China.
Can I use my Proform running machine without iFit?
Yes! Although Proform machines seem like they're built to be used with iFit and nothing will work without the service, they are designed to be used 100% with or without iFit. The online service has a monthly charge but if that's not your thing then the treadmill works as any other treadmill does, without it.
Where can I get a lost Proform treadmill manual?
Downloading the user manuals for any Proform running machine is a fairly simple process. Just go to this URL: https://www.iconsupport.eu/user-manuals?manufacturer=6 and put part of the model you're looking for in the description box eg pro 5000. Then hit Apply and you should be able to download the manual you need.
How do you activate your Proform treadmill?
This might catch you out when your running machine arrives and refuses to work. You've got to activate the machine with one of these methods:
Download the iOS app (for iPhones or iPads)
Download the Playstore app (for any Android-based phones and tablets)
Go to iFit.com/activate on your computer and follow the steps there.
After you've done that, your machine will be ready to run!
Find out more about activating your Proform machine here.
---
Final thoughts
For the last few years, ProForm has been a reasonable competitor in the treadmill sphere, offering a slightly cheaper alternative to their sister company, NordicTrack.
But with their latest models, released new and shiny for 2023, ProForm look set to push into the big leagues. The Pro Series, the Pro 9000 in particular, are almost a match for anything else on the market.
Reasonably priced, with a great features list and iFit built-in, expect to start seeing ProForm on every single best treadmill list in the next few months.
---
References & Further Reading