Treadmills remain probably the single biggest staple form of cardio out there, and it's the one that everyone seems to turn to when they're looking to get fit or lose fat.
Peloton, well known for their elite level home fitness bikes, are new to the treadmill market with the Peloton Tread. But how does it compare against the big names on the market, specifically, the NordicTrack X11i, probably its closest competitor?
The Peloton Tread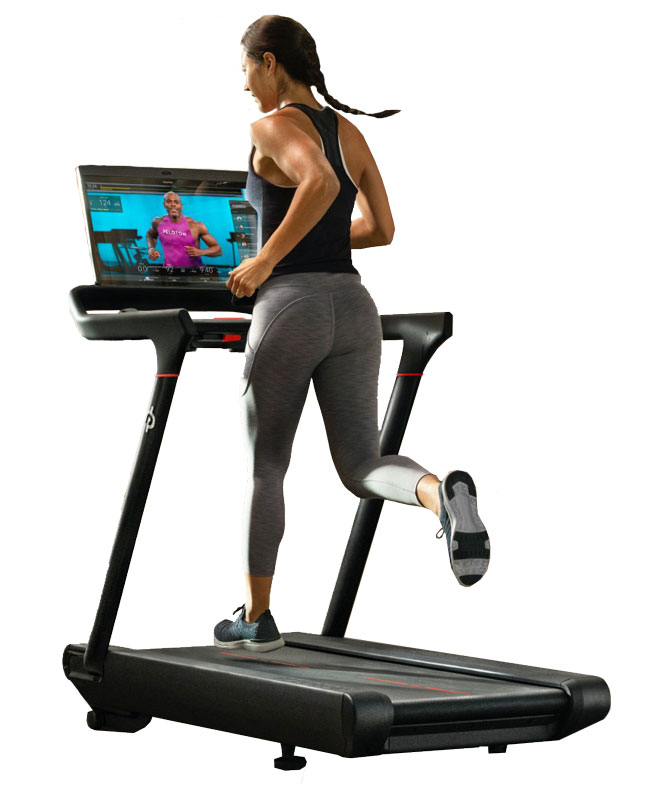 Peloton's entry into the high-end, fitness app equipped treadmill marketplace, the Tread is designed as a direct competitor to systems like the X11i and other brands like SportsTech.
At first glance, it's an incredible beast of a machine, fully equipped with everything you'd expect from a serious fitness system. But how does it actually measure up against the big names?
The NordicTrack X11i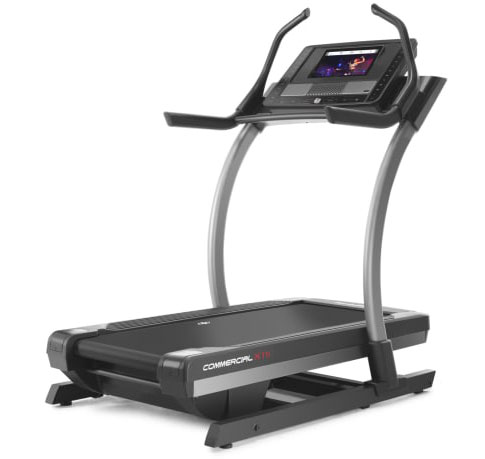 The mid-range machine in NordicTrack's Incline Trainer series, the X11i is a fully contained workout machine that's equivalent or better than anything else on the market.
Equipped with NordicTrack's premium level running deck, a massive motor, and an absolutely ridiculous incline feature, as well as access to iFit, their exceptional fitness app.
---
Related Guides
---
How do the X11i and Tread compare?
Build Quality

In terms of general build quality, both treadmills are surprisingly similar. In that, they're built like tanks, and there's no circumstance in which you should ever be damaging one of these with a standard workout.
Both Peloton and NordicTrack are known for the quality of their equipment, which is reflected in build quality, the incredibly tough steel frame, and all of the extras.
This is reflected in their build. Both have a colossal maximum user weight of 300lbs (136kg,) solid steel frame, and all of the fixings, including a comprehensive console and screen on both treadmills.
Usability, the console, and layout

The console is one place where the Peloton Tread stands out. It has an enormous 24-inch panel that has a crystal clear touchscreen, with a built-in webcam for active training.
Controls are simple, a pair of dials set onto the handles to the left and right, easy to turn and adjust even if you're at high speeds. There's also all of the usual comforts features polycarb tray in the front for your essentials like your phone and two water bottle holders.
In contrast, the X11i has a smaller screen at only 10 inches, but it's still absolutely crystal clear. The screen is set into the console, with NordicTrack's standard OneTouch controls running up both sides, letting you adjust everything instantly.
Backing this up is the standard suite of Autobreeze fans, sledge bar handgrips, water bottle holders and tablet holders.
The running decks

For their first real treadmill, the running deck on the Peloton is actually incredibly impressive. It's large and responsive, with a lot of padding that makes it a pleasure to run on.
However, the X11i is equipped with Nordictrack's best deck cushioning, which effectively simulates road running and provides a big, stable running surface with almost no vibration bleed from the motor, even when it's at maximum speed and elevation.
Quality Winner: The Peloton Tread
Motor, top speed and incline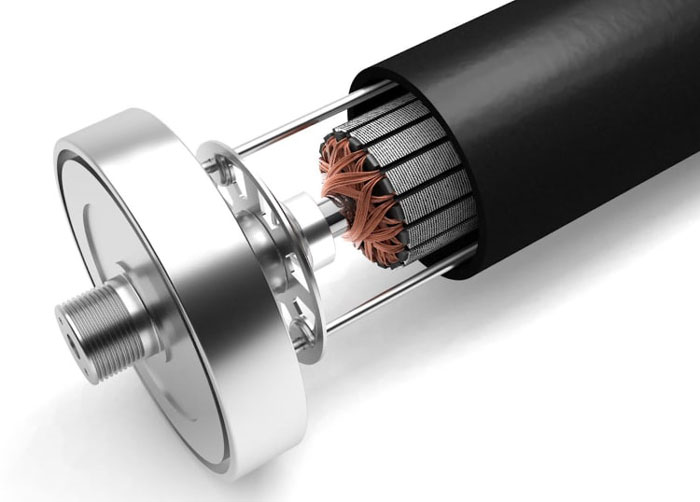 Here is where we start getting into real differences.
Both the Peloton Tread and the X11i have equivalent top speeds, up to a maximum of 12.5mph (20kph.) This is an impressive top speed, more than enough to handle any workout you throw at it.
But beyond this, performance between both treadmills is significantly different, mostly because of the difference in motors.
The Peloton Tread has a 3 horsepower (HP) DC motor to drive its belt. That's a serious chunk of metal and a lot of power for a treadmill this size. Even cranked up to maximum speed, with someone approaching the weight limit on top, the treadmill doesn't struggle or chug.
But comparing it with the NordicTrack is like night and day. The X11i has a 3.75 continuous horsepower (CHP) motor, which is around 25% stronger at peak capacity and basically doesn't slow down. And it needs this power. Because that motor also drives the incline features of the X11i, and this is where both treadmills really differ.
The Peloton has a 12.5% maximum incline, that moves in distinct 0.5% increments. That's fairly decent, as these things go, and pushing the incline that high allows you to increase the intensity of your workouts to high levels.
But the NordicTrack is in a different league. It has an absurd 40% incline, which is more than three times higher than the Peloton Tread, as well as a 6% decline. These combined are close to matching the best on the market, including treadmills that cost double what the X11i does.
On top of this, the incline is fully powered, and adjustable using NordicTrack's SmartTouch controls, as well as through trainer-led workouts. This means you don't even have to worry about changing any settings. Just fire up your favourite program and go.
Motor and Speed Winner: NordicTrack X11i
The Fitness Apps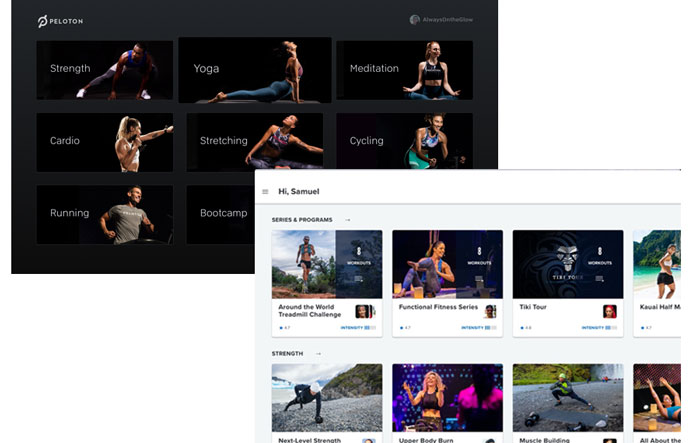 In terms of their fitness apps, Peloton and iFit are both market leaders.
Each app smoothly integrates with their parent machine, with simple to use controls and easy to navigate menus that let you access the thousands of on-demand and live-action workouts.
Both apps have literally thousands of workouts in their libraries, with dozens more added weekly, and live, trainer led classes that link directly into your treadmill and adjust speed and incline on the fly, without any input from you.
So both apps are impressive. The biggest difference is the pricing model.
At first glance, they're relatively similar.
The Peloton App, as of writing, costs £39.99 per month and gives you full access to the app for you and your household.
iFit costs £29 per month, with a four-person membership plan, with again, full access to everything.
The reason this matter is that NordicTrack gives you a free one-month membership to iFit as part of the purchase of their machines, and Peloton … don't.
That adds a further cost to the price of the Peloton Tread, one which buyers of the X11i don't need to worry about for 12 months.
And while you don't technically need the app to use either of these, honestly, if you're going to spend this amount of money on a quality treadmill and not pay for the fitness app, you're missing out on a major chunk of its functions and advantages.
App Winner: NordicTrack X11i
The Warranty
There's another huge difference between these products when it comes to the warranty.
The Peloton comes with a decent 1 year on parts like the touchscreen, and 3 years on the frame and motor, i.e., major working parts. This is adequate, especially considering that the Tread is tough enough to last for a lifetime if looked after.
However, when directly compared to NordicTrack's monstrous warranty, it seems to fall a little short. The X11i has an industry-leading warranty that gives you 2 years on parts, 10 years on the motor, and a full lifetime warranty on the frame.
This speaks to NordicTrack's trust in their product and means that, no matter what, you're going to be covered.
Warranty Winner: NordicTrack X11i
---
Which one is right for you?
The Peloton Tread is a fantastic first foray into the world of treadmills, and we'd expect nothing else from the brand. The Tread is a decent piece of kit that more than justifies the asking price and certainly won't disappoint anyone who's used to the commercial quality treadmills you find inexpensive gyms and health clubs.
With that being said, NordicTrack is a far more established name in the treadmill game, and what's on offer here is basically the best on the market.
The X11i is a monster. Powered by a big, powerful block of motor, it equals speeds and demolishes the incline levels of basically anything else on the market, meaning that you're going to be able to train better on this than almost any other option.
What's on offer through the app is utterly comprehensive, with more workouts than a person could complete in a lifetime, and more being added every week.
Finally, the warranty on NordicTrack products is ridiculous. If anything goes wrong (which is unlikely, because these things are built better and more over-engineered than a mid-90s Volvo) then you're covered for a literal decade on the motor and a lifetime on the frame.
The single reason right now to choose the Peloton Tread is because it has a larger and more luxurious HD touchscreen. But NordicTrack even covers that. If that matters to you, then the next step in the range, the X22i, has a much larger 22-inch screen, and a slightly bigger motor, for a reasonably small step up in price.
---
Final thoughts
NordicTrack continue to be the world leader in the treadmill game, and the X11i, as their mid-range commercial level treadmill, is, at its current price, one of the best on the market, if not the best.
If you're looking for a treadmill that has enough power, speed, and incline to take literally any workout you can throw at it, then the NordicTrack X series currently sits as kings.