Think you've got no room for a home gym?
Let's face it, we're always fighting for space in our homes, and having enough room for the perfect gym set up is a dream that's beyond a lot of us. Most of us are lucky enough to be able to dedicate part of our garage or spare room to our fitness goals, let alone set up the perfect fitness palace.
But just because you're limited on space doesn't mean your gym can't be great. Here are our top tips on how to make your home gym the best it can be, no matter how small it is.
---
1) Get a MINI multi-gym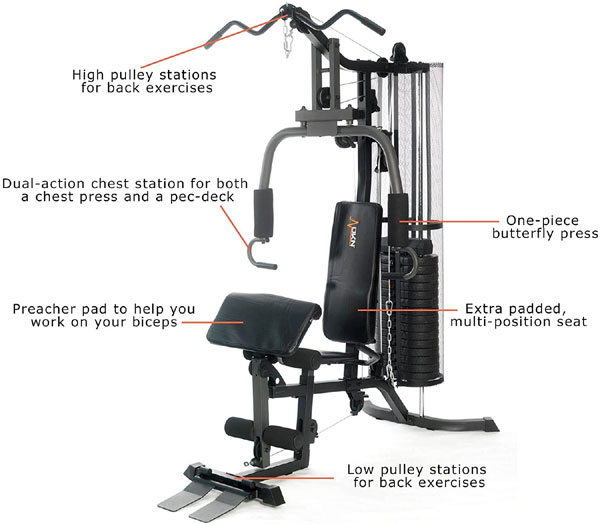 Multigyms are a simple and easy way to maximize your home gym space. Modern multigyms pack enough exercise stations that you can easily hit every single muscle group and take up a whole lot less space than buying all of that gear separately.
You can buy a modern multigym for a surprisingly cheap price and still get a decent deal. We've already written a whole guide on the best budget multigyms out there in 2023.
Even better, multi-gyms are a fantastic way to get a full workout in, especially if you're interested in strength training. And there's such a wide variety of different products out there that, no matter what you're looking for, you can find one that's perfect for your goals.
---
2) Forget dumbbells and get some of these instead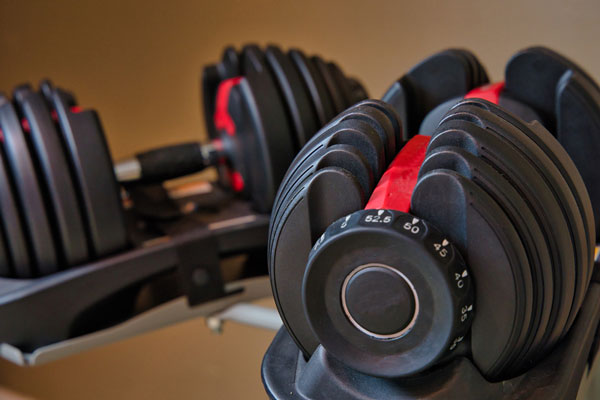 One of the biggest space hoggers in most gyms is the free weights. A set of dumbbells is one of the most flexible tools you can have in any gym, but if you want a decent set that can be used for multiple exercises and actually lifts heavy, you're looking at a lot of real estate.
If you're really lacking space, we recommend a good set of adjustable dumbbells. Instead of multiple plates, adjustable dumbbells all tend to stack up on the same baseplate, meaning that you only have to find space for the footprint.
On top of this, changing weights tend to be much faster, so adjustable dumbbells are perfect for supersets, Crossfit, and other high-speed, high-volume workouts.
Check out our guide on adjustable dumbbells here
---
3) Take advantage of some seriously clever gym storage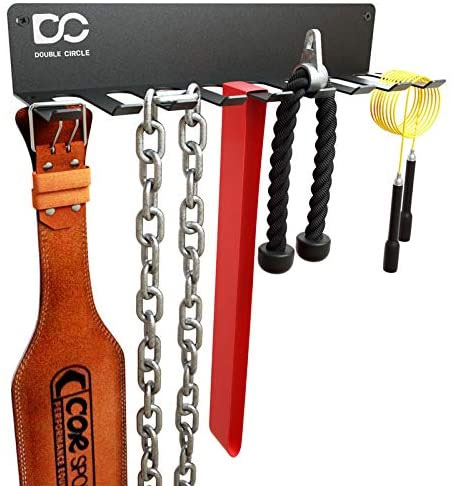 Take it from us. When you're setting up your gym, make everything as effortless as you can. You'll quickly get tired of digging everything out every time you want to work out, and you're going to save so much time by having everything instantly accessible.
It's also smart to use existing space. In most gyms, there's a ton of room that goes unused. Whether that's under benches, on the walls, or hanging from the ceiling, find ways to make use of all the room you have.
Wall storage options
In most rooms and garages, it's hard to go wrong with a set of heavy-duty storage shelves. They provide the maximum amount of space, for a budget price.
Smaller items like gloves, resistance bands, and yoga gear, can be stored on wall organizers, with options like this for yoga mats, or more general exercise storage like this.
Ceiling storage options
Most people never consider the ceiling, but a set of garage hooks can let you make use of space that's otherwise going to go to waste.
Boxes, carts, and caddies
Having somewhere to take 5 and stretch it out is never a bad thing, and an ottoman, like this one, or some sort of another bench, provides somewhere to store all of your smaller bits of gear.
It might seem, (and look) a little ridiculous, but a basic and cheap storage cart can hold a huge amount of stuff and can be wheeled into a cupboard or corner when it's out of use, which saves so much space.
Stackable storage boxes are literally never going to be a bad thing.
---
RELATED GYM GUIDES
---
4) Be merciless – de-clutter your fitness gear
Let's be honest, when was the last time you used that super-secret 'fit in 5 minutes' gadget you bought at 3 am a few months ago?
When it comes to fitness, most people buy so many things they don't need. The basics work best for a reason, and all you really need for a good workout plan is a way to lift weights and your preferred method of cardio. Anything else is a bonus.
Exercise equipment can take up a lot of space, so pay close attention to what you actually use, and what just sits in the corner rusting and gathering dust. You can always donate it or sell it on and buy something shiny with the profits.
Work out exactly what you need, and cut what you don't.
---
5) Revamp your garage
Garages are literally the perfect space for a home gym, which is why we've written a whole series of articles on how you can create your own perfect workout space.
With already durable floors, lots of space, and easy access to storage on the walls and roof storage solutions, it's easy to convert your garage, but there are a few things you should pay particular attention to.
First off, let's talk about your gym's flooring. The right flooring makes a huge difference. It's so much more comfortable, the increased grip makes workouts much safer and easier, and trust us, your knees aren't going to enjoy training on bare concrete for long.
The bare essentials for flooring are a set of EVA foam tiles, which are simple to install and provide a solid, cushioned surface for your feet, and any dropped weights.
Second, you need storage. Look up to our pointers on storage for what you need to do, but garages are generally easy to convert, with ample storage room around the walls and in the ceiling.
Finally, there are logistics to consider. Do you need extra heating? How about more power sockets, or a stronger set of lights? You're going to be using this space year-round, so it should be as easy and comfortable as possible.
---
6) Use outdoor spaces
You don't always have to be constrained to exercise in your house. If you're lucky enough to have a garden or outdoor space to train in, you can easily use it for bodyweight work, lifting, stretching routines, and cardio.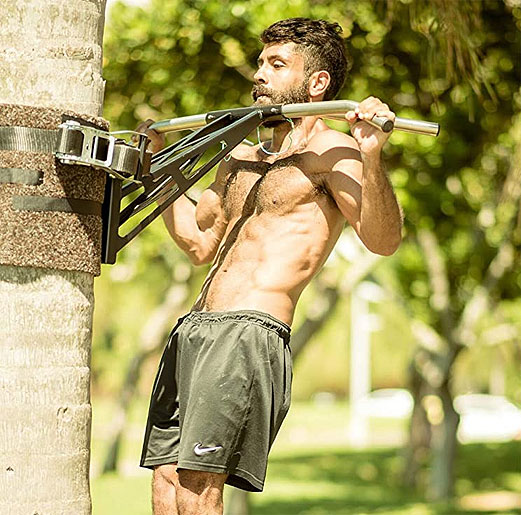 If you don't have a garden, there are other options. Local parks are a great place to exercise, and there's nothing stopping you from throwing in a few sets of bodyweight exercises as you go, and if you live in a city, there are the sure routes you can run, and probably even running groups to join.
7) Pick portable gym gear that doesn't need a permanent space
When people think about a home gym, they normally think of a permanent space like a spare room or a garage.
But with a bit of crafty thinking, you can set yourself up with a gym that can fold down, slide away or be tucked away in under a bed or cupboard. This list could run on for ages but here are the most popular things we've seen people use when they have ZERO space for a home gym.
A Yoga mat – Sounds simple but a really nice quality mat like the rehut exercise mat opens up a world of possible training. Yoga, pilates, callisthenics, aerobics. Think it sounds like hokum? Get on youtube and try some online classes.
Skipping ropes – as long as you've got a high ceiling or a place outdoors to train in, you've got a wealth of possible fitness options with a simple skip rope. Again, there are some brilliant online workouts you can follow along with on good old Youtube.
Resistance bands – This gym in a bag sounds too good to be true but you'll be amazed how tough a workout you can get with this cheap bag of tricks. You'll normally find the kits have a range of and strength that mimick different weights in the gym. This bag can be packed away easily after each workout.
Rebounders – These awesome bits of gym gear can often be found in folding kits which you can slide under a bed or tuck behind a sofa when you're not using. They offer a hard workout that will strengthen your whole body and are great for cardio too.
 Folding exercise bikes – Thought you didn't have space for any gym gear? You might be impressed by some of the modern folding upright bikes for sale in 2023. They generally have an X shaped design, which folds down about the size of an ironing board. Ideal for getting a sweat on and burning some calories.
Fold-flat treadmills – While all treadmills claim to 'fold', most aren't exactly space-saving. But there are many that do a great job at this and literally fold to a few inches tall. You can stand them up behind a door or slip them under any furniture where there's room.
---
Final thoughts
Just because you're short on space doesn't mean you have to be short on options.
Once you dig into some of the space-saving fitness gear out there, you can find a bit of kit that will do everything from strength training to HIIT cardio. And they don't need to cost the earth.
Hopefully, our guide has helped you design your perfect gym space. Thanks for reading, and don't forget to share your favourite ways to train in a limited space in the comments!
---
References & Further Reading