If you're researching body scales, this is one of the products you've likely seen. In this guide we're pulling apart the Tanita BMI scales and seeing what they do, and how well they work. More importantly, are they worth the cash. Welcome to the review and let's dive in.
The world's quickest review of the Tanita BC-545N: Although they come at a higher price tag than others in its class, the Tanita scales have a very high level of accuracy and the detachable hand sensor is not just a gimmick. You can track imbalances and different body parts separately.
Pro-quality at home. A very good set of scales if you don't mind the price.
---
What exactly are the Tanita Segmented Body Composition Scales?
For anyone new to the world of measuring your body composition, Tanita's scales are a way to measure all kinds of interesting data about your body other than how much you weigh. Your weight is, oddly enough, not the best way to measure how much fat you have.
Using some pretty ingenious technology, Tanita's scales (and others like them) can accurately estimate all kinds of cool stats, including:
What your percentage of fat is
How dense your bones are
How much muscle mass you have
Your BMI
Track your visceral fat (the fat you get around your organs… Ewww!)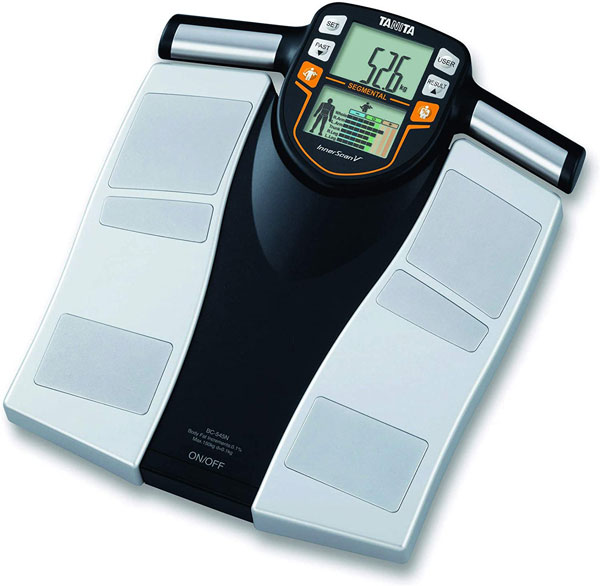 Tanita is well known for its exceptional scales, with a full range that runs from high-end scales used by doctors and nutritionists, simple bathroom scales, and even kitchen scales.
Tanita's body composition scales boast the same level of accuracy as their professional series, as well as a bunch of smart techs that are going to let you take control of your health and fitness in a way that you've never been able to before.
Check Current Amazon UK Price
---
Tanita Scales: At A Glance
A quick overview of this BMI scale's features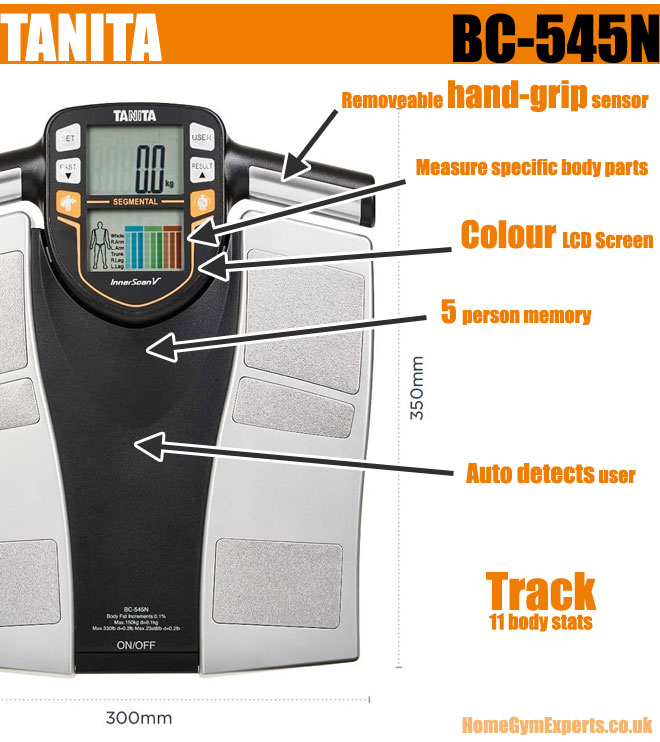 Measures 10 body composition figures in 15 seconds
Large, easy to read displays
Removable hand reader
5 person user memory
Guest mode
150kg max user weight
Downloadable app
3-year warranty
---
Who will get a lot out of this scale?
You can get a bathroom scale pretty cheaply, so why spend £160+ on one like this?
Body composition scales are an invaluable tool for anyone who's looking for a deeper insight into their health and fitness.
A set of body composition scales doesn't just measure your weight. Instead, it sends a minor electric current (so low that you won't even feel it, let alone be hurt by it) through your body and measures the resistance it meets.
This electric charge allows the scales to measure how much body fat and muscle you actually have on your body, which can be a huge help if you're looking to understand yourself and what you look like under the surface.
The problem is simple. Every person is different, and two people at exactly the same weight can have an entirely different body composition, based on bone density, muscle density, fat deposits, and even things like subcutaneous fat.
Worse still, there's literally no way to tell what your body composition is without reading it using complicated and unreliable methods like calipers, or high-tech tools, like this.
Anyone can benefit from body comp scales, but realistically, there are two groups that would see the maximum benefit from a set of these:
People who are looking to lose weight, and are serious about their time and investment.
Performance athletes who need to know their exact body composition.
---
5 Things You might just love about Tanita's Scale
It helps you lose weight – Gauging your weight-loss progress with regular scales is so much hard work as they don't tell you how much fat you have lost. You might just have less water in your body. Setting a clear picture of your actual fat % makes the job much easier.
If you're struggling to get the body shape you want – Even going to the gym, counting calories and eating healthy food won't guarantee you get the shape you want. Getting proper, accurate measurements helps see where you're at and move towards your next target.
It helps you get healthy – well, duh, you might say. But one thing you can do with a decent body composition scale keeps track of your visceral fat. Someone could be skinny but have lots of visceral fat around their organs. While you'll still have to take steps to lose this, the first one is knowing how much you have.
It's fun to share!  One awesome thing about Tanita's scales is that 5 people can track their body using them. And the cool bit is there's no weird logging on. Nope, you just step on the scales and it will recognise you.
The hand sensor opens up a lot more options – Comparing this scale to others in its category, the thing that stands out is its detachable hand sensor. Not only does this bring the display closer to you, but it enables you to track different body parts, such as how much fat you have on your arms.
Check Current Amazon UK Price
---
Our Review: What the Tanita Body Composition Scales gets right
The accuracy
According to Tanita, their scales are independently verified to be accurate to within +/-5% of your actual body fat percentage. That's incredibly impressive, and it's backed up by thousands of user reviews saying the same thing.
It's also incredibly simple to use. The head of the scales, and the display section, are mounted on a set of horizontal bars, like a set of bike handlebars. You remove this section, hold it for 15 seconds, and the scales do the rest. It's simplicity itself.
Make sure that you calibrate your scales when you first get them and you'll get accurate readings time and time again.
The fantastic display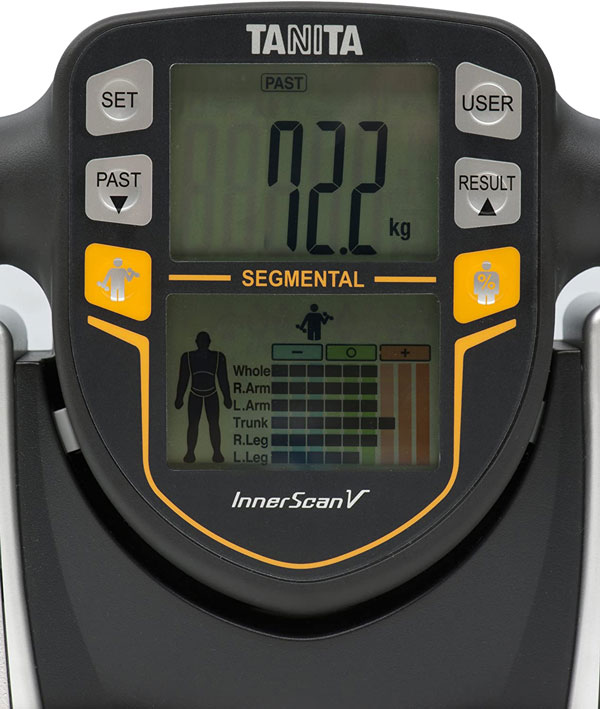 Unlike a lot of scales, the display on these scales is fantastic. The LCD displays are incredibly simple to read and understand, and they're broken down into two separate sections.
The top section is a large, easy-to-read set of LCD numbers that displays your current weight, as well as other figures as selected on the simple, side-mounted controls.
The bottom figure is a visual readout that shows the different areas of your body and breaks down your body composition into an easy-to-see graph that anyone can understand.
One thing that we do love is how in-depth these go with statistics. The sheer range of data that are provided to you when you step off of the scale is mind-blowing, including things like bone mass and your basal metabolic rate.
All of this is useful, and if you're a big geek when it comes to tracking your stats (like me!) then you'll quickly fall in love with it too.
Solid, reliable construction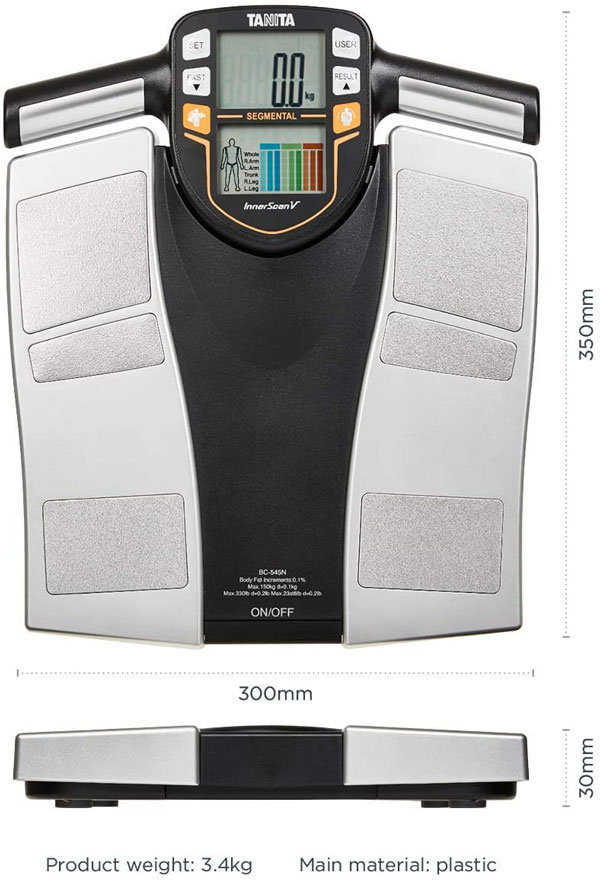 Despite being packed with technology, these scales are reassuringly sturdy when stepped on. They have a high maximum user weight of 150kg (330lbs) and everything is made from high-end materials, which gives them a solid, professional feel.
Space for 5 users
The benefits of Tanita scales are impressive enough that, once your family sees the change in you, they're going to want to get in on the fun.
This is why these scales come with space for 5 individual users in their memory banks. Each user has their body composition saved, with updated health and fitness records available to everyone.
There's also a guest user option, for the inevitable times when friends and neighbours come over, and you have to show them your new toy. Perfect.
The phone app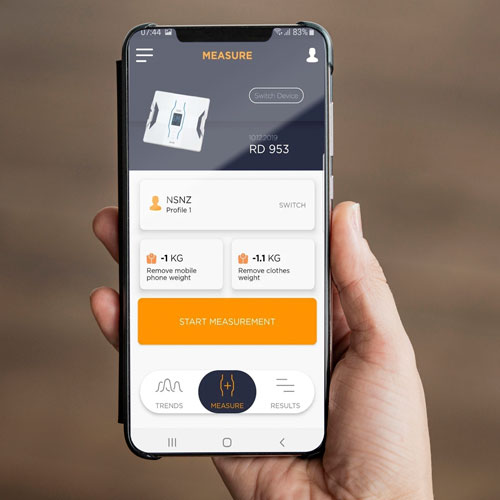 My Tanita lets you monitor all of your relevant metrics from any Tanita-connected system. Set goals, check if you're on target, and see how you've progressed, all on any Bluetooth-enabled device.
---
RELATED BODY COMPOSITION SCALES GUIDES
---
What we don't like about the Tanita Segmented Body Composition Scales
The price
There's no avoiding it, the price tag on these scales is reasonably hefty. However, if you're serious about your health and fitness, then a set of weighted scales is a tool that's going to make it much simpler to see precisely where you're at, and that's something that you can't put a price on.
It runs on batteries
Like most scales, this uses AA batteries to power itself. It's a minor niggle, but at this price, it would have been nice to see a rechargeable lithium battery instead.
---
Final thoughts
Tanita makes expensive scales, but they're worth it. The accuracy and sheer depth of insight you'll glean from this thing just can't be matched.
These are simply some of the best body composition scales on the market right now, and come highly recommended.
Have you ever used body composition scales? How did your experience go? Make sure you let us know in the comments below!
---
BC-545N Full Specs
Brand
Tanita
Model
BC-545N
Health Metrics
11 measurements
Unique Features
Body Fat and Muscle Mass per segment
Batteries
4x AA
Mode: Athlete + Guest
✓
# Users
5 person memory
Weight Capacity
150 Kg
Weight
2.5kg
Dimensions
39cm x 31cm x x 3cm

Body aspects measured
Arms
Legs
Trunk area
Clock
Yes
Calendar
Yes
Hand sensor
Retractable hand electrodes
Auto-recognition
Yes
Made in
Japan
Time to reading
15 seconds
Major stats
Muscle mass
Bone density
Hydration levels
Visceral fat
Metabolic Age
---
RESOURCES AND FURTHER READING