Save money and time with our guide to the best vertical climbing machines on the market at the moment. If you've not heard, these home gym machines are a serious new way to get in shape, offering an all-over body workout that will tone up arms, legs, back and core muscles and also lose calories. Lets dig in and see what the best products in this category are.

#1 Sportstech 2-in-1 Stepper & Vertical Climber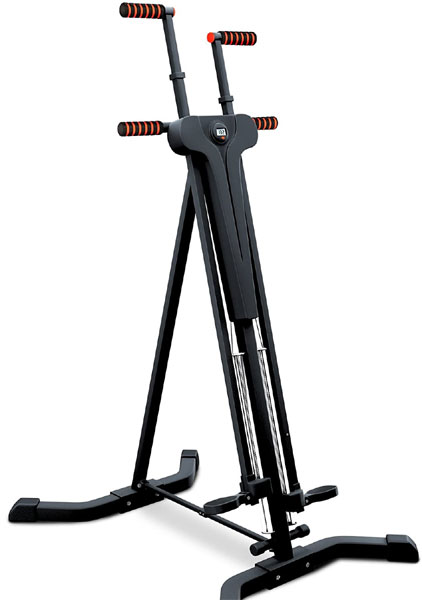 If you're in a hurry and looking to jump to the best vertical climber in the UK at the moment, you'll want to look at the Sportstech VC300 machine. It's hands down the top choice, offering great build quality, features and value for money. This climber currently has a very high rating on Amazon.
Lets get into this and find out why it's so successful.
Superb quality
One thing that really sets a good vertical climber aside from the bad ones is how sturdy it is. The natural climbing motion tends to generate a lot of sideways movement and we've seen machines that wobble around and just don't feel right. Sportstech have brought their trademark sturdy feel to this machine and, as with the other gym gear of theirs's we've reviewed, the VC300 is extremely stable to use.
Surprising low price
We're not going to tell anyone they should charge more for their gym gear as we love a bargain here on Home Gym Experts. Having said that, the VC300 is currently up for grabs at a below-market value price. It's cheaper than the Maxi-Climber (not to mention it's actually in stock!) You even get some lubricant to keep things running smoothly.
Simple display that gets the job done
The VC300 mountain climber comes with a simple LCD display built into the frame. It's nothing flashy or exciting but it will track your time and steps. It gets the job done and you'll have some kind of target to work to or, better yet, beat on your next climbing session.
This machine is also blissfully easy to put together. And the other real selling point with this stepper is it's simple to fold down and takes up a decent small footprint when folded. So it's a good choice if you're looking to get in shape but don't have loads of room to spare. You're also getting a 2-year warranty, which is great for peace of mind.
There's really no advantage to choosing a more expensive model than the Maxi Climber UK as it's got a fantastic build quality, it's a great price and it's the best vertical trainer around in 2023.
Budget price
2 year warranty
Surprisingly solid construction
Folds away to a compact size
Good, natural climbing motion
Step counter is basic but readable
Check Current Amazon UK Price
---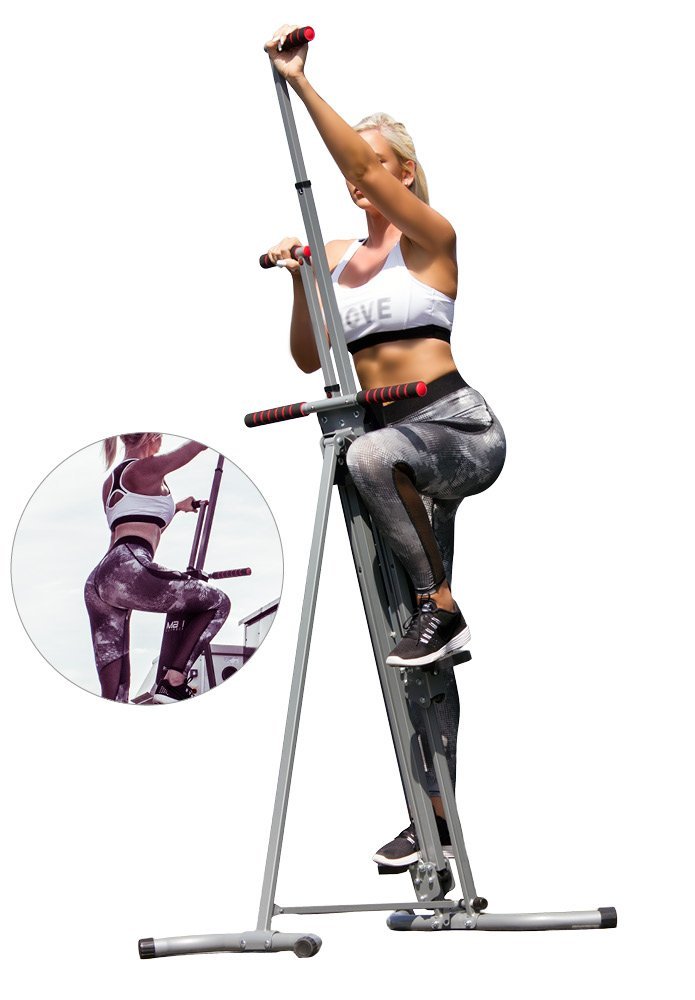 This is the climber you've probably seen on youtube or on the shopping channel. It's a solid bit of fitness equipment that's has a no-nonsense design and is built for serious workouts.
It will give you both a cardio workout and strength training to get in shape and tone muscles. Basically, it's a machine that will help you lose weight and get fit.
The built-in display does a great job of keeping track of your progress –  in terms of calories, steps and time. Even if it's nothing flashy.
Free 3 year warranty
Another thing that we like about this climbing machine is that it comes with a free 3 year warranty. So that covers you against anything wearing out and breaking. Important for exercise equipment that you're planning on using regularly. Having said that the Maxi Climber is built from durable steel and can take up to 110kg (17st 4lb).
A tough workout for users of all levels
Even people who are used to lots of training find the MaxiClimber gives them a challenging workout in a lot less time than running or cycling. It's a tough workout designed to get your muscles, heart and lungs going! New users needn't worry though. You can take it at your own pace and try short bursts, start with 5 minutes and build up gradually.
The Assembly of this climber is a straightforward affair. Literally, a few bolts and you're ready to start training. New users – take it easy and pace yourself. Vertical climbing workouts can be tough! Everything is easy and quick to adjust so you can share with your other half and not spend ages messing around with height. Heights of up to around 6′ 5 are supported.
Perfect for beginners
… but strenuous enough for gym heads
Get a serious workout in ten minutes
Free 3 year warranty
Folds away and can fit behind a door, or in a cupboard
Nice and quiet when in use, just a sliding noise
Good value for money at under £150
Monitor could be higher so you can see when training
Check Current Amazon UK Price
---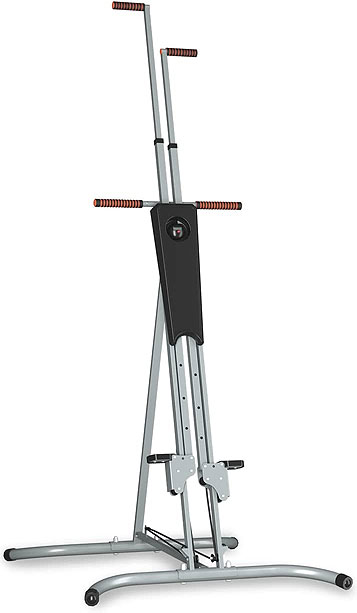 The number three spot in our vertical climber reviews goes to Dripex's product. It gives you a good all-over-body workout with as little time commitment as 10 minutes a day.
As with all vertical exercise machines, there's no impact on your joints and you can do either fast arm and leg movements (for cardio) or longer strides for muscle toning.
Assembling this machine should take you around 10-15 minutes. There's nothing complicated about assembly but take care if there are children around. This mountain climber is fairly light too (12.5kg) so it's easy to move around and store somewhere when not in use.
You'll find that this climbing machine feels stable when you're using it and can take user weights up to 100kg. It also folds up and its dimensions folded are 36 x 74 x 184cm. Unfolded you're looking at 90 x 74 x 220cm.
Solid design with a chain-driven mechanism
Fully adjustable for all sizes
Noisier than we'd like
Basic display
Check Current Amazon UK Price
---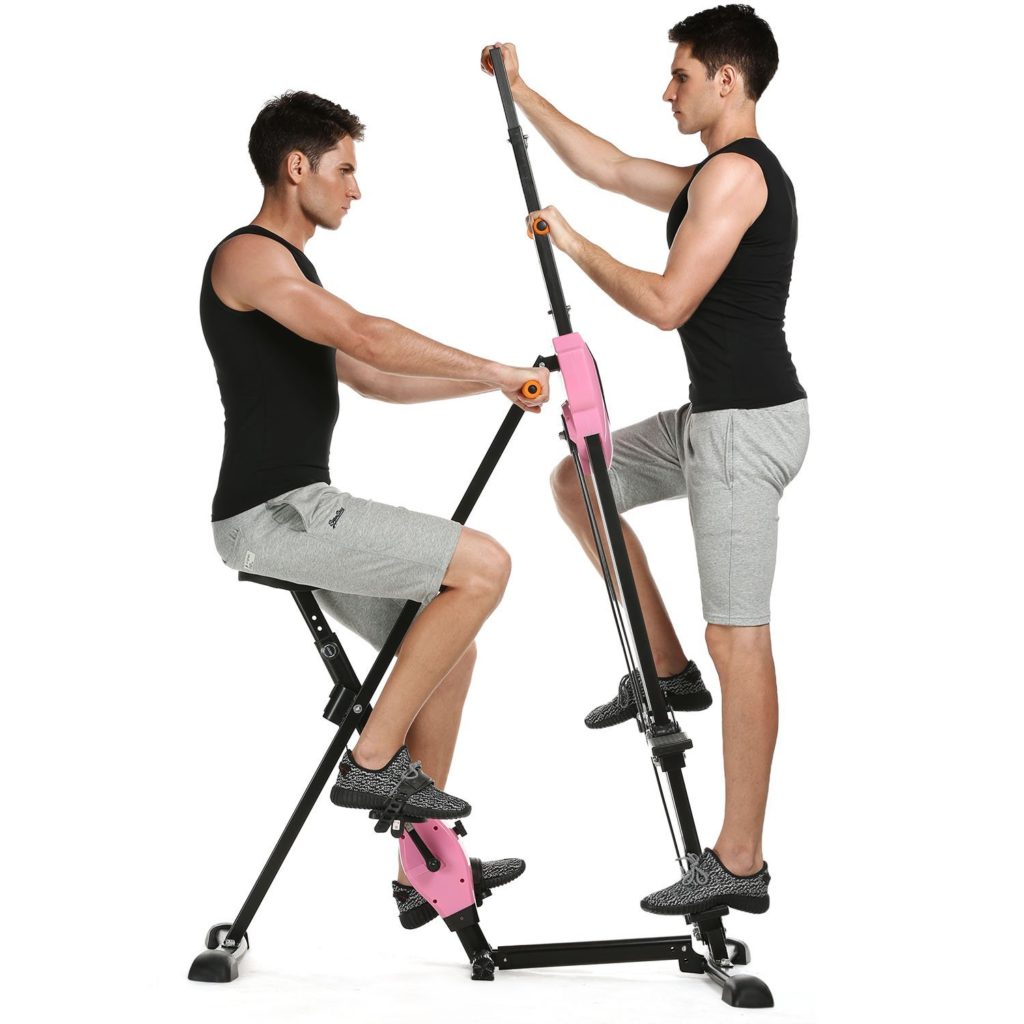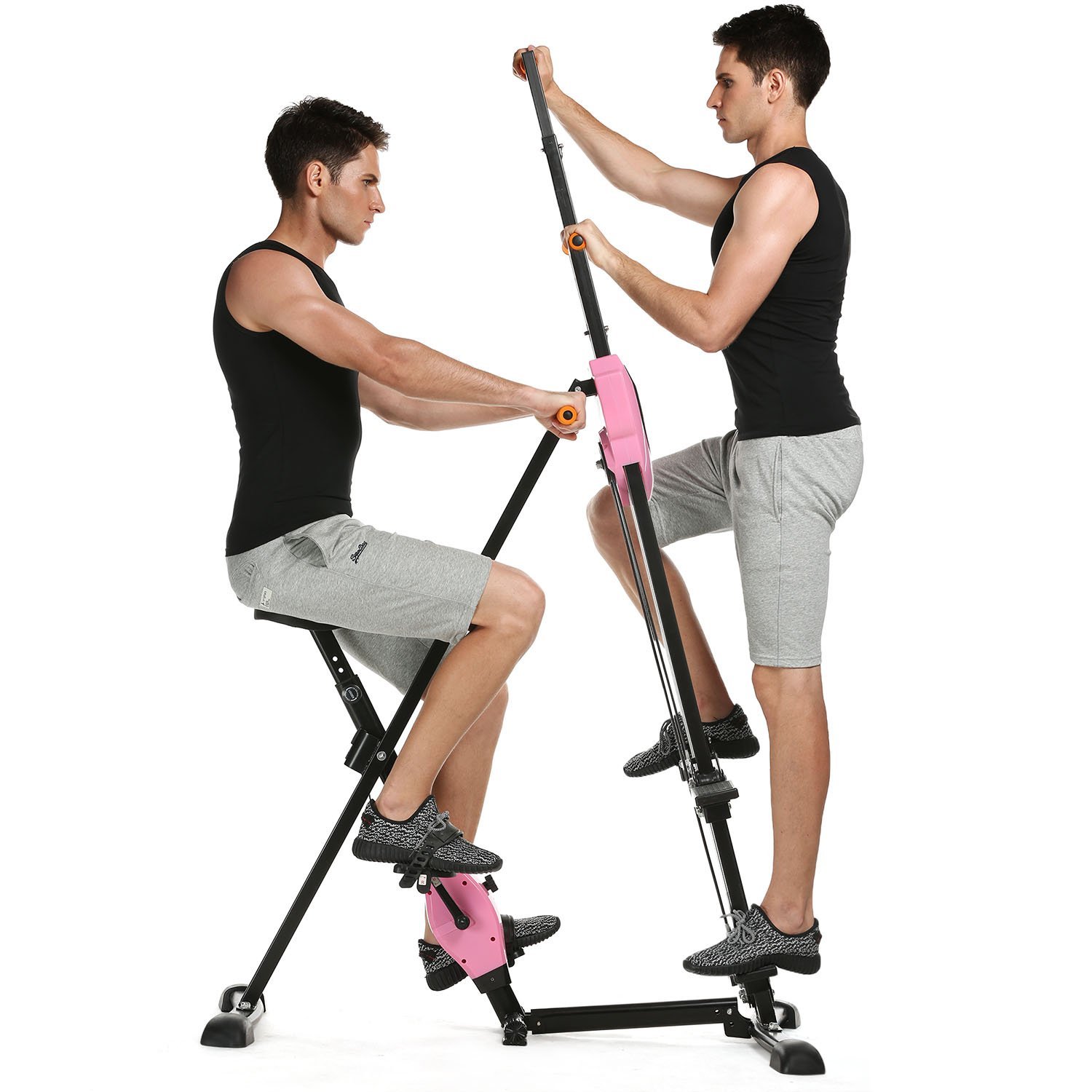 Here's an interesting idea: combine an exercise bike with a mountain climbing machine. That's exactly what you get with Caroma's 2-in-1 fitness trainer.
If you need a break from scaling those peaks, sit back and burn some calories on your bike instead. But how's the quality and does it really work?
Let's talk about quality first. This is a good, solid design and although not the cheapest climbing machine, offers excellent quality. Assembly is quick and easy, and all tools are included.
This fitness climber saves some space as it folds away sort of neatly. Obviously, there's more to fold here as there's an exercise bike side to it, but it does save some space and can be moved after your workout.
There's a very neat little LED display that shows everything from a basic step count to time, distance and calories shredded in your workout. It's not fancy but it's exactly what you need.
Another thing worth mentioning is that some care has been taken in the design of this climber to reduce noise while you're using it. Some machines can sound like you've got a steam train in your home gym but this one has a welcome smooth, quiet mechanism. You probably won't notice when you've got your tunes on, but it's worth mentioning if this is important for you.
Out of the two, the exercise bike is the easier option as climbing machines do make you sweat a lot faster! So it's nice to be able to vary workout intensity. This is basically a machine designed to get you in tone and burn some serious calories.
Easy to put together, no really!
Good looking bit of kit, and good quality
Easy to store
Combines two exercise machines for some serious calorie slaying
Erm, pink… if you're not OK with that
More expensive than the Maxi-climber
Check Current Amazon UK Price
---
#5 – Rocket Bunny® Vertical Climber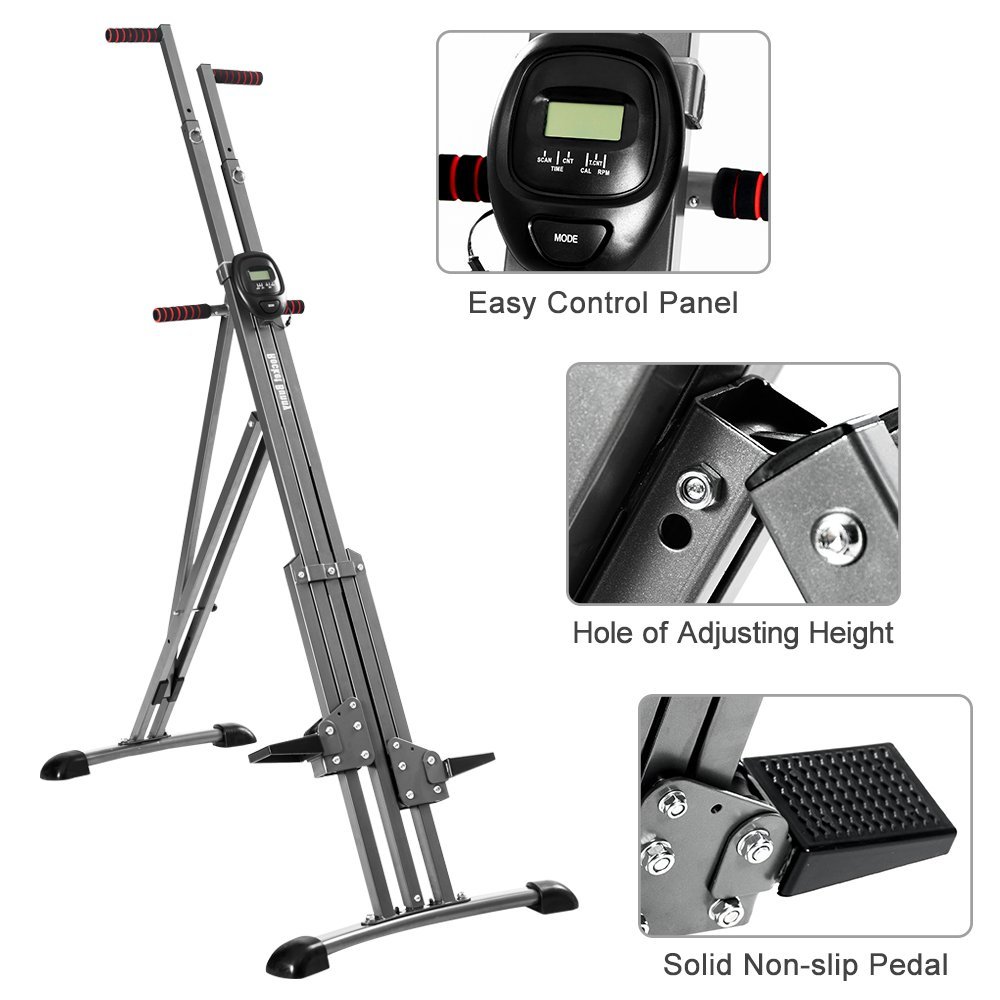 If you're looking for a decent cheap vertical climber then you might want to have a look into the Rocket Bunny model, sitting proudly at the budget side of our guide.
Lets delve into this vertical climber's details and see if it can compete with the more expensive models you can buy.
While this is a cheaper model than some of the other climbing machines on sale, you're still getting a solid workout and benefiting from the low-impact training that you can only get from climbing exercises.
Speaking of the design, it looks modern and is made from a solid steel frame. This vertical climber can take a user weight of up to 150kg. The non-slip pedals make it safe to use and ensure you can focus on your workout. The height and armrest can be adjusted to suit your height and body size.
While the control panel is basic, it offers the important data you need to monitor your workout. Obviously, you have to make some compromises at this price range but there's nothing wrong with the LCD display, except it is a little on the small side.
This climber is a folding model that takes up minimal space once your workout is finished.
Excellent value for money at under £100
Small footprint
Easy to fold away and store
The Control panel display is small and basic
Lacks some of the features of more expensive verti climbers
---
Vertical Climber's Buyer's Guide & Tips
What exactly is a vertical climber?
In a nutshell, this is a bit of home gym gear that will work out a large number of your muscle groups at the same time, while building your cardio.
To say it's a bit like climbing a ladder doesn't quite do it justice because you're simultaneously climbing up on one side and pushing down with the other.
Muscles you'll be working:
Shoulders
Chest
Back
Buttocks
Biceps
Thighs Calves
Cheaper home models
The term 'vertical climber' covers a wide range of products and you might have seen some larger, chunkier ones at commercial gyms.
The home training kind costs substantially less and has a lighter frame that's designed to be folded away. They're around a tenth of the price, but the drawback is you don't have the same level of stability you get from the larger commercial machines at the gym.
Tech talk: V-Climber Features
Displaying and counting your progress
Vertical climbers generally have a basic counter that will track how many 'steps' you've completed. It's a basic LCD affair and because of the way the machines are built, it's generally stored at your waist level, making it hard to see unless you jump off.
For anyone looking for a more advanced form of tracking, you can use your Fitbit (or another fitness tracker) to get your heart rate, calories, and amount of work done over time. You can also use a heart rate strap if you've got one from your other gym equipment.
Pulley or chain?
You'll typically find these machines have either fabric rope pulley or a chain drive. Neither kind is especially quiet, but the rope pulley.
Why you might love these fitness machines
It's a good cardio workout
If you're wondering if these machines are just a gimmick or not, it's definitely possible to get your heart rate up pretty easily. The one caveat is that, like rowing or running, it depends on how much you put in.
Vertical climbers also lend themselves well to HIIT sessions, where you will work intensely for short periods of time. If you're looking for a real challenge, either build your own program using a free app or follow along with one of the climber machine guides on youtube.
You'll be training most of your muscles
Like cross trainers, vertical climbers do a great job of working out multiple muscle groups at once. This saves time and money, while working on your overall muscle tone and strength.
They're comparatively cheap
With treadmills setting you back up to £1000 and beyond, and rowing machines not far behind, a stepper will normally cost less than the £250 mark. As far as gym gear goes, they're a cheap way to get in shape and tone up.
They don't take up much space
One of the advantages of one of these climber machines vs a treadmill or rower is that they take up a fraction of the space.
They're also far easier to store than all but the most compact running machine. They're lightweight too – anyone should be able to carry this and stash it in the spare room or a cupboard.
Why you might want to hold off on that v-climber
While we think these machines have some merit, they're not going to be for everyone. Here are some things you might not like about vertical climbers.
The climbing motion is very repetitive
Like rowing and running, you're basically doing the same thing over and over. But with rowing and running, it's a little easier to vary your workout in terms of resistance, incline, and using different programs.
With Vertical climbers, you're doing the same thing without much variation.
It's a limited range of motion
Another thing with these climber machines is that you're only using a fairly limited set of motion. Ideal if you're just looking to break a sweat and shed some calories. But our recommendation would be to combine this with some other exercises – even some free, bodyweight ones.
Not everyone will be able to do this exercise
This is a full-body workout so you'll need to be pretty much injury-free throughout your body. If you've got back problems, this is definitely one to avoid (try a recumbent bike instead).
Climbers are not silent!
There's a kind of repetitive sound to most vertical climbers. It's not deafening but you'll hear the bars sliding up and down. If you're looking for something you can do early without waking the rest of the house up, you might want to try something different as this is quite a loud way to get in shape!
One thing you can do to reduce the noise is to oil the climber. You can use WD 40 for this or silicone lubricant (the same one you put on treadmills). You'll need to apply it to the machine's rods. This is a good regular habit to get into as it will keep your vertical climber running smoothly.
If you want to increase your muscle size
Vertical climbers are great for overall fitness and toning your muscles up but if you're looking to actually make your muscles larger, you'll need to do resistance training.
Tips for getting the most out of your Vertical Climber
So, you've picked the best climber and it's standing proudly ready for the first workout? Here are 5 tips to getting the most from your workouts.
Stretch before and after your workout – These machines are notorious for making your legs ache the day after, which isn't a sensation everyone likes (although it's a sign you're muscles are getting stronger). Take time to warm up and stretch before getting stuck into your training.
Start small! As with any new exercise, the worst thing you can do is hop on and grind away like a mad man or woman. Set our time to 5 minutes, 10 minutes or just enough to get a sweat on and raise your heart rate. Increase over time and build up your climbing sessions gradually.
Try a youtube workout (see below) – A great way to make the time fly while you're exercising on your vertical trainer is to follow along with a youtube video on your phone (Smart TVs are even better for this). A good video is Rosalie Brown's 20 Minute. You definitely don't need to do the full 20 minutes though.
Use your phone to time yourself – There are some great free apps (just search the app store for 'HIIT apps' and you can set your own workout, complete with low-intensity sections and high-intensity parts. Track your steps each session and try to beat it next time.
Protect your floors – As with pretty much any training equipment, it's a good idea to get a decent mat to go under it to protect your floor. Especially if you're planning on using your vertical climber on hard or wood floors. They're fairly cheap and will add a bit of cushioning to the machine too. This is a really good one on Amazon.