Notice
: Undefined index: tracking_id in
/web/sites/dusker/affiliateCode/custom-shortcodes.php
on line
11
Notice
: Use of undefined constant REMOTE_ADDR - assumed 'REMOTE_ADDR' in
/web/sites/dusker/affiliateCode/amazon-shortcode.php
on line
3
Notice
: Undefined variable: amazonTest in
/web/sites/dusker/affiliateCode/amazon-shortcode.php
on line
13
Notice
: Undefined variable: test in
/web/sites/dusker/affiliateCode/amazon-shortcode.php
on line
100
Notice
: Use of undefined constant Price - assumed 'Price' in
/web/sites/dusker/affiliateCode/amazon-shortcode.php
on line
108
Notice
: Use of undefined constant SalePrice - assumed 'SalePrice' in
/web/sites/dusker/affiliateCode/amazon-shortcode.php
on line
109
Notice
: Use of undefined constant LowestNewPrice - assumed 'LowestNewPrice' in
/web/sites/dusker/affiliateCode/amazon-shortcode.php
on line
110
Notice
: Use of undefined constant page - assumed 'page' in
/web/sites/dusker/affiliateCode/amazon-shortcode.php
on line
111
Notice
: Undefined variable: test in
/web/sites/dusker/affiliateCode/amazon-shortcode.php
on line
162
Notice
: Use of undefined constant HTTP_HOST - assumed 'HTTP_HOST' in
/web/sites/dusker/affiliateCode/amazon-shortcode.php
on line
213
Notice
: Undefined index: tracking_id in
/web/sites/dusker/affiliateCode/custom-shortcodes.php
on line
11
Notice
: Use of undefined constant REMOTE_ADDR - assumed 'REMOTE_ADDR' in
/web/sites/dusker/affiliateCode/amazon-shortcode.php
on line
3
Notice
: Undefined variable: amazonTest in
/web/sites/dusker/affiliateCode/amazon-shortcode.php
on line
13
Notice
: Undefined variable: test in
/web/sites/dusker/affiliateCode/amazon-shortcode.php
on line
100
Notice
: Use of undefined constant Price - assumed 'Price' in
/web/sites/dusker/affiliateCode/amazon-shortcode.php
on line
108
Notice
: Use of undefined constant SalePrice - assumed 'SalePrice' in
/web/sites/dusker/affiliateCode/amazon-shortcode.php
on line
109
Notice
: Use of undefined constant LowestNewPrice - assumed 'LowestNewPrice' in
/web/sites/dusker/affiliateCode/amazon-shortcode.php
on line
110
Notice
: Use of undefined constant page - assumed 'page' in
/web/sites/dusker/affiliateCode/amazon-shortcode.php
on line
111
Notice
: Undefined variable: test in
/web/sites/dusker/affiliateCode/amazon-shortcode.php
on line
162
Notice
: Use of undefined constant HTTP_HOST - assumed 'HTTP_HOST' in
/web/sites/dusker/affiliateCode/amazon-shortcode.php
on line
213
Notice
: Undefined index: tracking_id in
/web/sites/dusker/affiliateCode/custom-shortcodes.php
on line
11
Notice
: Use of undefined constant REMOTE_ADDR - assumed 'REMOTE_ADDR' in
/web/sites/dusker/affiliateCode/amazon-shortcode.php
on line
3
Notice
: Undefined variable: amazonTest in
/web/sites/dusker/affiliateCode/amazon-shortcode.php
on line
13
Notice
: Undefined variable: test in
/web/sites/dusker/affiliateCode/amazon-shortcode.php
on line
100
Notice
: Use of undefined constant Price - assumed 'Price' in
/web/sites/dusker/affiliateCode/amazon-shortcode.php
on line
108
Notice
: Use of undefined constant SalePrice - assumed 'SalePrice' in
/web/sites/dusker/affiliateCode/amazon-shortcode.php
on line
109
Notice
: Use of undefined constant LowestNewPrice - assumed 'LowestNewPrice' in
/web/sites/dusker/affiliateCode/amazon-shortcode.php
on line
110
Notice
: Use of undefined constant page - assumed 'page' in
/web/sites/dusker/affiliateCode/amazon-shortcode.php
on line
111
Notice
: Undefined variable: test in
/web/sites/dusker/affiliateCode/amazon-shortcode.php
on line
162
Notice
: Use of undefined constant HTTP_HOST - assumed 'HTTP_HOST' in
/web/sites/dusker/affiliateCode/amazon-shortcode.php
on line
213
Save money and time with our guide to the best home smith machines on the market at the moment. This quick and easy guide will focus on models suitable for your home gym and look at the price, build quality and much more.
Why use a smith machine?
Not everyone has the luxury of a spotter, especially when training at home. So smith machines let you do squats, upper body exercises, and a huge range of other exercises on your own – safely. There's plenty of cases of people injuring themselves at home lifting weights. Smith machines offer a way to take on some proper workouts without any risks.
Let's dig in and take a look at some of the best home smith machines you can get in the UK in 2021.

#1 – Powerline Smith Machine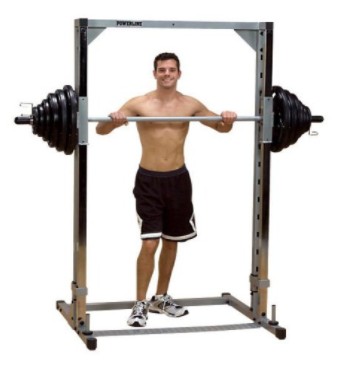 If you want to save some time and jump to our number one best smith machine in our reviews at the moment, you'll want to look at the Powerline Smith machine, with the best price at Amazon UK. It's easy to put together and will transform the training you do in your home gym. This budget price machine does everything you need.
There's a decent count of 14 lock-out points you can use to hold the weight when training. It uses a dual-safety system that locks the bar quickly with around a 15-degree turn of the bar. This is also at a cheap price for this bit of kit (currently under the £350 mark). A really good bit of equipment for the price.
This is a very sturdy machine that won't wobble or lift up when you're training.
This is a perfect way to do squats and other training, safely in your home or garage gym. So is it smooth? Because a lot of cheap smiths can catch on the way up and you end up combating the machine rather than the weight. This machine isn't like that.
Super-glide nylon bushings mean that this smith machine has a fantastic smooth motion on your lifts.
Ideally suited for both beginners and people looking to lift heavier weights. This is a very sturdy machine that won't wobble or lift up when you're lifting. You can use the powerline smith for a host of training including squats, bench press, incline press, upright row, one-arm row, rack pulls, hip thrusts and calf raises.
Unlike a lot of the machines you might be researching, Powerline's smith machine is actually pretty easy to put together. Set aside around two hours.
Combining a budget price with stability, smooth action and safety, this is easily one of the best home smith machines around today.
Budget-friendly price
Dual-safety locks the bar securely
Feels very sturdy, with heavy weights
14 lock-out positions
super-glide bushings are silky smooth
Stop pins for added safety
Plastic pins on the 2 runners are not the best quality
No bench is included as this is a pure smith machine
---
#2 Body Series 7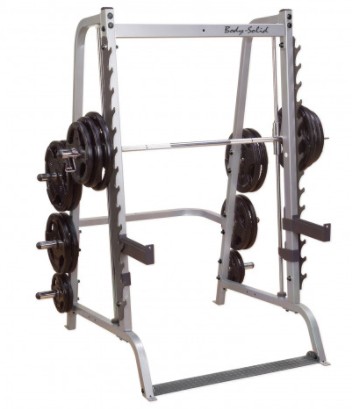 If you're not too concerned about your budget and are looking to step up in price, then have a look at the Body-Solid 'Series 7' smith machine. This is a really sexy home smith machine with a full cage for added stability.
There are 14 lock points and the best part about them is they use the metal hooks where you can easily rock the bar back to catch onto one in a hurry. This is better than the machines with the holes in them, where you have to 'get the hook in'.
This beast is an insanely solid smith machine thanks to the extra support on the rear and the chunky steel construction. There's plenty of pins to add your plates on for added stability and storage. For extra safety, you get a stop bar if you want to do free weight squats.
Movement is slick here whether you're doing squats, military presses, shoulder or chest press. This smith machine is not the cheapest but if you can stretch to it, you'll be very happy with it.
Solid design with chain-driven mechanism
Fully adjustable for all sizes
More noisy than we'd like
No display panel to track calories and other stats
The first of the two cheap smith machines from Marcy in our overview.  This is a good looking, commercial-grade 'half' smith machine combination with bolted on bench. TSA 5762 is ideal for home use, especially if you're short on space. There are 7 hook-in holes you can drop your bar back into when you need to.
You've got a good choice of exercises here like incline bench press, reverse grip rows, shoulder and chest presses, and even get some ab work done. There's a neat leg extension built-in and a preacher arm curl. So if you're looking for a cheaper smith machine that does more with the space, this is worth looking into.
Fits 1″ and 2″ plates and there's plenty of room here for new and more experienced trainers, with a hefty 270kg max weight limit.
Assembly is quick and straight forward. Most importantly, this smith machine is safe, feels comfortable and is nice and sturdy. If you're looking to save some cash, this might be the best smith machine for your wallet.
Sturdy
Has a wide range of possible exercises from one station
Feels comfortable
14 gauge steel – thick and long-lasting
Take some time to put together – up to 3 hours
Instructions could be better – but the illustrations are good
Can't perform squats as the bench is fixed.
---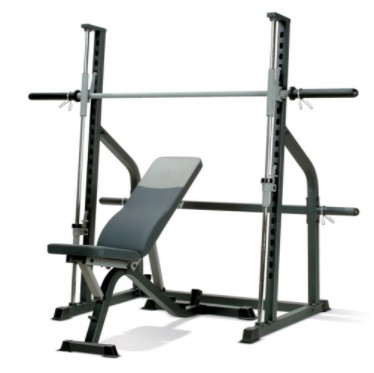 The Marcy SM 600 offers is an ideal cheap(ish) smith machine for a sub £400 price tag. You can do a massive range of exercises with this equipment including incline press, flat press, shoulder presses, pull-ups, smith leg presses and of course squats.  Better than a 'half' smith machine, this has added support from a second bar at the rear.
The frame has a 7 degree slant that makes sure you're lifing at the correct angle. And the lifting bars and catches are commercial grade. As with all smith machines, you want a good smooth motion on your lifts, budget price or not, and this Marcy smith has a great movement on it's ultra glide bushings.
One downside to this machine is that it can move when you're pressing if you haven't got any weights on the bottom pins.
Looks and feels very good quality with a tough tubular steel build. This is a nice sturdy machine.
Comes with sleeves that let you use the thin and 2″ plates.
Budget price
Combines bench with smith machine
Assembly is straight forward
Nice clear instructions
Extremely smooth operation
Some users report that this machine can move when doing certain presses
---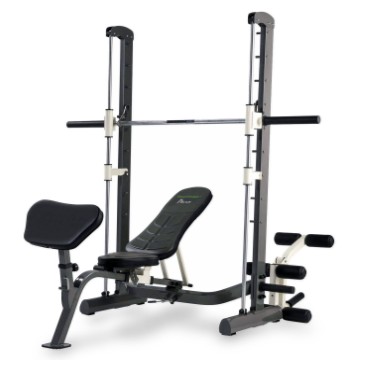 Not everyone has a massive space to set up their home gym, and you really don't need that much! So it's great to see a smith machine that saves a bit of space. Tunturi's compact machine manages a folding design without losing stability.
It's no slouch either. The bench adjusts to pretty much any position you'd need, including the 'decline' position.
Another really important thing to get right when you pick your smith machine is that it doesn't grind away when you're lifting. This bit of kit gets around that by using smooth bearings to ensure you're only fighting the weight and not the machine.
Other notables with this budget smith machine are the box stitched eva foam pads. They're comfy and supportive without feeling cheap. There's a leg developer on the storage post for even more exercises and the frame can take a 23 stone user. You can use standard plates with either  1″ or 2″ holes.
If you don't want the bench machine in the way, it can be moved to allow you to do your squats.
*TIP* add some weights to the bottom bar on the machine for added stability.
Includes weights bench
Folds up to save space
Sturdy and reliable
Folding bench not as stable as a dedicated one
Thanks for reading and we'll keep our guide on the best home smith machines up to date as we find more products you might like. If you've got any tips on using these machines, or you've found a great bit of gear you want to share, please let us know in the comments!
Stay safe and happy training!