Review Summary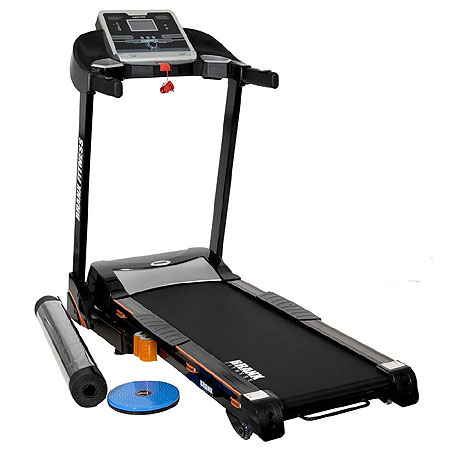 Cardio Pro
Solid and heavy!
The console is simple to use
Full-size running track
Low noise level
No tablet holder
"Offering a full-sized running machine at a decent price, this is a good machine for new and experienced runners alike."
How does the mid-priced Branx Cardio Pro (available on Amazon) stack up against the ever-growing swarm of treadmills filling online stores?
In this review, we'll tell you everything you need to know about this running machine and help you decide if the Cardio Pro deserves a place in your home or gym.
WARNING: As always, we'll cover both the good and bad points of this running machine in this review.
What is the Branx Cardio Pro?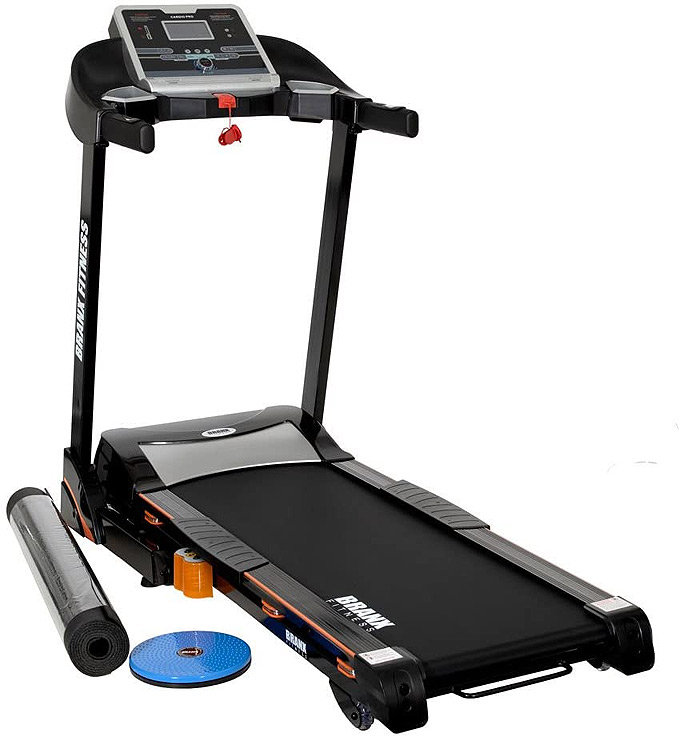 The Branx Cardio Pro is a compact, medium-to-high intensity treadmill that folds up neatly for extra space. Despite its small size, this running machine lets you reach speeds of 17km/hr, which is a good running speed for those of us chasing fitness goals.
The treadmill comes with 12 different preset running programs which give a variety to the intensity during a workout. And the machine has an incline function of 0-20 (8-10% incline) to increase your training levels should you wish.
The Cardio Pro also integrates the nifty LAP feature, which shows your running progress on a lap system. The idea is to enhance motivation and performance psychologically.
The motor here is a respectable 6HP, which means that it has the power to sustain both weight and speed. The dual shock technology cushions your knees and joints so that you may train safely, quietly, and in comfort.
There's a full 125 x 45cm running track; ample room to stretch your legs without feeling cramped.
The treadmill weighs a hefty 76kg and has built-in wheels to make moving the unit at least a bit easier. The Cardio Pro folds down (more like 'up') to a reduced foot print which will at least free up a bit of space in your home or garage gym.
The treadmill comes equipped with Bluetooth technology, and it is integrated with GymFit, where you have 170 trails and tours to select from across the world. You can even run with trainers over 50 different programs. A good boost to keep up interest and motivation.
We'll cover how well these features actually work later in this review!
Check Current Amazon UK Price
Cardio Pro Treadmill: Features at a Glance
Soft drop and easy move system – allows the running track to drop slowly to protect your floor and machine.
0-20 Auto incline – This machine allows for hill running and the slope is automatically adjusted via the console.
12 programs – with Bluetooth integration
Large LCD screen – easy to read 5.5"screen
View your progress – Track time, distance, calories, pulse, incline, and speed
Heart rate sensors – Handheld pulse monitor
Running area – 125 x 45cm
17.5km/hr 10.8m/ph running speed
Dual-shock technology
3.5CPH continuous power motor/6HP peak
Free twister and treadmill mat
LAPS feature
1.8mm running belt thickness
2-year parts and labour
5-year motor and frame warranty
Who will get the most out of the Cardio Pro?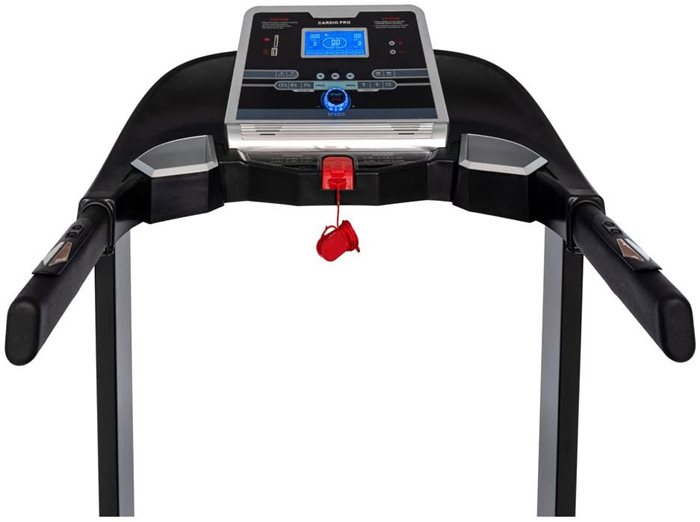 Beginners up to advanced users
The Branx Cardio Pro is the perfect medium- high intensity running equipment for those who wish to exercise at their own time and pace. The dimensions make it ideal for those who don't have a lot of space for bulky gym equipment.
The cardio Pro is compact yet powerful enough to allow you to explore the boundaries of your fitness and endurance.
Anyone looking to lose weight at home
Treadmills are a safer way to run than outdoors and carry less stress on the joints and cartridges. Those who may have sport-related injuries may take advantage of the dual shock absorption technology that protects the user's body from repetitive impact.
If you've struggled to stick with fitness before
The online classes might be what it takes to keep your interest up in your fitness program long after the initial interest might normally have waned. Let's face it, running for hours and hours can get repetitive. Thankfully the newer online stuff makes for a great incentive to keep going, and keeps training fresh.
If you're after a good quality treadmill that will last
The Cardio Pro is small, but the above size motor means that you won't need to upgrade when you decide to move from running/light jogging to higher-paced runs. You can grow with the Cardio Pro because it can take your training further than the average foldable treadmills of its class.
There's many cheaper models (although the price is well south of £1000, but this is a 'proper' treadmill – not a budget one you might have to replace in a couple of years.
Anyone with a busy lifestyle, looking to get in shape
This treadmill will fit runners of all sizes, shapes and experience levels. It's also tough and will take some serious punishment. As such, it's great for couples of families looking to fit some training around a busy schedule.
It's NOT a good fit if you're over 130kg, however
The cardio Pro will not suit those with weight above 130kgs, which is their manufacturer's limit weight.
Check Current Amazon UK Price
---
Our Opinion: What we Liked About the Branx Cardio Pro treadmill
Dependable and easy to assemble
The Cardio Pro was heavier than expected for its size, if you're not the strongest, you may need to enlist a friend to help carry and assemble the unit. Give us a hefty machine over a light-weight flimsy one any day of the week. Like any decent running, this feels stable and robust.
Assembly is an absolute breeze, with the machine up and running in under twenty minutes and no foul language used once. As far as running machines go, it good, with a simple modern black / orange and white design.
It's fresh, modern and looks like a quality product.
Intuitive layout and clearly visible LCD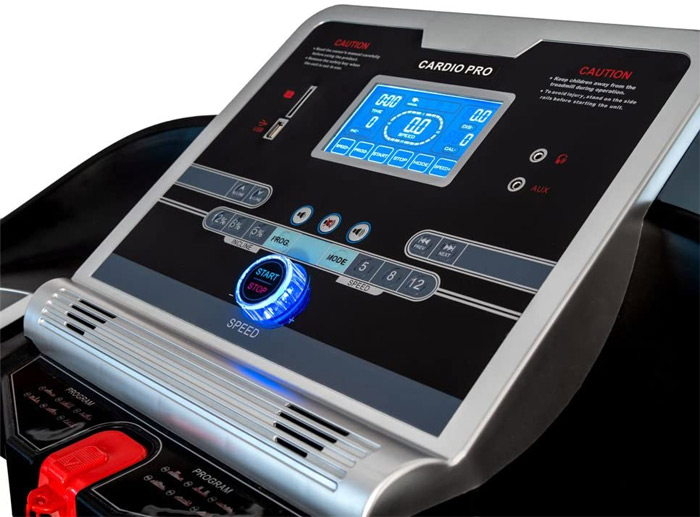 The touchscreen is intuitive and easy to access while on the run. While there's no full colour touch screen on this machine, the display here is a lot brighter than many other in this price range. The razor sharp bright blue display is easy to look at and you can get an eyeball on your important stats with a quick glance.
The cardio Pro has quick keys for 5, 8, and 12km/hr, which are handy if you don't want to work your way up the speeds. These buttons are great for jumping in and not holding down an up or down button. Standard on most treadmills and definitely appreciated.
The display is not the largest out there, but the distance, calories, incline time and speed are clearly visible from the belt.
Proper-sized running track
Thankfully, Branx haven't skimped on the size of their running area.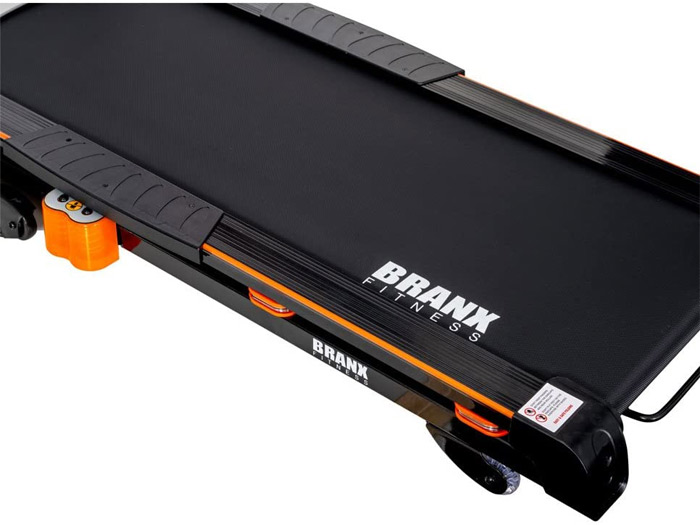 Way too many treadmills make a complete mess of the running track size. We've seen some really good quality machines that just needed a few extra cm width to be a real winner. Thankfully, Branx haven't skimped on the size of their running area. You're getting a respectable 125 x 45cm surface to run on.
The running track is long enough for a comfortable leg stretch, and even those north of 6ft, shouldn't feel cramped by the running area dimensions.
The dual shock running platform well cushions the running action, but there was still a bit of noise when my college ran on the track (he is 102kgs), but that can be expected, and the noise was not excessive.
Actually folds up well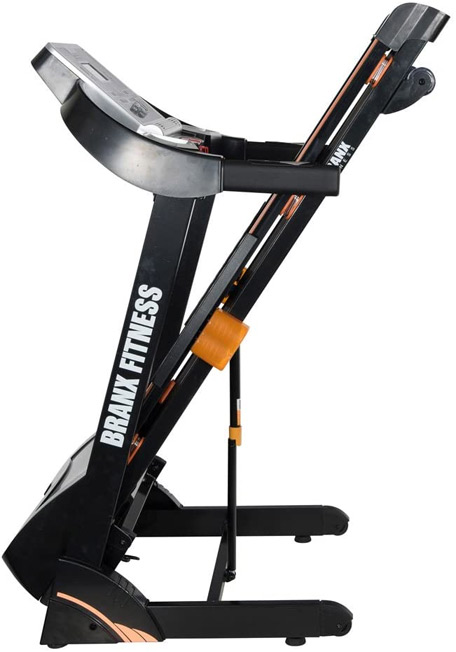 Like just about every treadmill on the market, the Cardio Pro features a folding system. The running track pivots at the front and can be flipped upwards in between uses (completely optional – you don't need to fold it at all). Branx's machine does a better job of this than some we've seen, although you're not going to be hiding it out of the way completely.
At the very least, it does give you some of your floor space back.
And the soft-drop option is … well, smooth as can be. Pressing a simple button with your foot will start the gentle descent down, saving back and giving you ample time to get out of the way!
A reliable, well-constructed machine
What matters is you're getting a good quality, well-made treadmill that's built to last and take some 'stick'.
The real selling point of the Cardio Pro has to be its sturdy, weighty build. You can feel that this item was not made to fall apart like so many modern exercise machines. This durability is backed up by the 5-year warranty on motor and frame.
All this comes at a cost to manoeuvrability but, as we've stated in the past, we'll take this over a wobbly treadmill any day. What matters is you're getting a good quality, well-made treadmill that's built to last and take some 'stick'.
Fairly low noise level
While no treadmill is going to be silent, the Cardio Pro, and other models in Branx's 2023 ranges are actually not-too-shabby when it comes to keeping the noise down. The motor and track do a decent job of keeping the noise down so you'll be able to hear your tunes easily.
Good customer service
One thing to note is, although we didn't have to contact Branx about this treadmill, we've talked with their customer service in the past and they've been nothing but helpful.
Other reviews on Amazon echo similar experiences – a very helpful, friendly service. With a big purchase of a treadmill, it's reassuring to know there's real people you can connect with and get support from.
---
What could have been better in the Branx Cardio Pro
Lacking a pause button
The Branx Cardio does not have a pause button, so you have to quit your program if you need to step off the treadmill for a bit. This absence is not a deal-breaker at all, but it isn't very pleasant to have to start your program off from scratch each time you get off the machine.
No tablet holder
There is no allocated space for an iPad, which I would have liked to use for the Gym Fit integration. One would expect that the machine would come standard with an iPad holder due to the Bluetooth integration.
---
Final Thoughts: Is Branx's Cardio running machine worth the money?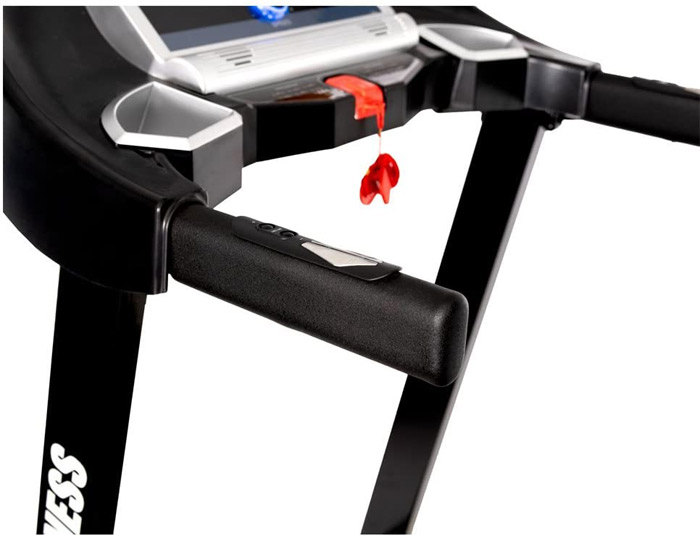 Branx fitness seem to have come out of nowhere in the past couple of years, and have nailed it with the running machines we've seen. The Cardio Pro follows suit in terms of quality and performance, from what we've seen from their other machines, such as the Elite Runner Pro.
You're getting a good-sized running surface and a machine that's well-built and, despite it's weight, can be folded up and, at a push, moved to the side of a room. The quality and construction are really worth the money and this 'better than budget' machine offers a good bang for your pound.
The motor and belt offer a quiet experience, with the cushioning being a lot kinder on your knees than running outside on the pavement. Power provided by the 6HP motor gives you around a 17km/h top speed which should keep even experienced runners happy.
The solidity and structure of the Cardio Pro sell this treadmill with a warranty as a bonus. It is a spacious and robust treadmill with all the features you need to up your endurance and fitness at home.
Branx's machine is highly recommended and a good buy for home gyms in the UK.
Highly Recommended
Check Current Amazon UK Price
---
What Are the Benefits of the Branx Cardio Pro Treadmill?
Here's some additional info on the Cardio Pro and if you're new to running machines, then you might like our guide on how to pick a treadmill.
Compact and easy to store
The folded dimensions of the Branx cardio Pro are only 105x 73 x 125 cm, which means you can easily fit the treadmill into your living space.
The Branx is made to store folded up, which takes less space, and has a unique soft-drop technology that lowers your deck slowly to the floor for use.
You can vary your workout
The Cardio Pro has twelve preset workout programs with adjustable inclines to vary your workout intensity. The treadmill accommodates all levels of fitness for those who prefer a walk, a vigorous walk, or a solid run.
For those who wish to take advantage of the 17.5km/ph speed, you can have your run with the safety of the handrails in case you hit a wobble.
Bluetooth integration and GymFit
With its Bluetooth integration, you can explore the GymFit app with your Cardio Pro treadmill. Sometimes treadmills can become boring after a while, and GymFit allows you access to 170 tours and runs across the globe.
You may also access top-tiered trainers for over 50 workout programs to boost your motivation.
Work out when you want
If you love to run, you know how awful it is when the weather turns bad, or you arrive home late from the office, and it's dark outside. With your Cardio Pro at home, you never have to worry about whether it's safe to run or if it's raining outdoors.
You can also catch up on your favourite series or listen to your favourite tracks while you are getting a workout.
You can increase your intensity
The Cardio Pro comes with an auto incline function from 0-20, which allows you to vary the intensity of your training. As you progress in fitness and speed, you can up your training intensity to keep pushing your fitness limits.
You can lose weight and improve your health
Treadmill exercises improve circulation and heart health. You can lose weight and prevent chronic disease. The best part of your home treadmill is that its dual shock running platform is designed to cushion your joints from harm, which outside running will never offer.
You can keep track of the calories that you burn as well as monitor your heart rate for optimum performance.
The Cardio Pro accommodates a variety of body shapes
Because of the generous 3.5CHP (continuous horsepower) and 6 HP peak, the motor can accommodate heavier users. So many foldable home treadmills don't have the power to accommodate users over the weight of 90kgs, which excludes heavier users. The Cardio Pro allows users up to 130s, which provides a more reasonable inclusion, especially regarding male users.
You can walk or have a solid run
So many compact folding treadmills have smaller motors that only deliver a 9km/h speed that is only a light jog. The Cardio Pro is small, but the strong motor allows you to vary the intensity of your training by giving you a reliable 17km/h (10.8mph) running speed. Even though you might prefer a brisk walk, it is good to know that you have the option of stepping up your workout should your fitness improve.
The brand Cardio pro carries an impressive manufacturer's guarantee
Many treadmills on the market will offer you a standard 12-month guarantee on parts if you are lucky. With the 2-year warranty on parts and labour and five years on the frame and motor, Branx Cardio Pro stands out from its competitors. This kind or surety means that the company has put care into its manufacture.
Cardio Pro FAQ
Can you start walking or jogging slowly on this treadmill?
Yes. There are pre-set programs, as well as buttons to 'jump' to certain speeds, but you can also start with a very slow speed of less than 1km/h if that's what you would like.
---
Cardio Pro Full Specs
Brand Name
Branx Fitness
Color
Black, white text and orange trim
Treadmill weight
76kg
Model
Cardio Pro
Dimensions
165 x 73 x 115 centimetres
Incline type
Automatic
# Incline levels
20
Display type
5.5" LCD touchscreen
Console functions
Time
Speed
Distance
Calories
Scan Mode
Pulse sensors
Yes
Speed Range
Up to 17.5km/h
Max user weight
110kg
Frame material
Steel
# Preset programs
12
Deck cushioning
Smart Shock System
Running track size
125cm x 45cm
Safety standard
CE/ROHS/EN957 & ISO9001 Quality Control Certified
Frame material
Steel
Horsepower
6HP
Max user weight
130kg
Belt thickness
1.8mm
Continuous horsepower
3.5CHP
Accessories
Twister and made-to-measure treadmill matt
Check Current Amazon UK Price
References & Further Reading