Review Summary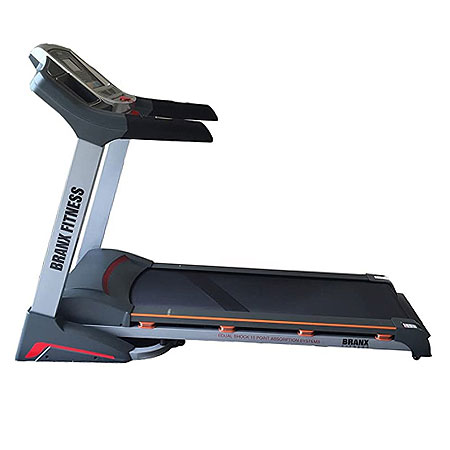 Elite Runner Pro
Full-size running deck
Smooth and quiet
Good range of incline settings
Powerful motor
Fans and speakers could use a boost
"The Elite Runner Pro is a step up from Branx's Cardio Pro and offers a huge running track and a powerful motor to drive it. Ideal for anyone wanting to jog, run or sprint."
Branx Fitness have been making a name for themselves in the hyper-competitive world of running machines since 2008. We've featured some of their gear on the website before. This is a review of the Branx Elite Runner Pro (Amazon UK) – a treadmill that aims to offer something more substantial than budget machines out there, while maintaining a compact, folding design.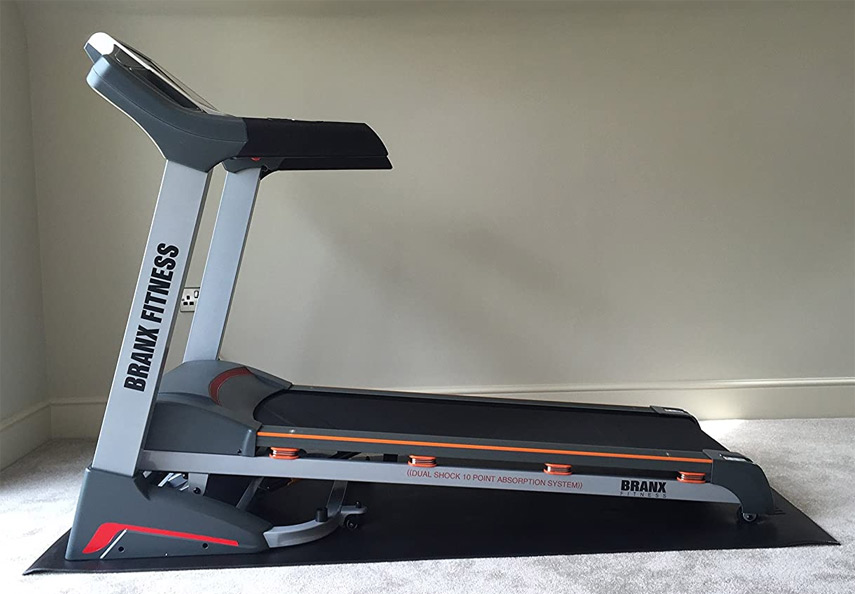 Who is this machine best suited to? Is it worth the money? What isn't so good about this running machine? Let's hop on and press START!
---
What is the Branx Foldable Elite Runner Pro?
The Branx Elite Runner Pro is a fold-up treadmill that's been designed to fit in your home or garage gym, without hogging too much floor space. It aims to deliver both low and high-intensity training for most body types. With an extended running area and a maximum speed of 21 km/h, larger runners shouldn't feel confined or reduced to a light jog.
The Elite Pro comes with dual shock absorption to reduce stress on your joints and knees and keep noise and vibration to a minimum.
This machine is also Bluetooth enabled (with embedded speakers and a high quality 6″ LCD screen). The Bluetooth feature lets you link to apps such as GymFit and explore a variety of trails and runs across the world.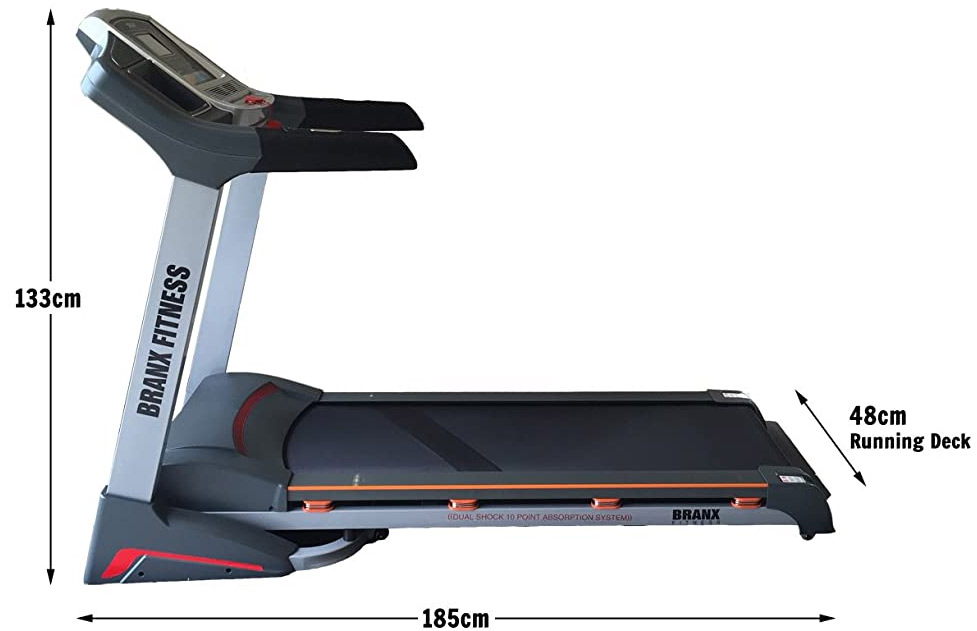 It also lets you do things like connect your app to your widescreen to enjoy choices of the terrain around the globe.
The treadmill is portable and not too hard to move around, with four wheels and a hydraulic suspension that lower the running deck safely and slowly. Unlike so many compact treadmills in its class, the Branx Runner Pro has the power (6.5-HP) and length to accommodate most sizes of users and all intensity training needs.
Check Current Amazon UK Price
Elite Runner Features at-a-Glance
6″ LCD display – with a built-in speaker system
Bluetooth enabled – works with apps for online coaching and streaming music from your phone
24 integrated programs – for a varied workout
BMI-mapping feature –
Dual shock absorption system – German-made hydraulic strut
Transport wheels – 4 wheels for smooth movement
Slow drop platform – for safety when unfolding
22 incline levels – can be set by handlebar or console
21km/hr maximum speed – for high-intensity training
2 bottle holders
5-year warranty – on frame and motor
---
What you'll get training on the Elite Runner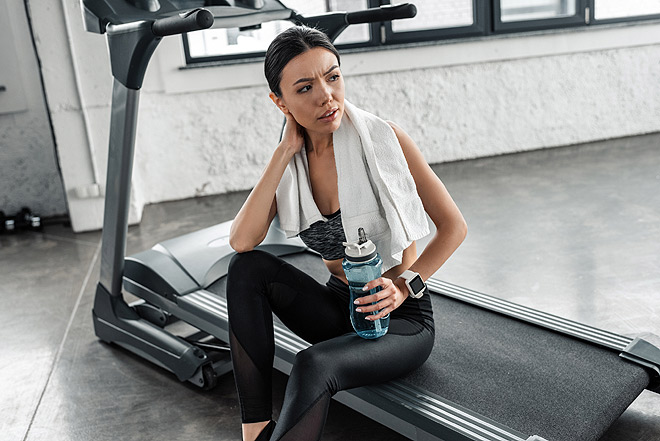 Increased fitness and overall health
Health experts say that an average person should have thirty minutes of exercise a day to maintain a healthy body. With a decent treadmill at hand (or we should say 'foot'), you can work out at any time. Exercise also increases your serotonin levels so not only will you look better, but you will feel better as well.
Create your own workout program
You have the choice of 24 built-in programs as well as quick keys for incline and speed. You can monitor your workout with the easy to read LCD 6″ interface and keep track of distance, time, calories, and speed. You may also keep an eye on your heart rate through the handheld pulse sensors.
You can work out whenever you want
With your Branx Elite Runner Pro treadmill at home, you will never have to worry about bad weather affecting your outdoor run. With a treadmill in your home, you can run safely (and in the warm!) at any time of the day or night.
Treadmills are kinder to your body
Treadmills absorb more of a runner's impact than the asphalt and concrete surfaces when running outdoors. In the long run, you will protect your knees and ligaments from harm. The double-ply belt and German-built springs reduce and dampen shock for a joint-friendly workout.
The Branx Elite Runner Pro has 22 incline levels
The extended incline capacity allows you to improve your workout. With an almost 10 percent maximum incline on the 22 levels and the impressive 21km/hr speed, you won't be growing out of your treadmill in a hurry. The Branx offers the scope to grow from light training all the way high-intensity workouts.
Extend your boundaries
Just because you are working out from home doesn't mean that you can't travel. The Branx treadmill offers syncing to the GymFit app, where you can find over 170 trails and tours across the globe to explore while you train. You can even train with world-class trainers over 50 different programs to extend your fitness boundaries.
Catch up on your series while you shed pounds
Many people get bored quickly, and that is the reason why many people give up on their exercise routines. One of the best features of a home treadmill is that you can catch up on your series, study for your school exams while losing weight.
Save on costly gym memberships
With your exercise equipment in the next room, you can save on expensive gym membership fees. Not everyone likes the gym environment and having a home-based exercise alternative can motivate you to work out more.
Check Current Amazon UK Price
---
Who is this treadmill best suited to?
Anyone looking to lose weight or get in shape
The Elite Runner Pro is an good choice for people who want to lose weight and increase their fitness and health in their own time.
Although the Branx is a portable home-based exercise machine the user has so many options to connect to 170 virtual tours around the world with a choice of a virtual guide through the GymFit app
The maximum speed output of the Branx pro is an impressive 21kmp/h, which is more than enough speed for running. The treadmill has more than enough length for a larger stride and a 160kg user capacity.
Taller runners can use this machine
We've seen a tonne of portable treadmills in the same bracket as the Branx treadmill that are compact but lack power and force larger users to shorten their stride. The Elite Runner's more powerful motor allows for a high-intensity workouts, while the longer running track has plenty of room for users with a longer stride.
Anyone looking to protect their joints
Another thing a lot of treadmills don't handle well is shock absorption. Here, the Runner Pro's dual shock ten-point shock absorption feature offers a good solution that will help protect against knee and joint injury.
The two-ply,19-mm thick belt covers a German-made spring system and quality MDF deck for added comfort and reduced noise. Think more bounce, less thud.
For anyone short on space
Although the Branx Pro is reliable and weighs in at 90kg, this is a compact treadmill. It takes up less space than a full-sized machine. As a unit, it is still easy to move on four quality wheels as opposed to the usual two-wheel system on other brands.
---
What We Liked about the Elite Runner
it was refreshing to find a treadmill where you could have a real run.
So that's what this treadmill does, and who might want to go for this machine. Now here's our thoughts on the best … and worst parts of this machine.
The manual is seriously good
OK, not the most exciting opening statement. But bear with us. The manual you get with this machine really is worth talking about.
It's long (in a good sort of way), packed with colour photos, and has some of the best instructions we've seen on how to use the programs. Setup is also illustrated clearly and, although there's not much work to do, it's spelled out in a really simple fashion.
In a world of crumby, black and white, god-awful treadmill manuals, Branx's machine makes a good first impression. It's about the best we've seen, actually.
Packaging, delivery and support
Another thing that Branx seem to be getting right, and one of the things that is undoubtedly keeping their user reviews up there, is how well they pack their gear. (We'll get to how this treadmill actually works in a second, promise…)
Branx do a lot of careful checking before their gym gear is shipped. So it's rare you'll have any issues when it arrives. Packaging is sturdy but not hard to get into, as we've seen with a lot of other machines.
And while everything is secured, there's no endless, sellotape-from-hell situations to cut through either.
Shipping weight is around the 90kg mark so watch your back moving the Elite Runner Pro and get someone to help if you can.
We haven't had a chance to check customer support out first hand, but the Trust Pilot, Amazon and Google reviews are really high for this company. Although your mileage may vary, everything looks in order.
The Elite Runner has a powerful motor
With so many portable treadmills hovering in the 9 to 10km/hr maximum speed range, it was refreshing to find a treadmill where you could have a real run. It's often tempting to go for a cheaper treadmill, with a lower powered HP motor, but you might regret it later.
The 21km/h speed does not confine a user to brisk walking or a slow jog. Combined with the 22-level incline options, you can be sure you won't be outgrowing your treadmill in a hurry.
Quiet, smooth running
The machine has a smooth action and double-ply belt that cushion your joints and dampen noise. The price is obviously higher than the ultra-budget machines but the trade off is a significant bump in quality and running experience.
It's odd to find a treadmill that is as quiet as the Elite Runner too. Aside from your own steps, the machine has a very low noise level. Not silent, but not far off.
Robust and sturdy
The trouble with cheaper machines is they often don't last. Branx's machine is robust, well-made and built to take some serious use. It comes with a decent 2 year parts and labour warranty too.
Portability and slow-release mechanism
Although the Branx weighs in at 90kgs, the added weight is compensated for very well. We liked the four-wheel design as opposed to the usual two-wheel option in other portable treadmills. The slow-release hydraulic system lowers the platform from folded at a tap of the kick zone in the strut itself.
Huge weight limit and large-sized track
This isn't some flimsy machine where all the focus is on storage and portability
We were impressed by how the Branx Runner Pro is adaptable to larger users as well. So many of the portable treadmills we have liked in the past were for average weight and height.
The extended running area and the 160-kg weight capacity make this model so much more accessible to the larger than average user. This isn't some flimsy machine where all the focus is on storage and portability. It's chunky, heavy and supportive. Nice.
Customer support and warranty
The 2-year parts and five-year frame and body warranty also impressed us. With this kind of long term guaranteed, one is assured that the manufacturer has faith in their product. Not many treadmills in this class have such extensive warranties.
Many user reviews noted that the customer service was outstanding. It's good to know that you will have support when you spend money on a product.
At last! Proper cup holders
Now, this might seem trivial. But we've seen some seriously down right awful drink storage on otherwise perfectly good treadmills. The main weird error being bottle holders that are on an angle and don't actually hold your water in place.
Thankfully there's no such shenanigans with the Elite Runner Pro. There's two, really well sized and easy-to-reach drink holders either side. Stash your bottle on one and whatever other pocket junk you need to on the other. Perfect.
---
What Could Have Been Better?
No real pause function
Unfortunately, such a well-designed instrument can be brought down by small details. The Branx does not have a pause function that allows one to resume the programmed workout when one stops the machine.
Changes to programs are not saved
Making any changes to the Elite Runner's settings won't be stored, sadly. Your presets will be reset every time you start your workout.
Fans and speakers could use a boost
This is something we've seen on a lot of treadmills and something that could be improved on the Elite Runner Pro. The output from the speakers is a little on the low side and could use more power. Similarly, the cooling fans won't give you much of a breeze once you get into your running.
Large warning labels are distracting
Although the overall design of the Elite Runner pro is top notch, and this is going to go down as nit-picking. The display panel has two large warning stickers about where to stand, and what not to wear on the machine.
These could have gone in a less-obvious spot. They won't bother everyone, but for such a well-designed machine otherwise, this does stand out and is noticeable.
---
Conclusion: Is the Elite Runner Pro really any good?
Branx's machine is a versatile and powerful machine with an impressive range of training options for its compact size. We were impressed with the solid frame and the low impact design.
The Elite Runner Pro has certain features that are beyond other treadmills in its class, such as the hydraulic lowering system when unfolding your platform.
The range of the Branx also sets it apart from its competitors with its 21km/h running speed. After trying out so many portable options in the same or similar price range, it was nice to be able to run freely and not jog, lope, or speed walk.
The Branx Pro Runner is a treadmill with enough scope to allow users to move their workouts up to higher intensities without leveling out at a 10km/hr threshold. The treadmill is as solid as a rock and carries a longer warranty than almost all the portable treadmills in its class.
Highly Recommended
Check Current Amazon UK Price
---
Elite Runner Pro Full Specs
Brand Name
Branx Fitness
Motor
6.5HP
Color
Black/Grey Orange Accents
Weight
90kg

Folded down size
189 x 85 x 44 cm
Folded Size
82 x 80 x 150 cm
Incline type
Automatic
# Incline levels
11
Display type
LCD
Console functions
Time
Speed
Distance
Calories
Scan Mode
Pulse sensors
Yes
Speed Range
2kmph - 20km/h
Max user weight
160kg
Frame material
Steel
References and further reading
What to look for choosing a treadmill