Welcome to this review of NordicTrack's S15i indoor cycle – a mid-price commercial quality exercise bike with heavy integration of online classes. This machine has some seriously interesting tech and features and it's nice getting a more high-end machine to review.
We'll be covering exactly what this bike does, who it's best suited for, and what isn't so great about this machine.
Let's dive in!
What is the S15i Studio Cycle
The mid-range option in NordicTrack's flagship Commercial series, the S15i is a high-quality indoor cycle that's designed to be used for intense spin class style workouts from home. It has a large colour touch screen and works in conjunction with iFit – the online fitness training platform.
You can take part in a wide range of activities such as global cycling routes, boot camps, and even yoga. This bike supports multiple users and has sophisticated stat tracking that's a lot more advanced than what you'll find on cheaper machines.
Key features
330lb maximum user weight (150kg)
14 inch smart touchscreen
One touch controls
Tilting display and 360 rotation
20% incline and 10% decline
22 levels of digital resistance
Silent magnetic resistance is powerful, and whisper-quiet
Seat is adjustable horizontally and vertically, handlebars are fully adjustable
AutoBreeze automatic fan
1 month subscription to iFit workout programs
Frame mounted transport wheels
Comes with 3lb free weight dumbbells
10 year frame warranty, 2 years on parts, 1 on labour
Get the Best UK Price – Buy Direct from NordicTrack
---
What you'll  from training with the S15i Studio Bike
A challenging (sweaty) workout – The S15i is designed for users of all levels, not just people who are die-hard gym-goers. This is, at it's heart, just an exercise bike and it is suited to new people as well as those looking to do some hardcore training.
Plenty to keep you busy – NordicTracks S15i has hundreds of built in workout plans, and the option to drop into live classes which feel just like taking part in your local gym's spin class. Minus the room full of other people. Which is a good for anyone trying to stay fir in a post-Covid world!
An interesting and unique incline and decline feature – We've not seen seen this on many other machines – and it's usually associated with treadmills. The programs can control how steep the hill you're going up feels. Very cool!
Discover other workouts – You can also follow along other workouts, as the renowned iFit fitness system is designed for more than just the bike.
---
Who is this equipment best suited for?
This machine is ideal for the following people:
Anyone wanting to lose weight
Those who might get bored with other kinds of exercise
New or experienced users
Families looking to get in shape from home
Any age group
Someone looking for something a bit better quality than budget bikes, or cheap machines.
If you absolutely hate cycling, this machine probably won't change your mind. However, if you're looking for a home bike that you can use to do some serious work over the coming months and years, and are happy to hope on a bike to do it, then read on.
If you're sick of the same old workouts…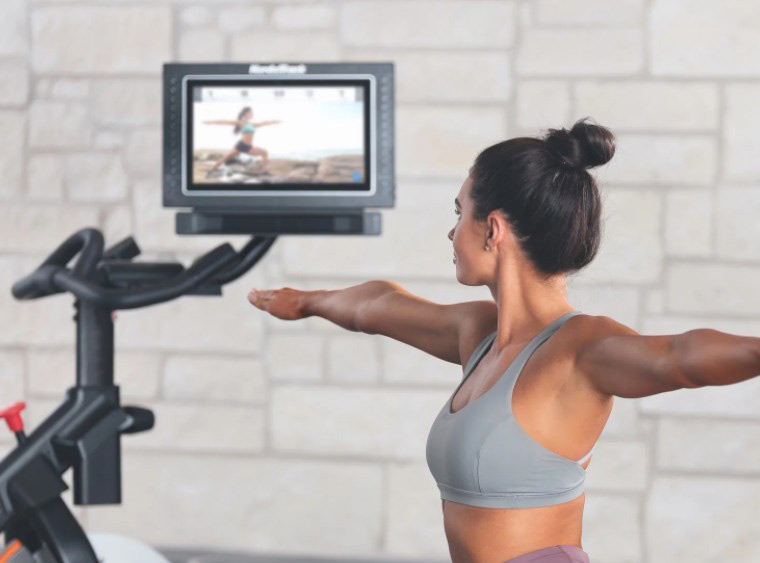 Let's be honest. Doing any kind of exercise can get a bit boring. And we've seen our fair share of LCD panels, watching calories endlessly ticking away or time ticking up. This bike goes a long way to alleviate the boredom that sets in after months on an exercise program. The social aspect of the bike will likely give  alot of people much-needed encouragement too.
Cyclists wanting to do a route in advance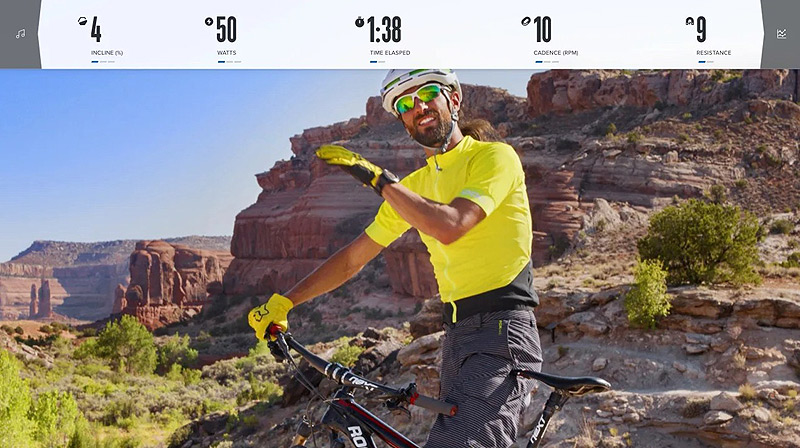 The fact that you can program in a route and the onboard computer and create a session based around running that road, as close as possible, makes this perfect for people who want to practice a particular route without being there. For example anyone who regularly participates in road races.
Beginners will feel at home
Does anyone even say 'user-friendly' any more? It's a pity because that's exactly the feel we get from this bike. The S15i does a good job of offering enough depth to keep regular users of this kind of machine happy, while being approachable for newer riders too. The easy of use and fact that you get complete workouts also makes it a great bike for beginners, especially if you're going to be using the Live Workout options.
---
Who can skip the rest of this review?
Before we jump into the review and what we thought about the S15i, lets look at who this bike isn't a good choice for.
It's not a good buy if you're looking for a bargain
The single barrier to entry for NordicTrack's S15i is the price. This is certainly not a budget indoor cycle. Not everyone is going to want to pay in the region of £1800 for an exercise bike. The Nordic Track is often on sale, however. So it's worth checking up on.
Not interested in online coaching and classes?
A HUGE part of the S15i's appeal is the integration with online coaching, video and virtual courses. All the new online stuff. If you're not interested in this, or definitely don't want to do it, then you can probably save money and go for one that doesn't have a screen. Something like the JTX Studio Cycle might be a better choice.
---
REVIEW: What we liked about the S15i Studio Bike
LIVE interactive training is incredible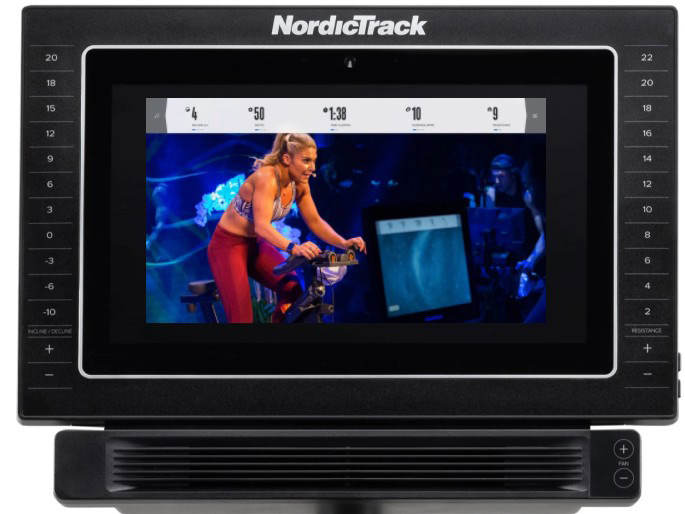 Probably the best thing about the S15i is the live training capacity. This is revolutionary, and we expect it to be rolled out amongst all the top brands in the next few years. You can already see it with some other major brands, like Peloton, but expect it to become ubiquitous on high end machines.
The idea is surprisingly simple. Using your iFit subscription, you can connect your bike to live training sessions being run by NordicTrack. The training session is streamed live to your bike, so it's like being in a live training session.
Even better, the bike itself automatically adjusts settings based on the planned workout. You don't have to do anything. Just find your preferred workout, connect, get started, and let the bike handle resistance, incline and everything else. This is way better than real classes where you've got to constantly adjust your resistance.
But it's not just cycling. NordicTrack have been very smart with their decisions, and you can join in with hundreds of other classes, from bootcamps, full bodyweight blasts, yoga, core exercises, and more. On top of that, trainers are on hand to give you advice on the other aspects of health and fitness, including sleep, diet, lifestyle, and more.
It's clear that the bike has been specifically designed as a total exercising system, and the touchscreen is a big part of that. Here's why.
---
Fantastic touchscreen
The S15i has a 14 inch touchscreen that's larger than almost all commercial tablets, and actually about the same size as a small laptop screen. That's fantastic, because it means you're not going to be squinting at the screen as you exercise. It's high definition, so clarity is excellent, and sound is boosted by the built in speaker system.
Every part of your S15i can be controlled from the screen, with a simple one touch system that allows you to change settings in, yes, one touch. It's all laid out well, and it's simple enough that a beginner could use it.
We mentioned earlier how the screen was designed to help you exercise off the bike. This is because it has a large tilt capability and swivels a full 360 degrees, so you can hop off the bike, spin the screen round and continue the workout, simply and easily. It's just so cool.
---
The software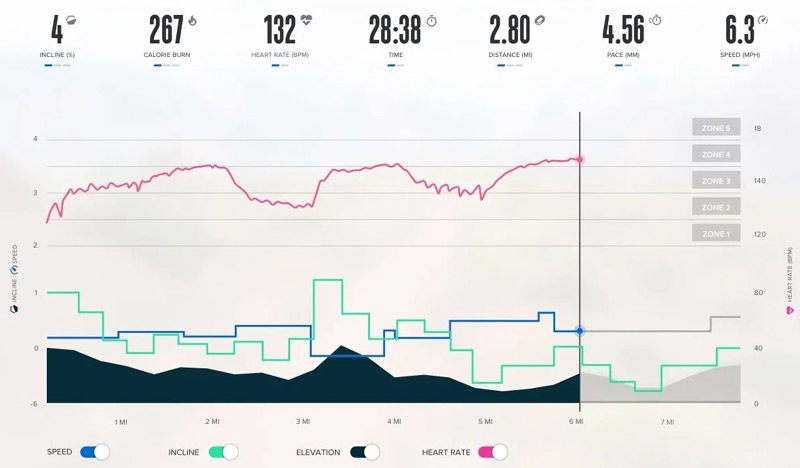 NordicTrack's own software is just as good as the hardware. The computer can have settings installed for up to 4 people, so your whole family can enjoy the bike.
Every bike has some sort of statistic tracking, but NordicTrack's bikes use real time workout tracking, which uses your heart rate, elevation and intensity to track your workout minute by minute, giving you much more usable data about how you're training.
If you don't want to join a live workout, you can pick from hundreds of video workouts and get going, with new programs added almost every day.
---
Route planner and racing compatibility
You don't just have to follow classes. The S15i lets you program a route into Google maps, and the bike does the rest, planning out and adjusting speed and incline based on the route you create.
This lets you train literally wherever you want. Follow an upcoming race route as accurately as possible and train directly without having to actually go there, or go nuts and cycle across mountaintops and through forests across the world.
Coupled with this, the S15i is compatible with almost all standard road bike pedals and seats. You can literally attach your own preferred parts to the bike, and get a near exact match to your road set up. It's the closest thing to training a race without actually being there.
---
Exceptional construction
It's obvious as soon as you put this together how well built it is. The industrial steel frame holds 330lbs (150kgs,) and it's basically invincible, which is why it has a 10 year frame warranty.
Everything seems chosen with intent, and looking over the bike, there's nothing that can really be said to be low quality.
Some of the standouts include:
1) The Inertia enhanced flywheel
Like most high quality bikes, the S15i has an inertia enhanced flywheel. If you're not sure what this means, standard flywheels have variable resistance so can drag or stutter as you pedal, especially if you're changing speeds.
But an inertially enhanced flywheel doesn't do this. No stuttering or drag resistance for a smooth user experience. It's the closest you can get to actually feeling like you're riding a bike, without being on one.
The resistance settings are just as impressive. All resistance is delivered through a silent magnetic resistance system (SMR) which means it's always consistent, adjusts instantly, and makes no noise. Natter how hard you go, the only noise from the bike will be your feet on the pedals and whatever's coming out of the speakers.
2) Powered decline and incline
The S15i has a full 20 degree incline feature, and unlike most bikes also has a decline of up to 10 degrees.
The incline is fully powered, and very smooth. One button press on the console changes settings, and the bike is more than happy to take over for you, so it feels like pedalling actual routes.
---
Things that could be better on the S15i Studio Cycle
So where does the NordicTrack S15i Studio Cycle fall short? Like every machine, it's not perfect! Here's some of the things to look out for with this exercise bike.
No shelf track
This is a really minor quibble, but there's nowhere for you to put your phone or a magazine while you exercise.
The screen is amazing, and realistically you shouldn't need anything else, but other NordicTrack exercise systems have somewhere to put your own stuff, so it stands out in its absence.
Subscription to iFit
While iFit is amazing, you do have to pay for it. It's a monthly subscription service, so you can decide to drop it if you don't need it any more.
You do get one month free when you buy this bike, and that month is probably going to convince you that you need to hold on to it.
At the time of writing, it's £11.50 / month individual or around £25 for a family pass. With gym memberships running much higher than that, it's not too bad. However, if you really don't like or don't want any more monthly fees, it's going to give you pause for thought.
Initial set up could be better
The S15i is a complicated piece of machinery, and it can take a little while to set up for the first time. It's recommended to have a second pair of hands, and to follow the instructions closely.
You're probably looking at around two hours for initial set up, from delivery to being able to use the system, but once that's done, you should be good to go.
---
Round-up: Is the NordicTrack S15i Studio Cycle worth it?
Overall, the S15i is a fantastic piece of kit. It's highly adjustable, simple to use, and has more than enough options for resistance and incline to challenge even the fittest riding enthusiast, whether they're a racer or just challenging themselves.
The Live Training options are a massive game changer as well. One of the biggest reasons people stick with exercising is having the motivation to do it, and having access to what's essentially a personal trainer inside the comfort of your own home is going to be a huge appeal to most users.
The build quality is exactly what we'd expect from NordicTrack and is one of the things you're paying for. Calling the S15i Studio Cycle robust just doesn't do it justice. This bike is a serious bit of gear that will take whatever you throw at it and remain wobble free, for years.
A subscription it iFit isn't essential but it's definitely the way to go. You'll have to weight up whether or not you want another subscription in your life though. Price will also be a big sticking point for a lot of people.
Those issues aside, this is an easy recommendation if you're looking for a bike that makes it easy to do online classes from home, and as a way to get one or more family members back in shape. The S15i is easy to use, built to last and a blast to use.
Highly Recommended
---
NordicTrack Commercial S15i – The Full Specs
| Resistance | Infinity resistance, featuring flywheel and padded brake. |
| --- | --- |
| Touchscreen | 14" HD |
| Memberships included | 1 year family iFit subscription |
| Music | 2" Amplified speakers and aux music port |
| Saddle | Ergonomic padded seat |
| Flywheel | Inertia-enhanced flywheel |
| Water bottle holders | 2 |
| Seat Adjustment | Vertically and horizontally |
| Handlebar adjustments | Vertically and horizontally |
| Handlebar grips | Multi-position handle bars, sit up right or lean forwards |
| # Resistance levels | 22 |
| Frame | Commercial grade steel |
| Max user weight | 150kg |
| Dimensions | 141 L x 55 W x 154 H cm |
| Compatible with standard pedals? | Yes |
| Warranty | 2 Years parts and labour; 5 year frame guarantee upon warranty registration within 28 days of purchase. |
References and further reading