Welcome to this in-depth review of the JTX Cyclo Studio – an entry into the crowded indoor cycling market. Does JTX's mid-priced bike have what it takes to sway you away from a crowded market of contenders?
Let's find out. As always, be prepared for the good… and the bad.
JTX Cyclo Studio Best price & full guide
The Cyclo Bike at a glance
A quick overview of this exercise bikes features
Gym standard exercise bike
Extra-thick, stable frame
77kg weight
 JTX SmoothDrive™ system
25kg flywheel
Infinity resistance (dial controlled brake pad)
Seat and handlebars adjust to any body size
Computer console with LCD screen
Multi-position handles (upright or leaning forwards)
2 x Bottle and 1 tablet holder
3 year home warranty
Includes £79 SPD 'clip-in' pedals
---
What is the JTX Studio Bike?
The JTX Cyclo Studio is a mid-priced indoor cycle that replicates the feel of cycling in your home. It's a near commercial quality bike meaning if you've ever done a spin class at a gym, this is the kind of reliable, work-horse machine you're buying.
The resistance is provided in way of a 25kg flywheel, combined with a dial and brake pad which can create 'infinite' resistance. One thing to note with this system is that you can tweak it ever-so-slightly to get that perfect resistance. By perfect, we mean 'oh my god, my legs are going to explode'.
Who is this exercise bike for?
This bike is aimed at cycling enthusiasts and anyone looking for a high quality spin bike for home use. This style of bike is especially suited to intense workouts and is ideal for weight loss and training for cycling events. But don't think this is a 'pro' bike only. If you're up for a good quality training bike for your home, and this is your first one, then you can't really go wrong. (Aside from the few negative points mentioned later on…)
This is definitely not the cheapest bike on the market, but if you're ready for leap in quality then the Cyclo Studio might be the one you've been looking for. This is a very close experience to the pricey bikes you'd find in a good gym's spinning class.
The rest of this review and guide will dive into some more depth about JTX's Studio bike and help you decide if it's for you… or not!
---
Who are JTX Fitness?

The JTX Cyclo Studio is an exercise bike from UK based JTX Fitness.
Not familiar with JTX? They design and build high quality commercial standard fitness equipment such as rowers, bikes, running machines and cross-trainers. They're known for their customer service and top engineered machines with high quality components, build quality and aesthetics.
If you have any problems with your new bike, or any of their machines, they send engineers out to your home to fix it quickly, which is very rare and something we love.
You can find out more about the JTX Cyclo Studio, and different exercise bikes on the JTX website.
One thing that you'll read a lot about, if you research into JTX, is how good their customer support is.
---
What you'll get training with the Studio cycle
Build cardio fitness – good for intense exercise
Tone up legs and core muscles
Lose weight – spinning is incredible at burning off calories
Do more in less time – If you're short on time, you'll be surprised the difference you can make with 30 minutes here and there.
Watch the video below for a good overview of the Cyclo and all its features.
---
7 Things We Love About the JTX Studio
Having spent some time going over the Studio, here's the 7 things that stood out the most. These are the best parts about this bike. (We'll cover the downsides later on).
JTX's Studio bike is as close to silent running as you'll get
It's gorgeous! – Did we just call a spin cycle 'gorgeous'? Well it is. Sleek curves, shiny chrome and a beautiful exposed flywheel go to making the Studio one of the cleanest designed bikes we've seen in 2021. JTX have done a top job with the design of this bike, from an aesthetic point of view.
It's a sturdy beast – Most spin bikes boast how they're strong or robust.  You can really notice the difference with the Studio bike, however. The stomping 77kg bike weight makes for a very secure, stable cycling experience. Even when you stand up, or shift your weight around, on this bike, it feels solid.
It's seriously quiet – It has to be said, there's some really loud indoor bikes out there! Thankfully, JTX's Studio bike is as close to silent running as you'll get. The belt-driven flywheel glides around serenely, never disturbing your listening, or waking up anyone sleeping nearby. Even if you crank up the resistance, it doesn't affect the noise level.
It's easy to put together – One day, all gym gear will arrive pre-assembled. Until then we're stuck with allen keys, those little flat spanners and confusing assembly guides. As far as gym gear goes, this bike requires minimal assembly and definitely won't send you round the bend with hard-to-read instructions. It's mostly all done, and is easy to get up and running.
It's comfortable – If you've ever been on a spin bike and wished it was just a bit kinder to your bottom and other parts, this might be the machine to change your mind. There's plenty of give in the seat and it's pretty well padded. The SPD pedals are comfortable and the handlebars have a chunky, padded textured feel to them.
It's a smooth ride – A lot of work has obviously gone into engineering the JTX Studio to make it feel as smooth as it does. Sealed bearings, belt drive and high quality parts all go to making this feel as slick as can be.
Good quality proper pedals – One thing that's often overlooked on indoor bikes is the pedals. Out of the box, the JTX studio comes with their own brand of clip-in SPD pedals that cost around £79 to buy separately. They're good quality and make for a safe, reliable experience.
---
Using the JTX Studio with Kinomap & other apps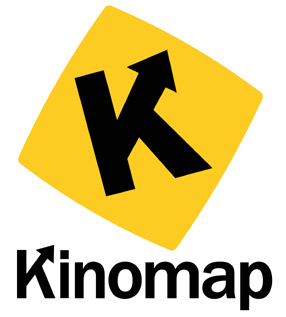 Is the Studio compatible with online racing and apps like Kinomap?
If you've never heard of this before, you use your tablet's or phone's screen along with an exercise bike (although it also works with things like rowing machines).
Once connected you do some of these cool things:
Race along famous cycling routes
Compare times and speeds with others
Do LIVE online races and events
Get trained by a proper instructor
The Cyclo Studio can't be used with Kinomap without a third party gadget to send data to an app. That sounds more complicated than it actually is. If you like the Cyclo spin bike but also want to do virtual races and track progress on your app, you'll need to buy a bluetooth device to track when the pedal moves.
You can typically buy these cheaply and then be able to use any fitness app you want to. Expect to pay around £30. A good one is the Wahoo RPM Cycling Cadence Sensor (Available on Amazon).
Here's a quick video showing some of the things you can get up to:
Reception of this exercise bike
What are the reviews like for the JTX Cyclo Bike?
One of the 3rd party independent sources for reviews on this fitness bike is Trust Pilot. The Cyclo Studio currently sits at 4.8 stars. At the time of writing, there's a good number of reviews of this product.

Here's some opinions from users of this upright bike:
"First-class product delivered on time at a great price by JTX Fitness. Very Happy." 
Steve Sutherland – Verified Buyer
"Excellent spin bike, solid base. As good as any gym bike I have used. Great with the peloton app and wahoo cadence measurement." 
Si – Verified Buyer
"Although this bike might seem quite expensive, it is definitely worth it. This is a solid, quality spin bike. There is some construction to do when arrives, but instructions are very clear and you have a spin bike that will take anything you can throw at it. Definitely worth the money." 
Mrs J Wallis – Verified Buyer
---
Why is the Cyclo Studio a higher price than some other Spin Bikes?
You don't have to look to far to find tones of exercise bikes that are way cheaper than the Cyclo Studio. In fact, you could probably get two pretty good upright bikes for the same price as the Cyclo Studio. So what gives? Why is this bike more expensive?
Better build quality & engineering
We always list build quality and how stable a bike is as being important. The frame on the Cyclo Studio is, funnily enough, almost twice as chunky as a lot of cheaper bikes. The bike weighs an incredible 77kg which makes it way more stable than the budget bikes.
The metal tubing is bordering on overkill. The sheer quality and robust nature of this bike is just among the best out there. JTX gear tends to be on the good quality side, but the Studio is definitely something else. If you're buying this for a gym, it won't wear out any time soon.
JTX Customer Service
I don't normally list customer service as a plus point but in the case of JTX it's worth mentioning. You'll be hard pushed to find anyone with a bad thing to say about them. Check out JTX's Trust Pilot rating here.

---
What's the training computer like on this bike?
It does the job, but it's nothing special
The JTX Cyclo follows the current trend with indoor bikes of having a fairly stripped back and basic display. It's a standard LCD display, unlit and the panel is broken into several smaller boxes which display all the usual suspects:
Time
Speed
Pulse
Distance cycled
Calories burned this session
Pulse
There's nothing really wrong here; it's a simple display that gets the job done.
Using another device
If you want more accuracy, you're probably going to end up using your phone or table to get a more accurate reading of your workout than the built in LCD console.
Measuring pulse
The Studio comes with the usual handlebar sensors built in that will do a pretty good job of taking your pulse. If you're serious about using this metric, you'll likely want to invest in a wireless chest strap that frees up your hands and will track heart rate more accurately too. The chest strap is sold extra, sadly, but they're not expensive.
Overall, the display is simple and provides basic information. However for such a high quality bike, it's well worth hooking up another device ad tracking your workout with more accuracy.
---
Smaller stuff we like about the JTX Studio
It's got plenty of storage space – What you'd think is a no-brainer; a tablet holder and somewhere to put your bottle, is something a lot of bikes make a real pig's ear of. One thing that stands out with this bike is how good the tablet holder is. It's secure and solid. You've also got a couple of bottle holders too – within easy reach.
You can get the Studio just how you like it – The way they've done the seat and handlebar adjustments is really good on this bike. You can adjust both of them vertically and horizontally. It's also quick to move them around so different people will be able to jump on in your home and set it up quickly.
The handlebar sensors are fast – We've all done it. Either at the gym, or on another bit of gym gear at home – you put your hands on those little panels and wait… and wait… The Studio works some kind of JTX magic here. Shock. Horror – place your hands on the sensors and your pulse will quickly show on the screen.
Dual water bottle holders are genius! If there's ever an exercise that makes you thirsty, it's high intensity cycling. The way JTX have added the water bottle holders here is just so cool. There's slots for two bottles but they are tucked neatly under the handlebars. No more stopping to refill.
Good choice for heavier users – The Cyclo Studio has one of the larger upper user weight limits we've seen on an indoor bike. The 160kg max user weight shows just how tough this bike is.
---
Where can you get the best price for the JTX Studio?
While you can buy the Cyclo from third party places like Amazon, you can order it directly from the good folks at JTX. One thing you'll find with them is they've got seriously good customer service. Whether you've got a problem, or need to know how to use your machine, they've got a very good customer rep.
---
What are the negatives to the Studio exercise bike?
No digital view of the tension
We like a bit of old-school resistance but it would be great to see exactly where we're at on the display. Getting back to that perfect resistance on your next workout is not possible and, although the infinite resistance is really well done here, it's not easy to recreate the same setting from one workout to the next.
The screen isn't backlit
This is the same kind of LCD screen we've been looking at for years. Black on dark gray. Exciting. Sadly there's no back lighting here to make the display easier to read. Using it in low lighting might be a problem and a nice bright light would have made it way better.
Mounting issues on the display console
For a bike that's engineered as well as the Studio is, the mounting on the display console leaves a lot to be desired. At the moment, you have to unscrew the console in order to change the battery. This could well be addressed in a later model but for now, it's a minor issue that's worth noting.
You can't connect to 3rd party apps without an extra gadget
Although it's cheap enough to buy a sensor to add to any exercise bikes (£30 ish) it would have been much better if the Cyclo Studio's computer connected to your phone via Bluetooth and was able to connect to Kinomap and other online services, without having to buy anything else. And in this price bracket, it could have an impact on whether or not you get this bike.
However, if you're not interested in the online racing and coaching side of things, this won't be a problem.
---
Final thoughts: should you buy the JTX Cyclo Studio?
It's hard to imagine anyone getting this indoor bike and not smiling over their shoulder at it after each workout.
If your budget is around the £800 – £1000 mark, this bike from JTX should definitely be on your short list. The Cyclo Studio is a solid, very high-quality bike that's extremely close to the way more expensive commercial quality bikes out there in Gym Land.
The quality of the bike seeps into every part of the experience (even down to how well packaged it arrives) and the silky smooth riding experience is just feels so good.
A few minor niggles aside, it's hard to imagine anyone getting this indoor bike and not smiling over their shoulder at it after each workout.
Another good product from JTX and a superb choice for indoor cycling.
---
Full Studio Specs
Resistance
Infinity resistance, featuring flywheel and padded brake.
Flywheel
25kg flywheel
Brake
Dial activated wool pad
Drive
Belt drive system
Data tracked
Pulse
Speed
Time
Distance (kph), RPM
Calories
Heart Rate Training
Yes. Via hand sensors and wireless heart rate strap.
Pedal Options
Toe clips as standard.
Seat Adjustment
Vertically and horizontally
Handlebar adjustments
Vertically and horizontally
Handlebar grips
Multi-position handle bars, sit up right or lean forwards
Safety Features
Simple activation emergency stop button
Crank
3 Piece crank with sealed bearing system
Transport Wheels
Yes
Dimensions
132cm(l) x 51cm(w) x 128cm(h)
Boxed Dimensions
137cm(l) x 28cm(w) x 112cm(h)
Maximum User Weight
160kg
Machine Weight
77kg
References and sources
The official JTX Youtube channel is packed with high quality videos of their products, if you'd like to check out other rowing and fitness machines.
Need more advice on which indoor racer to go for? The Cycling UK Forums are a great resource.
Find out more about what you can do with KinoMap here
If this is your first exercise bike, take a look at the NHS's cycling guidelines before you get started
Contact JTX on their website, or using the email info@jtxfitness.com
You can also contact them for help or any other queries on the JTX Cyclo 3 on 01273 453855
How good is JTX's customer service? Check out their Trust Pilot company reviews here. Spoiler alert: 4.5 / 5 stars.
Are you up to it? Check out the Live well website on NHS before you dive into your new exercise bike.