Review Summary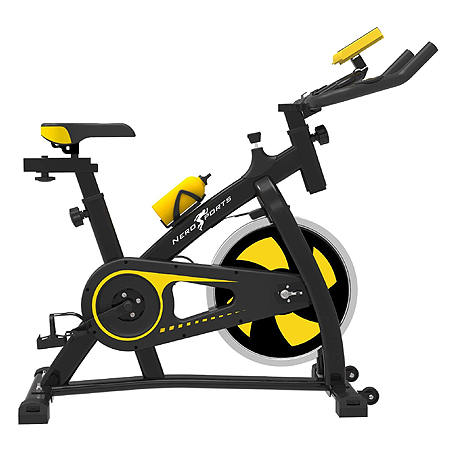 Nero Sports Bike
Sturdy & well-made
Easy to assemble
Connects to the Zwift app
Smooth & quiet(ish) ride
Not suitable if you're taller than 6 feet
Welcome to this review and guide to the Nero Sports Bluetooth Indoor Bike (currently available Amazon UK). In it's bold, bright bee-like yellow and black, this budget-priced entry into the world of spin bikes certainly stands out. But is it any good?
We'll cover what this bike is, what it's good and what it gets wrong in this review.
Let's dive in!
What is the Nero Sports Bluetooth Exercise Bike?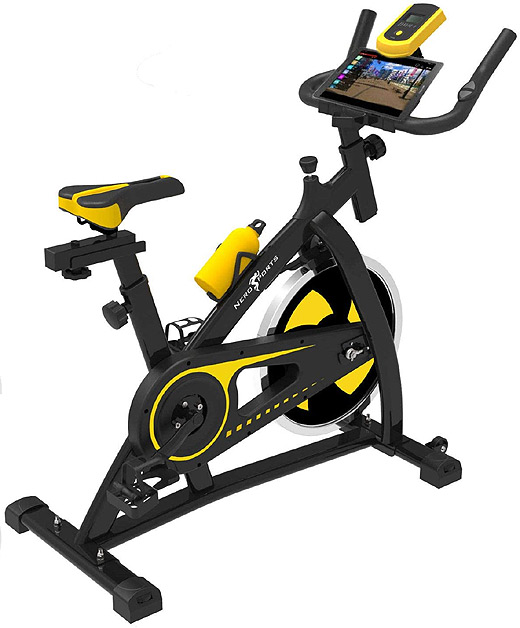 This is a home spinning bike that sits at the budget side of the market. It's a very popular machine with some pretty decent reviews on Amazon at the minute. This exercise bike is aimed at anyone wanting to do intense indoor cycling.
The Nero bicycle will likely appeal to people who are seeking a good value home exercise alternative. It's a lightweight and compact machine, with a tubular steel frame. Resistance comes with a reduced noise 12kg flywheel and fully adjustable seat and handlebars. It also has the brake that you can turn to increase resistance as much as your thighs can take.
As for the 'Bluetooth' part of the product – the Nero offers good connectivity so that you can take your stationary bike out into the virtual world and even compete against other riders to up your game.
By connecting to the Zwift app, you can race online and increase your fitness while tracking your distance, speed, calories, and time on the easy to read LCD display. For optimum health, you may even measure your heart rate
The Nero Bluetooth has been designed to fit easily into the  home and has onboard transport wheels for easy storage and use. If you're looking to improve your health, body tone, or lose weight, without spending the earth, the Nero Sports Bluetooth bike might be what you're looking for.
---
Nero Sports Bike Features at a Glance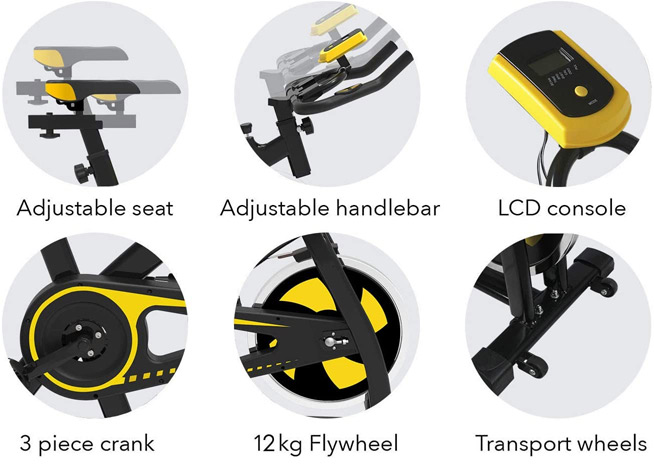 Durable tubular steel frame
iPad or smartphone-friendly stand
Silent running 12kg flywheel
LCD display showing time, distance, calories, speed, and scan mode
Heart rate monitor
Comfortable padded seat
Toeclips for slip-free training
Transport wheels for easy storage/movement
3 piece crank
Free water bottle
Bluetooth connectivity to Zwift app for online games
5-year Warranty
Benefits to Training with the Nero Sports Bluetooth Exercise Bike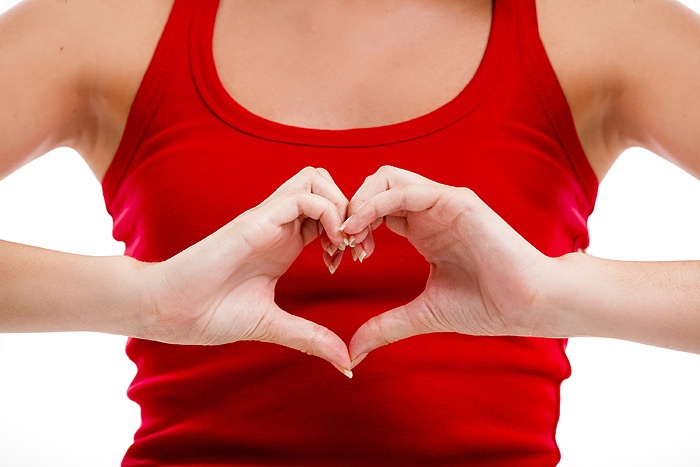 If this isn't your first indoor exercise bike then you can probably spin on past this section. For anyone new to this type of gym equipment, here's the run down on what this bit of kit will do for you and your health.
Help you lose weight
Stationary bikes are an excellent way to shed extra pounds. Cycling helps you burn off calories, and you can lose somewhere between 200 and 300 calories in just 30 minutes of cycling. The best part is you don't have to exercise in a class, where some of us can feel self-conscious.
Tone your body shape
Everyone has seen how great professional cyclist's calves and legs can look. You can shape your lower body and your core and upper body also have the benefit of a workout via the handlebars.
Strengthen your muscles
You may reap the benefits to your thighs, legs, back, and hamstrings by strengthening the muscles that support them through cycling. The two different cycling actions of pedalling down and pulling up have two different effects on your body. Pushing down on the pedals strengthens your quads while pulling up gives your hamstrings a workout.
Reduce stress on your joints
So many exercise routines such as jogging and aerobics-style classes can really put stress on your joints.
The smooth action of cycling on an even surface reduces stress on your knees and ankles while still allowing you to burn off your calories and tone your body. Stationary bikes are particularly helpful to those carrying extra weight and provide a supported, safe way to work out while reducing impact or strain.
Improve your lung and heart health
Cycling improves your circulation and cardiovascular system dramatically. Daily exercise on your stationary bike reduces high blood pressure and improves your body's ability to utilize oxygen. Not only that, but cycling can also even reduce the levels of bad cholesterol in your body.
A recent study found that even as little as half an hour of cycling every week could reduce rates of heart disease. (See references at the end of this guide!)
Benefits of home training
With your Nero Sorts bike in your home, you no longer have the excuse of an annoying commute to the gym and back to keep you from your training. You can train anytime you wish, and you won't be constrained by late hours or the weather outside like many joggers and cyclists are.
With the world the way it is, you can't even be sure that you will have access to your gym and the outdoors, so it's a bonus to be able to work out in the safety of your home. Besides, you save on expensive monthly gym payments.
Psychological benefits
Regular exercise such as indoor cycling has long been known to have significant psychological as well as physical benefits. Your body releases certain feel-good chemicals such as serotonin and dopamine that affect your mental health and overall energy levels.
Who is the Nero Sports Bluetooth Bike best for?
People who want to improve their overall health
The Nero Sports bike is a great entry-level home exercise alternative for those who would like to begin their journey to fitness in their homes. Sometimes gyms can be a rather daunting space if you are not familiar with the systems and the layout. The Nero provides you with a home-based alternative to the crowded space and super-fit regular spinners at the bigger gyms.
Alternatively, the Nero is an excellent second option for those who cycle and jog outdoors and are subject to bad weather conditions and limited hours of safety while exercising outdoors.
People who want to shape their lower bodies and lose weight
Because stationary treadmills are core and lower body focused, it is not ideal for those who wish to build upper-body muscles. Even though the Nero will shape the upper torso during exercise, those who seek a more full-body musculature should instead opt for a home gym style alternative.
Small to average size users
The Nero Sports bike is designed to fit into your home without taking up too much of your much-needed space. The compact nature of the bike is not ideally suited to all users or users over the weight of 120 kilograms (about 260 lbs.)
If you are interested in purchasing the Nero Sports bike, you do have the alternative to buying an added extension to the existing bike. Still, availability is not always consistent, so do your homework first.
---

What we Liked about the Nero Sports Bluetooth Bike
Easy to assemble
The Nero Sports bike is dead easy to assemble and has clear and easy to follow instructions. The 28-kg weight is not a problem for  to move around, especially in comparison to some other stationary bikes in its class. Yet despite the lightweight of the bike, it manages to stay surprisingly sturdy when assembled and doesn't feel unstable or unsecured.
Zwift app via Bluetooth is fun
The connection to the Zwift app did take a bit of trial and error, but once we got it right, the Bluetooth connected it ran beautifully. You can link up with friends to cycle together or join other Zwift users for a more competitive edge. We tried out some of the seven different worlds on Zwift, and it is an impressive feature that relieves the boredom of cycling in one spot.
See the Zwift App in action here, and find out about how it works
It runs quietly and takes up little space
Once operational, we were impressed with the low noise flywheel even at higher speeds. The best part of home-stationary bikes is that you get to other things while you work out. You can watch those Netflix episodes that you never seem to find time for in a busy day. This advantage can be lost when your bike sounds like a steam roller cranking uphill.
The Nero Sports bluetooth runs quietly and won't necessitate your show being on high decibels or annoying earphones when you work out. The bike is compact enough to set up in your living room in front of your TV without fuss or straining a muscle. The wheels are a handy feature that some of the stationary bike manufacturer's neglect.
The three-piece crank
We enjoyed the option of the three-piece crank, which provides a harder resistance to push against so that the extra force needed ups your workout level. The crank can replicate that dreaded hill climbs that get your heart rate pumping and break a sweat. Three-piece cranks are also more durable than the one-piece cranks often found on stationary bikes.
Smooth action with easy to adjust resistance levels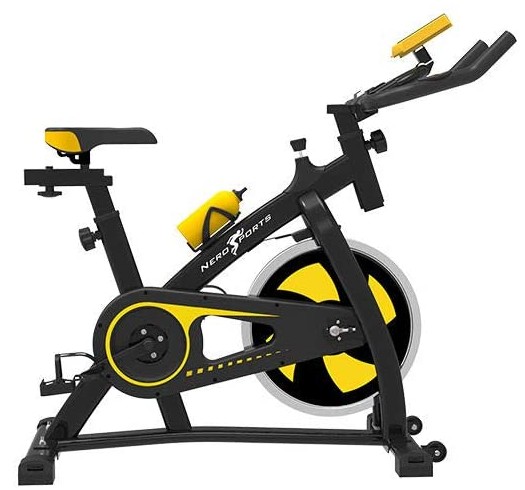 The cycling action was surprisingly smooth for such a compact bike. The resistance can be easily changed with just a twist of a knob, so you have easy options to move up your workout as you progress in fitness. You may join online classes through Zwift and challenge yourself and find the motivation to up your game.
Check Current Amazon UK Price
---
What Could Have Been Better about the Nero Sports Bluetooth Bike
The seat was not very comfortable
We found that the seat became slightly uncomfortable after a short time on a high-intensity workout. The design is not really ideal for forward motion cycling, and the padding is insufficient to provide enough cushioning to a rider's sit bones. For long term, high-intensity use, a user would probably have to upgrade the seat to a more user-friendly option if they didn't want to end up with saddle soreness.
The free water bottle didn't fit the bottle holder
We are aware that this is a small complaint, but it is annoying to get a free gift that you can't even use on the bike. The bottle was considerably larger than the bottle slots and was, therefore, a useless add on in the grand scheme of things. This lack of attention to detail is measurable because it makes you question what other things the manufacturers didn't give proper care.
It is Too Small for Larger Than Average users
The adjustable dimensions are far too small for 6-foot users and above. Larger users would have to purchase an extension that was not available when we searched online.
Conclusion: How does Nero's Bike Stack up?
All in all, the Nero Sports Bluetooth Bike is a great value and well-designed exercise bike. The frame is sturdy and yet easy to move with neat dimensions for home use.
Despite its compact frame, the Nero delivers a proper workout with a relatively noise-free operation. The Bluetooth integration with the Zwift app adds a new dimension to your workouts and a great distraction from the monotony of home exercise.
The LED display allows you to monitor your workout with an easy to read display and variable workout levels. The bike is not for taller users, and the seat can be a pain in the posterior, and your bottle won't fit, but these are smaller issues and can be solved. We recommend the Nero Sports Bike nevertheless.
Check Current Amazon UK Price
Full Specs on the Nero Spin Bike
Resistance
Infinity resistance
Flywheel
12kg
Max user weight
120kg
Adjustments
Seat and Handlebars
Toe clips?
Yes
Colour
Black and yellow
Compatible devices
iPad, iPhone, Android
Tablet / phone stand?
Yes
Pulse sensors?
Yes
Transport wheels
Yes
Display
LED
Stats tracked
Time
Speed
Distance
Calories
Heart rate
Scan Mode
Frame
tubular steel
Instruction manual
English
Includes tools?
Yes
Dimensions assembled
115cm x 50cm x 115cm
Extras
Free water bottle
Warranty
5 years - on frame and parts
CE Certified
Yes
References and further reading