Welcome to our guide on the best recumbent bikes in the UK in 2021! An often-overlooked form of exercise, recumbent (or 'sit down') bikes provide a superb way to get in shape and lose calories at home. Furthermore, they're ideal for anyone who can't train on an upright cycle too, offering safe training for those with back injuries.
"There's really no advantage to choosing a more expensive bike than the budget priced JLL IC300."

"A great-looking home spin bike that's sturdy and represents good value for money."

XS Sports Aerobic Indoor Bike

"This low-cost home spin bike has a chain drive for a more cycle-like feel."

We R Sports
Training Cycle

"a rock-solid spin bike that has a gym-like feel and is ideal for doing spin classes at home."

"This high-quality recumbent gives a great workout and even converts to an elliptical machine. It's comfy, effective and kind to joints."

Dripex Indoor
Exercise Bike

"A fantastic, sturdy budget spin bike that offers good value for money."
As with every fitness category, there's a whole slew of cheap spinning bikes that promise to promise to be the best on the market but we've dug deep and found the best ones we think you'll want to look at. Whatever your budget, you'll find something here that suits your needs. Grab an extra water bottle and let's get on our bike!

#1 – JLL IC300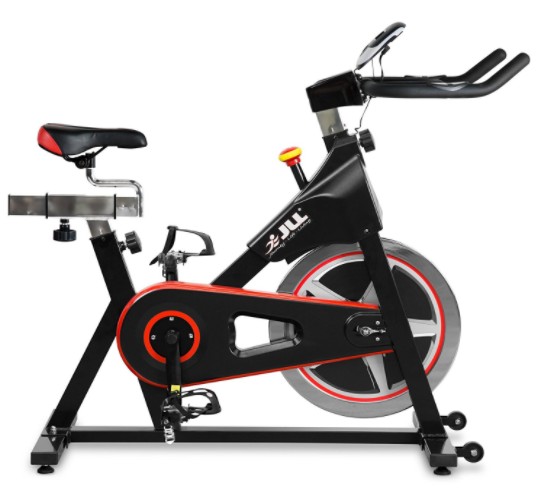 Let's jump straight in with the best budget spin bike in this category which is an excellent bit of kit – the JLL IC300 (Amazon UK). Lets look at what makes this cheaper spinner such a good addition to any home gym. It has the feel of riding a mountain bike, but obviously from the comfort of home.
The first thing I noticed was the decent sized 18kg flywheel. It's driven directly via the chain and makes for a smooth workout.   The IC300 has enough oomph for both beginners or experienced users looking for some serious hard work. The design is also something worth mentioning. Glossy black (or white is also available), with red trim and a bit of flare throughout. A lot of thought as gone into the looks.
Nice chunky grips adjust the seat and handlebars and there's 6 vertical and 10 horizontal seat positions. As it's quick and easy to change settings, this is a good choice if there'll be more than one person using this spinning bike at home.
A nifty 6-function track computer displays your essentials, such as speed, calories, distance as well as pulse. Compromises have to be made at this price range and the only negative with the IC300 is the display isn't as fancy as more expensive bikes. But it has the basics.
It is heavy (in a sturdy sort of way) but can be moved thanks to the wheels at the front.
Build wise, it's as sturdy as you can get, and will suit anyone up to 130kg. You can stand up and hammer away on the pedals as much as you like, the 3 piece crank is as solid and reliable as they come. Impressive for a budget spin bike.
This product also has some superb reviews on Amazon, so don't just take my word for it.
Click here for full reviews on amazon
There's really no advantage to choosing a more expensive bike than the budget-priced JLL IC300. It's got a fantastic build quality, a good price and it is a fine addition to any home gym.
Excellent 18kg flywheel
Solid and sturdy design
Good safety features
Some thought has gone into the striking design
Pulse sensors
The LCD display is basic but OK
£449.99 at Amazon
Price last checked: Saturday 16th October 2021 - 00:06 am
---
#2 – Nero Sports Spin Bike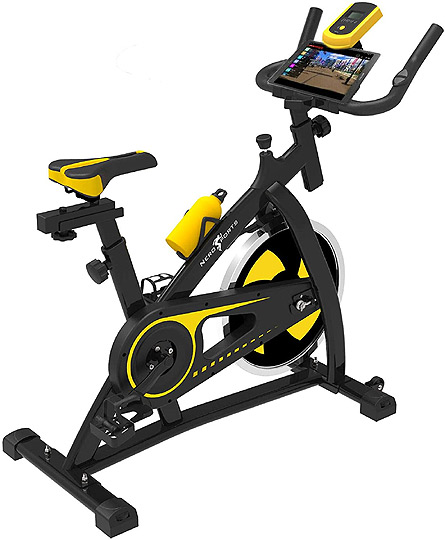 If you're sick of crappy exercise bikes and want to buy a decent one, the Nero Sports Bike (Amazon) is well worth your time. As well as having a fairly cool design, this is a very stable, comfy bike that has everything you need to do spinning at home.
Everything is adjustable, so you can get the seat and bars set just right for your body. And the toe straps here fit well and keep you from slipping.
Although it's solid, there's a set of wheels at the front so you can move it where you like. And setup isn't as horrible as you might think. An easy build taking around 30 mins tops.
Once you're on your spin bike, there's a decent LCD panel that will keep track of calories, time, distance and it's fairly easy to read.  There's also a really good tablet holder here so you can use a fitness app, or simply watch some Netflix while you ride.
Solid, sturdy bit of kit
Fresh modern design
Everything is adjustable for a perfect fit
LCD computer does the job
Again, the display could be better lit
---
#3 – XS Sports Aerobic Indoor Bike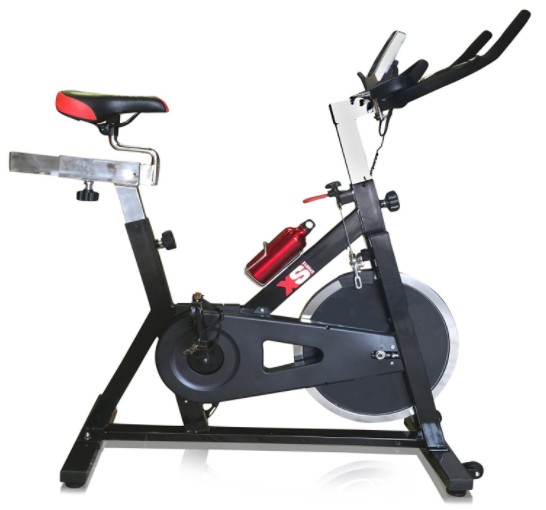 One of the main things I look for when reviewing the best budget spinning bikes is whether or not it's a 'proper' spin bike – as in can it take some punishment? Is it suitable for taller people? Can you stand up on the pedals? the XS sports exercise cycle (Amazon) ticks all of the boxes on build quality and comes in at a very reasonable price.
This exercise bike has a  15kg chain-driven flywheel and the same kind of adjustments you'd expect at the gym. The bars and seat are fully adjustable, making this a good choice if there'll be more than one person using it.
The LCD computer isn't anything fancy but shows calories, distance, time, speed and, unusually for bikes in this price range, it also has pulse sensors. Max user weight is 125kg and it's fine for all heights, even tall riders.
This bike represents great value for money and is perfect for beginners or anyone seeking a good solid spin bike.
Sturdy build
Simple computer to track the essentials
Shows pulse
Great value for money
Shiney design and cool water bottle!
the trim on the bike has a plastic feel to it
---
#4 – We R Sports Aerobic Training Cycle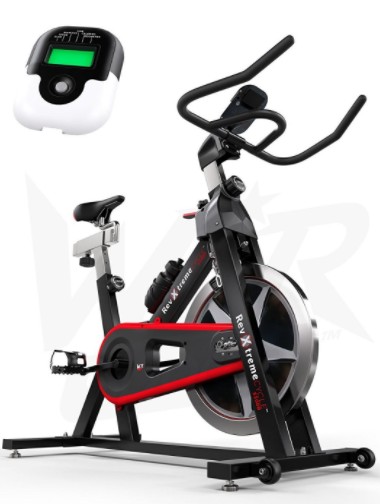 If price is at the top of your list and you're looking for a spinning bike that won't break the budget, check out this little gem from We R Sports (Amazon). It has a lot of the features of more expensive bikes while coming in at a low price.
The seat and bars can be easily adjusted, it has two straps, and comes with the water bottle.
Unlike some cheap spin bikes, this one has an LCD display that tracks the essentials like calories, time, distance, odometer. Although it's a bit small it does cycle through them all in scan mode.
You're getting a 13kg flywheel, which might be a little light if you're used to some seriously hard work on your spinning classes, but it will be fine for others.
Very low price for a spin bike
Solid
Quick and easy to adjust
The onboard computer tracks the basics
Can be a bit noisy
Flywheel will not provide enough of a workout for advanced cyclists
£299.00 at Amazon
Price last checked: Saturday 16th October 2021 - 00:17 am
---
#5 – XS Sports SB350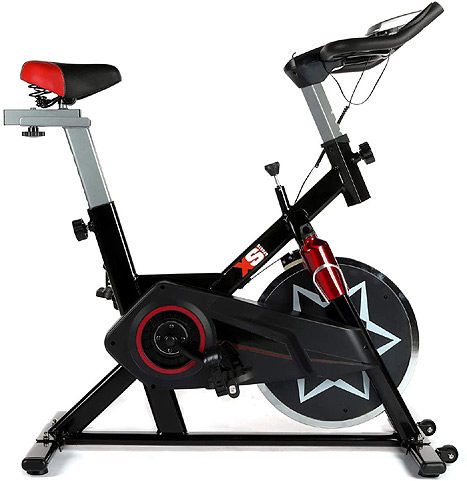 Proving you don't need to spend silly money to get yourself a decent home spin bike, you'll want to take a look at the XS Sports SB350 (Amazon). This is a great-looking, sturdy bike that can support user weights up to 100kg.
It's really easy to get this bike set up too, which can't be said for all the spin bikes we've seen. You'll also be pleasantly surprised by the quality, especially considering this is one of the cheaper bikes we're showing off today.
The resistance is adjusted with a dial and the bars and seat can be adjusted in umpteen different ways to get just right for your build. It's comfy enough, and the seat even has a basic form of suspension to help new riders get used to the saddle.
This bike is excellent value for money and a solid budget spinning bike.
Solid, firm bike
Comfy ergonomic racing bars
The chain system is strong and feels good
Good price for a decent spin bike
Not suitable for anyone over 6 foot
---
#6 – Dripex Indoor Exercise Bike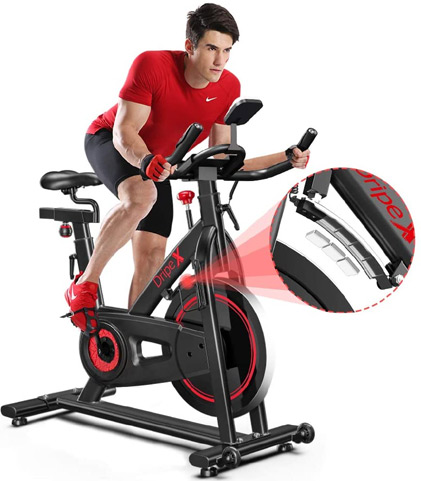 New for 2021 is this awesome indoor spin bike that is perfect for anyone looking for a cheaper bike that's close to a gym experience as possible. The Dripex Indoor Exercise Bike – Amazon is a high-quality home spin bike that's easy to put together, looks great and has some really well-thought-out features.
There's a heavy 16kg flywheel here which is ideal for anyone looking for a challenging workout. Showing how sturdy the build is, this bike offers a hefty 150kg upper weight limit for users and is fine for anyone up to around the 6 foot, 3 inches height.
There's a simple, easy-to-read LCD display upfront along with your water bottle holder which is in easy reach. This bike has a belt drive system so it's a bit quieter than other machines in this range too. Everything is comfy here, from the padded seat to the non-slip pedals.
In short, this is a great value indoor bike and it's hard to find fault with it at this budget price tag.
Good value for money
Fine for taller or heavier users
Very comfy ergonomic seat
Toe straps keep you from slipping out
Has wheels to move it around easily.
Not the cheapest on our best of list
If you're not looking for a low-price bike, and have a slightly higher budget, we recommend checking out our JTX Cyclo 6 review. This is a good quality home bike from a reputable brand.
---
Resources and further reading