Welcome to our NordicTrack FreeStride Trainer FS9i review. I think I'm correct in saying this is the first NordicTrack product we've had the chance to give our opinion on and we were excited to see how it compared to other similar elliptical trainers.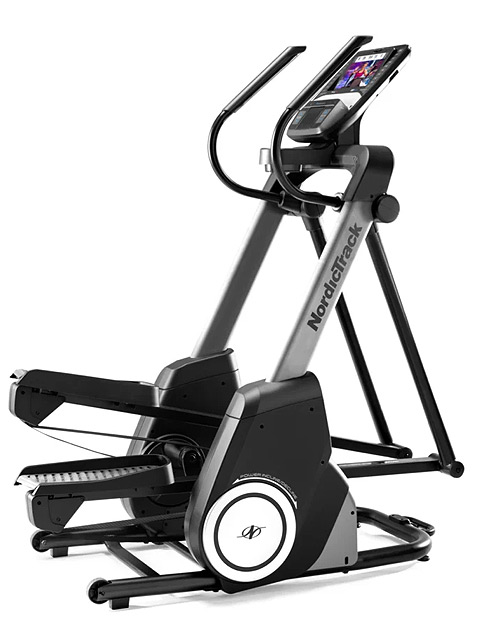 In this review we'll cover everything you need to know about this machine, including both the good and the negative aspects.
What is the FreeStride Trainer FS9i?
This is a high quality elliptical machine that aims to integrate online classes and live coaching into home home training. It's a top-end machine that offers a significant bump in quality from the mid and lower-tier cross-trainers for sale in the UK.
The FS9i is the flagship model in NordicTrack's range of FreeStride exercise machines. It's designed as a complete system that can work as one of three separate types of exercise machine, a treadmill, a stepper and an elliptical machine.
It's highly adjustable, incredibly easy to use, and packed full of awesome touches like the drive system, which is powered by belts instead of gears for absolute smoothness, the huge stride length and the 10 inch tablet touchscreen jammed with workout plans and smart software to get you fit fast.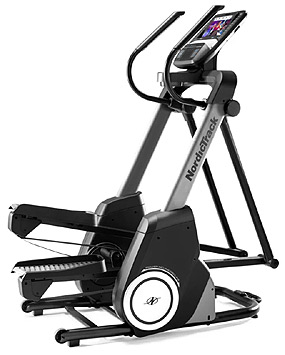 The NordicTrack FreeStride Trainer FS9i offers a superb quality cross trainer that combines a stepper, treadmill and cross-trainer and offers excellent online training facilities.
What you'll get from training with the FreeStride Trainer FS9i
remember that beneath that easy-going smooth motion lurks some of the toughest workouts you can get
As we've already mentioned, the FreeStride trainer 9i can function as three different types of exercise machine:
It's a treadmill,
a stepper
and an elliptical.

This lets you get your cardio burn with the treadmill, then shift to a higher resistance on the elliptical to blast your arms, legs and core muscles for a solid workout.
Using all three of these functions in sequence gives you a great workout that will:
Exercise all muscle groups in your body
Raise your heart rate
Boost your cardiovascular system
If you've read any of our other guides on Ellipticals, you'll know one of the things we love about theses machines is how little impact (almost zero) they place on your joints. Contrast that smooth motion with the thumping action of running and you get the picture.
Don't let that smooth action fool you…
If you think ellipticals are an easy option for getting fit, remember that beneath that easy-going smooth motion lurks some of the toughest workouts you can get (if that's what you're looking for!) Ellipticals offer both a brilliant, easy way to get into exercise as well as a tough cardio (see: super-sweaty) way to get in shape.
---
Who is the FS9i for?
Anyone who's looking to get fitter would benefit from using the FS9i. It's such an intuitive piece of kit that even an absolute beginner could jump on, take a glance at the touchscreen, set their controls, pick a workout from the massive range built into it and get started.
There's a challenging workout here, if that's what you're looking for
In the same way, the wide range of resistance options that go reasonably high for blood pumping, fat burning, muscle straining workouts, the fact that it has incline and decline settings, something you don't see on many machines, and the fact that it works as three different pieces of equipment make this a fantastic option for people looking for a more intensive training solution.
The only issue is the price
Because this is designed as a top of the range, bespoke piece of workout equipment, it has a price point to match. Someone looking to start slow and work up might not want to spend what this costs, and it may be out of the budget range of some people.
However, anyone who does purchase an FS9i will find themselves with a fantastic piece of kit that's reliable, powerful and adaptable enough to take them as far as they can push themselves.

Key features
20lb equivalent drive system
Powered incline/decline, up to 10 degrees either way
10 inch internet enabled smart screen
38 built in workout apps and iFit functionality
Built in web browser and WiFi enabled
375lb maximum user weight
26 resistance levels using Silent Magnetic Resistance (SMR)
Huge AutoBreeze automatic fan
Chest strap heart monitor
Water bottle holder
OneTouch digital controls
Easy assembly
Built in transport wheels
10 year general warranty, 2 years on parts, and 1 on labour
Check the price at NordicTrack
---
What we liked about the FreeStride Trainer FS9i
It's a three-in-one machine
Like any good elliptical, the FS9i will work both your upper body at the same time. Pulling and pushing, while stepping is oddly easy to pick up, even if you've never done it before.
One of the things that sets NordicTrack's machine aside from similar offerings is how well you can swap between 3 different modes:
Stepper
Treadmill
Elliptical (combines the above)
With just a couple of button presses, the FS9i can operate as a treadmill, a stepper, or an elliptical – all available instantly, whenever you need them.
Robust and well engineered
One of the best things about the FS9i is how good it feels when you're using it. The maximum 38 inch stride is larger than the FS7i, the preceding model, and it's incredibly smooth and easy in operation.
There are 26 resistance levels to work through, allowing you to fine tune your workout to the exact level necessary, and giving you a lot of stages to work up to. The floating suspension system uses belts instead of gears or flywheels for the resistance, so there's almost no impact on your body as you exercise.
Exceptional WiFi-enabled screen
One of the biggest differences between the FS9i and its predecessor, the FS7i (already a beast of a machine) is the touchscreen.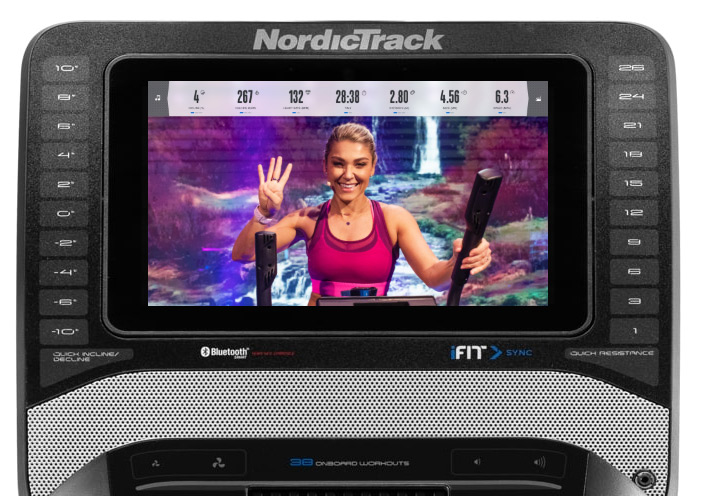 The larger 10 inch touchscreen is clear, easy to use, and works just like a tablet. Not only does this make it incredibly easy to navigate, it also means it's easy to use mid-workout. Instead of fumbling with buttons, just stab what you want instantly.
It's fully wifi enabled, so you can can:
Browse the web
Check emails
… or just watch a little Netflix while you work out!
FS9i's Onboard programs
The onboard software is another area the FS9i excels.
It comes with built in access to iFit Coach, a bespoke workout service that gives you access to carries with you across different systems. If your gym uses iFit, you can log settings and workouts and have them transfer directly across to the gym's exercise equipment, making the process of working out so much simpler.
It is a subscription service, but you get one month free subscription when you buy the system.
The 38 built in workout apps are divided into categories. Whether you're exercising for overall fitness, muscle gain, endurance or weight loss, you'll find what you need in the personal trainer designed programs.
You can also link it to Google Maps or something similar, program a trail to run and watch it read the land, giving you the closest workout to actually the real trail you set out, hills included. Perfect for getting a great workout even when you're worried about the world outside!
The heart rate monitor is accurate and never misses a beat
Another bonus is that the heart rate monitor is top class. Unlike a lot of exercise machines, where the monitor is built into the handle, the FS9i has a completely separate, wireless enabled chest strap.
This makes it much more accurate, as well as simpler to use. No worrying about having your hands in the right place or sweat giving you an inaccurate reading. Just throw it on, work out and trust that it's tracking everything.
Awesome powered incline and decline
One huge advantage of the FS9i is the fact that it has a decline option as well as incline. It has settings that allow up to 10 degrees of incline in both directions. If you've never run on a decline machine, it hits entirely different muscle groups, gives you a far harder work out, and lets you accurately simulate hill running, both up and down.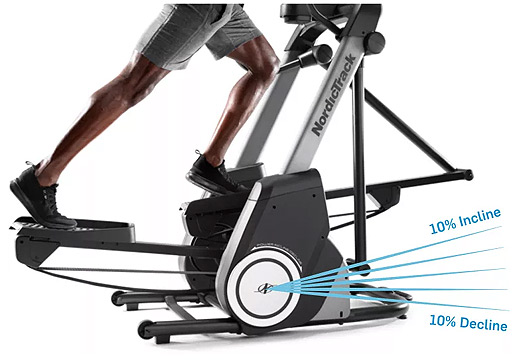 The systems that power the incline on the FS9i are smooth and powerful. Simple to access from the touch screen, you can change them on the go near instantly, or let the computer handle it all.
Touchscreen controls make it easy to change, and the powerful onboard motors ensure that each shift is buttery smooth, with no stuttering or choppiness like you find on cheaper models.
Super smooth operation
Most heavy duty exercise equipment like treadmills or stepping machines are driven by gearing systems or heavy flywheels. Because of this, there's always mechanical resistance when you're working out. Resistance that you have to fight against, and that takes a toll on your body, and not in the way that you want it to.
The FS9i doesn't use gears. Instead, it uses a series of belts, meaning that the working parts glide over each other, with no clunky changes when it comes to speeding up or moving to a heavier resistance level.
That means less impact on you, less long term impact on your body, and a more comfortable experience all round.
If you're looking to lose weight, the FS9i might be your new best friend
The FS9i is built strong. The maximum user weight is 375lbs, which is huge! A lot of comparable exercise machines might only take 2-300lbs max, so having that extra limit is a big deal.
Because it has such super smooth operation, the FS9i takes all the pressure off your joints, letting you work out harder and get the results you need, without feeling it for days after, and making it an amazing option if you have joint issues. All of these together make the FS9i one of the single best options for home exercise for weight loss.
Check the price at NordicTrack
---
Things that could be better on the FreeStride Trainer FS9i
The hand grips are inexplicably huge
One thing that is strange with the FS9i is the hand grips. They're just … strange. Slightly too large, with an odd shape that makes gripping them more of a strain than it has to be.
While it's not painful, the hand grips are noticeably different than on previous models, which were much smaller, so it seemed like an odd design choice.
Having to pay a subscription for the online fitness
The benefits of the iFit program are fantastic, but it is a paid for service. In our opinion, it's expensive, but worth it. iFit offers way more than some app on the app store. You're getting real coaching, instruction and a wealth of high quality content that will help you get where you want.
Bear in mind you get one month free to try it out initially, and if you're anything like us you'll quickly learn to love it. But if you can't justify the cost, you don't need iFit, and can just as easily get a decent session in without it.
It's crazy heavy
One big advantage of the FS9i that we didn't touch on is how simple it is to put together. You can easily do it with just one person in an hour or two, and the overall construction is fantastic. The downside of this is that the whole machine weighs around 200lbs.
This does mean that it's not something you can easily move around. The FS9i does have movement wheels, but because of the weight and bulk they're only really useful on the initial installation.
Realistically you need to find a place for this and leave it there
---
Conclusion: Is the FS9i worth a buy?
The NordicTrack FreeStride FS9i really is an exceptional system. There's no getting around the price; it's expensive, but even at this price point, it offers good value for money and fantastic quality.
When you factor in what you get, and add up the price of buying all three of the pieces of exercise equipment an FS9i takes the place of, it's actually really reasonably priced.
Add to that the sheer quality of NordicTrack's machine, the proven design and the exceptional build standard throughout, and you end up with one of the best pieces of exercise equipment on the market.
Highly Recommended
Check the price at NordicTrack
---
FreeStride FS9i Full Specs
Brand Name
NorticTrack
Construction
Commercial Solid Steel Construction
Color
Gray, Black and Silver
Display
10" HD Touch Screen Display
Pulse sensors
Bluetooth chest strap (included)
Speakers
Dual 2" speakers
Flywheel
9kg
Incline levels
0 – 10%
Stride length
32" Auto-Adjustable Stride
Resistance levels
26
Workout fan
Yes
Max user weight
170kg
Transport wheels
Yes
# Speeds
5
Water bottle holder
Yes
Pedals
Over-sized cushioned pedals
Dimensions
148L x 75W x 188H cm
Weight
109kg
Warranty
5 Year Frame Warranty
2 Year Parts and Labour
Multiple users
Yes
On demand worksouts
16,000+
Memebership
Includes iFit family membership
---
References and further reading