Welcome to this review of the Maxxus CX 6.1 (Available Amazon UK). This high-end machine has received some good customer feedback so we were interested to find out if Maxxus' elliptical was all about. This guide will cover absolutely everything there is to know about this cross trainer, as well as our opinion on whether it's actually any good.
---
What is the Maxxus CX 6.1?
Maxxus CX 6.1 is a cross-trainer designed for home use. It is manufactured by Maxxus in Germany. It can be used as an alternative for outdoor running in the comfort of your own house.
It is a good option for people who suffer from joint and health problems, as there is no joint impact while using the device.
It is easy to easy, high quality, and suitable for all family members. It can help anyone to start training easily and live an active, healthy life.
Maxxus CX 6.1 – At a Glance
These are the features you will first notice when you see the Maxxus CX 6.1.
Almost Silent
Tank Durable
Innovative Bluetooth Console
Very Smooth
Full-body Training
Suitable Dimensions
Gentle to Joints
USB-charging socket
Compatible with Free Fitness App iConsole+
And KinoMap
Hand Pulse Rate Sensors
Check Current Amazon UK Price
---
Benefits of Training with the Maxxus CX 6.1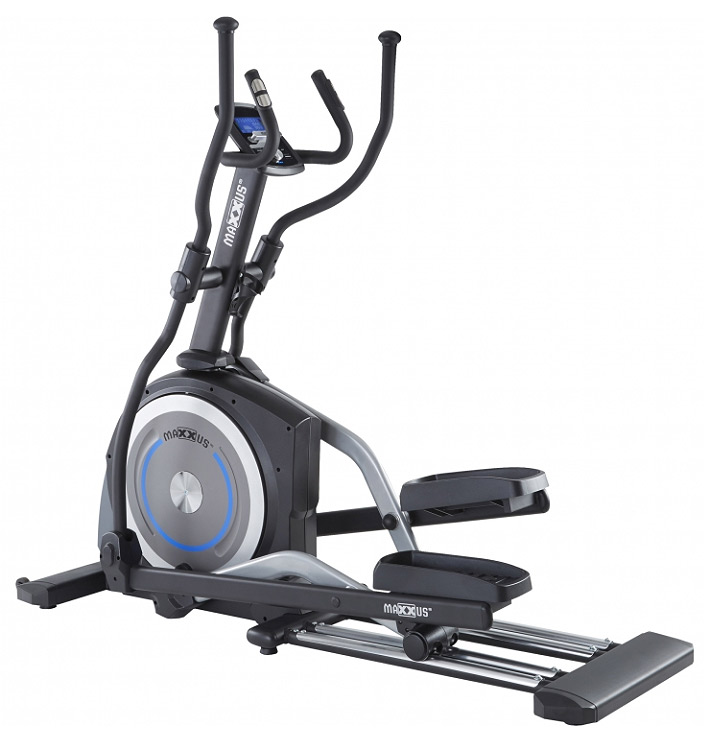 Variety of Training Programs – The Maxxus CX 6.1 offers you a bundle of varied and effective training programs that can help you reach your fitness goal. It also allows you to customize your own personalized program.
Bluetooth Control – The CX 6.1 gives you the option to connect the device with your phone or tablet via Bluetooth. This allows you to control the training programs, keep track of your training sessions, and store the results on the app.
No More Noise  – The high-quality ball bearings used in the product allows it to run smoothly with almost no noise. This is for everyone who would like a quiet and peaceful workout.
No High Ceiling Required  – The maximum height the pedals can reach is only 32 cm. Your body height added to the pedals' height will not be very high, which allows you to fit it in any room.
Multiple Resistance Levels – The CX 6.1 comes with 16 resistance levels that you can adjust easily on your phone or cockpit. This is perfect for athletes and those who want to level up the challenge.
Keeping Track of Your Heart Rate  – The product is provided with hand pulse sensors for measuring your heart rate while training. This helps you keep track of the calories burned and stay focused on your desired fitness goal.
Adjustable Magnetic Brakes – The Maxxus CX 6.1 comes with a friction-free, magnetic brake system. Therefore, it can run smoothly and steadily with no noise.
Heartbeat Chest Belt 
The cross-trainer comes with an optional heart rate chest belt for monitoring your pulse more accurately. It can help you keep track of your heart rate even when you are not using the device.
Check Current Amazon UK Price
Who is the Maxxus CX 6.1 Best Suited To?
Good for losing weight
Cross trainers have a rep as being an easy option when it comes to building up a sweat. In reality, they burn off just as many calories as treadmills or rowing machines. I use cross trainers constantly in my training. They're a fast, efficient and impact free way to shred calories. The Maxxus CX is definitely suited to anyone looking to get in shape.
If you're looking for a way to train indoors
The Maxxus CX 6.1 is perfect for everyone who would like to practice running and live a healthy life in the comfort of their home.
It's good for a range of users
Whether you are a beginner or an athlete, the Maxxus CX 6.1 will suit you. It has 16 resistance levels that can be adjusted according to your fitness level. You can always raise the resistance level up to build up strength and stamina.
While just about every cross trainer is easy-going enough for new people, they don't all have enough power (resistance, stability) if you're more experienced and need the challenge. The CS does and makes it a good choice if you're buying for a household with different levels of fitness.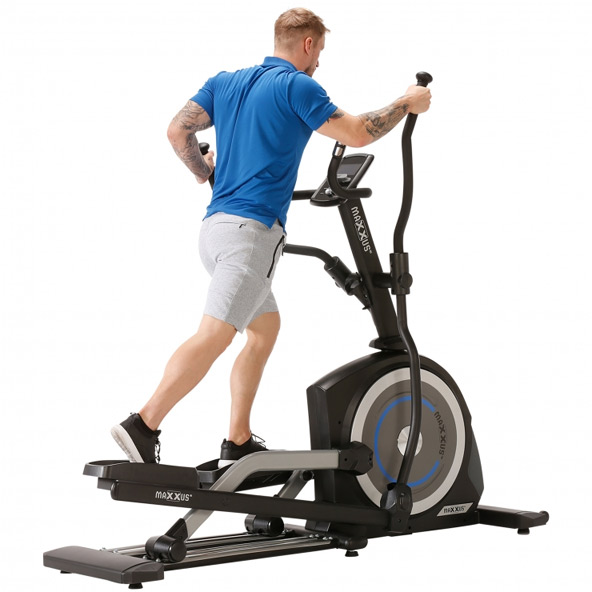 Good for posture and joint issues
Whatever age you are, less impact is a good thing and, like any elliptical, the CX is kind on your joints. This cross-trainer is a good option for those who would like to maintain a good posture during their running session. The Maxxus CX 6.1 is designed to help you keep a healthy and straight posture throughout your workout.
Besides helping you keep a healthy posture, it can also prevent joint problems. The cross-trainer is a good option for people that cannot run on the street due to health issues like arthritis.
For taller people
Not every cross trainer is suitable for taller people. The Maxxus elliptical however has an impressive stride length up to 58 cm. It is suitable for you even if you are over 6′ in height.
---
Who is the Maxxus CX 6.1 NOT suited to?
If you're looking for something easy to set up
The installation of the Maxxus CX 6.1 is very hard and complicated. The device is heavy and it needs several hours to be installed. If you cannot do the installation on your own, you might want to seek help.
It is not cheap
The CX is definitely not a budget-priced machine. Maxxus' cross-trainer is pricey, so it is not for you if you are on a budget.
---
What we liked about the Maxxus CX 6.1 Elliptical Cross Trainer
one of the best things about the Maxxus CX 6.1 trainer is its comfort and that smooth quality feel
Let's get to what we actually thought about Maxxus' machine.
Boring stuff first: the CX 6.1's warranty is pretty good
Maxxus' gear is built with the kind of German precision and sturdy-ness that is exactly what we like to see in our gym gear. But things can go wrong. Let's look at the warranty that comes with this cross trainer.
There's two parts to the warranty:
1) 30 day money back guarantee
Maxxus offer a 30 day period during which you can get a 'no questions asked' refund if things have gone South between you and your new cross trainer.
2) 2 year delivered replacement
And the CX also comes with a 2 year warranty which will have a new machine delivered to your door if anything goes wrong during that time. Beyond that, there's no extended warranty and no lifetime guarantee on the frame, which is a shame, but the 2 points above aren't bad.
---
Efficient and Comfortable Workout Experience
As we'd expect at this price point,  one of the best things about the Maxxus CX 6.1 trainer is its comfort and that smooth quality feel. It's an efficient machine for all those looking out for a full-body workout. This machine also offers a realistic approach to exercising and ensures that you do not face any difficulty.
Maxxus CX 6.1 trainer has a smooth-transitioning elliptical movement that can give you the full experience of a natural workout. This helps in reducing any type of strain or jerk to your knees. It can also protect your joints. Additionally, it offers an inclination to make your workout more challenging and fun.
Perfect for Tall people and Others Too
Tall people usually face various issues while working out with trainers. However, we noticed that the Maxxus CX 6.1 trainer is an ideal cross-trainer for every type of person, including a tall person. 

It is due to the long stride length that makes it easier for tall people to work out effortlessly. As for short people, it is comfortable enough for them to exercise.
The long stride length also ensures a natural running movement, offering health along with undamaged knees and joints.
Smart Features for Easy Accessibility
Maxxus CX 6.1 cross trainer is a great deal for every tech-lover out there. Through our thorough observation, we found out that it has various in-built modern cockpit features to make your experience better.
Talking about a few, it has an LCD cockpit screen that is great for working out in the dark. You can also check out various other measurements and rates such as time, distance, calorie consumption, your speed (in km/hr), total wheel revolutions in a minute, and the heart rate.
Additionally, it also has Bluetooth and other app connections that can make the workout easier and better. You can connect the App iConsole+ app, available on both Apple and Android, with the cross-trainer. This can help in staying updated about all the programs, functions, and results.
Easy Monitoring
Apart from weight, there are plenty of factors, you need to monitor if you're wanting to stay healthy and fit.
Maxxus 6.1 cross-trainer has a great built in monitoring system. You can easily monitor your pulse and heart rate. For monitoring the pulse rate, you can find ergonomically-fitted hand sensors.
Talking about the heart rate, the cross-trainer's cockpit has an in-built compatible receiver. This receiver, along with a chest belt that you may wear, you can get details about your heart rate and monitor it.
Support for iConsole and KinoMap
The CS 6.1 has support for two apps currently. You can download the free iConsole+ app, or KinoMap and connect the CS 6.1 to it for more detailed stats.
Running on tablet or phone, the app will give you a greater depth of information than the console. It's just a case of downloading the app and then connecting to your elliptical via Bluetooth. While iConsole+ isn't the best app out there, Kinomap is one of the giants and, if you're looking to get into online connectivity, it's the one to go for.
Great Structure and Settings
Maxxus CX 6.1 has an excellent structure to offer to its users. Many cross-trainer users often complain about a crooked posture that causes orthopaedic problems. However, we realized that this specific cross-trainer offers an ergonomic posture that can make you feel relaxed.
This offers a natural workout posture to every user to give the utmost importance to their leg's comfort. It also has a permanent magnetic brake, you can use in any emergency. It is wear and tear and friction-free so it is smooth-running without any irritating noise.
As per the settings, you can find different programs and profiles for more versatility. This can help in changing your everyday routine and making your workouts more effective.
This thing is also crazy-strong. The CX 6.1 has a super-sturdy gym quality feel to it, backed up by a whopping 160kg max user weight. This is a good machine if you've ever had those cheaper ones that just aren't up to it. All in all, well designed, well built and reliable.
Small stuff (but important!)
The Maxxus CX has a really good tablet holder, in the form of a large shelf towards the front. Good news for anyone who likes to be distracted while they're exercising but also essential if your're going to jump in and start using the fab Kinomap.
Check Current Amazon UK Price
---
What we Didn't Like About The Maxxus CX 6.1
There are certain things where Maxxus CX 6.1 can be improved upon. Here are a few of them that we noticed.
Complex and Time-Consuming Assembly
One of the bad things about Maxxus cross-trainer is its complex assembly. Usually, workout equipment can get arranged in less than an hour. However, this one may even take more than two hours.
Additionally, you may also have to spend time understanding the assembly procedures.
Weight
Another problem you may face is the weight of the cross-trainer. You cannot expect to pick up this cross trainer all by yourself. You need two to three people to assist you with that.
Software Problems
This cross-trainer has excellent technical features yet they seem to falter sometimes. The measured rates may get faulty.
Also, many general users may not understand everything on the console properly. So, it could have been simpler.
No cup holder
On strange omission is the Maxxus' elliptical's lack of a cup holder. Yes, the display console is a sexy looking beast, in glossy high quality goodness, but we still need somewhere to stash our water bottle. Likewise, there's no handy cup holders to stash keys or other bits and bobs, beside the cup holder.
The chest strap is extra
One final, if slightly trivial and unfair pop-shot at the CX 6.1 is the fact you'll have to fork out to get the POLAR chest strap. They're not expensive and are one of the best investments you can make in your training. But it would have been great if it was in the box.
---
Our Final Verdict: Is Maxxus CX 6.1 Elliptical Cross Trainer Worth the Money?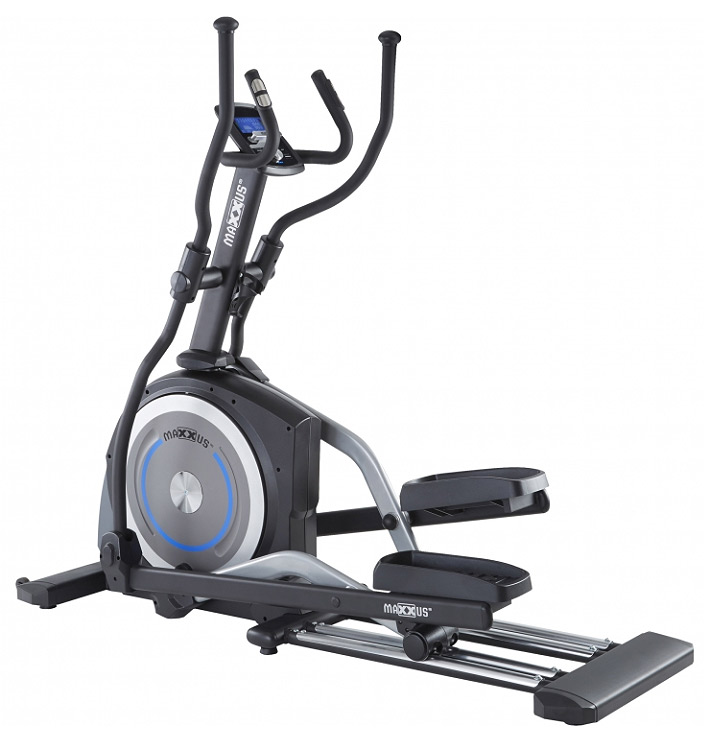 Maxxus CX 6.1 Cross Trainer has some great features and benefits like ergonomic structure, an expansive stride length, high-tech console and software, and monitoring settings.
It excels in terms of it's build quality and the standard of the engineering (this isn't a cheap machine that squeaks and huffs & puffs along). It's silent, smooth and luxurious to use.
On the downside, this comes at a price. And we're still smarting over not getting a POLAR sensor in the box, or having a good cup holder. But these shouldn't put you off what is otherwise a fantastic machine.
Kinomap integration will appeal to a lot of people (give it a try – it's awesome) and it's good to see it works so well with the CX 6.1
The Maxxus CX 6.1 cross-trainer is a sturdy beast that will last for years to come, and is similar to the work-horses you'd find in any modern gym.
Highly Recommended
Check Current Amazon UK Price
---
Maxxus CX 6.1 Full Specs
| | |
| --- | --- |
| Resistance | Magnetic |
| Flywheel weight | Equivalent rotation energy of 29kg |
| Flywheel ratio | 1:10 |
| Chest strap compatible? | Yes. Built in POLAR compatible receiver. |
| Resistance levels | 16 |
| Heart rate training | Yes |
| Self assembly? | Yes |
| Dimensions | 195 x 67 x 167cm |
| Monitor | Heart Rate, Electrocardiogram |
| Bluetooth | Yes |
| Connect to tablet | Phone or Tablet. Android or iOS |
| # training profiles | 12 |
| Heart rate monitor? | Yes, built in pulse sensors or compatible chest strap (sold separately) |
| App | Yes, uses the iconsole+ app |
| Cup holder? | No |
| Stride length | 58cm |
| Slope | 19cm |
| Warranty | 24 month - full replacement machine delivered |
| Max user weight | 160kg |
References & Further Reading