Welcome to our NordicTrack Grand Tour Pro review. We'll be looking at what this upright cycle does, where it excels and the things it doesn't do so well.
2023 has been a good year for home exercise equipment. With everything that's happened in the last few months, sales have skyrocketed as more people set up their own home gyms.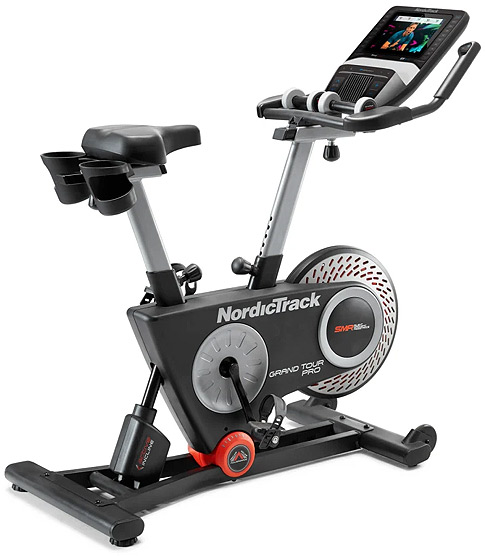 Exercise bikes have always been popular choices to have in a home gym, because they're a great form of cardio and they're simple to set up and use. Right now, out of every model on the market, the Grand Tour Pro is one of the best selling bikes in 2023.
Let's dive in and see how this bike does.
---
What is the NordicTrack Grand Tour Pro
This is a high quality home exercise or 'upright' bike made by NordicTrack. The resistance comes from a flywheel at the front of the machine.
An updated version of the original, popular Grand Tour model, the Grand Tour Pro takes everything that made that bike a success, and builds on the winning formula.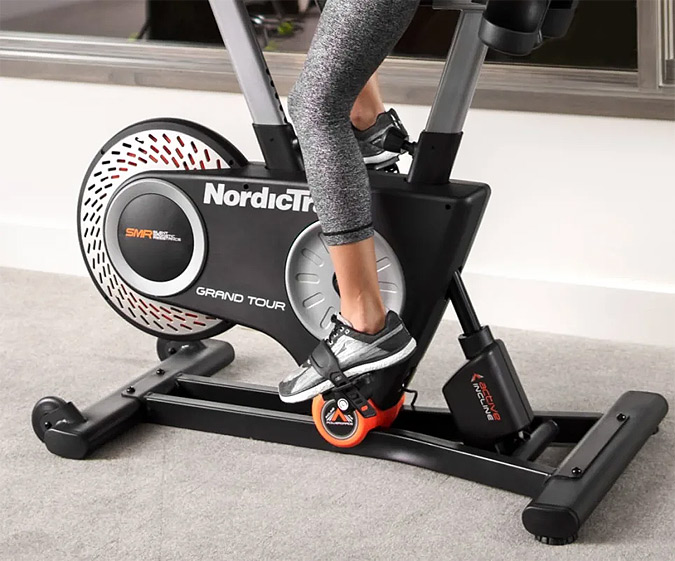 With a larger, superior console, more resistance levels, a greater number of workout options, and a stronger frame that increases the weight capacity, there's a lot to love about the updated Tour bike.
There's a few standout features with this exercise bike that are easy to see. NordicTrack's iFit workout app is a key player here, with intense trainer-led workouts available on-screen, into your living room.
Another selling point with this bike is the reliable, near silent magnetic flywheel. And, more rare to exercise bikes, the 10 degree powered incline and decline options.
---
Who are NordicTrack and are their rowing machines any good?

NordicTrack are a powerhouse name in luxury exercise machines, constantly pushing boundaries and advancing the idea of what technology can be used for when it comes to home exercise.
While anyone into treadmills will likely have heard of them, it's surprising how many people haven't heard of this brand, or seen their gym gear before.
Originally starting in a garage somewhere back in the time of free love and bell bottoms, NordicTrack made mechanical ski training machines to order, but now offer a comprehensive list of exercise systems that are consistently up at the best on the market.
---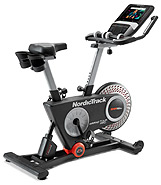 The NordicTrack Grand Tour Pro offers comfort, stability and the awesome iFit ready to roll on it's 10″ touchscreen. This surprisingly comfy upright bike is ideal for weight loss and getting in shape.
What will you get training with the NordicTrack Grand Tour Pro?
The benefits of training on a decent exercise bike are huge!
Cycle training is one of the best cardio fitness options available to you. Main reasons to jump on a machine like the Tour Pro are:
Tone up your muscles
Lose weight
Indoor cycling can lower blood pressure
Improve your immune system
…and even make your mood better.
Cycling is also low impact, making it much better on your body, especially your joints, when compared with things like jogging.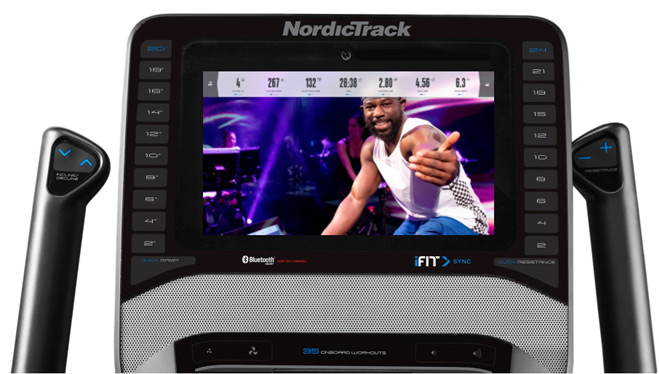 High intensity cardio, like the type used in spin classes (and the stuff you'll be doing with iFit) is super effective at burning calories and melting fat, burning up to 600 calories per hour at higher intensities. (Although you don't need to train for that length of time!)
Exercise bikes are also safe, keeping you indoors and off the roads, as well as other issues we're currently facing out in the world.
Finally, exercise bikes like NordicTrack's Tour Pro are flexible. Slow, long distance cardio, intensive intervals, short sprints for muscle building, or somewhere in between. You can use a bike for almost anything, and it makes a great main exercise, or a supplement for a weight based workout plan.
---
Who is this upright cycle best suited for?
The Grand Tour Pro is an excellent bike for general use with an absolutely massive range of features.
Well built, it's incredibly comfortable, as almost all NordicTrack machines are, and the host of options make it a joy to use.
Whether you're logging in to the iFit online workout classes or making your own routes, there's so much on offer it's hard to get bored, which is one of the issues of a standard exercise bike.
It's not all gold, though. The flywheel is on the lighter end, which means this isn't suited for the highest levels of training, or people looking for super hard workouts. But for anyone else (read <90% of the population) this is an amazing bike that does everything you need and more, and will last years.
Key Features
• 0-10 degree powered incline and decline
• 7kg flywheel
• 26 resistance levels
• 35 built-in workouts
• 10 inch touchscreen multimedia system
• One-touch controls
• Wireless chest band heart rate monitor
• The Grand Tour has a max 170kg user weight
• Twin-speed CoolAire fan
• Twin water bottle holder
• Tablet holder
• Twin 2.25 kg dumbbells provided
• Twin transport wheels
Check the price at NordicTrack
What we like about the NordicTrack Grand Tour Pro
The touchscreen system
Almost every NordicTrack machine we've looked at has a great entertainment system, and the Grand Tour Pro is no exception. Everything works from the 10 inch, high quality touchscreen, with one-touch controls that are incredibly easy to use. This blows away even the really good screens we've seen on comparable machines.
Everything is also wireless enabled, letting you browse the web as you exercise, checking emails or listening to your own music. Sure, you can set all this up separately using apps and third party tablets, but it's honestly so much better with this, and the other Nordic machines we've seen, where it's set up and ready to go.
You also have full access to the iFit exercise system and customised Google Maps workouts, which we'll get into later.
Incredible comfort
NordicTrack make awesome exercise equipment with really high production values. Every part of their machines are made from good quality materials that make riding a joy.
For starters, it's really comfortable, with wide pedals that have easily adjustable straps.
The oversized gel seat will fit most people. It has a lot of give, and it's wide, making it really good for people on the larger side, but just as comfortable if they're petite. If you've ever struggled with the comfort on upright cycles (yeah, me too) then this might the bike to win you over. It's not 'one of those' saddles.
The seat is fully adjustable across both the horizontal and vertical vectors, and the handlebars are sports type, and just as heavily adjustable.
The Resistance
Unlike some cheaper models, the Grand Tour Pro flywheel is built around silent magnetic resistance technology.
The 16lb / 7kg flywheel is quiet but powerful, because instead of using physical force, i.e. friction, to generate resistance, it uses interacting magnets that fight against each other.
This is amazing for several reasons. First off, it's quiet. You can push this bike as hard as you like, and the only sounds you'll hear are the whirr of the pedals, and whatever noise you're making.
Second, it's great on your body. Physical resistance methods kick some of the force back into your body. If you find yourself with aching joints after a long session, that's probably why, but magnetic resistance is far better on the body, meaning you'll recover faster, and also making this excellent for people with underlying health problems that might prevent them working out as much.
At 16lb, the flywheel is only an average weight, but it does have 26 levels of resistance. Easily enough for most people.
Speaking of comfort
If the NordicTrack Tour is going to be used by different cyclists in your home, we're happy to report there's a lot you can alter here: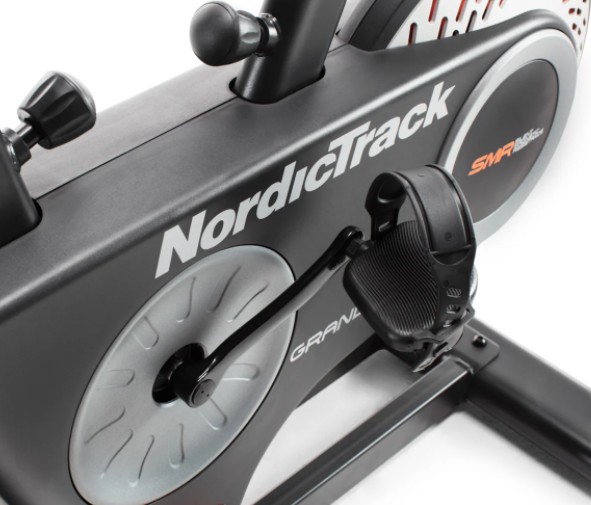 Seat height
How far forward the seat goes
Handlebars – up and down
Console and handlebars back and forwards
Pedal straps
They're all adjusted with large, easy to grab dials and setting up for yourself after the last person only takes a few seconds once you know what you're doing.
The high maximum weight
Compared to equivalent models, the Grand Tour Pro has a seriously high maximum user weight of 375lbs / 170kg. Even the popular Peloton bikes have a weight limit of around 300lbs / 136 kg, and that 75lb weight difference can be huge, especially for taller riders or larger people looking to lose weight.
It goes to show how well this machine is put together and makes it a good choice if you need that extra stability and weight limit.
Built-in Incline and Decline options
The Grand Tour Pro has full 10 degree incline and decline setting, and it's not hyperbole to say it's actually one of the best things about the bike. Most cheaper bikes don't have this option, and even the majority of expensive brands only use incline.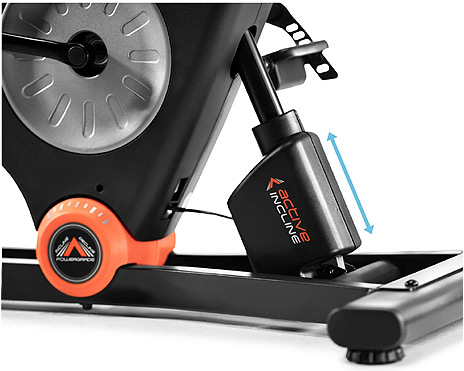 But until you use a bike with decline, it's hard to put into words how much it changes the experience, and your workout. It allows you to accurately mirror a real route, down to the perfect elevation, and declining the bike hits an entirely different set of muscles.
All bikes have resistance, flywheels and the usual stuff to make you work harder but the incline setting is really good. And something I wish a lot more bikes would find a way to do. Although it would push the price up.
You'll likely fall in love with iFit
Almost every NordicTrack exercise system comes with iFit functionality. For the uninitiated, iFit lets you connect to live and pre-recorded exercise sessions led by world class personal trainers, so they can guide you through your workouts.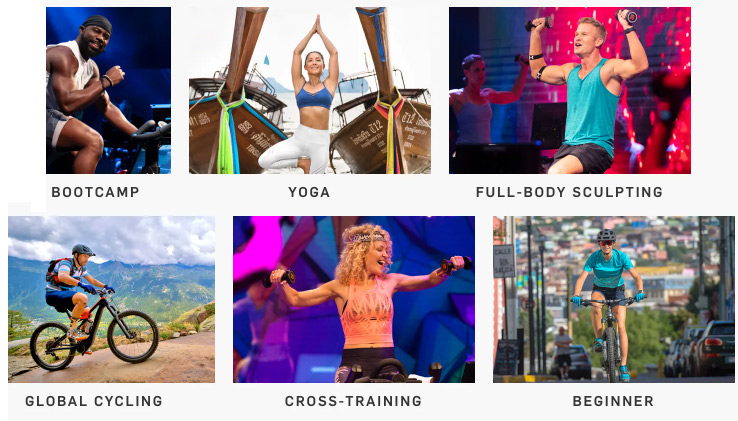 On top of this, iFit workouts link to your machine, meaning you don't have to do anything. It controls the workouts for you. Resistance changes, incline shifts, even shout outs and encouragement from the trainers themselves. It's just like working out in a gym class, except in the comfort of your own home.
If you don't have time for a live class, you can pick from one of hundreds of pre-recorded classes, or create your own workouts manually, or by picking a route on Google Maps, and let the bike do the rest.
iFit is a subscription service, but once you've used it, you'll agree that the small monthly fee is definitely worth it.
You get 1 month family membership
Whether or not you want to continue with iFit after the yearly subscription runs out is up to you. (And yes, the Grand Tour Pro will work perfectly well without it). You'll be looking at around £17 for a single pass, and around £25 for the same family pass per month.
The warranty
NordicTrack's warranties are always excellent, and the Grand Tour Pro is no exception.
You're looking at a full lifetime warranty on the frame, with five years on moving parts and electronics and two years on labour. Considering how well-built everything is, it's unlikely you'll need it, but it's nice to have the protection.
On top of this, there's a 30 day money back guarantee, if you decide you don't need the bike after it arrives. It's great getting the best part of a month where you can return the bike if things don't work out.
Check the price at NordicTrack
---
What we don't like about the NordicTrack Grand Tour Pro
The relatively light flywheel weight
Compared to a lot of heavier bikes, the flywheel of the Grand Tour Pro is a relatively light 16lb / 7kg.
For most users, this isn't going to be an issue, because the range of resistances is easily high enough. But if you're in the top 20% of people regarding your fitness, or you favour ridiculously hard workouts, then you might want to look for something heavier duty.
Assembly is a bit fiddly in parts
It's rare that gym gear comes fully assembled and with the Grand Tour, there's some work required to put it together. Compared to other bikes and machines we've seen, the Gran Tour isn't anything too daunting. Especially if you follow the handy installation video (see links below).
It does get bogged down when it comes to the wiring however, with a few bits where you have to feed wires down inside of the tubes. If you stick to the guide you'll be fine, but it's definitely a little fiddly if you're not used to this kind of thing.
Seat water bottles might take some getting used to
Due to the fact you've got your hand-weights situated at the front of the Tour bike, there's not much room left for the water bottle holders. Thankfully, NordicTrack's bike does have them, and two at that. They're mounted to the rear of the seat so you'll have to reach back and grab your bottle and then slide it back in place.
While it's not the greatest of inconveniences, it's an unusual setup and one that might result in a few dropped bottles, at least until you get the hang of it.
If you're not into iFit…
If you're definitely not looking to take on an additional subscription service, that's perfectly understandable. But, as with other NordicTrack bikes and fitness gear, the Grand Tour Pro goes hand-in-hand with the service. And you could save money buying something cheaper without this functionality.
Having said that, I'd find it hard to pick a similar bike, with the incline and decline features as this one. If you're reading Grand Tour reviews, it's likely not going to be a problem as you're interested in iFit. But if you're dead set against subscription services, there's a question mark whether this is the machine for you.
---

---
Conclusion
It's obvious why the Grand Tour Pro is so popular; Even without iFit, it's a superb upright exercise bike. Clearly aimed at the more sweaty side of workouts, and ideal for anyone looking to lose weight and get in shape, this is a great way to get to your fitness goals.
Simple to set up, easy to use, with an almost infinite amount of trainer-led and free flowing workouts, you could buy this bike and still be using it 10 years later without getting bored. And that's the thing with iFit – it's ideal for anyone who struggles to stay motivated.
If you're serious about your health and fitness, and want one of the best bikes on the market right now, seriously consider the Grand Tour Pro. It's a really well-made bike that should last a very long time and, more importantly, get you to your goals.
Highly recommended
Check the price at NordicTrack
Grand Tour Pro: Full Specs
Resistance
SMR - Silent Magnetic Resistance
Resistance type
Fully automatic
Touchscreen
10" HD Touchscreen
Memberships included
1 year family iFit subscription
Music
2" Amplified speakers and aux music port
Seat
Ergonomic cushioned seat
Flywheel
Inertia-enhanced flywheel
Water bottle holders
2
Seat Adjustment
Vertically and horizontally
Handlebar adjustments
Vertically and horizontally
Handlebar grips
Multi-position handle bars, sit up right or lean forwards
# Resistance levels
26
Frame
Commercial grade steel
Max user weight
170kg
Dimensions
157L x 59W x 148H cm
Pedals
Wide pedals with strap
Warranty
2 Years parts and labour
5 year frame guarantee
(upon warranty registration within 28 days of purchase)
Incline
10%
Decline
10%
Cooling
1 x CoolAire fan
Tablet holder
Yes
Transport wheels
Yes
Seat adjustment
Horizontal & Vertical
Crank
3-piece crank
References & Further Reading