Welcome to our JLL RE600 review – a look at a mid-priced recumbent exercise bike that's for sale on places like Amazon.co.uk.
Quick version: Is the JLL RE600 any good?
If you just want to know if the RE600 is worth the cash, the answer is yes.
JLL are a good, reliable brand and their machine is sturdy, well built and has an impressive display. It can give you an easy workout, or a sweaty beasting depending on what you're looking for.
Most importantly, the seat is comfy and the ride is a smooth and enjoyable one.
On the downside, it's not a budget machine and the default iConsole app that connects to the bike has some issues that need sorting. (Although Kinomap works fine…)
Aside from that, there's a great recumbent here that will appeal to anyone looking for a long term training partner.
Check the price and read other reviews on Amazon.
---
What is the JLL RE600?
The JLL RE600 is a recumbent exercise bike exercise that uses a reclined seat position where the user sits behind the pedals rather than sitting over them. The recumbent exercise bike is a very different beast to an upright bike; it's more comfy, supportive and much easier to ride too.
Recumbents are ideal for users with lower back or knee pain. (Although they can be used by anyone – I love using recumbents in my workouts!) The seat is also fully adjustable to suit users of different heights and builds.
The RE600 follows a fairly standard as far as recumbents go. You've got a front-mounted flywheel and a choice of hand grips to the side of the seat or at the front of the bike.
Like any other recumbent I've tested, this one has a simple bar you pull up and then slide your seat backwards or forwards to get into position. The slope on the rail combined with your body weight gives a pleasant feel that lets you slide into the perfect position for cycling.
Quick overview: Tech specs and features on the RE600
Built-in heart monitor – to track your progress (metallic strips on the seat bars)
Nine-function console – displays time, distance, calories burned, speed, and heart-rate
Belt-driven flywheel – reduced noise and increased smoothness
32 electronic magnetic resistance levels – to increase or decrease the difficulty
Fully padded seat
Portable – transport wheels that can be moved around the house
12-month warranty period
App connectivity – iConsole and Kinomap
The JLL RE600 fits a lot of technology into its 49.5kg frame. Though it wouldn't look out of place in a professional gym, its main purpose is to be used at home.
Check Current Amazon UK Price
---
Who are JLL Fitness?

This bike is made by JLL Fitness, a well-known fitness brand that makes mid-level fitness gear. We've reviewed a number of their products one Home Gym Experts and been impressed with the overall build quality and value for money they offer.
This means you're getting
UK based company
Shipped from a UK warehouse
UK customer support
They've currently got an 'Excellent' rating on Trust Pilot, the independent user reviews website.

How do they fair on our customer support tests?
JLL's support has provided both fast and friendly on our covert tests, with replies always within one hour during weekday working hours. A lot of people buy more than one machine from this company as they're reliable and the products are good quality.
We've had them sort issues for us in super-quick time over the years with the gear we've bought from them. In one case, bringing a replacement to the door and collecting the defective item. No complaints there whatsoever.
---
What Are The Benefits of Using the JLL RE600?
We've got a full guide on some of the benefits of using recumbent bikes here, but here's a quick rundown of some of the reasons these laid back bikes are so useful.
Cardio and Weight Loss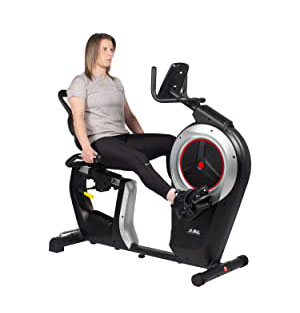 Cardio is one of the most effective forms of exercise and the JLL RE600 offers this in spades.
If you're looking to lose weight and gain fitness, recumbent cycling is a brilliant way to achieve those goals.
No matter how old you are or what your level of fitness is, engaging in regular cardio sessions will benefit you in the following ways:
Weight and fat loss
Increased lung capacity
Improved mental health due to the release of mood-boosting endorphins
Long-term cardiovascular health
High-Intensity Interval Training (HIIT)
Another huge benefit of cycling is the possibility of engaging in HIIT training to stimulate muscle gain and extreme fat-burning.
By producing short, intense rounds of maximum effort, the body goes into overdrive and your physical limits are pushed to the max.
The JLL RE600 is perfect for producing such workouts. It's a versatile machine that is only limited by the imagination of the user.
If you're short on time and have only a few minutes a day to work out, then using the JLL RE600 for HIIT workouts may be the avenue for you.
---
Related Guides
---
Check Current Amazon UK Price
Who is the JLL RE600 Aimed At?

The JLL RE600's target audience is simple in concept as it's aimed at anyone who wishes to improve their fitness.
Whether you're a casual fitness enthusiast or a professional athlete looking to stay in shape at home, the JLL RE600 provides an effective, and portable, outlet for exertion.
Every one of us could benefit from increased cardio capacity so JLL has cast their net quite wide with this product.
What is the JLL RE600 Not Good For?
Those looking to gain strength and muscle exclusively should probably consider other options than the JLL RE600.
As a cardio machine, bodybuilders will not be able to train their upper bodies, and perhaps investing in a weight set is a better option.
Although it is certainly possible to gain muscle through cycling, the lack of upper body function greatly hinders its use as an effective platform for resistance training.
Those who are true novices to fitness may find it more suitable to invest in a cheaper machine or merely start jogging lightly to build up their fitness without spending the money on this expensive piece of home gym equipment.
---
How does the RE600 compare to the cheaper ones in JLL's range?
Differences between this bike and cheaper models
JLL has a number of cheaper recumbents out there and if you're wondering why they cost less, there are a few key differences.
Weight and build quality – RE100 and RE200 both have significantly lighter frames. The overall construction on the RE600 is basically bigger 'n' better than what the cheaper machines have. The larger bike resembling something more akin to what you'd expect at a proper gym.
Console – Another thing you'll notice with the RE600 is that it's a world of difference when it comes to the display in terms of size, quality and the amount of information you can get. Again, this is a lot closer to what you'll find in commercial gyms.
Electronically controlled resistance – You can also use real programs here that will adjust how hard you're working on the fly. The RE600 takes control of setting the resistance and will vary it throughout your workout.
App integration – Another thing the RE600 does that its younger siblings don't is integrating with online apps. (More on this below).
---
Our Review: What We Like About the JLL RE600
Online app connectivity
With some newer training gear we're seeing doing away with traditional consoles completely, it's clear that the future of recumbent bikes will be linked with fitness apps. While the RE600 works fine without ever pulling out your smartphone, there's a couple of connection options here.
There's an app called iConsole, which we've seen used on a number of other bikes and other gym gear recently. It's not got great reviews on the app stores and its performance is spotty at the moment, to say the least.
Kinomap sweeps in to save the day though, offering plenty of interesting ways to track your stats and take part in some excellent online content. You can read more about Kinomap here.
JLL has succeeded in an area that so many fitness companies get so wrong.
The app connectivity feature is a true godsend in the fitness world as it allows users to quickly track their progress and set their own personal fitness goals.
If you don't want to use the app, there's a decent display here too
As we'd expect at a decent budget like this, the RE600 comes with a screen that's a lot better than a standard grey LED one. Turning it on for the first time you're greeted with a very bright and inviting blue LED screen.
Although there's no fancy full-colour touch screen on the RE600, what's here is good. You can see 6 of your metrics at any one time along with some handy graphics that show things like the current difficulty level of the program you're using.
The screen on the JLL RE600 offers users a chance to view their heart rate, burned calories, speed, and distance covered.
It's another effective way to accurately track your progress and seek areas to improve upon in the next session.
The seat is comfier than it looks
Two big problems with recumbents I've tested in the past have been the dreaded 'sweaty back' that you get from the upholstered type of seat (not a problem if you're working out at home!) And the lack of comfort and support often seen in the more open-backed mesh type seats.
JLL has done a good job with the RE600 and it's comfortable while still allowing your skin to breathe.
One of the drawbacks of cycling for extended periods of time is the lack of comfort. Your back is hunched over, and your neck may start to hurt as your upper body is in a compromised position.
However, the JLL RE600 fixes this issue by placing your hips in line with your feet, meaning that you can stay comfortable for long periods of time.
Check Current Amazon UK Price
---
JE600 simple assembly video
If you're wondering what's involved in putting this bike together, here's a typical unboxing and building video:
What We Don't Like About the JLL RE600
It Takes Up a Lot of Room
Like most recumbents, this is not a folding exercise machine. You'll need somewhere permanent to keep it like a spare room, or a garage gym.
If you live in a small apartment or only have a small room to exercise in, get used to the sight of the JLL RE600 dominating your surroundings.
Although it's relatively light for a stationary bike, it's hardly an inconspicuous one. It seems more designed for larger home gyms, and not everybody has that luxury.
The App Could Use Some Updates
Although the app-based connectivity feature was listed in the 'benefits' section, the actual software on the app (iConsole) is quite poor.
JLL succeeded with the technology but failed with the execution. The app, which has poor reviews, will leave you scratching your head on how to use it – if it even lets you log in without crashing.
If you're using Kinomap, or you're not interested in going online at all (default console is great as it is) then this won't be a negative for you.
---
Final Thoughts: Is the JLL RE600 For You?
If you want a solid, reliable recumbent and have around £600 budget, this one should be on your shortlist. It's sturdy, smooth and really easy to use.
Minor quibbles with the bundles iConsole app aside, there's not much to fault here. This is a significant step up from the much cheaper RE100 and RE200 recumbent bikes and has more of a gym-style feel about it.
The built-in console is also good, with a range of programs and electronically controlled resistance to mix things up and give you a choice of workouts.
Highly Recommended!
Check Current Amazon UK Price
---
JLL RE600 Full Specs
| Brand | JLL Fitness |
| --- | --- |
| Model | RE600 |
| Color | ‎Black and Silver |
| Display | 5.5 inches LCD Screen |
| Material Type | Alloy Steel |
| Meter | Heart Rate, Speed, Calories Burned, Time, Distance |
| Power source | ‎Mains |
| Product Dimensions | 147.5 x 66 x 130 cm |
| Item weight | 49.5 Kilograms |
| Flywheel | 6kg |
| Resistance | Electronic Magnetic Resistance |
| Monitor | 9 Function |
---
Resources and further reading