Welcome to our NordicTrack FS7i review. It looks like it something from a sci-fi show on Netflix, but does Nordic's hybrid cross trainer have the chops to back it up? In this review, we'll cover the good, the bad and everything in between. There are a few things potential buyers need to know about this machine so let's dive in.
What is the NordicTrack FreeStride FS7i?
The FreeStride FS7i is NordicTrack's attempt at revolutionising the elliptical machine. Does it work?
Yes.
Mostly.
What differentiates the FreeStride series from other ellipticals? Two major things.
First off, unlike most ellipticals, the stride on the FS7i is adjustable, hence the name 'Freestride.' What this means for you is that you can find the perfect stride length and exercise a lot more naturally, rather than being locked into the fixed stride length of most other machines.
Second, the FS series isn't just ellipticals. They're a triple threat that can be set to a stepper or a treadmill, depending on your needs.
Factor in everything else, including smart controls and multiple ways to train, and out of the box the FS7i starts to seem like a serious piece of kit.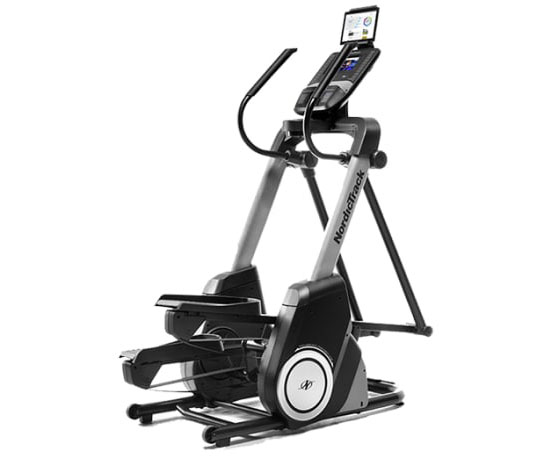 You can check the best price for the FS7i here, direct on the Nordictrack website.
What can you get from training on the NordicTrack FreeStride FS7i?
Ellipticals are a fantastic source of cardio that's easy on the joints and feels natural for most people to use adjust to. They hit every muscle, including your upper body, back, and core, and the resistance can be ramped up to actually give you a decent muscle-building workout.
Because they're so comfortable on the joints, ellipticals are great for people with long term issues and injuries, for recovery work, for warm-ups, and just general health and fitness.
Backing this up, the FS7i can also be used as a treadmill and stepper, which gives you the major trifecta for cardio work, and lets you hit every muscle in your lower body.
---
Who is this best suited for?
As the mid-range option in the Freestride range, the FS7i balances features against cost. It's not a budget system by any means, but it's affordable, especially considering what you're getting.
With the range of features on offer, including full iFit access and the ability to switch between different strides, different exercises, and different inclines, the FS7i is perfect for anyone looking for a comprehensive cardio training tool, as well as someone looking to train more seriously and needing a single system that can handle it all.
We'd also recommend the FS7i for recovery and rehabilitation, especially for people suffering from joint issues. The soft and stable platform and adjustable stride make this system uniquely positioned for recovery work and working out with minimal strain on you and your body.
FS7i Key features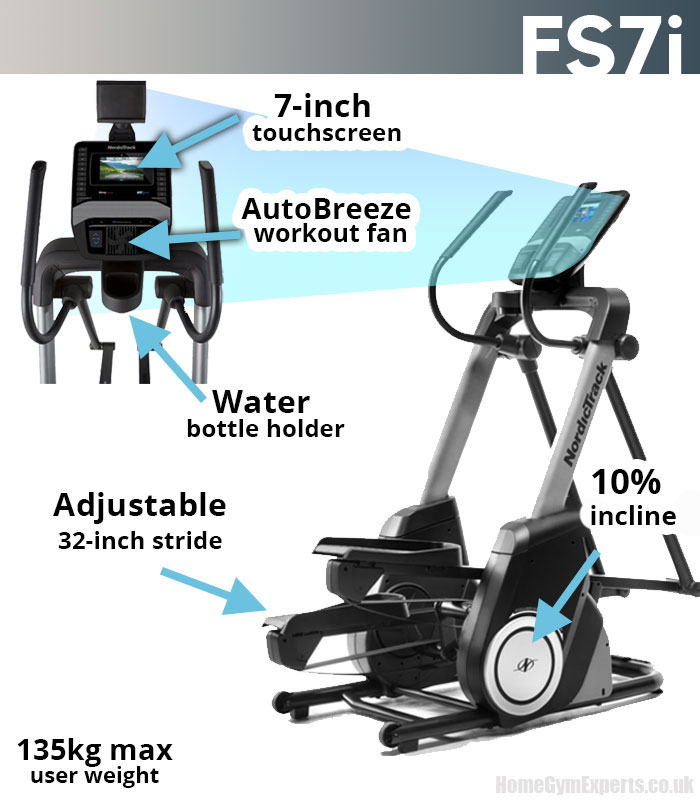 Adjustable 32-inch stride
10% incline
9kg magnetic flywheel
24 resistance levels
135kg max user weight
7-inch touchscreen
1 month of iFit membership
Bluetooth heart rate strap
AutoBreeze workout fan
Water bottle holder
5-year frame warranty, 2 years on parts and labour
---
RELATED GUIDES
---
Who are NordicTrack?

NordicTrack is a long-running luxury exercise machine brand, known for pushing boundaries and advancing the idea of what technology can be used for when it comes to home exercise.
While anyone into treadmills will likely have heard of them, you'd be forgiven for not knowing Nordic have a line of ellipticals, rowers, and other high-tech gym gear on the market.
They're mainly known for really modern machines that are high quality and at the higher end of the price bracket. Think luxury gym gear rather than budget machines. Their machines normally feature their iFit subscription service too, although all the products work fine without it.
---
What we like about the NordicTrack FreeStride FS7i
The powered, adjustable stride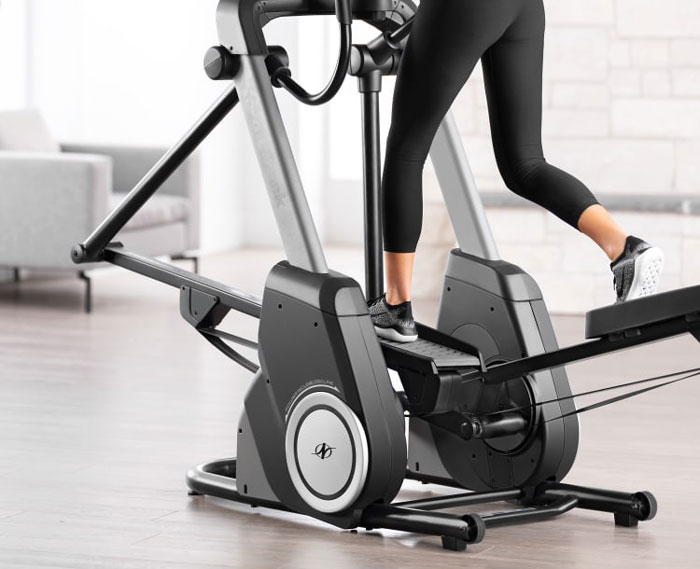 The biggest thing that makes the FreeStride FS7i unique is how its stride is fully adjustable, from 0 to 32 inches. It's hard to emphasize how much this affects how it feels to use the FS7i, and how it's completely different to a standard elliptical machine.
Everything is fully automatic, adjusting to your natural stride as you walk, so you can train comfortably and realistically, as close to the real world as possible. The 24 resistance levels are provided by a solid 9kg magnetic flywheel that uses silent magnetic resistance for smooth, even pushback and a whisper-quiet operation.
The second layer of fitness is provided by the incline function, from 0 to 10 degrees of powered incline. It's fully powered and adjustable on the go, and can also be controlled by the Live Workout function, which we'll get into later.
Multi-function and multi-use

Unlike most ellipticals, the FS7i isn't just one piece of exercise gear. Instead, it can be used as an elliptical, as a stepper, and as a treadmill. All three have a smooth action that's easy on muscles and very low impact, so you can focus on your workouts rather than worrying about aches and pains.
In all honesty, the FS7i isn't ever going to replace a conventional treadmill. But having the option to shift your workouts and hit an entirely different set of muscles is fantastic, especially considering the price point this comes at.
Simple, easy controls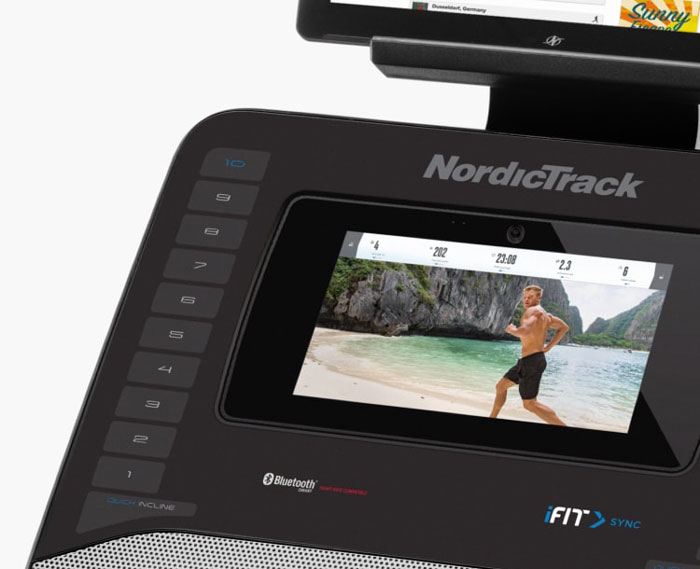 Like all NordicTrack exercise systems, the FS7i uses OneTouch controls that eliminate the need to scroll through settings, which makes setting up and controlling your workouts incredibly simple.
Everything is laid out around the 7-inch touchscreen, with all of the controls that are in regular use on the console, and the major settings accessed through menu screens.
Fantastic build quality
It's NordicTrack, so it almost stands to reason without having to say it, but everything about this system is incredibly impressive, from the general build strength all the way to the smaller fittings and smarter touches.
Everything feels sturdy and strong due to the commercial steel grade construction, and the weight limit is a generous 135kg (300lbs.) Unlike most ellipticals, which run on rails, the FS7i uses an ingenious and complicated series of belts that hold everything in place, and make it run light and silent.
All of the pieces designed for contact are exceptional, with oversized cushion pedals and soft-touch upper body grips. You also have a built-in workout fan, tablet holder, and water bottle holder.
One thing to bear in mind is that, even though this has transport wheels, it's a hefty beast and you shouldn't bank on moving it far. It also means that the initial set-up can be difficult, so have a second pair of hands available if possible.
Pre-built workouts
Because it's from NordicTrack, the pre-installed workouts on the FS7i are impressively comprehensive.
First off, as with almost all of their range, you have access to iFit. We've written a complete guide on iFit here, but long story short, it's basically the future of fitness. iFit, and other interactive fitness streaming services, give you the option to access gym-quality classes from the comfort of your own home.
iFit is a paid-for service, but the FS7i, like most NordicTrack exercise equipment, comes with a one-month subscription as part of the price.
On top of this, there are 35 onboard workouts programmed into the machine, each one designed by certified personal trainers that can help you hit your goals, whether you're looking to burn fat, get fit, or something else entirely.
---
What we don't like about the NordicTrack Freestride FS7i?
Switching the stride length is more difficult than it should be
Unfortunately, one of the biggest draws for the Freestride could be a little better. Even though it has an adjustable stride, once you've set your stride length you can't change it while you're working out.
It's a shame, considering everything else is automatically adjustable and powered, from resistance to incline. It would have been nice to see an adjustable stride too.
Small build issues
If we were designing the FS7i there are a couple of minor things that we'd change.
First off, it would be nice to see a slightly higher maximum resistance. The number of resistance levels on offer is already generous, but if you're reasonably fit you'll quickly work your way upwards.
Finally, the handles are slightly thicker than we'd like. If you have smaller hands and thinner fingers, they might be aching by the end of your workout. But again, this is a relatively minor problem.
---
The Verdict: Is the FS7i worth it?
While it's not without its flaws, the FS7i is a really impressive piece of kit that can take the place of so many different kinds of cardio system in your home gym, and it's a piece of kit that's going to perform over and over again.
It's also worth pointing out that the Freestride range includes the FS5i and FS9i, which you might consider instead of this.
In our opinion, there's only a small difference between the FS9i and the FS7i, but you should opt for one of these over the 5i, if you can. This is because the FS5i doesn't have the capability to incline, so it's missing out on one of the key things that makes this a great piece of exercise gear.
In short, this is a fantastic way to get in shape and work on your fitness, whatever level you're currently at. The month's free iFit is a no-brainer and the service definitely helps keep monotony at bay.
The FS7i is definitely worth a buy.
---
Nordictrack Trainer FAQs
If you want to just jump on, press one of the quickstart buttons and get your stride on, you can…
Does it make a lot of noise?
No. One of the good things about the FS7i is that the noise output is relatively low. You're paying a good chunk of money here but the components used and the engineering on this machine is a lot different to what you get on low-budget cross trainers, for example. It won't interrupt anyone else in the house or even the same room.
Is the screen big enough?
The 7″ screen here is on the small side compared to the larger (and more expensive) FS9i. It's somewhere between your phone and an iPad. That said, the audio is the same and you can easily follow along with what the instructor is doing. There's nothing you can't do on the 7i's reduced size tablet display. Again, this is a lot larger than a smartphone and will be fine for most users.
Is the Freestride 7i front-drive or rear-drive?
Neither! Oddly enough Nordictrack went for a centre-drive flywheel on this cross trainer hybrid. This lends itself well to the different modes on the FS7i, such as its stair climber setting. Another plus is that it helps keep the overall footprint down substantially.
Does it have an adjustable stride length?
Yes. The upper stride limit on the FS7i is 32″ but you can reduce that down to almost no stride (used for the stair stepper).
Is it easy to move?
Technically, you can move the Freestride machines around but they are heavy and, being ellipticals, they've got lots of 'sticky-out' bits that will knock door frames of furniture. If you're a lighter person, you might need help moving it around and definitely take care as it will demolish anything you wheel it into.
Can you use it without all the fancy iFit stuff?
Yes. All the websites talking about the FS7i like to go into the tech side of things but let's not forget this is a bit of gym gear. If you want to just jump on, press one of the quickstart buttons and get your stride on, you can. You don't have to ever take this online, or use any of the (albeit awesome) iFit stuff if you just want to do your own thing.
Does it have cooling fans?
Yes, there's a large fan mounted at the base of the unit which does a better job than a lot of the 'token' fans we see on some machines. The fan has its own controls too.
Is this a good machine to build up your glutes?
Yes. Especially if you swap into the stair stepper mode. Here, you'll be doing less striding laterally and more up and down movements. It engages more of your upper legs and glutes and you'll get 'that feeling' the next day. Like you've done some serious work and, well your but is sore.
Nordictrack Trainer FS7i Tech Specs
Brand Name
NorticTrack
Model
Fs7i
Construction
Commercial Solid Steel Construction
Display
7" HD Touch Screen Display
Pulse sensors
Bluetooth Smart chest strap (included)
Speakers
Dual 2" speakers
Flywheel
9kg
Incline levels
0 – 10%
Stride length
32" Auto-Adjustable Stride
Resistance levels
24
Workout fan
Yes
Max user weight
135kg
Transport wheels
Yes
Water bottle holder
Yes
Pedals
Over-sized cushioned pedals
Dimensions
148L x 75W x 188H cm
Weight
109kg
Warranty
5 Year Frame Warranty
2 Year Parts and Labour
Multiple users
Yes
On demand workouts
16,000+
Memebership
Includes iFit family membership
---
References and further reading