Give me the quick version!
Welcome to our Sportstech FX300 (available on Amazon) treadmill review! OK, if you're just looking for the quickest opinion on whether or not this treadmill is any good: The FX300 is overall a good buy for anyone looking for walking and up to jogging and running.
It's got the stripped-back design that makes it fold flatter than your average treadmills and Sportstech are a good brand with top customer service.
Solid. Compact. Good value for money.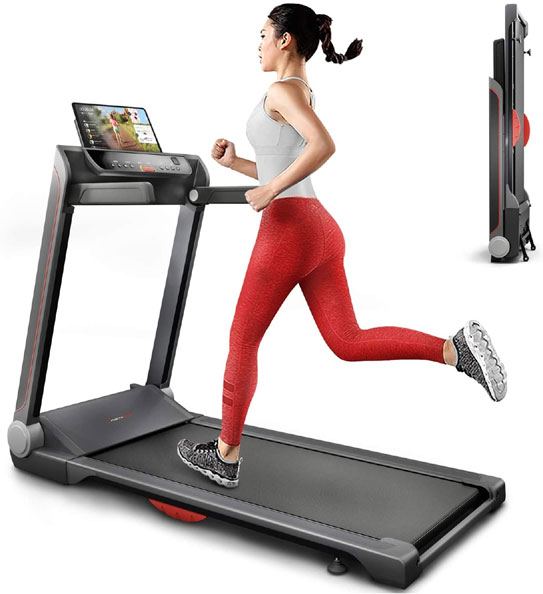 The longer FX300 review
So let's get into the real weeds here with this treadmill that promised a lot with a small package. In the rest of this guide we'll cover the FX 300 in much greater depth and give our full opinion below on whether or not you should think of getting it.
Check Current Amazon UK Price
What is the Sportstech FX300?
Designed from the ground up as a portable, flexible, folding design, the FX300 is a slim but powerful treadmill that's suited for the rigours of modern life.
Folding down to a tiny package in less than a minute, you can store this nearly anywhere, but when it's up and working, the powerful 2hp engine, decent top speed, and wide list of exercise options definitely impresses.
As a general home training tool, the FX300 doesn't disappoint and weighed up specifically for what it was designed for, saving space, it's incredible.
A lot of cardio machines can seem arcane and archaic, but everyone knows how to jump onto a treadmill and run. Even better, treadmills are highly flexible, with a wide variety of training options.
From interval sprints to long-distance endurance, or even a gentle walk for heart health and joint flexibility, a treadmill is a tool that can be used by anyone, no matter their current state of fitness and overall goals.
Sportstech FX300 features at a glance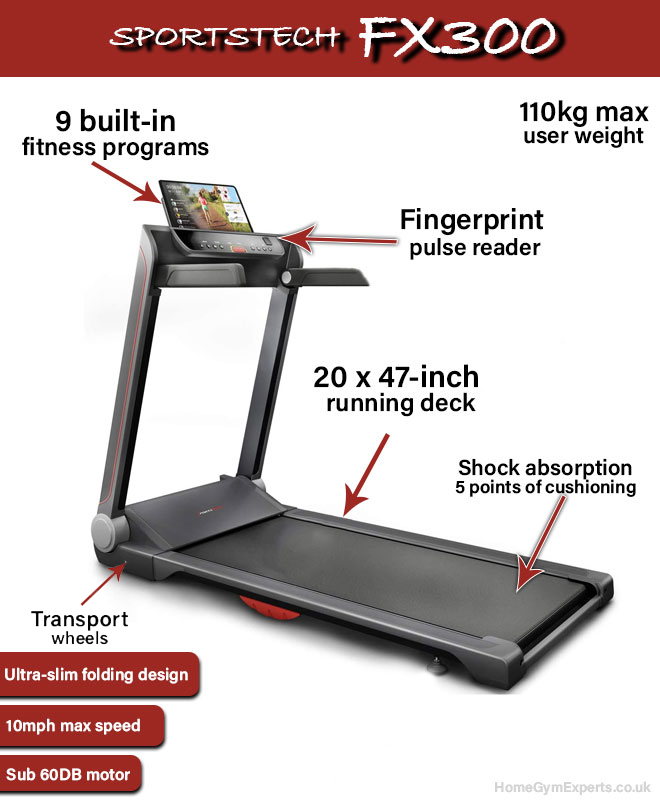 20 by 47-inch running deck
Shock absorption with 5 points of cushioning
10mph max speed
Sub 60DB motor
Ultra-slim folding design
9 built-in fitness programs
Kinomap technology
Fingerprint pulse reader
USB charging port
Cupholder
Transport wheels
110kg max user weight
---
Related Guides
---
Who is this best suited for?
Runners and walkers with no space to spare
The FX300 is aimed at people looking to maximize space. That's what all of its features seem to be built around, and it's definitely something that a lot of people are searching for.
Space is at a premium in most modern homes. Treadmills take up a lot of real estates. Even this one, with its narrower frame and low profile, still takes up around 10 square feet of floor space when it's laid out and ready.
But being able to pack it up and slide it away, potentially under a high sofa, a bed, into a cupboard, or just against the wall in a corner, saves a huge amount of room.
And despite the size, the performance still impresses. It's not going to match an equivalent priced non-folding treadmill on speed or features, but the top speed is a juicy 16kph.
If you normally get bored of running
While it's always good weather indoors, the scenery can get a bit boring.
One thing that we like to see on any modern bit of fitness gear is some kind of app integration or at least a tablet holder. The FX300 has both. Obviously, you'll
and there's huge support with online exercise plans and interactive programs, making this a great choice for anyone looking for general exercise, especially if they're lacking a little in the room department.
Connect to Zwift or the awesome Kinomap and you'll have enough content to keep you busy for many a winter month. While you will need your own tablet, you can use your phone at a push.
---
6 reasons you might just love the Sportstech FX300
You're getting the best form of cardio, according to the experts – We're big fans of treadmills here. The idea you can go for a run anytime, without leaving home? Yes please. And researchers at the American Council on Exercise (ACE) study, published in the International Journal of Research in Exercise Physiology, researchers agree with us. They compared 10 of the most popular machines you can use for cardio and the humble treadmill came out on top.
It's great for walking too – Not everyone wants to crank up a 10% incline and do HIIT sprints till the cows come home. And there's nothing wrong with a bit of walking. In fact, research has shown it can do everything from getting you in the best shape of your life to even help preventing strokes and heart attacks. The FX300 specifically is designed for both walkers and runners.
It's more compact than 95% of the treadmills we've seen – Don't get me wrong, I love my NordicTrack treadmills but there's no getting around the fact they hog the best part of the room you put them in. Not so with the FX300. It folds down to a compact size due to some seriously clever design. You're losing those large supportive arms, but it's a worthy trade-off if you're strapped for space.
Sportstech is a really good brand. Most people have heard of Peloton, NordicTrack, Proform and Matrix treadmills. But you might not have heard of Sportstech. They're a German-based company and, based on the gym gear we've seen from them, they're a solid brand. They've also been excellent when we've asked them something (as a customer).
There's nothing to assemble (and it's dead easy to use) – To be fair, treadmills normally require the least setting up when you get them but things are especially straight forwards with the FX-300. It's all really been done here and aside from getting shot of a fairly sizable cardboard box, you can get walking and jogging from the offset.
The design is gorgeous… for a treadmill – Compared to some of the lighter-weight treadmills we've seen, the FX300 does a decent job of breaking the mould as far as the aesthetics go. They've definitely put some thought into the way this machine looks and, if you want to leave it 'up', in your home then it definitely won't be an eyesore. Everything about it looks very sci-fi and modern.
Our review: What we like about the Sportstech FX300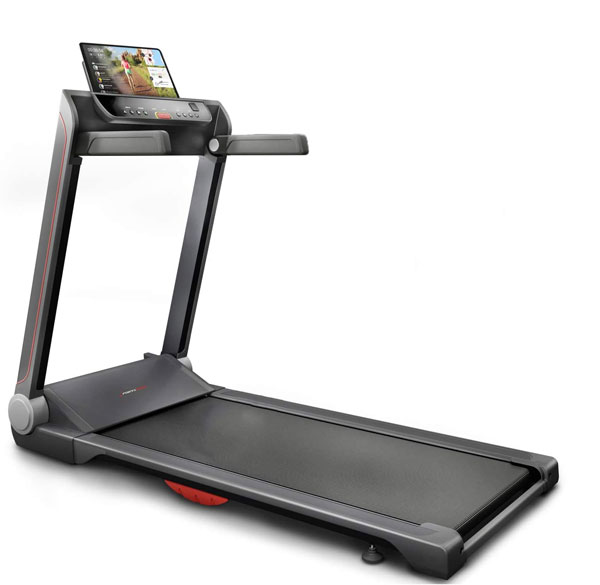 Great running deck
For a slight, slimline treadmill, the running deck on the FX300 is really impressive. It's very decently sized, especially considering the dimensions of the rest of the system, with a 20″ (51cm) by 47″ (120cm) running deck that will accommodate all but the very longest of strides. We've seen much narrower (think 40cm wide) treadmills in this category so this is a really welcome bump up in terms of the running deck.
The deck itself is built around a 5-point cushioning system, taking some of the impacts as you run, making it much better for your joints and long-term health, and overall a lot more comfortable to run on. Often, brands compromise on the running deck for size and weight concerns, as it's the bulkiest part of a treadmill, but we're happy to say that that hasn't happened here.
That quality extends throughout the rest of the FX300. The whole thing is solidly built, and despite the slimline frame, feels surprisingly sturdy. This is supported by the decent maximum user weight of 110kg (242lbs.) Needless to say, you're not going to struggle to use this or feel unsafe while it's running at speed.
Quiet but powerful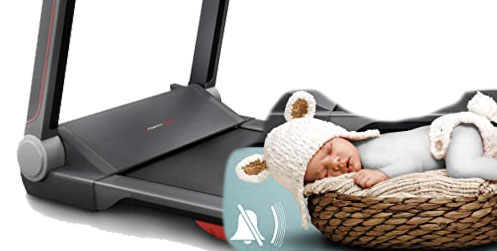 Despite being designed as a portable, slimline model, the FX300 is powered by a solid 2hp engine that gives it a respectable top speed of 10mph (16kph.)
While this isn't going to match any of the most powerful models on the market, it's not designed to, and 10mph is a decent top speed for a mid-range treadmill that's suited for most users.
Another upside is how this is designed to be quiet, which is a massive benefit if you plan on using it in busy dorm rooms, mixed housing, flats, or at night or early morning. Even at top speed, it runs at less than 60 decibels, which, for reference, is around the noise level of a normal conversation, or the background noise of a working office.
Fairly easy to store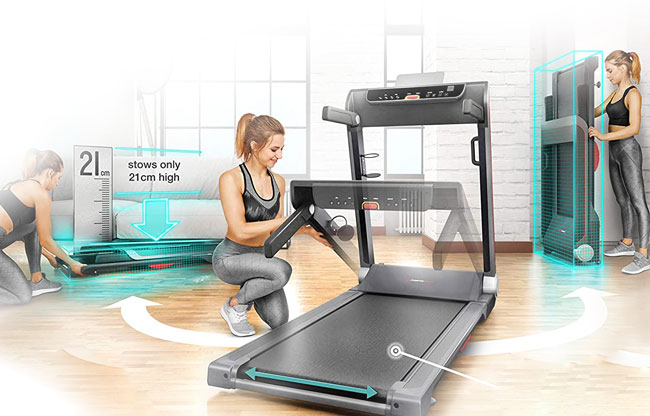 If anything differentiates the FX300 from the competition, it's this.
When not in use, the FX300 collapses down to an astounding 21cm tall (7 inches.) That's short enough to go under a bed, or thin enough to fit inside a cupboard or under the stairs without issue.
Factor in the transport wheels, and the relatively lightweight, and it's obvious that this treadmill is an exceptional choice for anyone who's looking for a small but powerful running deck to fit in and around the home.
Even better, unlike a lot of other options, the FX300 actually comes completely assembled, meaning you don't need to spend hours putting it together using arcane instructions and inadequate tools. Just remove it from the box and plug it in, and you're good to go.
Multimedia options and live fitness
The controls of the FX300 are laid out nicely across a pretty standard control deck. What is nice to see is the suite of options for training, including 9 built-in programs.
But the real draw here is the interactive exercise options, Sportstech and Kinomap.
Sportstech is a live interactive fitness program that allows you to select from a host of online exercise plans and follow along from the comfort of your own home. It's something that all of the major players are investing in, and there's a good reason. It's going to be the future of fitness, so having that option here is big.
Kinomap on the other hand is something completely different. It lets you select a route based on Google Maps topographical maps, and the treadmill creates a route and a training program based on that route, increasing in speed and difficulty where the real run would.
The reason these are impressive is that they're interactive. Link a tablet to the treadmill, or stream directly to your smart TV, and you can have an up-to-date exercise program to follow along, just like you're in class at a luxury gym.
Check Current Amazon UK Price
---
What we don't like about the Sportstech FX300
So this section will look at things the FX300 machine doesn't get right and also where it's compact design might hold it back. On the whole, there's nothing especially awful with this machine, but a few things to keep in mind.
The pulse sensor could be better
The FX300 comes with a built-in pulse sensor on the control console. Unlike a lot of other models, you're not getting a pulse sensor in the handlebars, which automatically reads your pulse as you run.
No. Instead you have to put your thumb on a tiny little pulse sensor zone on the console, which is incredibly hard to do while you're running at full speed. On top of this, it's also reasonably inaccurate, which is mildly disappointing.
On the upside, it can take a pulse tracker belt, so if you need the option, it's there.
No incline/decline
While it's not necessary on a modern treadmill, and would probably be impossible on a treadmill these slim, incline, and decline options can add a lot to a workout, and give you more options when it comes to training.
A 1% incline generally makes for a more 'realistic' running feel and it's something that should be included in any treadmill, in our book. I've heard of people coming up with ways to add incline manually to this machine but, honestly, I wouldn't recommend it. If the incline is a deal-breaker, go for a different machine.
The lack of incline is typical with these ultra-flat-folding type running machines so it's expected here. One good thing with this machine, compared to some other similar ones, is there's that higher top speed too. You'll likely find it easy to get out of breath without an added slope.
It's not self-lubricating
While probably the last thing on your list of 'perfect treadmill specs' is 'how do I oil it?', it's still worth thinking about. Whacking a bit of silicone under your running belt keeps not only the belt in good nick, it also takes some strain off the motor.
Sadly, with the FX300 you need to do the hard work yourself as it's not got any easy-lubrication points. You'll need to buy one of the silicone sprays that comes with a tube attachment so you can get it under the belt.
No biggie.
Comparing it to 'full fat' treadmills
Perhaps a slightly unfair comparison here but putting this machine in direct comparison with something like NordicTrack's X22i – an absolute beast of a machine costing almost four times as much, this compact runner feels less substantial in terms of the bounce on the running track, the amount of movement and how sturdy the frame feels.
---
Final thoughts
But the performance is still there, with a good top speed and fantastic construction all around
If you're buying the FX300, you're buying it because you need the space, and the fact that it folds down to a ridiculous 7 inches is a huge draw.
But the performance is still there, with a good top speed and Sportstech's fantastic construction all around, as well as a host of interactive training options for the more popular 3rd party apps. For such a small, slim exercise system, it packs a lot into that tiny frame.
We were very impressed with this running machine, and we're pretty sure you will be too.
Check Current Amazon UK Price
---
| Brand | Sportstech |
| --- | --- |
| Model | FX300 |
| Display type | LCD |
| Dimensions L x W x H | 159.5 x 74.5 x 122 centimetres |
| Maximum horsepower | 2HP |
| Speed rating | 16 km/h |
| Maximum speed | 16 km/h |
| Assembly required | No |
| Running surface | 51cm x 122cm |
| Assembly Required | No |
| Tablet stand | Yes |
| Cup holder | 1 |
| App compatible | Yes |
| Apps supported | Kinomap, Zwift |
| Chest strap support | Yes |
| Noise rating | Less than 60db |
| Transport wheels | Yes |
| Incline | No |
| UK Plug? | Yes |
| Warranty | 1 year |
| Floor to belt distance | 8cm |
| Self lubricating? | No |
| Works without app? | Yes |
---
References and Further Reading