One bit of gym gear we've been meaning to check out is this perky-looking home exercise bike from our German friends, Sportstech. In this review, we're giving the ESX500 a good grilling to see if it's up to standard (spoiler alert: it is). As always, we'll be going deep on what this upright gets right, and where it could do better.
Grab your water bottle and let's go…
The low down: What is the Sportstech ESX500?
The ESX500 is an upright exercise bike aimed squarely at the home market.
It's actually a lot like some of the machines we've seen in high street gyms (although, thankfully, a bit cheaper). It's different to a spin bike in that it's less like a real cycle and instead you'll be sitting with more of a straight back. Although the handlebars can be grabbed in any way you see fit.
It has a large padded seat and is comfier than the spin bikes too. But there'll be no standing up on these pedals, thank you. Instead, this bike is designed for seated cardio and the other goodness you get from indoor biking. This bike has a decent wallet-friendly price tag and, as you'll see in later in the review, it packs a lot into a machine at this price point.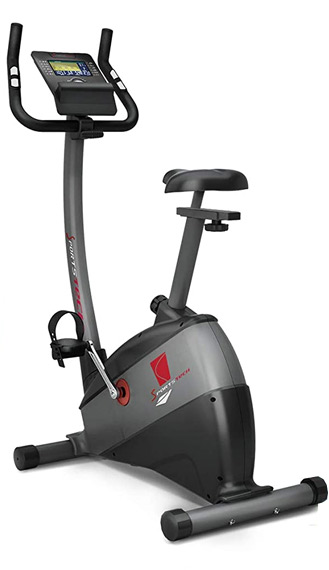 You've got a surprisingly good display here, especially for a sub-£400 bike (more on that later in the review). It's a lively little beast, packed with interesting stats and a graphic display of your current level.
Calling it a display does a disservice to what's on offer here; You've got a proper console here with 12 different programs, a choice of users, and the ability to enter your own personal stats.
Resistance here comes from a light-ish 12kg flywheel that's backed up with the nowadays-standard magnetic resistance. You can set it to up to 16 levels, with the first being barely noticeable, up to something that should pose a challenge for all but the toughest of thighs. You know those workouts. They hurt.
Get the full specs on Amazon.
Who are Sportstech and are they a good brand?

While not as well known as your NordicTracks, Reeboks or Marcys of the fitness world, Berlin-based Sportstech is a big sports brand and seem to have really increased their gym gear over recent years and make a name for themselves.
They're the brand behind a wide range of fitness machines, to suit different budgets. And their treadmills, bikes and rowers are good quality, and they seem to be more focused on more futuristic tech like online connectivity, built-in.
We've seen products from them such as rowing machines, exercise bikes and of course, treadmills. They tend to review well, have good customer service, and get around 4 – 5 star review, on average.
Sadly, there's no show-room UK side, but if you're ever in Berlin – feel free to drop in and check out their gear. They're a good brand and we've yet to see an awful product from them.
---
What you need to know about this bike
Here's a quick 'n' dirty overview of what each bit of this bike does.
Anti-slip pedals – with an adjustable strap
16 levels of resistance – Which can be set by you, or the program you're using
Magnetic braking
Check your pulse – with the built-in pulse sensors or with an optional belt
Transport wheels – You can scoot it around between rooms
Bright LCD display – A 5-inch interactive screen display
Seat adjustments:  forwards & backwards / up & down
Handlebar adjustments:  rotate up and down to match your height
Max user weight: Supports users of up to 120kg in weight
A fully padded seat
Water bottle holder
App connectivity – download a custom app for more stat tracking
Check Current Amazon UK Price
---
Related guides
---
What you'll get from training with the ESX500 bike
A good cardio workout
A good cardio workout is key in maintaining your health and fitness. Not only do you lose weight, but you're also at a reduced risk of certain diseases. Studies have shown cycling to work, for example, can reduce the risk of all kinds of health problems.
The ESX500 provides excellent cardio training and is geared towards user progression. The 12 pre-set workouts and 16 different resistance levels keep users on their toes and never lets their training get stagnant and repetitive.
Use As A HIIT Tool
Cycling doesn't have to be a time-consuming activity built around endurance.
Those looking to seriously incinerate those extra calories and build a little bit of muscle in the process should turn to high-intensity-interval-training (HIIT).
HIIT workouts are built around short rounds of maximum, unforgiving effort. By the end of the session, you'll feel like collapsing to the ground and not get up for a while.
The ESX500 provides HIIT training in abundance. In fact, they have a workout session entirely dedicated to rounds of full-intensity, allowing you to get the most bang for your buck out of your purchase.
General Conditioning
You don't have to be an elite athlete to be subject to the ESX500's benefits.
Even the most casual fitness enthusiasts will benefit from casual rides and low-intensity workout programs. To put it simply, Sportstech has created a product that is suitable for everyone. Even fitness novices will get plenty of success out of using this bike, and its functionality as a training tool is almost limitless.
---
Who is this bike aimed at?
Just looking to get in shape
This is a good bike if you're looking to get back into shape and want something you can hop on and do a workout. It's easy to use and the pre-built programs will keep you busy and do break things up a bit.
The minimum resistance is easy enough for anyone to jump on and get pedalling, no matter how unfit you might feel at the minute.
Anyone a bit short on time… aren't we all?
I'd also say this is a good buy if you're short on time. You can get a good sweat on in around 10 minutes, although it's comfy enough you can extend your session if want to. While cycling enthusiasts will likely turn their noses up at the saddle, the average bottom will be right at home here.
There's plenty of resistance here if you've been training a while so don't think this is an easy option either. And this is also a good bike for sharing. You can actually set a number of different user programs (up to 4) where you can put your weight and other stats in and get the workout tailored to you.
If you're looking for some online fun
No, not that kind. Online races, online courses and streetmap content. Yes, we're talking about Kinomap. The ESX500 is ready to roll with the popular online service, as long as you've got the cash to spare. Kinomap is a brilliant online training app/service that will stop you from getting bored once that honeymoon period wears off.
Check Current Amazon UK Price
---
Who likely won't like this bike?
As mentioned earlier, this isn't a spin bike. If you're looking to get into that, you'll need to look elsewhere. This is more of a comfortable experience and you can't do things like stand on the pedals.
Anyone with back problems
Also if you've got back problems, you might need to go for something like a recumbent bike. This bike is a traditional sort of 'sit up straight' bike and it's likely to exacerbate any existing back problems. Everyone else should be fine with the ESX500.
---
Our Opinion: What We Liked About the ESX500
Customer support is awesome with Sportstech
I wouldn't normally open with something as un-inspired as customer service, but the treatment I got from Sportstech, on several occasions was above any beyond. And I always use a personal email so they don't know I'm from a review site! I mean they were beyond friendly and helped with three separate issues I needed to clarify. They were speedy and a pleasure to talk to!
Not hard to put together
The instructions for this bike look a bit scary but, if you unboxed the whole thing before reading them, you'll see that most of the graft has already been done at the factory. There are a few odd jobs left for you to do – mainly attaching things like legs, the seat and so on. From what we've seen over the years, this would rank in the 'very easy to assemble' category (if one existed).
There's also one of those blocky codes you can scan that takes you to an assembly video if you want to use that. Either way, you're not going to lose too much hair getting this bike up and running.
It's stable and seems well made
Although this bike has a fairly plain sort of design that doesn't really set it apart from how other bikes look, the quality on offer here is good. The steel tubing is thick and although it's not back-breakingly heavy, there's some heft about the ESX500 that gives you a bit of confidence when pedalling.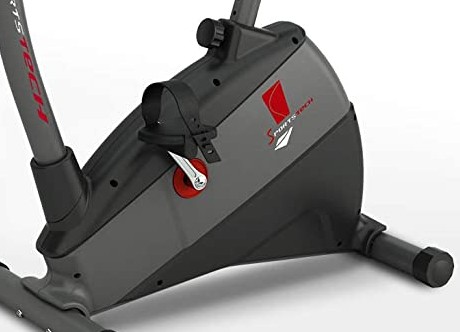 One of the most notable elements when riding on the ESX500 is the low noise output.
The serene, gentle humming of the pedals is a testament to the build quality and sturdiness of the bike.
Easy enough to move around
The ESX500 may look like a beast when it's assembled, but it's remarkably light and easy to transport. Sneaky covert wheels under the support bar mean you can flip it up and (with a bit of concentration (watch that vase) you can manoeuvre it into another room, or just back into the naughty corner.
The display console on the ESX500 is fab
Forget the dull grey LCD found on other models; this one gets it right.
So let's talk about the display console on the Sportstech bike because it's pretty sexy as far as exercise bike displays go.
If you've never spent a lot of time studying different consoles on exercise gear (and, why would you?) You might not appreciate how good this one is. It's bright, bold and extremely lively when it's running. In fact, your eyes will be given a never-ending stream of info, from your heart rate to how many watts you're pushing out.
The ESX500's screen is simple to use, easy to understand, and is custom-built for user interaction.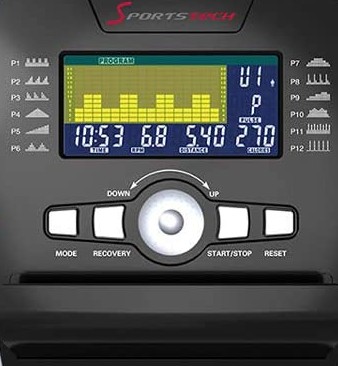 Whether you're looking to browse through the different workouts or progress to the next level, the display screen allows you to do so with ease. Forget the dull grey LCD found on other models; this one gets it right.
It's even more impressive for a bike at this price point, where cuts are usually made in the display department before all else.
Controls are good too – with simple buttons that are easy to jab at. And a nifty dial that you can quickly use to move up or down through resistance levels. They've done a great job with the console.
A budget bike with online connectivity? Yes, please.
there's more good news because the ESX500 is compatible with Kinomap and the Bluetooth connection is pretty much flawless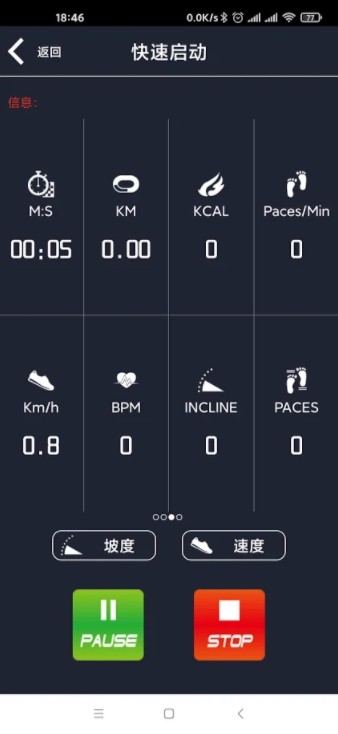 Another tick in this bike's box is that the ESX500 can be connected to your smartphone (or tablet, of course!) A lot of bikes and other gym gear we see connect to your tablet but the ESX600 does more than play music.
There's an app that you can download, the e-Health app to be precise, from Play Store or for iOS. You'll then pair this with the ESX500's console.
You get several screens, some of which admittedly double up on what you can already get from the very-capable built-in console. But there's a cool track you can see yourself moving around and several other screens. Give it a try.
Like a lot of gym gear we've seen, it's a Chinese made app and not on the same level as your iFit and Kinomap. Having said that, there's more good news because the ESX500 is compatible with Kinomap and the Bluetooth connection is pretty much flawless.
If you're prepared to stump up the cash for Kinomap's service (or want to give the free trial a go) this bike is a really good way to experience the service.
It's easy to progress your workouts when you can readily keep track of your time, distance, and calories burned.
Check Current Amazon UK Price
---
What Could've Been Better About the ESX500
It Takes Up a Lot of Space
Think you can seamlessly incorporate the ESX500 into the decorum of your home?
Think again. This exercise bike is a bit of a space-hog. It would look more at home in a garage gym than a bedroom. If space is a factor, this might not be the best one for you.
If you have your own personal home gym, then this is not an issue. For those who don't have this luxury, however, we'll have to build our rooms around the ESX500's large footprint.
The App Connectivity is Needlessly Complicated
Although the ESX500's app connectivity is a great feature, it gets a while to understand how it works.
The app itself (the free one, not Kinomap) often drops out mid-session, and some users have had major issues getting it to work entirely.
Whilst the app connectivity is a great idea, Sportstech still has significant improvements to make in regards to their app's interface and connection strength.
You can't turn it off easily
For such a modern sort of exercise bike, there was one thing we couldn't find: the off switch. No that's not a joke and it could just be us being thick, but the only way we could find to switch it off was via the mains. Pretty odd, right?
The other weird bit about this is that when you do turn it off, you'll lose and custom data you've tapped in. Not ideal but you could get around it by just not turning it off and treating it as standby mode? Not a deal-break, just a little thing we thought was missing.
---
Verdict: Is Sportstech's upright worth a buy?
As you can probably tell, we love the ESX500
It's nice finding a bike in a low-ish price bracket that has a lot of things going for it, as the ESX500 does. It looks and feels like a good gym style bike and it's extremely well made.
Its numerous features and laundry list of workout programs will keep you progressing and help you achieve your fitness goals. While the included app is OK at best, the Kinomap integration is extremely well-done and the option to go for if you don't mind shelling out the membership fee.
Although Sportstech still has work to do on their app software and connectivity features, they have succeeded in their mission of bringing gym-quality workouts to people's homes.
It may take up a lot of space, but the presence of an ESX500 bike in your home will help get you in seriously good shape.
As you can probably tell, we love the ESX500.
Highly Recommended
Check Current Amazon UK Price
---
ESX500 FAQ
Is this a good bike for beginners?
Yes. This is probably one of the better bikes to start on if you're not exactly fit for the Tour de France just yet. The lowest resistance setting is literally just moving your feet around on the pedals and things like the saddle comfort are ideal if you're not used to cycling at home.
Do you have to use an app?
No. This bike has a really good tablet (or phone!) holder but you're free to use the built-in programs on offer. As we mentioned in the review above, the screen on this bike is actually really good – a lot better even than many of the more expensive cycles we've tested out. If you get bored of watching all those numbers jumping around, you can always put some Netflix on.
How noisy is it?
They've done a few things on this machine to keep the noise down. Having a belt instead of a chain makes for less noise output, and Sportstech has also gone for magnets, rather than the fabric brake you get on a lot of machines. It's never going to be whisper-quiet though. But you can expect a decent sub-60 decibel output.
---
ESX500 Full Specification
Brand
SportsTech
Model number
ESX500
Flywheel weight
12kg
Resistance type
Magnetic
Adjustable resistance?
Yes
Display console
5.5" LCD
Stats displayed
Scan
RPM
Speed
Time
Distance
Calories
Pulse
Watts
# Programs
12
Resistance levels
16
# Users
4
Bluetooth
Yes
App compatible?
Yes
Drive
Belt drive
App compatible?
Yes
Pedals
Anti-slip pedals with plastic toe straps
Pedal adjustments
6
USB charger
Yes
Drink holder?
Yes
Tools included?
Yes
Kinomap compatible?
Yes
Heart rate training
Built-in hand pulse sensors
Handlebar adjustments
Max user weight
120kg
Transport wheels?
Yes
Crank
3-piece crank
Dimensions assembled (LxWxH)
96cm x 52cm x 132cm
---
References & Further Reading