Today we've been tasked with the tricky job of finding a proper and preferably cheaper alternative to the admittedly awesome Peloton bikes. Whatever your reason for wanting to find something different to the interactive bike, this guide has some great indoor bikes, available in the UK, to consider.
"A robust and beautifully designed alternative to the Peloton."

1000's of on-demand classes

£700 cheaper than Peloton

Nordictrack S15i Studio Cycle

"The S15i's robust design and advanced features make it a worthy competitor to the Peloton bike."

Uses iFit online training

Inline and decline feature

£800 cheaper than Peloton

Fantastic quality engineering

Similar build to Peloton One

£1400 cheaper than Peloton
Why not just get a Peloton?
There's no denying that Peloton bikes are seriously impressive pieces of kit, but there's one thing that puts a lot of people off;
The price tag.
Like most big brands, part of what you're paying for when you buy a Peloton is the name, and honestly, the core aspects of what a Peloton bike offers can be found on other, more affordable models.
This guide will cover the things that make Peloton bikes (supposedly) unique, what alternatives you have, and how you can DIY yourself a Peloton equivalent spin bike from your own home.
What are the parts of the Peloton bike we need to copy?
So what sets Peloton apart from their contemporaries?
1) The screen
One of the biggest things that stands out on a Peloton bike is the huge, front-mounted touchscreen. Screen clarity is exceptional, with a crisp picture and effortless controls. This is your window into Peloton's online training, with online classes and live events and much more.
So we'll need to find alternatives that either have a screen or lend themselves well to working alongside an existing tablet or device.
In the past few years, more manufacturers are moving in this direction, and we've seen and reviewed a lot of bikes that have similar offerings.
But a big touchscreen panel can quickly add cost to a bike, so it's also common to see almost all mid-range bikes offering Bluetooth connectivity, for tablets or smart TVs, instead.
2) Overall build quality
It's also clear that the Peloton is a bit of a looker as far as gym gear goes. Add that to the list of things we need from a decent Peloton contender.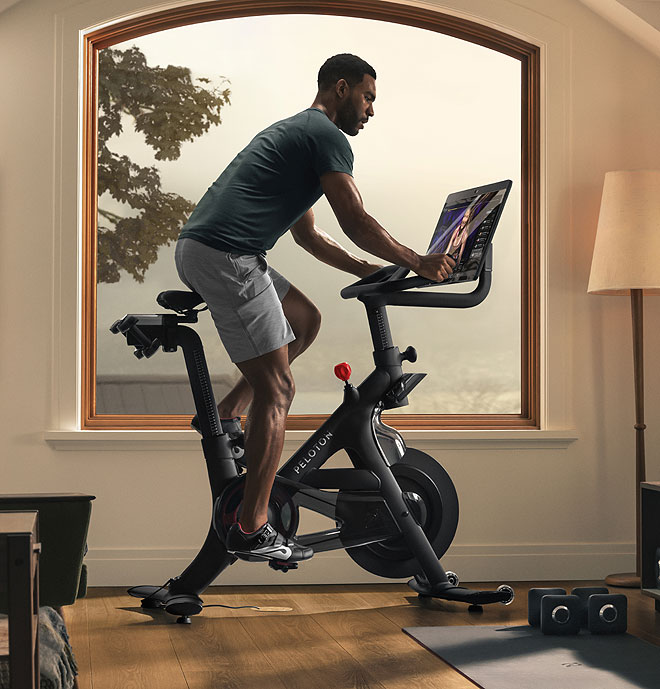 We won't deny it.
Peloton bikes are built incredibly well. It's something common to high-end fitness manufacturers. They over-engineer their machines and build them tough enough that your home could fall and the bike would still be standing proud amidst the rubble.
Expect heavy frames that hold a lot of weight, thoughtful touches when it comes to handlebar placement, seat adjustments, etc, and long warranties.
It's also clear that the Peloton is a bit of a looker as far as gym gear goes. Add that to the list of things we need from a decent Peloton contender.
3) The fitness app & online training
The events of 2020 have accelerated the shift away from gyms and towards interactive home fitness apps. As part of the Peloton package, you're expected to buy a subscription, which gives you full access to their bespoke fitness app.
The app includes hundreds of workouts, both live-streamed and saved in an extensive library. The selection is colossal, so no matter what your goal, there's a plan to get you there. Workouts don't just take place on the bike, either. There are options for strength training, flexibility, Yoga, and far more.
It's also common for the app to link directly into the bike itself, reading statistics using built-in cadence sensors and other instruments. The Peloton itself actually lets the app take control of your workouts, automatically adjusting the resistance and intensity as you go.
Your stats are also tracked and updated across the app as you go, keeping everything in one easy reach the place.
The pricing works on a subscription model, and as of writing, costs £39 per month.
The Peloton app isn't the only available option. Most major fitness companies are producing their own fitness apps, with competitors including:
---
Quick recap: what we need in a good Peloton bike alternative:
Taking the above into account, as we examine competitors to the Peloton, we're going to be focusing on:
Whether it has touchscreen capability, whether on its own or through connecting to another device.
The build quality, how well made everything is the overall finish, and how it feels to use.
Whether it has fitness app functionality, how good those apps are, and just how tightly they're woven into the functions of the bike.
---
RELATED GUIDES
---
The best alternatives to Peloton bikes in 2023
it's understandable why so many people recommend it; it's just a great bike…
Display: No screen included, works with any tablet.
Online training: Thousands of pre-recorded on-demand classes, daily live fitness classes. New content is added each day.
How does price compare? Almost half the price of a Peloton One.
Anyone searching for a Peloton alternative will hear one name repeated over and over again.
The Echelon EX3.
Solid, well-built indoor bike
At first glance, it certainly looks the part. A sleek, futuristically designed, gorgeous machine, the Echelon EX3 Smart Connect is dominated by its big, magnetic resistance driven flywheel that weighs a reasonable 13kg, with a solid 32 levels of selectable resistance.
Fittings like the handlebars are impressive, laid out in a way that's easy to adjust and use. The bike doesn't have a display built-in, but it's fully compatible with any phone, tablet, or other Bluetooth enabled device.
Good quality app that can connect to 3rd party gadgets
The app is decent, with a solid list of classes, including the expected library of past classes and on-demand classes. It's a little more cluttered than the Peloton app and NordicTrack's iFit so might take a little longer to navigate, but it's still perfectly serviceable.
The app can also be connected to a wide range of third-party fitness apps like Fitbit, which lets you send across your stats and link all of your progress together.
In terms of design, there are a few things that we'd change, examined up close. The frame is solid as a rock, with a 300lb (135kg) weight limit, and it certainly feels stable despite the slimline looks. Fixings are excellent, with a competition seat, comfortable handlebars, and cage pedals with clip-in slots.
One small downside is the body, which is plastic and feels less weighty than some of the bigger names. That feeling extends to some other small parts, like the resistance dial, which is a plastic knob that has to be adjusted by hand and can feel a little light and weightless at times.
A lot cheaper than the Peloton
This is just over half the price of a Peloton, and you're getting a similar level of performance in all the areas that matter. Once you're on the bike, it feels fantastic, and the range of exercise options are, like most of the big-name fitness apps, essentially endless.
Verdict: In our opinion, if you're looking for a solid spin style bike, but don't want to drop nearly two grand, the Echelon offers a very happy medium in terms of pricing and performance, and it's understandable why so many people recommend it; it's just a great bike…
---
Display: 14″ HD touchscreen
Online training: On-demand studio workouts, live control over resistance and incline, follow cyclists around some incredible worldwide cycling routes.
How does the price compare? Roughly the same price as a Peloton basic kit, but you do get a year free online iFit, which is £480 cheaper.
NordicTrack make exceptional exercise gear. We've run through the majority of their range, and everything we've examined has performed near the top of the pack in every regard, with their bikes easily equalling Peloton in quality and features.
Wait, we hear you cry. Aren't NordicTrack bikes just as expensive as a Peloton?
A year's free classes makes a big difference
Well, yes. But also no. While the initial outlay for both bikes is similar, there is one crucial difference that saves you a significant chunk of money in the first 12 months.
Membership fees.
As we mentioned above, Peloton bikes lock you out of their fitness app functions unless you have a subscription, which is at minimum almost two hundred pounds, and potentially up to five hundred, worked out across the first year.
Compared to the S15i Studio, you get your first year's membership to iFit free. That by itself saves you anywhere from 10 to 20% of your total costs, which could easily be the deciding factor in which bike you buy.
Past the first year, NordicTrack's iFit app costs around the same as a Peloton subscription, with further savings if you purchase a family package. The NordicTrack warranty is also substantially better than the Peloton equivalent, so as long as you look after your bike, it could potentially have a decade long lifespan or more.
We've already written a comprehensive review of the S15i, and its big brother, the S22i, which you can find here. Needless to say, as one of NordicTrack's flagship models, it excels across the board, and is more than a competitor for most other bikes on the market.
Verdict: NordicTrack's S15i is a really popular indoor bike and has NordicTrack's quality stamped all over it. It's packed with advanced features like 20% incline and 10% decline and a year's free iFit in with the package rounds it off nicely.
---
Display: 7″ built-in Android display
Online training:
You will need to use
Kinomap
here and you'll have live videos, 3D cycling routes and user-generated content to cycle along with.
How does the price compare? Around £800 cheaper than the Peloton bike.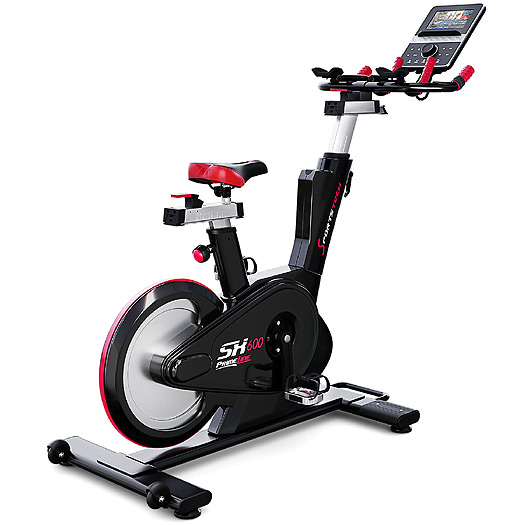 SportsTech is a German brand, and what they might lack in naming originality (the SpeedBike…? Really?) they more than make up for in engineering quality.
Sleek design and a nice, hefty flywheel
Compared to the bigger names, the SX600 looks smooth and sleek, with a high profile and splashes of colour that help it to stand out.
Construction quality is as exceptional as you'd expect from something German-made, with a colossal 26kg flywheel, magnetic brakes, twin handlebars with built-in position rests, and a centre mounted Android run the control panel.
Kimomap is fantastic
SportsTech equipment uses the Kinomap fitness app, a third-party app that hosts an admirable array of workout plans for all of the core cardio systems, including treadmills, rowing machines, and of course, bikes.
In our SX600 review, we found that despite being an app designed to fit the broadest range of machines possible, it weighed up surprisingly well against custom-built fitness programs like iFit and was more than worth what you pay, especially considering its slightly lower monthly cost.
Unfortunately, it's in the small details that this bike falls. Compared to both the Echelon and NordicTrack bikes, the controls feel unresponsive and the touchscreen is small. It's also incredibly heavy, so once you've set this in place, it could be hard to move for a lot of people.
Verdict: A solid and dependable bike. It's going to perform, and none of the downsides are large enough to make a person regret spending money on this if the other options weren't available. If you've got the cash to spare, an Echelon or NordicTrack bike first.
Check Current Amazon UK Price
---
Display: Does not include a display, and requires a tablet holder.
Online training: You'll need to use third-party apps, or dig into spin classes on youtube. No control over the bike's resistance.
How does price compare? Around £1400 cheaper than the Peloton bike
The JLL IC400 Elite is a much lower-priced option than everything else on this list, running at less than one quarter the price of a Peloton Bike+.
It certainly looks the part. With its big 20kg flywheel and stylish looks, it could easily sit in a sports club alongside some of the bigger names and no one would think it out of place.
Tough and durable
It's just as well made, too. The body is alloy steel, with a very impressive 330lb (150kg) weight limit. Fixings are impressive, although you will need to upgrade the seat and pedals if you're looking for a full spin experience.
It has a built-in LCD, but there's adapter space for your tablets or other devices, and for the price, it's an understandable omission.
The flywheel is friction-based, rather than the magnetic resistance seen on more expensive bikes. JLL does offer the IC400 Pro, which has slightly uprated specs and a magnetic flywheel, but availability is currently limited.
Given the choice, we'd lean towards the Pro, but performance is similar enough that it won't matter too much.
Realistically, this isn't a direct competitor for a Peloton. But then, it was never intended to be. If a Peloton is a Lamborghini, that's been expertly over-engineered in every single way possible, then the IC400 is a Mustang.
Verdict: It's nowhere near as expensive, it might not look quite so sleek and stylish, but it's still a big, powerful beast that's going to get you where you need to go and do it well.
Check Current Amazon UK Price
---
Fancy making your own Peloton bike?
---
Final thoughts
Right now, there are a dizzying amount of options for spin bikes out there. Hopefully, this has helped to narrow your choices down, but make sure to check back in, as we'll be sure to update and review as new bikes become available.
More quick tips on picking the perfect Peloton replacement
Swap out the default saddle – The seat on the Peloton is reasonably comfy. You might not have any issues with the default saddle that comes with your new indoor bike, it's worth mentioning that the seat on most of these bikes can be swapped out for another, way more comfy one. While it's an extra expense, it's well worth it.
Track your heart rate – If you're serious about getting in shape, one of the best tools you can get is a heart rate strap. Some bikes, such as the NordicTrack have them included. If not, you can pick them up normally for under £30. Just double-check your new bike has a heart rate belt receiver and you're good to go.
Get a decent mat – If you're building or buying a Peloton alternative, make sure you get a decent floor mat to go under it. This will not only protect your floors but also give a bit more bounce and stability when you're bobbing around. Again, these are available cheaply, normally around the £20 – £30 price range. Check out this one on Amazon, if you want our recommendation.
Think about off and on-bike exercise – One of the things the Peloton bike does really well is that it has lots of options for routines that involve free weights as well as cycling. These are great as they not only break up the monotony of pedalling away, but they tone up other muscle groups too. Echelon and NordicTrack bikes do this too and often come with a handy set of free weights.
Check the membership fees and what you get for free – With bikes from NordicTrack, you get a free year's subscription to iFit. After that, you'll have to stump up the monthly fee. If you don't want to do that, it's worth checking out what you actually get for free. NordicTrack does have some workouts for free, for example.
If you hate the idea of a subscription model – While there's fun and fitness to be had on the likes of iFit and Peloton's online apps, not everyone wants to be tied into yet another monthly service. If you're looking for a simple (and less expensive) life, there are some very professional cycling classes from 10 minute HIIT bursts up to longer sessions on Youtube.
---
References & Further Reading