What the heck is cadence? How do you measure it, and is it just another gimmick? In this guide, we're getting into using a cadence sensor on your home exercise bike and looking at whether you need yet another gadget tracking your every move!
What is a cadence sensor?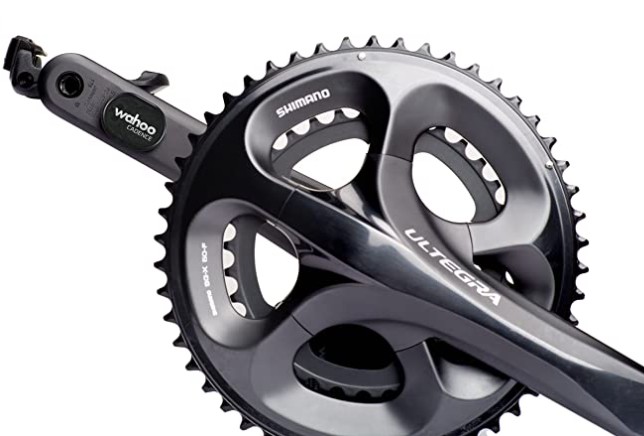 Cadence sensors do one very simple thing mechanically speaking; they measure each time your wheel rotates. That allows you to accurately measure your energy output via pedal speed and wheel rotation, things that are otherwise impossible to judge.
While cadence sensors are typically used on regular outdoor cycles, they're also incredibly useful for indoor exercise bikes too.
What are cadence sensors?
Most cadence sensors follow a very similar structure. Generally speaking, there are two main cadence sensors:
A single cadence sensor that is mounted on your bike's crank (the 'arm' the pedals attach to).
Two-part sensors, where a revolution is counted each time the two halves pass one another.
Every time the wheels on your bike go through a full rotation, the magnets pass by the sensors in the pod, letting it know your pedalling cadence and your current speed.
Other sensors offer a more simple approach that uses technology; the cadence sensor uses an accelerometer to be able to tell each time it has performed one revolution.
Cadence sensors are a fantastic tool for measuring things that can't normally be measured, increasing the effectiveness of your workouts, and boosting your training.
Sensors like this are also relatively inexpensive, costing far less than most fitness gadgets. With these points in mind, anyone who regularly cycles should probably consider investing.
Which cadence sensors can you buy?
Here's the current best selling cadence sensors for sale in the UK, ranked with the cheapest first:
Prices Last Updated Thursday 9th November 2023 - 20:11:33 pm
---
Why you might NEED to get a cadence sensor for your exercise bike
Aside from the other benefits of fitting a separate cadence sensor on your home bike, there's one other major problem these little gizmos solve: if your exercise or spin bike doesn't have any online connectivity.
The amount of time we're reviewing an exercise bike on Home Gym Experts and we find it's got great features and build quality, but they've skimped on online connectivity via Bluetooth, is astounding. Thankfully, as years go by, more and more home gym gear is getting more connected.
But if you find the perfect bike that doesn't have Bluetooth, and you fancy doing a bit of online racing and tracking your stats in more depth, a Cadence sensor is a cheap, easy way to convert any home cycle to a super-charged, online-ready one.
---
The different types of cadence sensor packs
Cadence sensors are often sold in packs with other gizmos that can help you track more of your stats.
Cadence-only sensors – measure the rotations of the crank arm.
Packs with speed sensors – read the speed of your bike, using the wheel circumference and RPM to judge how fast you're going, and the total distance travelled.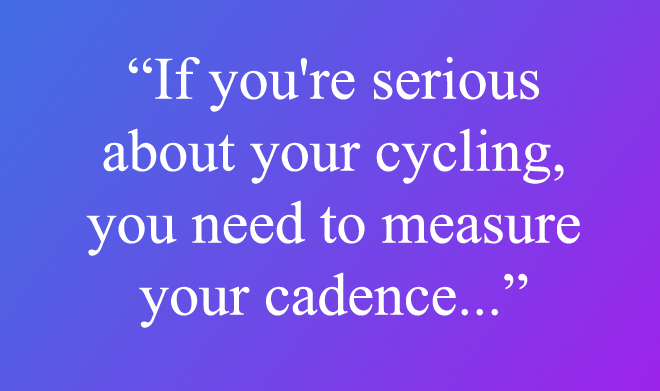 What are the benefits of using a cadence sensor on my exercise bike?
The old adage is, 'what gets measured gets managed.' And that's doubly true when we're talking about health and fitness.
If you want to improve anything about your fitness levels or your general health, the easiest way is to look at what you're already doing, and how to improve that.
Cycling is a relatively simple sport, with only three main variables.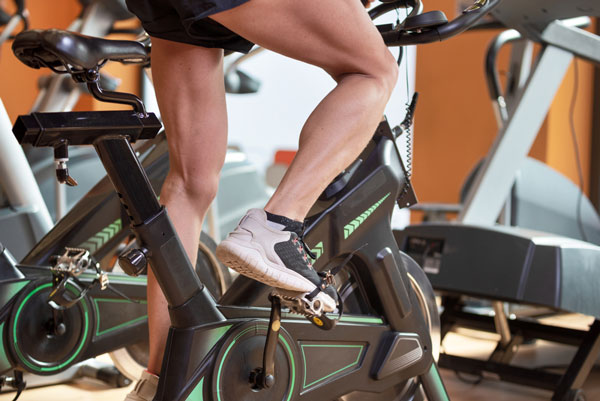 The first is your heart rate. This isn't in your direct control, but you can affect it depending on how hard you're working. But there's only so far you can push your heart rate up or down, and it's not a precise process.
The second is gearing, which increases resistance across the bike. Gearing is semi-within your control, but the limits are set by your bike itself.
Why cadence is different to other stuff you can measure when you're cycling
Your cadence, on the other hand, is entirely in your control.
It's something you can adjust instantly, and on the fly, speeding up or slowing down based entirely on your goals, and what you're looking to achieve.
This is why, if you're serious about your cycling, you need to measure your cadence.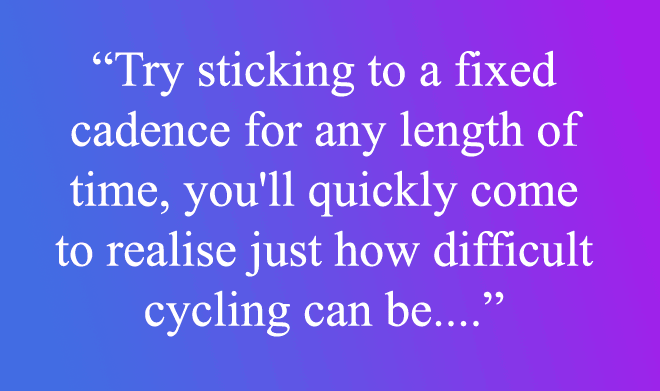 There's a growing list of studies that show that elite cyclists pedal faster across the board than beginners. Part of this is obviously because of the levels of fitness that elite cyclists have, but there's also the fact that they've ingrained into their muscle memory a rapid cadence that's more effective in general.
There's also the fact that different cadence levels have massively different effects on you and your training, from a slow, almost leisurely cadence that's great for cardiovascular health, to a fast burn that will build up muscles and melt fat.
Put simply, if you want the best result from your cycling, you need to be able to measure your cadence and hold to a specific cadence pattern. And the only real way to do that is a sensor.
---
What are the best ways to train for my goals?
At first glance, cycling seems reasonably simple, right? This is why we use 'it's like riding a bike' as a truism for things that stick with you once you've learned them.
But once you try sticking to a fixed cadence for any length of time, you'll quickly come to realize just how difficult cycling can be.
If your goal is to develop muscle strength and growth, then studies from the University of Queensland show that you should be pedalling at a regular cadence of around 80rpm.
However, faster cadences cause more muscle fatigue, and quickly burn through glycogen stores.
If your goal is cardiovascular health and endurance, then look for a lower, steadier cadence of around 60rpm, or one revolution per second.
---
Related guides
---
The best cadence sensors in 2023
Wahoo RPM Cycling Sensor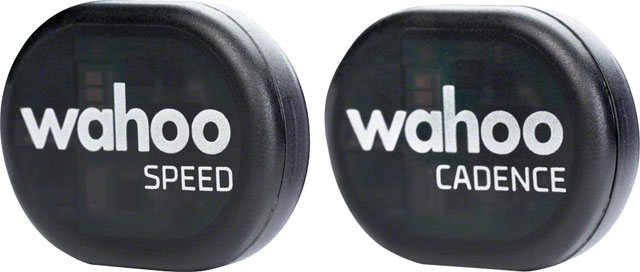 The first thing that stands out about Wahoo's bike sensors is their absurdly tiny size. But packed into the petite frame is a whole lot of tech.
Both Cadence and Speed options are available and come with everything you need to mount them, with multiple mounting options and no magnets. All data is automatically sent to the Wahoo Fitness app, and the sensors are fully compatible with any Bluetooth and ANT+device, including tablets, smartphones, and dedicated bike computers.
You can also send data to over 50 fitness apps, including all of the big names like Zwift, Peloton, and Kinomap. All sensors are also covered with a 30-day money-back guarantee.
Garmin Bike Cadence and Speed Sensor Bundle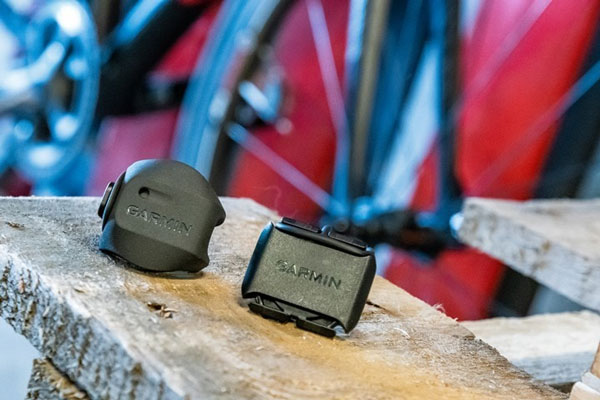 A full bundle from industry titans Garmin, these sensors stand out through ease of installation and simplicity of use. Setting up is near-instant, with multiple options available, and pairing with your devices is quick and seamless, as both sensors come with Bluetooth and ANT+ compatibility.
All data is recorded and stored in Garmin's freely available Connect app and is also fully compatible with a range of aftermarket devices.
Moofit Bluetooth Cadence Sensor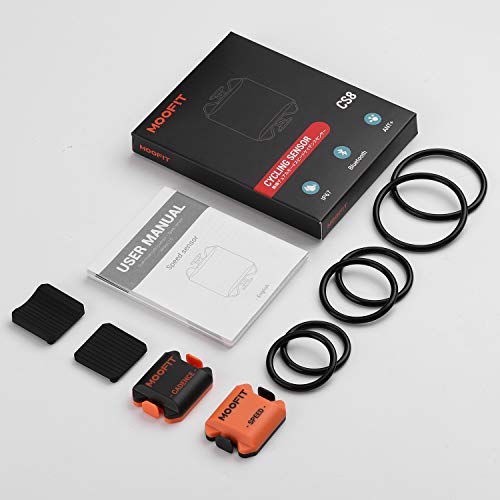 The best budget sensor we could find, the Moofit (available cheaply today on Amazon) makes simple, no-nonsense fitness trackers that do precisely what you need them to do.
In terms of performance, you have a choice of cadence and speed sensors, which offer accurate readings across the board. Installation is simple and only takes a minute, through your choice of Bluetooth or ANT+.
Compared to the bigger names, you might struggle a little with app connectivity. Not connecting directly. That's clean and easy, but some of the bigger names, like Garmin, restrict some of the functions on their apps for third-party manufacturers. But you can easily work around this, and apart from that tiny niggle, these sensors are surprisingly impressive, for around half the price of the bigger brands.
Check the latest price on the Moofit here
How to link your cadence sensor for the first time
Pairing your sensors to your chosen devices might change slightly from manufacturer to manufacturer, but is generally a quick and easy process.
The best option is to follow the included instructions, but the general process will resemble something like the below steps:
Log onto your fitness app or device
Make sure it's close to your sensor. Both Bluetooth and ANT+ lose signal at longer ranges, so being within a meter or two will make the process simpler.
Cycle the bike's crank once or twice, to activate the sensor
Your sensor should now appear on the pairing screen of your device. If it doesn't continue to pedal
Select your sensor and follow the pairing instructions
Test it to make sure that it's connected, then you should be good to go!
Final thoughts: Is it worth getting a cadence sensor?
Whether you're looking for more accurate stat-tracking, or your bike doesn't have any online connectivity, it's definitely worth investing in a cadence sensor. They're one of the cheapest gadgets you can get, can be transfered to any bike you get in the future and are a great way to improve your training performance and fitness.
If you've never used a cadence sensor, we wholeheartedly recommend trying one out. For such a small, cheap and unobtrusive gadget, a cadence sensor can have a huge impact on your cycling. So give it a shot.
Did this guide help you? How has using a cadence sensor improved your cycling? Make sure to let us know in the comments below!
---
References & Further Reading