What is the NordicTrack X9i Incline Trainer
The entry-level option in NordicTrack's incline range, the X9i is a treadmill that's been purposefully engineered to provide a massive incline, which gives it a completely different feel to standard treadmills. You can also train in different ways on the X9i than on standard treadmills, which gives it a bunch of side uses that are hard to match.
What do you get from training on the NordicTrack X9i Incline Trainer
All incline trainers function as a standard treadmill, and the X9i is no exception, and the large running deck and powerful motor make it a good choice just for this.
But incline trainers are also designed to push up to inclines that other treadmills literally cannot handle. It's right there in the name after all. The X9i can incline up to heady heights of 40 degrees, which is ridiculously steep. At this angle, an incline trainer actually feels more like walking upstairs, meaning this can serve triple duty as a step or elliptical trainer.
All of these functions mean that the X9i is a one-stop-shop for home cardio, offering far more options than a standard treadmill, for a surprisingly small extra investment.
---
Who is this best suited for?
The X9i is a solid treadmill overall, with three main uses that we can see.
One, treadmills like this are perfect if you're looking to train heavy inclines. If you're a hill runner, regularly run trails or triathlons, then the X9i is a supremely effective tool because of that monstrous incline option.
The second big use is for people who plan on using their treadmill to walk rather than run and want to burn the maximum amount of calories possible. By simply setting the incline high, you can burn as many as 5 times the calories that you would when just walking.
The third function, as mentioned earlier, is as a step trainer or elliptical. At inclines close to 40% and set to slow speeds, incline trainers have a steep enough gradient to be used like these other gym cardio staples. It's a slightly different feeling, and can take some getting used to, but hits all the same muscle groups, so people looking for a good multi-use trainer might see a lot of use here.
NordicTrack X9i Key features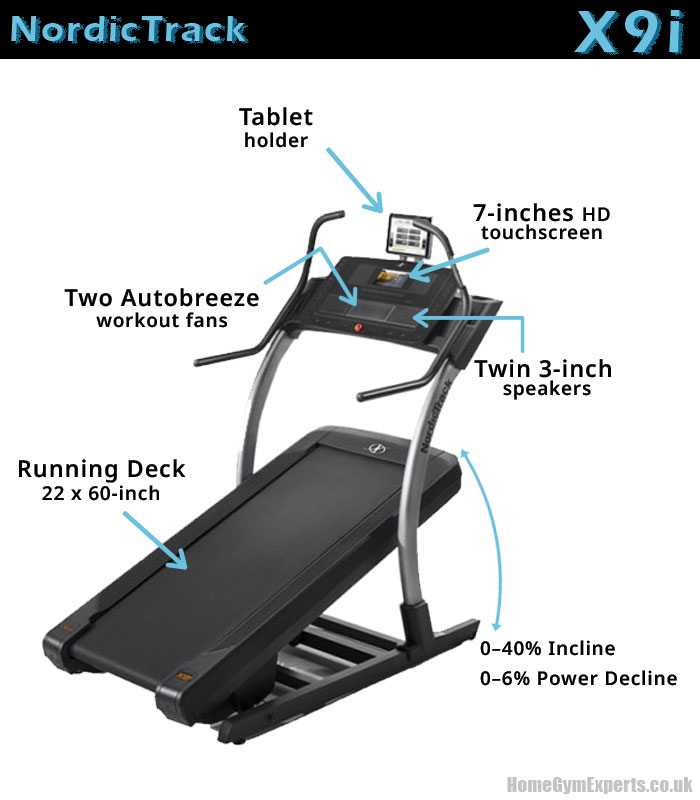 3.6 CHP motor
12.5mph maximum speed
22 x 60-inch running deck
300lb user limit
WhisperQuiet sound dampening
44 built-in workout apps
iFit functionality
7 inches HD touchscreen
Tablet holder
Heart rate sensors
Twin 3-inch speakers
Two Autobreeze workout fans
Huge NordicTrack warranty
---
Related Reviews & Guides
---
What we like about the NordicTrack X9i Incline Trainer
The monstrous incline
There's no getting past it. The main draw of this model is the fully powered incline.
Ranging from 0 to 40 degrees, and dropping to a 6-degree negative incline, the sheer range of options available for training is massive. The incline is also fully powered, and completely adjustable using OneTouch control that can be switched at the press of a button.
A 40-degree incline is hard to put into words. It's almost like walking up a set of stairs, which is why this can also be used in the same manner as a step trainer or elliptical.
The incredibly powerful motor
One thing that's incredibly impressive about this treadmill is the motor. It's a beast that puts out 3.6CHP, and that's continuous horsepower, not peak. That single stat by itself puts it in the upper 50% of treadmill power.
Let's be fair, it does need it, especially when driving the belt at such a heavy incline, but it also means that this can reach 12.5mph, which is a solid enough speed for any sort of training, and lets this function as a fantastic flat ground treadmill, too.
NordicTrack build quality
It's no secret that we love NordicTrack's build quality. Every single one of their exercise systems is built to a fantastic level, and even the lower-priced entries, like the X9i, are built to stringent measures that mean it would feel at home in a commercial gym.
For starters, the deck is a big 22 x 60 inches and backed up by WhisperQuiet technology, so even when you're running at full speed it's still surprisingly quiet.
Second, the rest of the structure is incredibly well put together, which is why it holds up to 300lbs (135kg.)
And just in case something goes wrong (it won't) you're supported by NordicTrack's ironclad warranties, with 5 years on parts, 2 on labour, and a lifetime on the frame and motor.
Solid multimedia systems and controls
The X9i is easy to control from the main console, which is laid out well, as all NordicTrack systems are. The main screen is a little small at 7 inches, but the full HD clarity makes it easy to keep track of what's going on, and the touchscreen controls are simple to follow.
On top of the touchscreen controls, all of the major things like incline and speed are controlled through OneTouch, which run down both sides of the screen and let you adjust these key settings instantly, rather than having to scroll through entire lists.
This is backed up by decent speakers, the ability to connect to your phone or any Apple product for music, and a set of built-in heart rate sensors.
iFit training
Almost every NordicTrack system comes with iFit functionality built into it.
iFit is NordicTrack's live fitness program, and delivers studio-quality, trainer run workouts directly into your home, streamed whenever you need them. With live classes running every single day, and an extensive library of thousands of past workouts, as well as the ability to set up your own, there's an almost infinite amount of workout options here.
If you want to learn more about iFit, we have a full guide on it, which you can find here.
---
What we don't like about the NordicTrack X9i Incline Trainer
It's more expensive than a comparable treadmill
There's no denying that the X9i is more expensive than a standard treadmill, and it's also more expensive than the equivalent treadmills from NordicTrack.
The reason is obvious. The heavy-duty motor and strong build quality, that let this thing push itself to dizzying heights.
But that has its costs, and if you don't need that high incline, then you should probably just buy one of NordicTrack's other options.
---
Final thoughts
The X9i was designed to do one thing, and it does it incredibly well. Realistically, you probably already know if you want this.
If you're looking for a treadmill that delivers impressive performance, alongside one of the largest inclines we've ever seen, then the X9i, or one of the larger, more powerful models, such as the Commercial X22i, is fantastic.
If you just want a standard treadmill to go jogging on from your living room? Look elsewhere.
It's as simple as that.
---
NORDICTRACK X9i FULL SPECS
Brand
NordicTrack
Model
X9i
Display
7" HD Touch Screen Display
Treadmill weight
175kg
Motor
3.6 CHP
Speed Range
0 – 20 km/h
Incline type
LIVE INCLINE CONTROL
Incline range
0 – 40% Incline - 0 – 6% Power Decline
Rollers
2.5" Precision-machined and
Balanced Non-flex Rollers
Decline?
Yes
Memberships
1 Year iFit Family Membership
Max user weight
135k
Heart rate
EKG Grip Pulse Heart Rate Monitor
Running track size
55 x 152 cm
Transport Wheels
No
Workout fans
Dual AutoBreeze™ Workout Fan
Integrated speakers
Dual 3-Inch Speakers
Deck cushioning
Reflex™ Cushioning
Dimension
178L x 100W x 181H cm
Warranty
Lifetime Frame Warranty, 10-year Motor Warranty, 2-Year Parts & Labour upon warranty registration within 28 days of purchase.
---
Reference and Further Reading