What are heart rate sensors?
Bluetooth heart rate monitors are a tool that's been used for years by elite athletes and other fitness pros to monitor their heart rate and more effectively train.
Anyone who's exercised at any level quickly realises that collecting data is probably the quickest way to get better, fast.
Why do you need a heart monitor?
Training at different heart rates can cause your exercise to have very different results. If you're looking to burn fat and build muscle, but you're actually training at a level of exertion and a heart rate that's better for aerobic performance, hitting your goals is going to be much harder, if not impossible.
This is why heart rate trackers are becoming much more prevalent across the fitness sphere. Sports watches, fitness trackers, even phones regularly include a heart rate sensor, and a lot of higher-level cardio exercise machines like treadmills and bikes have them built-in.
This guide is focused on stand-alone heart beat monitors. Monitors like these are designed to be used with sports watches or fitness trackers and tend to be a lot more accurate.
"The exceptional Fitbit Inspire isn't the most expensive fitness tracker, but it's easily one of the best we've seen in 2021."

"A great alternative to wearing a strap or using a watch. These headphones sound amazing and track your heartrate accurately too."

Battery life: Up to 12 months

Heart rate: While exercising

Heart rate: During activity

Battery life: Up to 1 year

Heart rate: While exercising
Breaking down a heart rate monitor – how they work
There are two kinds of heart monitors; optical and electrical, that differ in how they actually read your heart rate.
Optical heart rate readers are the more standard type that you'll find in Fitbits, Apple watches and other sports gear. Optical technology uses a light pulse fired at your skin, (this is the blinking red light on the skin side of a sports watch,) and reads how it reflects coming back, which will change depending on your blood flow and pulse.
Optical readers are mostly wrist-mounted, but can also be mounted inside headphones that are designed to track heart rate, using in-ear readings.
Electrical readers, on the other hand, use direct skin contact to read the electrical signals that cause your heart to beat. Electrical readers are generally chest-mounted, but can also be mounted on your arm or leg.
---
What we look for when reviewing a heart rate monitor
How it reads:
As we've just discussed, there are two types of heart rate sensor. Optical sensors are simpler to use on a long term basis, and also tend to be more comfortable.
Electrical chest sensors are more accurate but less comfortable to wear long term.
How accurate is the monitor?
There's no point in getting a sensor if it's just not accurate enough to give you good data on your heart rate.
Thankfully, the days of inaccurate data readings are long gone. As long as you buy a decent product and not a shoddy, no-name brand knock-off, you're basically guaranteed to get a product that can give you a measurement accurate enough for what you need.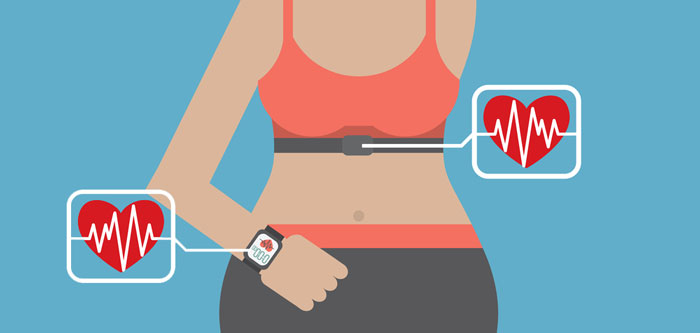 Battery life:
There's no point trying to track your heart rate if the sensor dies halfway through the workout.
There are two types of battery in common use. Rechargeable lithium-ion batteries, and single-cell batteries (normally round, coin type C batteries.)
Heart rate sensors don't use a lot of power, so single batteries aren't as much of an issue as they would be for other types of fitness gear, and you can expect hundreds of hours of use out of one fresh battery.
Rechargeable batteries tend to be found on combined sensors and fitness watches and can have a battery life measured in hours or day.
How it communicates:
There are two options here, Bluetooth and ANT+.
We dig into the differences later, but all you need to know is having both options is better, but Bluetooth is far more widely used, especially if you're looking to connect to your phone.
---
What is the UK's Best Bluetooth Heart Rate Monitor?

Fitbit Inspire 2
Best for: Overall fitness and working out
Type: Optical sensor
Connectivity: Bluetooth
Battery life: 10 days
Reliable brand you can trust
Fitbit are probably the most famous sports wearables brand in the world, and their products all come with a certain level of sleek sophistication and ease of use. It also has an insane number of reviews on Amazon, and an impressive rating from their users.
Budget price
Despite being one of Fitbit's most budget models, the Inspire 2 is packed with features and has a surprisingly good heart rate tracker that's more than good enough for 99% of users. At this price, it's an absolute steal.
Optical heart rate sensor is very accurate
Using optical technology, the Inspire 2 reads your heart rate constantly, offering you a complete reading on how your heart rate changes throughout the day. When you exercise, you can program in your goals and let the Fitbit make sure you're at the correct level of exertion, with its Active Zone Minutes feature letting you know that you're in the right zone.
The surrounding tools are also exceptional. Nutritional programs, step tracker, calories burned, everything you would expect from a good fitness tracker.
Good sleep tracker built-in
We particularly love the sleep tracker, which reads when you're in REM sleep and gives you a sleep score at the end of the night, telling you how well-rested you are.
Includes Fitbit premium (a trial anyway!)
Fitbit's companion app is also exceptional, delivering all the important metrics easy to read graphs. Your purchase of an Inspire 2 also gives you a free 1 year trial to Fitbit Premium, which gives you personalised updates, fitness programs, and more.
The downsides are scant. The Inspire can feel a little flimsy at times, so you might want to be careful if you do a lot of outdoor exercises, and occasional minor compatibility issues. If you want something a little beefier, the Charge 4 is an obvious upgrade.
It's more expensive but has a thicker strap and a larger body is robust and has a more accurate sensor.
Exceptional fitness tracker
The heart rate sensor is simple and reliable
Fitbit app is excellent
Budget-friendly
Not as accurate as dedicated sensors
The strap is a little flimsy
£58.00 at Amazon
Price last checked: 1st Jul 2022 - 05:35
---
Axloie Wireless Earbuds
Best for: Cardio, HIIT (and music!) lovers
Type: Optical
Heart rate connectivity: Bluetooth 5.2
Battery life: 8 hours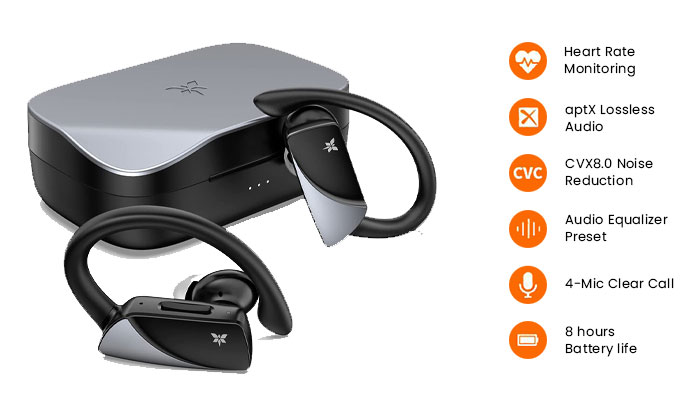 The best optical HRM headphones we've found, these wireless earbuds combine good sound performance with a suite of smart choices. They're a good set of cans that we'd be happy to go jogging in any way, and the fact that they also have a heart rate sensor is a great bonus.
Designed as sports headphones, the heart rate sensor uses optical tech to give you a constantly updated read on your heart rate, delivered to your phone via Bluetooth 5.2. The integrated app is smart, delivering all of the important metrics in an easy to read fashion.
As headphones, they're also excellent, delivering clear sound through 10mm drivers, and a crystal clear and stable wireless connection. Twin mics on each earbud mean that voice comms are going to get picked up, even when you're running trails or pushing hard.
Waterproof, comfortable, with 8 hours of charge on one battery and 3 more charges from the carry case, these deliver everything you'd expect. All for less than half the price (and probably more features) of some of the big names in the industry.
Great sound quality
Track your pulse without any extra sensor
Good built-in heart rate sensors
Long battery life
Value for money
The charging case is mains only
£55.60 at Amazon
Price last checked: 1st Jul 2022 - 05:37
---
Apple Watch Series 6 with ECG app
Best for: A bespoke fitness watch
Type: Optical
Connectivity: Bluetooth
Battery life: 18 hours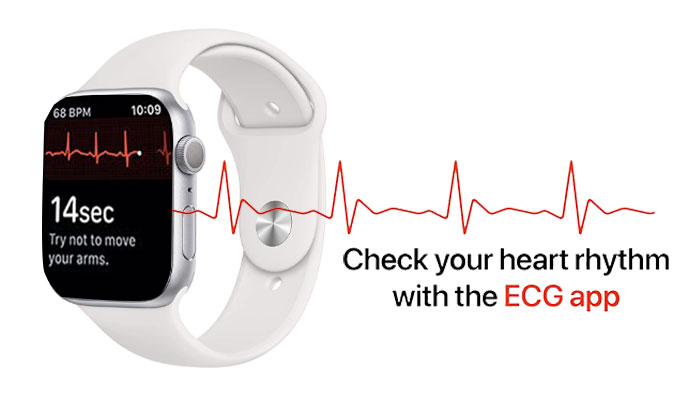 We're not going to lie, previous models of the Apple Watch kind of sucked for heart rate sensors, and were notorious for delivering inaccurate or false readings. Apple being Apple, their tech has been uprated, and the 6th edition of the Apple Watch is now basically the equal of any other sports tracker on the market.
It uses optical technology to offer you all-day tracking, while still being accurate enough to register quick changes in your heart rate. All of your data can be sent to any app you want, but it's also displayable on-screen, which is easy to read on the new and upgraded Retina display, which is 30% larger than previous models.
It's also packed with additional features, including resting heart rate sensors, a VO2 max estimator, and the option for medial grade ECG (electrocardiogram) readings, which are done by resting your finger on the side button for half a minute. This is actually accurate enough to detect heartbeat irregularities, which is seriously impressive.
You're also getting all of the other features of an Apple Watch, including phone integration, GPS man access, Apple Pay, iTunes on your wrist, and more.
Overall, this is an impressive piece of kit. We could give you a stronger recommendation, but you probably already know if you want this. It's too expensive just to consider as a heart rate sensor, but if you're also looking for any of the other features, the Apple Watch 6 is a serious contender in the fitness wearable space.
The sensor is excellent
Dozens of extra features
Attractive design
Easy, seamless integration with your phone
Expensive
Relatively low battery life
£237.78 at Amazon
Price last checked: 1st Jul 2022 - 05:36
---
Related Guides
---
Wahoo TICKR Bluetooth heart rate sensor belt
Best for: A simple chest strap
Type: Electrical Connectivity:
Connectivity: Bluetooth and ANT+
Battery life: 500 hours
One of the lightest, cheapest and most budget-friendly Bluetooth chest straps on the market, the TICKR is another product in Wahoo's range that seems to follow their ethos of focusing on the important features, aggressive pricing and ease of use.
Does it disappoint? No.
For a start, it's tiny, with cute rounded edges that are comfortable against the skin, and incredibly light, at just 50 grams. This means that, as chest straps go, you're less likely to remember that you're wearing this.
The electrical pulse sensor is highly accurate, delivering readings to the TICKR app, or your choice of commercial fitness apps like Zwift, Peloton, and over 50 others. Pairing is via Bluetooth or ANT+, and it can run on newer and older Bluetooth protocols. Be warned that running it on anything older than 5 will prevent other Bluetooth connections though, important if you use wireless headphones and an older phone!
The battery life is also impressive, at an estimated 500 hours, and it runs on standard coin style batteries, which are simple to change.
As a budget model, it's a little light on features, but at least delivers the essential statistics. If you're serious about your cardio, then it has a big brother, the TICKR X, which adds a cadence sensor for cyclists and a whole bunch of tech for runners, for a little more cash.
Overall, it's easy to see why the TICKR is a popular choice for heart rate sensors. Cheap and cheerful, comfortable to wear and simple to set up. It's perfect for beginners but still good enough to be used by the host of professional athletes that rely on it. If it's good enough for them, it's definitely going to work for you!
Light and comfortable
Very budget-friendly
Easy to use
Highly compatible with apps
Instructions are pretty bad
Can only link to 1 device on Bluetooth 4.0
£42.99 at Amazon
Price last checked: 1st Jul 2022 - 05:35
---
Polar Verity Sense
Best for: Swimmers
Type: Electrical heart rate sensor
Connectivity: Bluetooth and ANT+
Battery life: 20 hours
Polar make fantastic fitness sensors, and the Verity is no exception to that. Designed around the needs of swimmers and others who need a strap that's going to stay in place, despite the rigours of hard workouts.
The electrical sensor is accurate and incredibly easy to use. Data is transferred to the app, but can also be stored in the device itself and transferred after, with up to 600 hours of internal data.
This is incredibly useful for swimmers because wireless signals are blocked by water, basically killing your connections dead. Out of everything on the list, for swimmers, this is absolutely the best choice, no question. Fully waterproof up to 50m, it has a goggle strap, but can also be worn basically anywhere else on the body. The strap can be used on the chest, wrist, or arm, and it's comfortable on all of them.
Combine that with simple one-button activation and an internal rechargeable battery, and you've got a sensor that offers a whole lot for most people but has particular interest for anyone looking for heavy cardio, especially in the water.
Very comfortable belt
Accurate pulse sensors
Waterproof to a good depth
No battery indicator
Some syncing issues
£79.50 at Amazon
Price last checked: 1st Jul 2022 - 05:37
---
Garmin HRM-Pro Bluetooth heart rate tracker
Best for: The most accurate readings
Type: Electrical
Connectivity: Bluetooth and ANT+
Battery life: 500 hours
The most accurate strap on our list. While everything we've reviewed here offers enough accuracy for general use, the Garmin HRM-Pro is accurate enough for professional use.
The Pro is a straight upgrade to the HRM-Tri, which was designed to let triathlon users get the most accurate measures possible, and it shows. Tested against other straps on this list, including things like the Wahoo TICKR, the Garmin is consistently more accurate, with a slightly faster response time.
The difference in this heart rate sensor might seem minor, and we're not going to lie, for most people it might just be, but for people at the bleeding edge of their sports, where milliseconds matter, so does being able to accurately check your metrics.
And with that in mind, it's simple to put a rating on the HRM-Pro. It's an absolutely fantastic product. Exceptionally accurate, easy to use, and simple to pair with Garmin sports watches. But the HRM-Pro is designed to be used with Garmin watches and doesn't like giving up its data to other apps.
This means if you don't have a Garmin watch, all of those sweet upgrades and bonuses just won't do anything, and that includes all of the bigger names like Apple Watch and Fitbits.
That brings us to an easy conclusion. If you have a Garmin watch and you need ultra-high levels of accuracy, then the HRM-Pro is a fantastic choice. if you don't, you don't need this. Look up, and choose one of the other products on the list.
Incredible levels of accuracy
Very simple to pair to Garmin products
Easy to use
Doesn't play nice with other apps
Increased accuracy isn't necessary for most users
---
Your Guide to Picking the Best Heart Sensor for Health and Fitness

Accuracy – Are heart rate monitors accurate?
Even just a few years ago, optical heart rate readers had a reputation for inaccuracy. Thankfully, that's a thing of the past at this point.
In general, electrical technology is more accurate, for a few reasons. Firstly, measuring from the wrist is less precise, as your arms tend to move a lot during exercise, which can affect readings.
In-ear opticals are also more accurate for this reason because the skin of the ear is thinner and your head moves around less, which leads to more precise readings
Is a heart rate sensor accurate, and does it matter?
The answer, like most things, depends. You can also divide HRMs into two levels of accuracy; consumer accuracy and medical or elite athletics accuracy. And most heart rate monitors (HRMs) have a level of accuracy that can be described as good enough.
Almost all HRMs will have a level of accuracy that's sufficient for 99% of users because the big difference in accuracy tends to be in tiny, rapid changes in heart rate, rather than larger, broader, more general heart rate overtime statistics.
Your resting heart rate is relatively easy to measure, to the point that you can measure it with probably the simplest tools we have, a clock and our fingers.
Measurement of resting heart rate also doesn't have to be exact, it's more about general health. Measuring a resting heart rate of 55 versus 57 makes no difference, but 55 up against 75 is going to be a much bigger deal.
When you're using an HRM for exercise, what matters is the general exercising zone that you're in, which can use an estimated heart rate, that can be calibrated over a longer period of time. Unless you're training at an elite, Olympic level, exact readings aren't as important as a good general indicator of where you're at, fitness-wise.
However, accuracy does matter for heart rate recovery, which is how quickly your heart goes back to resting rate after intense exercise.
Chest straps are much better for measuring this, as optical readings tend to have some lag on rapid heart rate changes. Again, for most people, this won't matter, but if you're at the leading edge of health and fitness, or trying to increase your metrics by tiny percentages, it could be something to look for.
ANT+ vs Bluetooth
ANT+ and Bluetooth are the two protocols that a heart rate monitor can use to connect wirelessly to other fitness trackers, your phone, or any other device.
The differences that most people will face using either are relatively minor. The biggest differences are signal speed, where Bluetooth wins out, the number of connections each protocol can have because older variants of Bluetooth can only have one connection at a time and whether you're going to connect using ANT+ to your phone, which might need a specialist adapter.
For most users, the difference between ANT+ and Bluetooth isn't going to come up, as most commercial HRM trackers have the option for both. But if you're buying a chest strap, check that it has the option for Bluetooth.
Comfort
Comfort is a huge deal with fitness gear, especially if you're exercising for a long chunk of time. Unfortunately, chest straps are never going to be comfortable, which is something you're just going to have to learn to deal with, as they have to be tight to work.
A loose chest strap can slide or wiggle, so won't give a reading, and bad ones can chafe.
Arms band sensors or wrist-based watch sensors are much easier to wear. They're easier to adjust in the middle of a workout, and it's a lot simpler to glance over and get visual feedback that it's working.
Finally, there are in-ear optical HRMs that are built into sports headphones. These tend to be more expensive and are quite specialised, but if you're looking to buy some sports headphones anyway, might be worth a look. You can find our top choice for in-ear HRMs below.
---
Final thoughts
For most people, the Fitbit Inspire 2 or Apple Watch 6 are perfect heart rate readers and also let you track all of your other fitness metrics at the same time. They balance out accuracy with a long feature list and are available almost anywhere.
If you want the increased accuracy a chest strap brings, we'd recommend either the Wahoo TICKR or Polar Verity Sense. Both offer accurate sensors, high levels of comfort and easy pairing, at a good price.
Do you use heart rate sensors? How have they changed your workouts? Make sure to let us know in the comments!