Review Summary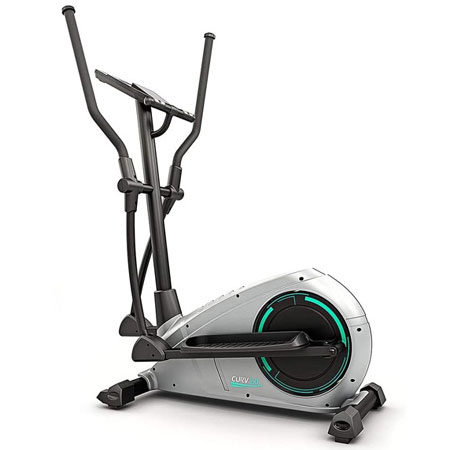 Curv 2.0
Heavy-duty 12kg flywheel
Robust and stable
Works with Kinomap
Easy assembly
Screen could be improved
"A solid elliptical with a suitably heavy flywheel with plenty of resistance. The LCD display could be better but otherwise a sound cross trainer."
Today we're checking out the (rather sexy-looking) CURV elliptical machine (Up for sale on Amazon UK). As always, we'll cover the good, bad and the ugly with this cross trainer and give our opinion on whether it's worth a buy at this price.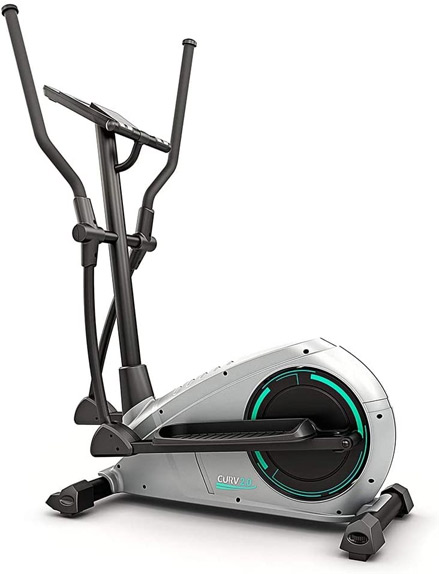 What is the Bluefin Fitness Curv?
The CURV 2 is a standing elliptical cross trainer. You'll stand on two over-sized pedals and stride forwards (or backwards), while your arms will perform a pulling and pushing action.
This is a powerful piece of kit with a lot of commercial-level features, that comes with a surprisingly reasonable price tag.
Bluefin is a UK company, based in Yorkshire, who started with vibration plates, and in general, across the range, their products tend to be high quality.
Sitting at a mid-level price point, the CURV focuses on what matters: solid construction and an excellent flywheel, backed up with decent multimedia systems and WiFi fitness apps.
But is it really better than competing elliptical, and is it worth the asking price? Read on to find out more.
Check Current Amazon UK Price
---
Curv 2 Features At a Glance
12kg flywheel
Magnetic resistance and braking
Two sets of handlebars
Extra-large anti-slip pedals
16 resistance levels
12 built-in workout programs
KinoFit app functionality
LCD display
Heart rate monitor
Tablet or phone connectivity
12-month warranty
What will you get training with the Curv elliptical?
There's a reason ellipticals are an increasingly popular form of cardio. They work, and they work well.
Ellipticals, also called cross-trainers, are incredibly low impact, especially compared to the most common types of cardio, the bike and treadmill, because your body never leaves the machine. That means you're supported through the entire cycle of exercise, so there's almost no impact on your joints.
Cross trainers are a fantastic way to get fit and burn calories, burning up to 400 in 30 minutes, depending on intensity and user weight.
Finally, cross trainers can also be used for strength training and conditioning, by cranking up the resistance to high levels you can work your arms, legs, even your core.
Which is better: Elliptical or Cross trainer?
Check Current Amazon UK Price
---
Who is this machine best suited for?
Ellipticals are a great choice for cardio for almost everyone
The fact that they're low impact and can be used for a wide variety of exercises gives you a flexibility that you might not get from a bike, treadmill or rowing machine. That makes an elliptical a one-stop cardio machine, and a good choice if you're outfitting a home gym and only have space for one piece of cardio equipment.
If you're suffering from long term injuries or looking for low impact recovery, the low resistance and ease on your body an elliptical offers can be a huge draw, which is why these types of machine are commonly used by athletes, for that exact reason.
Finally, the Curv 2.0 itself has enough options and resistance levels for any user, whether they're looking for intense, short burns or long term, slow, relaxing workouts.
---
Our review: What we like about the Bluefin Fitness CURV 2
The Heavy Duty Flywheel
The flywheel is the single most important part of your elliptical, because it's the part that provides all of the resistance, and affects every single workout you'll ever do on it.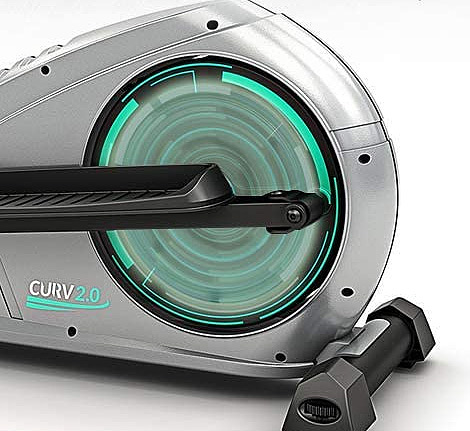 With that said, it's great to see that the flywheel on the Curv is great. It's a solid 12kg, which is an upgrade on previous models, with 16 levels of resistance, giving you a lot of options when it comes to exercise.
Unlike cheaper models, the flywheel on the CURV 2.0 uses magnetic resistance, rather than physical resistance. This means all resistance is provided by magnets, which leads to an incredibly smooth and quiet action that's far more pleasant to work out on, and makes almost zero noise, even at maximum settings.
Great Construction
The overall design and construction of the curv is top-notch. The body is made from aluminium, with a rear-drive flywheel construction that we've already touched on.
Everything is well laid out and comfortable in use. The double handlebars are great, the larger outside set is big enough for most people to reach without issue, especially considering there's a huge amount of stride variation on the XL anti-slip pedals.
The footprint is average for an elliptical, and it's not particularly heavy. Despite this, it can comfortably take users up to 120kg (265lbs,) so this is also pretty good for taller and heavier people.
Adjustable Workouts
The Curv comes with an easy to use LCD screen, which lets you monitor your stats in real-time, including distance, time, and up to date pulse with the built-in pulse monitors.
These pulse monitors serve double duty, letting you plug in a programmable heart rate workout between 40 and 199 BPM, letting the system automatically adjust resistance and keep you in the zone, making it that much easier to hit your goals.
It's also fully compatible with smartphone apps, including the E-health fitness app that lets you track your stats daily and update everything as you go. You've also got the option for live learning, if you link your tablet or phone to the machine, using KinoMap.
The KinoMap App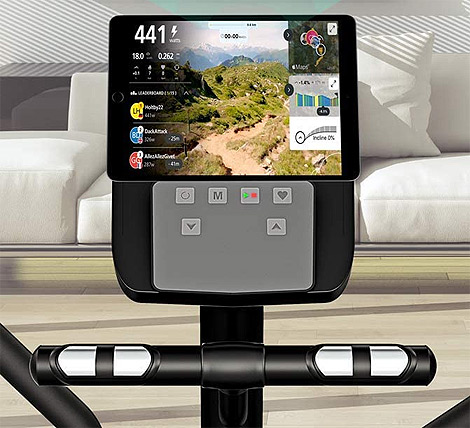 If you've read any of our reviews or paid any attention to the home fitness world in the last few years, you'll have realised that everything is shifting to live apps and fitness.
Live apps are the future. They let you deliver structured, gym-quality workouts directly into your home, whenever and wherever you want.
Designed around the needs of modern cardio, KinoMap has over 300,000 km of recorded trails around the world, instantly accessible in their online library. Pick one, or choose a course to help you hit your goals. Track your progress, even train against friends, family or randoms, in real-time, to push yourself further!
The app does cost, but it's surprisingly cheap. Far cheaper than a gym membership, with a 14-day free trial to make sure that you like it, before committing.
We love live apps because the benefits to your health and fitness are huge. If you've never used live fitness apps, in our opinion the quicker you can get into them the better. You'll thank yourself later.
Check Current Amazon UK Price
---
What we don't like about the Bluefin Fitness CURV 2
Lower resistance levels
Even though the Curv 2 elliptical has a decent amount of resistance levels at 16, for some reason it has inexplicably fewer than the previous model, the 2.0, which had 24.
While this isn't really a problem, it is a weird design choice that was probably motivated by the change to a bigger, heavier flywheel. Still, most users will never notice this change, especially if they didn't use the CURV 2.0.
The LCD Screen
One other minor downside compared to other models in this price range is the controls.
The LCD screen is fine, if a little old fashioned, but it would have been nice to see an integrated touchscreen tablet, rather than having to use your own device.
Final thoughts: Is the Curv 2 worth a buy?
Overall, the CURV 2 is a solid mid-level elliptical that focuses on performance over flair. It's obvious that Bluefin put most of their efforts into the feel of the machine, with that big, heavy flywheel that's whisper quiet and feels great to use.
As long as you're happy to link up your devices and don't mind dropping a few quid a month on an exercise app, the CURV 2 is a fantastic elliptical that outperforms a lot of other options at this price, and that's all that matters.
It's fun to use, has really impressive resistance levels and will last for many years to come.
Highly Recommended
Check Current Amazon UK Price
---
SX600 Full Specification
Brand
Bluefin Fitness
Model
Curv 2.0
Resistance
Magnetic
Flywheel weight
12kg
# programs
12
Display
LCD
Resistance levels
24
Heart rate training
Yes
Self assembly?
Yes
Colour
Grey Silver / Black
Material
Aluminium, Plastic
Bluetooth
Yes
Kinomap compatible?
Yes
Max user height
1.8 Metres
Monitor
Heart Rate
Calories
Time
Distance
Batteries included?
No
Dimensions
101 x 57 x 37.5 cm
Cup holder?
No
Tablet holder?
Yes
Tools included
Yes
Pedals
Extra-wide, anti-slip
Backlit display?
Yes
Max user weight
120kg
Assembly time
30-40 mins
---
References & Further Reading