In this guide, we're covering how you can get a proper workout and shed some serious calories, all without taxing your joints. We're on the hunt for the very best low-impact cardio machines you can get for your home gym today.
"This is just a beautiful rowing machine, packed with NordicTrack's quality and with iFit ready to go."

Dripex
Magnetic
Rowing Machine

"This cheaper rowing machine is extremely well-designed and feels like a more expensive rower."

Thrid of the price of Concept 2

"NordicTrack's elliptical machine offers a super-smooth impact-free workout and the iFit integration will keep you coming back for more."

Converts to a running machine

"This budget-priced elliptical is strong, sturdy and gives a good level of resistance. This is one of the more popular cheaper ellipticals, when you can find it in stock!"

"This high-quality recumbent gives a great workout and even converts to an elliptical machine. It's comfy, effective and kind to joints."

Dual recumbent / elliptical machine

Sunny
Health
Recumbent Bike

"Offering a good cardio workout at a lower price, this recumbent is super-cheap while still being sturdy and smooth."
What we're looking for in good low-impact cardio gym gear
Things we're looking at in this price range:
Price – For this guide, we'll cover two options in each section: the best buy for anyone with a decent-sized budget. And a cheaper (but equally impressive) model for those looking to get in shape without spending a fortune.
How effective it is at cardio – Not all cardio gear is created equally. Some look the part but won't put up much resistance to anyone with a bit of training under their belt. We want to see equipment that will give you a sweaty workout when you need it.
How kind is it to your joints? – We're going to be looking at 3 major groups of popular home gym gear, that we think are the best for easy-going workouts on your knees and other joints: rowing machines, elliptical (cross) trainers and recumbent bikes.
Display and stat-tracking – Another feature we like to check on is the display – is it a swanky colour screen, or a cramped, 80s-style LCD nightmare?
Online connectivity – One thing we like to see on our gym gear in 2023 is a bit of forward-thinking. Rowing, running or any cardio exercise gets boring if you do it enough. There's plenty of apps out there that can work with some gym gear so that's one thing we're now looking at.
Beginners or experts? We realise not everyone is a gym buff so we'll cover gym gear that's both effective for anyone getting into cardiovascular workouts, but also good for those who have spent a bit of time working out.
---
So, what are the best cardio machines that are also low-impact?
Before the buyer's guide, let's go over the current top joint-friendly cardio gear for 2023. Here are the ones we found were actually worth the money, starting with the top pick first.
Section 1: Rowing machines
Rowers are a fantastic choice for low impact exercise as you're sitting down, taking the majority of the force off of your legs, specifically your knees.
Rowing machines also hit the vast majority of muscle groups in your body, and with resistance turned up can be an incredibly effective full-body workout.
However, if you do have joint issues in your lower body, it might be worth speaking to a trained professional before you buy, because although rowing machines are great for most problems, they could exacerbate some issues.

Best Premium: NordicTrack RW850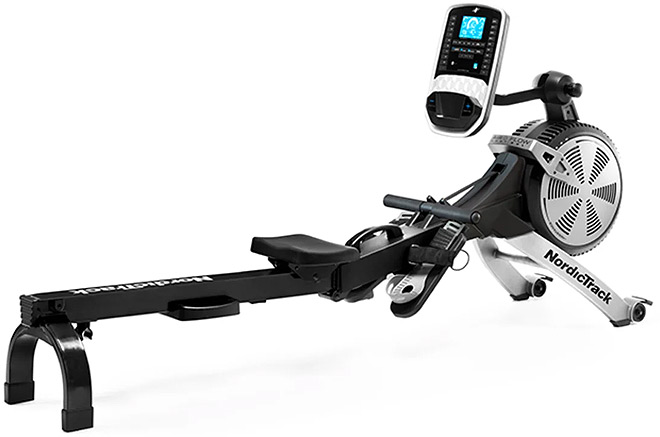 Built around a 10-inch tablet that offers full iFit access, the RW850 is one of the best rowing machines on the market.
Plenty of resistance for all users
Like most NordicTrack fitness systems, the RW850 uses magnetic resistance which is near silent, and incredibly smooth. You're able to set the difficulty level here to any one of 26 levels, so there's room for both new rowers and more experienced people. This is supplemented by another 10 levels of air resistance, for even harder workouts.
NordicTrack's usual quality
It's a large piece of kit, at over 2 meters long and weighing in at 41kg, but even so, it can be folded down to a space-saving, much more mobile mode that's easier to store. NordicTrack's solid construction is ironclad, with a solid 5-year warranty and a max user weight of 130kg (286lbs.)
If you're not familiar with NordicTrack, they're a top-end fitness company and their gym gear is simply sublime. Think posh health clubs and really good quality equipment.
iFit makes working out fun
But the real reason to buy this rower is iFit. Delivering top-class live-streamed fitness to directly to your home, we have a full iFit guide here but there's basically no better way to get fit.
You can also check out our full NordicTrack RW850 Review here.
Verdict: While far from being the cheapest rowing machine on the market, NordicTrack's RW850 is an absolute beast of a rower. It's really good quality, built to work with iFit and offers a fantastic cardio workout whatever level you are at.
iFit online coaching is fab
10″ tablet included
Insanely good at cardio
Great for beginners with enough resistance for experienced rowers
NordicTrack's usual quality and robust build
Not the cheapest rower out there
<div class='moreInfoButton2Container'><a class='moreInfoButton2′ rel='nofollow' style='text-decoration: none;' href='https://www.awin1.com/cread.php?awinmid=21564&awinaffid=56851&clickref=Best-Low-Impact-Cardio-rw850-rower&ued=https%3A%2F%2Fwww.nordictrack.co.uk%2Frowing-machines%2Fnordictrack-rw850-rower'>Check price at NordicTrack</a></div>
---

Best Budget: Dripex Magnetic Rowing Machine
Robust, affordable and easy to use, the Dripex Magnetic Rowing Machine is very simple in design, but despite that, it has everything built-in that you need to work out from home.
For a start, it's incredibly compact, with a footprint of around 2 square feet when folded. It folds in seconds for easy storage, the main seating bar held with a spring-loaded knob that can be folded back in literal seconds, which can save you a huge amount of space at home.
User weight is a respectable maximum of 120kg, and resistance is provided by a direct drive belt and magnetic resistance, meaning smooth and even workouts. You've got 15 levels of resistance to keep everyone happy. Check out some of these reviews on Amazon too.
It's even got a shock absorber system on the rowing track, which is something we've not seen before.
Everything here is well made too – down to the welds on the joints. The only real down side with the Dripex Rower is that the display is a dull LCD affair. It's definitely nowhere near the level of the Concept 2. It gets the job done, counting strokes, calories and so on but it's not going to set the world on fire.
Verdict: This is a really good rowing machine for the price, costing around third of some of the similar machines out there. It's well built, has all the features you need and is the perfect way to get fit without any impact on your joints.
Great budget price
Proper rower with some good features
Built to last
Stows away to a small footprint
Plenty of resistance and & tough workout
The display is basic and not exactly exciting
Check Current Amazon UK Price
---
Section 2: Ellipticals
The elliptical is the new kid on the block, entering the fitness world less than 30 years ago, and ever since has been a fixture in sports recovery. The low impact nature of ellipticals makes them fantastic for joint problems, as they're a zero-impact exercise machine with very little force involved unless you turn up the resistance.
Ellipticals, also called cross-trainers, also work out the entire body, with a pair of handles that pump forwards and backwards, so you can work out your arms, back and chest.
Downsides are minor; ellipticals are large, heavy, loud pieces of kit, and take up a lot of real estate. The movement also takes a little getting used to, though once you're comfortable with it, an elliptical is very secure, as most have large pedals and oversize handles.

Best Premium: Freestride FS14i
One of the issues with elliptical machines is the fixed stride that moves your body through a defined range of motion. The Freestride FS7i fixes this problem completely, giving you all the advantages of a cross trainer, but letting you move however your body wants.
The auto-adjusting systems follow your steps, changing the stride length and working around you. On top of this, the Freestride trainers don't just work as an elliptical. It can be used as both a treadmill and a stepper, without changing anything except the way you're moving. On top of this, the Freestride uses silent magnetic resistance, and up to a 10-degree incline to add the work to your workouts.
Finally, like almost all NordicTrack exercise systems, the FS14i has full access to the iFit library, giving you access to thousands of workouts that encompass absolutely everything you could ever need, including workouts off the machine. It's a complete exercise system, and something we'd wholeheartedly recommend if the price tag doesn't turn you away.
Verdict: The FS14i is a great cardio machine for getting in shape without any impact thanks to some clever engineering from NordicTrack. It can also be used as a zero-impact treadmill. You're getting a great quality machine here and the built-in screen is perfect for iFit.
Extremely well made
14″ screen opens up a world of engaging follow-along content
iFit ready to go
Super-smooth treadmill and elliptical settings
Does a great job at burning calories
Need to pay for iFit subscription after 1st included year
---

Best Budget: XS Sports Luna Pro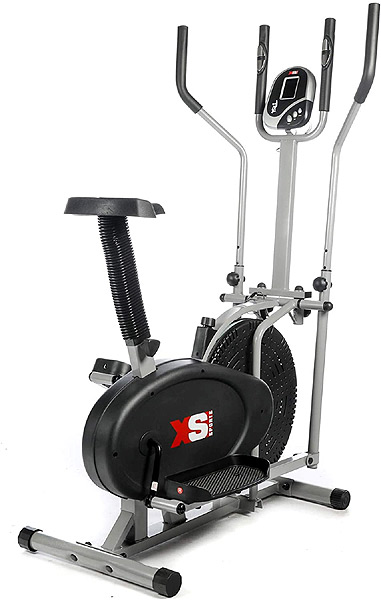 Exercise equipment doesn't have to cost the earth to be decent, as the Luna Pro proves.
Designed around a heavy front-mounted flywheel, the Luna Pro is actually a 2 in 1 system, with functionality as a cross trainer, and as an exercise bike. Two sets of handlebars provide a lot of flexibility, with moving ones on the outside that help to work arms, and fixed internal bars with built-in heart rate sensors.
The steel frame is tough, with a maximum weight limit of 110kg (220lbs,) and an extra-large seat and platform pedals for comfort, even for larger users, and it's incredibly simple to use, with an easy to understand multi-function LCD display.
Verdict: Although it's not easy to find in stock sometimes, the Luna Pro is one of the most popular budget-priced ellipticals and it's easy to see why. It's extremely strong, easy to use and has a smooth action. Oh, and it's super-cheap.
You can also read our full review of the Luna Pro here.
Super-cheap price
Sturdy
Easy to use
Great cardio workout
Pulse sensors and display work well
A bit on the ugly side
Basic display
Sometimes hard to find stock
Check Current Amazon UK Price
We've got a lot more ellipticals for under £200 here.
---
Section 3: Recumbent bikes
A recumbent bike is a bike that's used from a sitting position, with a full seat and a backrest. This makes them exceptionally comfortable and takes a lot of the force off of your legs while giving you total back support.
If you've never used one, a recumbent bike feels very different to a standard exercise bike, or road bike. Because you're sitting back, all of the work is done by your leg muscles, rather than gravity and your weight letting you drive the pedals down. This makes recumbent bikes a very effective form of exercise that can be surprisingly tiring.
The support offered by a recumbent bike also puts the least amount of stress on your body out of everything on this list, making them the perfect choice if you need to keep the strain at an absolute minimum. See our recumbent bike buyer's guide for an in-depth look at these machines.

Best Premium: ProForm Hybrid XT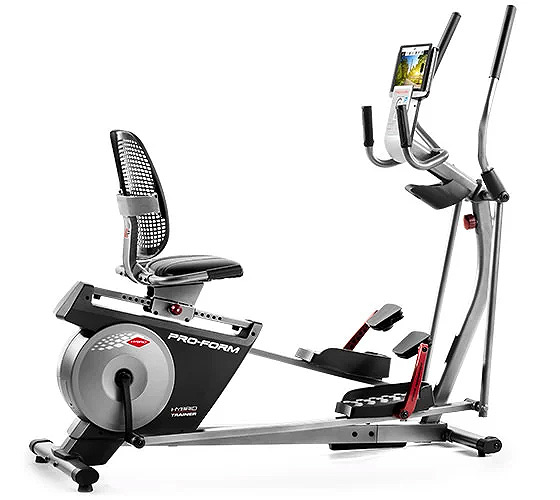 Unique design: recumbent and elliptical in one
Built around twin functions, as an elliptical and a recumbent bike, the ProForm Hybrid XT is the replacement for ProForm's successful Hybrid line, and it's exactly the same model with updated digital multimedia systems. This gives you massive flexibility, letting you train standing up or sitting down, and switch out workouts as needed.
With a 13lb effective flywheel, there's a lot of resistance here, which can be changed through 16 discrete settings. It's comfortable, with oversize pedals, a well-designed seat, and a huge maximum weight limit of 160kg (350lbs.)
Like most of the premium models on this list, the Hybrid XT also comes with iFit functionality built right in.
The sheer flexibility of iFit and the number of benefits it gives you, both to fitness and enthusiasm for working out can't be overstated, and considering you can select low impact workouts right from the home screen, it's the perfect choice if you need something that's easy on the joints.
We've got a full review of the XT trainer here.
Verdict: Pro-Form's XT trainer is ingenious and about the only machine we can think of that combines a recumbent and an elliptical. It doesn't skimp on either station, offering two great ways to get a cardio workout on one. iFit is also ready to go here too.
Brill LCD display that's easy to read
Very comfy
Combined elliptical and recumbent
High quality and really well made
iFit ready to go
Lighter flywheel might not be ideal for very fit users
<div class='moreInfoButton2Container'><a class='moreInfoButton2′ rel='nofollow' style='text-decoration: none;' href='https://www.homegymexperts.co.uk/hybrid-trainer-xt.html'>Check price at Proform</a></div>
---

Best Budget: Sunny Health and Fitness Recumbent Bike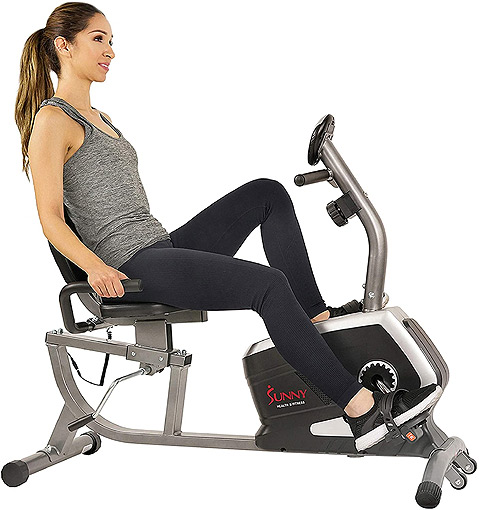 Really low price for a recumbent
Simple but effective is the way we would describe this bike. It gives you everything you need to work out safely from home while staying comfortable, without breaking the bank.
There are two things to focus on when buying a bike: comfort and function. In terms of comfort, the Sunny is fantastic. It's built around a large and comfortable recumbent seat that can be fully adjusted while sitting on it, and the maximum user weight of 135kg (300lbs) is very generous.
In use, it's an impressive piece of kit for the price, with 8 levels of resistance, a simple digital monitor that can give you all your stats, and built-in pulse sensors.
Verdict: If you're looking for a bargain-basement priced recumbent, this might make your day. It's simple to use, comfortable and offers a good level of quality for the price. Cheap but not nasty.
Low price for a recumbent
Good quality
Comfortable
Decent LCD screen
Easy to adjustresistance
No online functions or app
Assembly a bit frustrating in parts
Check Current Amazon UK Price
---
Low impact gym gear guide
Low Impact Cardio Machines Buyer's Guide
Cardio is an essential part in most people's health and fitness regimen, but sometimes our bodies just aren't capable of the sort of high-impact cardio that most people are used to, like running on a treadmill.
But cardio doesn't have to be high-impact to be effective. As long as you're raising your heart rate and burning calories, it's going to have a similar effect, no matter how hard you're working.
With that in mind, there are several exercise machines that are perfectly suited to low-impact cardio, so you can stay fit without wrecking your joints.
Why use a low impact cardio machine?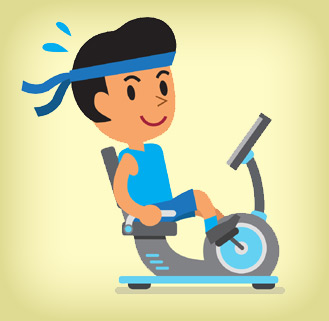 A lot of things can limit our ability to exercise. Whether it's injuries, sports-related or otherwise, post-pregnancy effects, or even just the results of ageing, muscle and joint problems can prevent us from working out effectively, without making the issues worse.
But this doesn't mean that your health and fitness has to suffer. There's always something you can do, and low-impact exercise programs, for example using a recumbent bike or elliptical machine, are perfect for people in recovery or looking for a way to get fit without putting extra stress on their joints.
Everything on this list was chosen with one thing in mind. Minimising the strain put on your body so you can exercise comfortably from home, without damaging your joints or overstressing your system.
Hopefully, this article has helped you make a choice about what cardio machine is best for you. Remember that exercise is best as a holistic measure, and strengthening all your joints and muscles, for example with light strength training in addition to cardio, will massively benefit your entire body.
With that in mind, given the option, we would always go for a system that has iFit built-in, like the Freestride FS7i or the ProForm Hybrid. iFit, with its interactive fitness classes and a wide range of options, lets you follow along with easy workouts from home and gives you the best chance of recovery.
Thanks for reading. If you have experience training with injuries or advice for our readers, make sure you let us know in the comments below, and happy training!
Related: Are there any benefits to cardio in the morning?
---
References & Further Reading