Welcome to this review of the NordicTrack RW-850 rowing machine. Having reviewed a lot of the NordicTrack range, this is the first of their rowing machines I've had the chance to see.
In this review we'll cover everything you need to know about this rower, including the good and the bad. And show the people this machine will be good for, and who should look elsewhere.
Let's go!
Who are NordicTrack and are their rowing machines any good?

NordicTrack are a powerhouse name in luxury exercise machines, constantly pushing boundaries and advancing the idea of what technology can be used for when it comes to home exercise.
While anyone into treadmills will likely have heard of them, it's surprising how many people haven't heard of this brand, or seen their gym gear before.
Originally starting in a garage somewhere back in the time of free love and bell bottoms, NordicTrack made mechanical ski training machines to order, but now offer a comprehensive list of exercise systems that are consistently up at the best on the market.
What is the NordicTrack Unisex RW-850 Rowing Machine?
The NordicTrack RW-850 Rowing Machine is a foldable exercise rower for home use, targeting upper and lower body muscles for an excellent workout.
This is a lighter machine than a lot of rowers we've seen, with an overall weight of 41kgs. This makes it more portable and will appeal to anyone looking for a machine that won't necesarily need to be left out all the time.
Built from tougher stuff?
Made of high tensile steel alloy, the RW-850 is durable but still light enough to move around with ease. The same inertia enhanced flywheel we've seen put to good use in other NordicTrack machines is also used here.
It uses two kinds of optional resistance; air and Silent Magnetic Resistance. The air resistance has ten levels of natural feeling rowing resistance, while the magnetic resistance offers 26 levels of exercise challenge.
Includes a free tablet
While the RW-850 doesn't exactly have a screen built in, it works in conjunction with an iPad style tablet that sits on the shelf at the front of the machine. This is what you'll be using in conjunction with iFit – the online fitness subscription service.
You can track your workout on the 5'' backlit iFit display that clearly shows your watts, Strokes per minute, Calories, Distance, Speed, and heartrate.
Bluetooth integration and iFit
Bluetooth integration allows you to access iFit's range of elite trained virtual classes or take advantage of the Google map features and row around the virtual globe. More on iFit in a bit, as it's a HUGE part of the RW-850 (and NordicTrack's other fitness machines).
With your RW-850, you receive a free 1-month iFit Coach membership and an iFit 10'' Tablet to enjoy your virtual travels in style. Once you have completed your workout, the RW-850 folds into fairly compact dimensions for storage.
---
The NordicTrack Unisex RW-850 Rowing Machine Features at a Glance
Inertia Enhanced Flywheel
26 level of Silent Magnetic Resistance
10 levels of Air resistance
5'' backlit iFit display plus a free iFit tablet
Music port compatible with iPod/Mp3 and dual speakers
Integrated tablet holder
Oversized pivoting pedals with adjustable foot
Folding design to save space
Console shows: pulse, speed, distance, watts, strokes per minute, scan and priority mode
Optional chest strap for Bluetooth smart receiver for heart rate
Free iFit Coach 1-month subscription
2-year warranty on parts and labour
Get the Best UK Price – Buy Direct from NordicTrack
Benefits to Training With the RW-850 Machine
So what does this rowing machine do? What will you get from training this machine, and is it right for what you need to do? Anyone already in love with rowing, can probably skip this part!
You get a full-body workout
People often think that rowing only exercises parts of a rower's body. This assumption is entirely incorrect as rowing action exercises 85 percent of a rower's muscles. In the American Fitness Professionals Association (AFPA), their study showed that rowing uses 65-75 percent of your leg muscles and 25 to 35 percent of your upper body muscles.
In your upper body, the rowing action focused on your:
Obliques
Pectoral muscles
Abdominal muscles
Arms
In your lower body, rowing targets your:
Rowing allows for all fitness levels
Rowing allows for all levels of fitness and is low impact. Rowing will enable you to burn calories without putting too much stress on your bones and joints. It can be a safe recovery process for creating injuries and is even recommended for early-stage osteoporosis. Those who are blind or visually impaired can also easily use a rower.
Rowing improves your cardiovascular system
Rowing machines such as the RW-850 strengthens your cardiovascular system, including your heart and blood vessels. Because the rowing workout is so intense and engages so many areas of your body, it causes your heart to work harder and strengthen with training. This exercise can prevent heart disease or benefit those who may be at risk of heart problems. For more help on how to row properly, see this guide.
---
Is the Nordictrack RW-850 better than a treadmill?
The Nordictrack rowing machine is compact and foldable and can be stored in your home without taking up the space of a larger treadmill. The rower's action is quieter than the sound of running or the motors of many of the indoor treadmills. The rower also engages your abdominal muscles, which a treadmill does not.
Another benefit of rowing over treadmills is the lack of impact on your joints. With any kind of good rowing machine, it's all about smooth, looping movements. Being a NordicTrack machine, and a higher end rower, the 850 offers an extremely slick, smooth motion too.
It is a great way to lose weight or stay in shape
The whole idea behind weight loss is to use up more calories in exercise than what you eat. Rowing is a great way to increase lean mass and reduce fat. Healthline shows the calorie consumption of rowing as such:
| User Weight | Light (15 min/1 hr) | Moderate (15 min/1 hr) | Vigorous (15min/1hr) |
| --- | --- | --- | --- |
| 135 lb (61 kg) | 53/214 | 107/427 | 130/519 |
| 85 lb (84 kg) | 74/294 | 147/588 | 179/714 |
| 225 lb (102 kg) | 89/357 | 179/714 | 217/867 |
You can work out whenever you want
With your NordicTrack rower in your home, you are free to exercise whenever you choose. You are no longer subject to lengthy gym commutes and gym trading hours because you have your home equipment. If you are not busy enjoying your wide variety of iFit alternatives, you can catch up on your favorite series or even listen to your own music choice.
iFit subscription benefits
With your NordicTrack RW-850, you can make use of your 12-month subscription to the iFit Coach application. You can choose from some of the world's most famous rivers and lakes, join studio classes, and have your world-class trainer adjust your speed and resistance according to the class.
Google maps integration offers you new experiences and visuals, and trainers can help motivate you to further progress.
---
Is the NordicTrack RW-850 Rowing Machine For me?
In this section, we cover who the RW rower is aimed at, and who will want to look elsewhere
If you just want to get in shape and lose weight
NordicTrack's rower is a good overall machine to buy if you are looking for a way to increase your fitness and improve your health. The rowing action is really well done here, and can be enjoyed by beginners and experts alike. The 26 levels of Silent Magnetic resistance and the air resistance affords both high-intensity workouts and more gentle options.
(Rowing in general is good for new people up to anyone looking to challenge themselves.)
If you're looking to push yourself and build your fitness
Rowing is a relatively low impact exercise option compared to treadmills and ellipticals. It offers excellent benefits to those who want to push their endurance boundaries and those who would like to build their fitness from the ground up. Beginners and those with high fitness levels will both benefit from the RW-850.
If you're looking for something that doesn't hog too much space
The compact dimensions and foldability options of the RW-850 make it a portable and space-saving exercise machine that can fit well into small living spaces. Although the unit only weighs 41kgs, the alloy steel-framed rower can take up to 130kg user weight. The rower is designed for comfort and has a molded seat and oversized rail for increased stability and smooth rowing action.
Despite being a rowing machine, the rowing action targets 85 percent of your body, including your obliques, abdominals, arms, and glutes. With one device, you can get an almost full-body workout from the comfort of your home.
Who should avoid the NordicTrack 850?
Due to the manufacturer's warranty, the machine is not recommended for users over 130kg, so larger users will not benefit from the RW-850.
If you've got back problems –  you might also want to check with a chiropractor before buying this, or any rowing machine.
If you're not interested in online classes – and the kind of stuff that iFit does, then you can probably skip this machine. A big part of this machine's appeal will be the iFit integration.
If you don't want another subscription – You do get a month of iFit free, but after that, you'll have to stump up the £17 at the cheapest for the monthly pass to keep using the service. We'll cover whethher or not iFit is actually any good later in this review.
If you're looking for a super-cheap rower – The RW-850 isn't the most expensive machine but it's not the cheapest we've seen either. I you're not ready to go for an expensive macine yet check out our guide on the top budget priced rowing machines.
---
Our Review: What we liked about the NordicTrack RW-850 Rowing Machine
You don't need to use iFit
Built in to NordicTrack's RW 850 is one of the better display consoles you'll find on a rowing machine
While the RW-850 machine is clearly well suited to iFit's  subscription service, and the tablet you get with the rower offers a great way to jump into online classes, a lot of people over-look the fact that this isn't just an online rowing machine.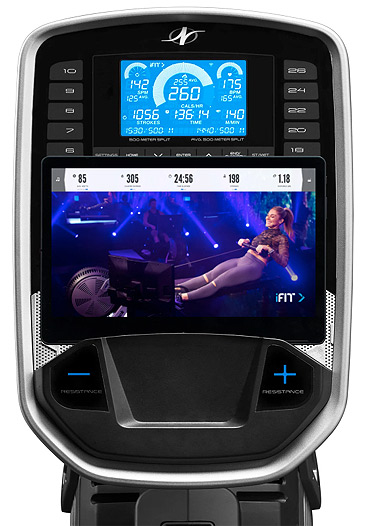 Built in to NordicTrack's RW 850 is one of the better display consoles you'll find on a rowing machine. It works in tandem with the tablet, or as the standalone display, showing the stats you'd expect:
Calories
Distance
Time
BPM
Calories per hour
… And a wealth of other handy info
Compared to something like the Concept 2 display, this one is miles better in our opinion. It's incredibly bright for starters. It's also easy to scan and get see what you need with a simple glance. There's also attractive dials that swell and recede as you work on your rowing stroke.
We'll take well-lit bright blue display over gray LCD any day of the week. The 850's display is definitely well implemented, even if it is likely to be overshadowed by the admittedly sexier colour iFit screen.
It's easy to Assemble
The RW-850 rowing machine was a breeze to assemble, and once set up, its far more substantial than you would expect it to be from its weight. This is definitely not the case with every rower we've seen, but DIY-phobics can breath easily. Like the other NordicTrack gear we've seen so far, there's just not much to put together.
It's light, but doesn't shift around
The nature of rowing means there's a lot of forward momentum generated and we've seen a lot of rowing machines that slip around. The RW family of machines don't.
They're built extremely well, with really nice thick steel and a wide, stable base. The stability was a bit of a surprise, especially considering the 43kg weight of the machine. But the unit sits firmly on the ground and does not shift even with rigorous rowing action at high resistance.
On a side note: this is one of the better looking rowing machines out there right now too. The RW-850 has a smooth, curvy look about it that actually looks pretty good.
One of the more comfy rowers we've seen
Another thing that you'll notice is the moulded seat is actually pretty comfortable – another rarity in the world of rowing machines. The RW-850's pedals are also well fitted and can be adjusted to to both larger and smaller feet.
The RW-850 is ultra-portable
We really liked the two sturdy wheels and the well-designed carry handle on the unit. The folding action is easy once you get the hang of it, and a smaller user shouldn't have to ask for assistance. You're not going to strain anything moving this rower around in the home. We've got more folding rowing machines in this guide.
This portability further sold us on the RW-850 because it is so simple to shift it from room to room without much effort.
The iFit application works well for rowing
We were keen to try out iFit in its rowing capacity, and we were not disappointed.
The river maps were engaging, and the real-time resistance in virtual training was glitch-free and seamless. It was charming to try out virtual rivers across the globe instead of the usual running trials.
Resistance levels pack a punch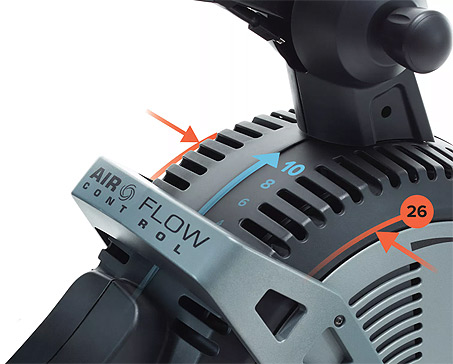 There is little chance of outgrowing this RW-850 in a hurry and find yourself looking for an upgrade. Its a good thing that the frame is made from steel alloy and seems built to last because you have plenty of range to increase your stamina and endurance with the 26 levels of magnetic resistance.
The controls are intuitive
The control set up is intuitive and easy to operate. The free 10'' iFit tablet was a nice touch and sorted out the size shortcomings of the 5'' display.
---
What Could Have Been Better About the NordicTrack RW-850
Sadly, there's a couple of issues we ran into with the RW-850. Mainly small niggles that could have been ironed out.
No heart rate chest band included
Even though the RW-850 rower has the software to monitor your heart, you have to pay extra for the chest strap to watch your heart. We felt that this should be included in the kit, considering that most indoor rowing category competitors allowed users to track their heart rate in some measure.
Some of the other NordicTrack machines do come with the fitness band and, as there's really no other way to take your pulse when rowing, it's a shame the strap doesn't come in the box.
The stereo sound could have been better
An issue that plagues cheaper rowing machines, that we wouldn't expect to have on one at this level is with the sound quality from the built-in speakers. We found that the two speakers were a bit tinny and didn't deliver great sound. Not exactly a huge deal-breaker, and most people will use headphones anyway, but worth mentioning.
Conclusion: Should you buy the RW-850 Rower?
The NordicTrack RW-850 is a durable and well-designed rowing machine that's ideal for new rowers, while being tough enough to keep those who's rowed the Atlantic happy too.
It feels great to sit on, rows comfortably, and is quieter than most home exercise units. The best part about the RW-850 is that you can progress at your chosen level, and it offers benefits to beginners and experts alike.
Its low impact movements may even suit users who are recovering from an injury.
It's a shame there's no chest-strap included, but not exactly a huge issue.
Despite how solid it is, the rower can be folded and moved easily, making it a great home option that won't take up space. There are some excellent additions like the free tablet, but it would have completed the package to have the chest strap heart monitor included in the deal. That aside, this is something I would choose for my own home.
We're in love with iFit and can't imagine anyone who wouldn't be impressed with the range of training classes and things you can do with it.
A brilliant machine – Highly Recommended
RW-850 Full Specs
Brand
NordicTrack
Machine type
Rowing machine
Resistance type
SMR - Silent magnetic resistance
Resistance mechanism
Air & Magnetic
Resistance levels
26
Display
10" Touchscreen tablet (included)
Training type
Life interactive training
Trainer controlled resistance?
Yes
Heart rate monitor
Wireless chest strap (included)
Supports multiple users?
Yes
Flywheel
Inertia-enchanced
Foldable
Yes
Assembled Dimensions
220L x 56W x 102H cm
Product Weight
41kg
Warranty
2 Year parts and labour
5 year frame guarantee
(Upon warranty registration within 28 days of purchase)
# default workout programs
30
Delivery
Free ground floor
Memberships included
1 year family iFit
Finance avilable?
Yes, over 48 months
Folded dimensions
133L x 56W x 120H cm
Rail type
Single, steel seat rail
Pedals
Quick-adjust pedals
Seat
Cushioned seat
References and further reading
There's a great video here showing how easy it is to put the RW rowers together.
References and further reading